This post may contain affiliate links, which means we may receive a commission if you purchase through our links. Please
read our full disclosure here
.
Photos: Pacific Coast News
Pete Doherty, poet, artist, former co-frontman of band The Libertines and current frontman of Babyshambles might be known more for his highly publicized romance with Kate Moss and crazy, tabloid-worthy antics than his artistic talents. Nonetheless, this rock star from across the pond is never one to shy away from being bold — from his music, to his lifestyle, to his fashion choices.
Yes, ladies, today we're breaking down the gritty style of Pete Doherty. Don't worry, I've never listened to his records either — but how middle school is it to think that only people who listen to someone's music can acknowledge that person? Call me a poser if you want, but Pete's eccentric style is just too awesome and interesting to pass up.
Ready to rock? Read on!
(For more posts on Stylish Men, check out our pieces on Mick Jagger, Freddie Mercury, Michael Jackson, Kurt Cobain, Andre 3000, Seth Cohen from the O.C., Johnny Depp, Kanye West, Adam Levine, Steven Tyler, Scott Disick, David Beckham, and David Bowie.)
Photos: Pacific Coast News
Elements of Pete Doherty's Style
Pete Doherty somehow has the ability to take something dressy and proper, like a suit or even a polo, and turn it into a gritty, artistic ensemble. His disheveled, hot-mess look just works. The way he dresses kind of reminds me of the Artful Dodger, the street urchin from the musical Oliver!
Pete Doherty's wardrobe staples include black suits, dress shirts, pointy loafers (once called winklepickers), and his signature black wide-brimmed fedora. Pete is not afraid to play with textures — he has been seen wearing everything from denim to velvet, to wool and knits! To keep from looking too polished, Pete adds a mess of necklaces, decorative scarves, and unneccessary layers, and finishes the look with unkempt hair.
To recreate his style without, um, looking destitute, try mixing dressy pieces with really casual items. A blazer with a worn out henley, distressed jeans with a nice dress shirt, or nice loafers with a denim jacket are easy ways to achieve his look.
Outfit Inspiration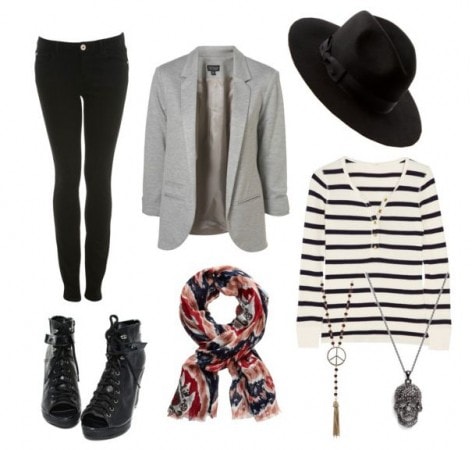 Jeans, Blazer, Shirt, Scarf, Shoes, Peace Necklace, Skull Necklace, Hat
Black skinny jeans and a striped henley make a perfect base for this outfit. Add a blazer, and turn on the style with a pile of necklaces, some badass boots, and a colorful scarf. Finish with Pete's signature, a wide-brimmed black fedora.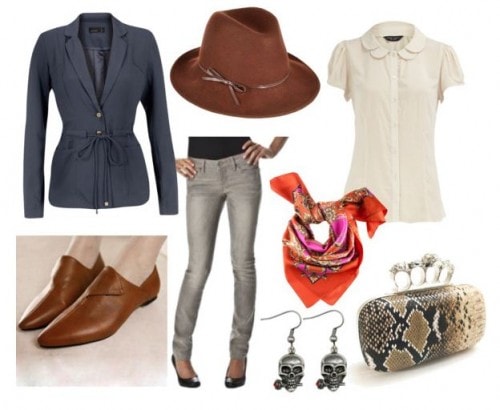 Blazer, Jeans, Shoes, Blouse, Hat, Scarf, Earrings, Clutch
This outfit is a little more toned-down than the first look. Gray jeans will go nicely with a cream-colored blouse, and will look great topped off with a blue jacket. These pointy loafers look exactly like something Pete Doherty would wear! Finish the look off with a bright scarf, earrings, and a cool clutch.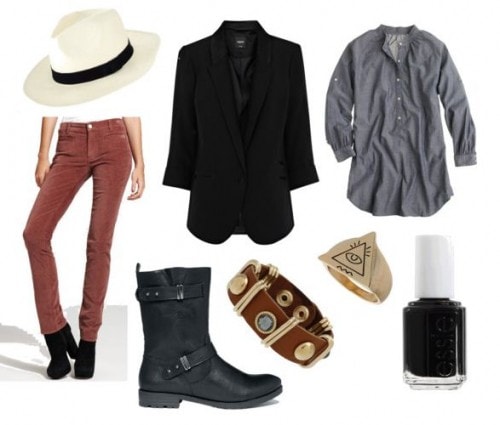 Hat, Pants, Blazer, Shirt, Boots, Bracelet, Ring, Nail Polish
This look combines a lot of different textures, which is one of the ways that Pete Doherty achieves his messy-yet-stylish look. A chambray shirt will go great with velvet pants – layer a black blazer on top for extra edge. Next, add moto boots, a leather cuff bracelet, and an edgy ring. Finish with a white fedora, and add black nail polish if you're feeling really punk rock!
What Do You Think?
Do you listen to Pete Doherty? Which of his songs would you recommend to girls (like me!) who have never listened to his music before? What do you think about his style? What other stylish men would you like to see us cover? Leave a comment and tell us what you think!