This post may contain affiliate links, which means we may receive a commission if you purchase through our links. Please
read our full disclosure here
.
There's probably no other music figure in history that established an entire subculture the way that Kurt Cobain did. Kurt Cobain was the oh-so-talented frontman of Nirvana, who hit the airwaves in 1991 with their hit record "Nevermind" and notorious single, "Smells Like Teen Spirit," among many others. Kurt is often hailed as the spokesman of Generation X, and Nirvana is credited with launching the Seattle grunge movement. Kurt tragically died in 1994, but is survived by his daughter Francis Bean Cobain, who is quite the fashionista herself!
Granted, I realize the idea of this post might sound a little crazy — after all, the LAST thing on Kurt's mind during his rise to fame was starting any kind of fashion trend — but looking back at the mindset and look of the era, it's hard not to feel inspired.
Most of us are probably too young to have fully experienced the grunge era, but thanks to the recent resurgence of '90s fashion trends, we can still channel a bit of the grunge look today. Think there's no room for baggy flannels, ripped jeans, or corduroy in your wardrobe? I'll show you how to rock it look like a pro!
(For more on Stylish Men, check out our posts on Mick Jagger, Andre 3000, and Freddie Mercury.)
Elements of Kurt Cobain's Style
Flannel. This is a no-brainer, but there's nothing more cozy in the wintertime than a worn-in flannel shirt. Kurt wore his unbuttoned and untucked, but you can update the look by layering one under a sweater or pairing it with a crisp pair of skinny jeans.
Practical pieces. Kurt was a fan of corduroy pants and jackets, knit cardigans, worn-in jeans, and utility coats. When he got dressed in the morning, he was far more concerned with being comfortable and warm than he was with being stylish — which ironically became the most defining style movement of the era!
'90s shoes. Grunge fashion is heavily associated with combat boots like Dr. Martens, brands like Hushpuppies, and Converse All Stars. Converse All Stars will always be a classic closet staple, but don't be afraid to try out a bolder shoe from the '90s if it fits your taste!
Unexpected extras. Kurt was known for wearing quirky accessories, like Lolita sunglasses or brightly colored scarves, probably just to throw his fans off!
A "devil may care" attitude. Kurt Cobain wasn't concerned with looking cool or stylish — he simply did what felt right to him. So take a cue from Mr. Cobain and don't be afraid to wear daring outfits, things that don't "go," or items you normally wouldn't try.
Outfit Inspiration
All Apologies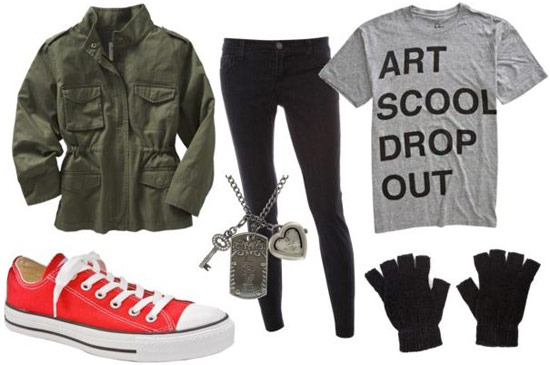 Jacket, Jeans, T-Shirt, Shoes, Gloves, Necklace
An outfit like this is perfect if you just want a touch of grunge style. Start with your trusty black skinny jeans, and add a funny graphic t-shirt. Stay warm with a utility jacket and fingerless gloves. Finish the look with red Converse All-Stars and a dog tag necklace.
About A Girl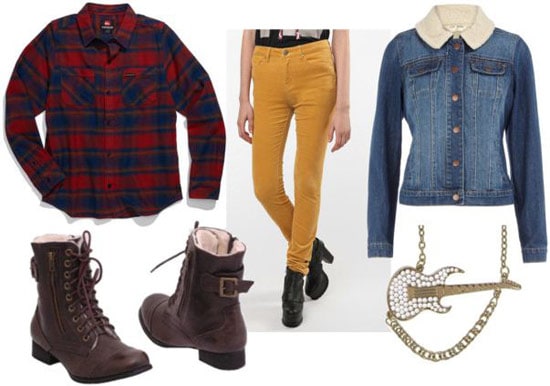 Flannel, Pants, Jacket, Boots, Necklace
Pull out your warmest flannel and pair it with corduroy pants for this next look. Add your favorite denim jacket (bonus points if it's one you loved during high school) and lace up your favorite combat boots. Finish with a guitar necklace!
Lithium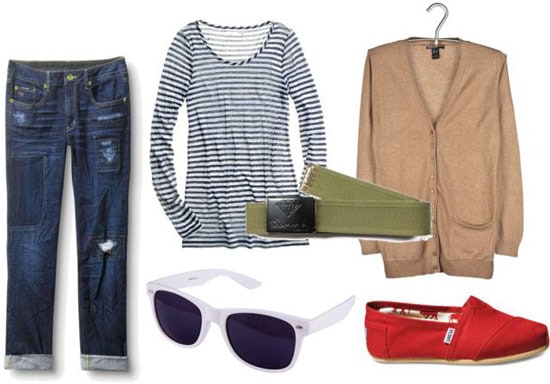 Jeans, Shirt, Cardigan, Sunglasses, Belt, Shoes
Distressed boyfriend jeans will give your look a grungy feel without the added sloppiness of a torn, baggy pair. Add a striped shirt (one of Kurt's signatures) and layer a Grandpa cardigan on top. Finish the look with a belt, white wayfarers, and a comfy and practical pair of shoes.
Now, tell us what you think!
Do you listen to Nirvana? What are your favorite songs? What do you think about '90s grunge style? Would you consider revisiting some aspects of it? What other stylish men would you like to see CF cover? Leave a comment and tell us what you think!