This post may contain affiliate links, which means we may receive a commission if you purchase through our links. Please
read our full disclosure here
.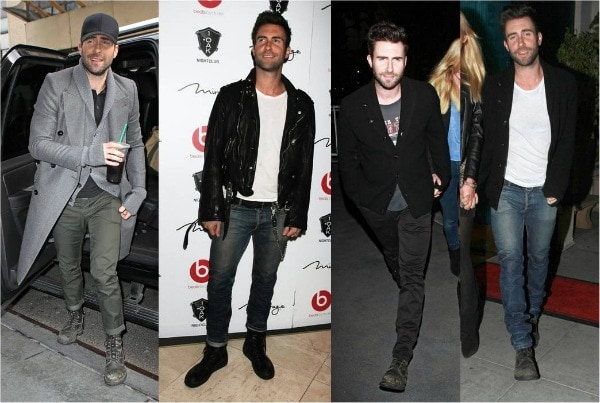 Photos: Pacific Coast News
Between a hit television show and number one hits on the charts, it's amazing this week's subject still has time look as amazing as does! Yes, ladies — this week, we're breaking down the style of Adam Levine!
Adam Levine, a Los Angeles native, first gained notoriety as the lead singer and guitarist for the band Maroon 5. Adam has established himself as a solo artist and television personality as well, most recently as a coach on TV hit The Voice. His quirky personality and confident coaching skills make him a frontrunner to win this season. His career successes are immense, but today, we're here to talk about Adam's low key, bad-boy style!
Want to look like a rock star too? Read on!
(For more Stylish Men, check out our posts on David Bowie, Freddy Mercury, Michael Jackson, Kurt Cobain, Seth Cohen from the O.C., Andre 3000, Scott Disick, Mick Jagger, Johnny Depp, David Beckham, Kanye West, and Steven Tyler.)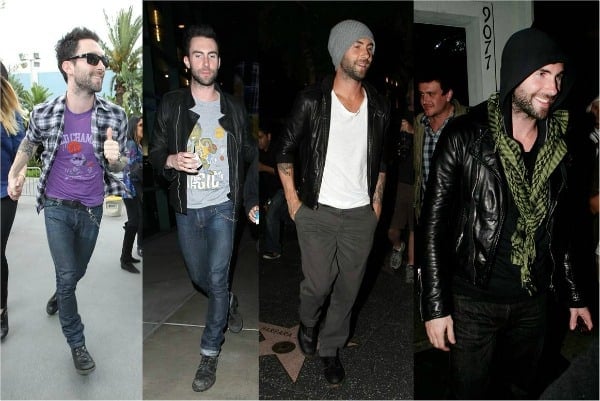 Photos: Pacific Coast News
Elements of Adam Levine's Style
Somehow, Adam Levine manages to look laid-back and stylish without appearing like he spent hours picking out his outfit. He pretty much sticks to basic pieces — straight-cut jeans, white v-necks, combat boots, and his trusty leather jacket. Although these staples seem simple, Adam manages to always look stylish by adding little touches, like cuffing his jeans, wearing in interesting belt, or adding a beanie or a scarf.
Adam also loves his vast collection of graphic tees. He keeps them from looking sloppy by layering them under cardigans, plaid shirts, or his favorite leather jacket.
I don't know about you, but when it comes to fashion, I learn much more by seeing rather than reading. So below, check out some easy ensembles inspired by the man himself!
Outfits Inspired By Adam Levine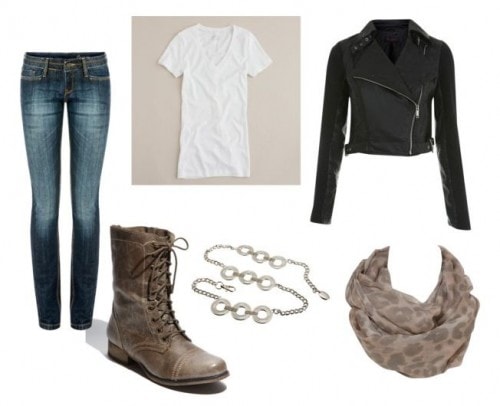 Jeans, Tee, Jacket, Belt, Scarf, Boots
This outfit strikes the perfect balance between simple and gritty. Start with basic skinny jeans and a white v-neck, but add a tough pair of combat boots and a motorcycle jacket for a style boost. Finish the look off with a chain belt and a chic scarf.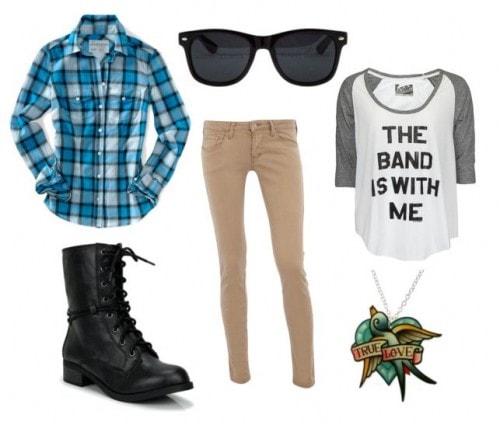 Plaid Shirt, Pants, Graphic Tee, Boots, Shades, Necklace
A quirky graphic tee, layered underneath a bright plaid shirt has Adam Levine's style written all over it! Pair these basics with simple tan pants and a pair of black biker boots. Finish with a fun pair of sunglasses and this tattoo-inspired necklace, paying homage to Adam's signature sleeve!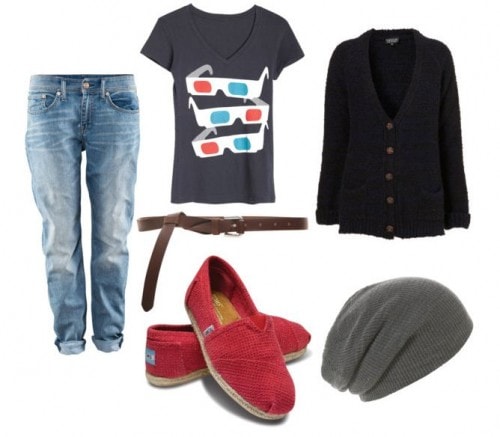 Jeans, Shirt, Cardigan, Belt, Shoes, Beanie
This outfit is relaxed, but has enough pizazz to keep you looking stylish! Pull on your favorite pair of boyfriend jeans, and add a comfy graphic tee. Layer on a cardigan, and finish with a belt, beanie, and casual pair of shoes.
Thoughts?
Are you an Adam Levine fan? Do you watch him on The Voice? What do you think about his style? What other stylish men would you like to see us cover? Leave a comment and tell us what you think!!!