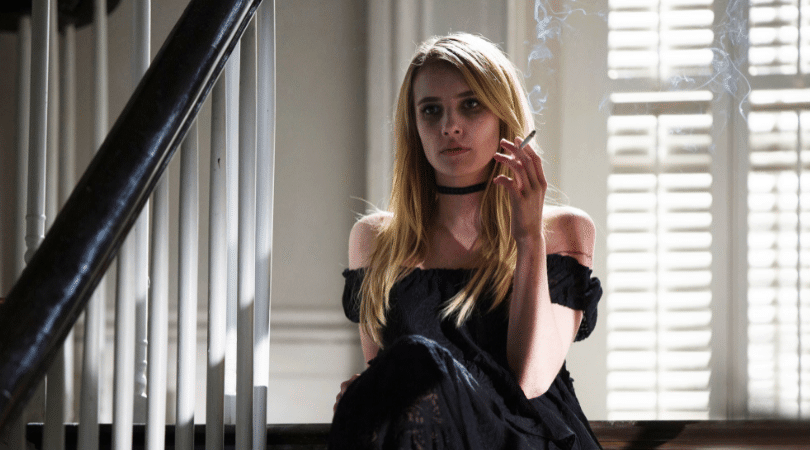 Continuing on with our Bad Girl Inspiration series, which has included the likes of Nancy from The Craft and Prudence from The Chilling Adventures of Sabrina, we shall cover the witch who might be the baddest of them all, Madison Montgomery from American Horror Story: Coven. You asked for it, and now our Madison Montgomery fashion guide is finally here.
Though American Horror Story has had its fair share of bad girls throughout the series, including The Countess and Fiona Goode, Madison stands out from the rest. After all, few characters are as narcissistic, mean, and, above all, fashionable, as her.
Madison is a telekinetic former movie star who attends a boarding school for young witches. Like many of our other featured bad girls, Madison is complicated. Throughout her time on the show, she commits many evil acts, but also has awful things happen to her. Madison is cruel, yes, but there is a tragic side to her.
When looking at Madison's wardrobe, it's clear that she is the most stylish out the four young witches attending her school. Her style is inspired by the classic "witch" aesthetic, but her celebrity background also influences her looks: She is often seen looking as if she is dressed for a party or an awards show.
Now let's talk about how to dress like Madison. With the outfits below, you can capture Madison's glamorous witch style, and maybe feel as if you can cast some spells yourself.
Madison Montgomery Fashion – Outfit #1: Movie Star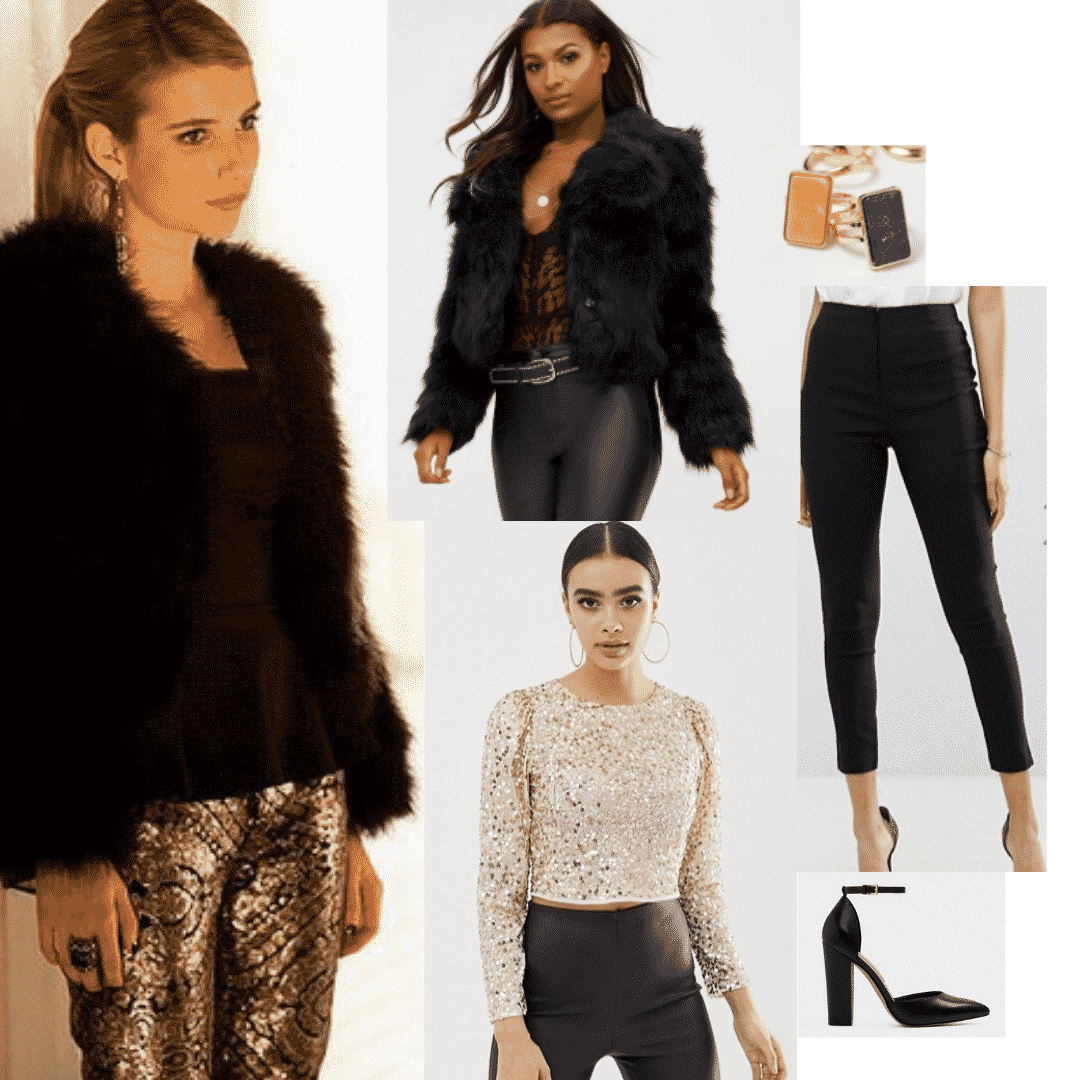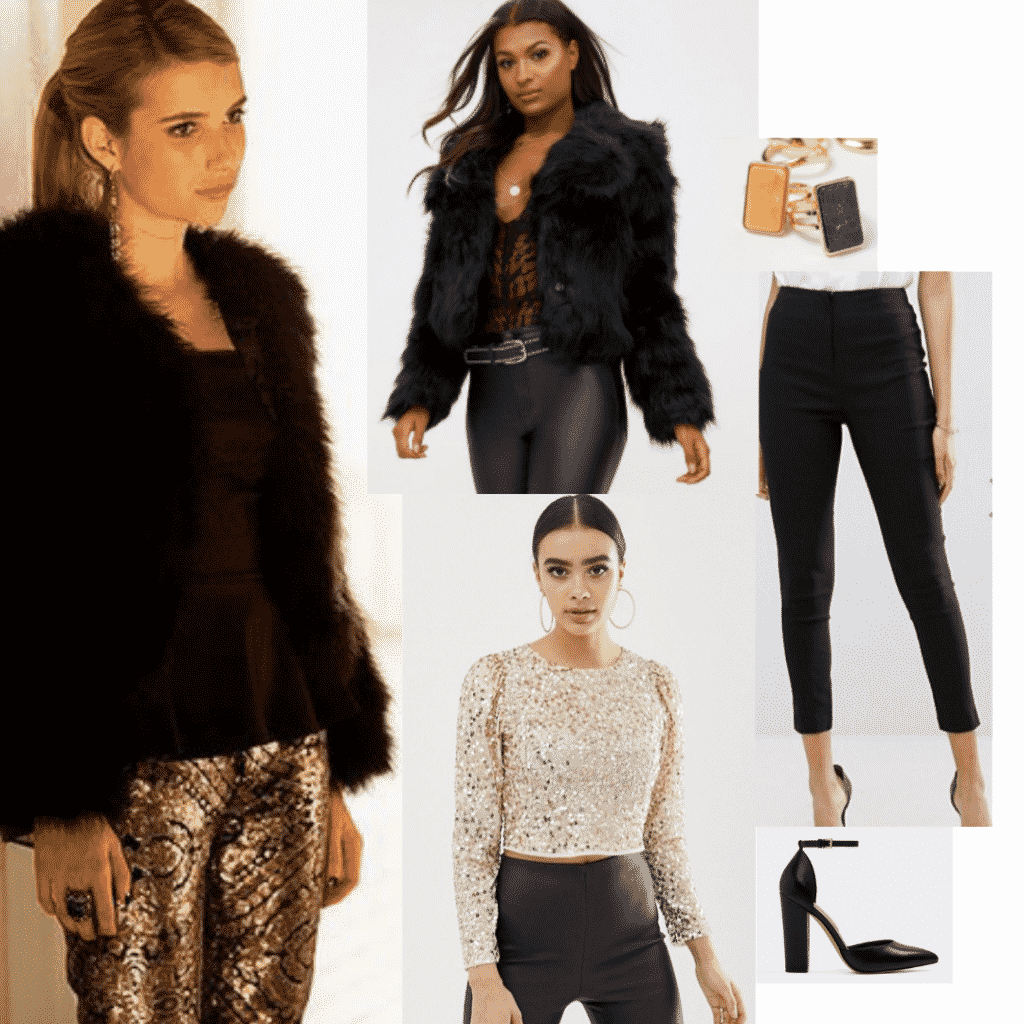 Products: Fur Coat – Pretty Little Thing, Sequin Top – ASOS , Pants – ASOS, Rings – H&M, Heels – Aldo
Madison loves to brag about how she is a movie star and should be treated as such. Her celebrity status makes her a bratty narcissist, to be sure, but it also grants her a great sense of style.
The outfit above is inspired by Madison's Hollywood side — it's glamorous, eye-catching, and just a little bit over-the-top.
To get Madison's look, pair an oversized faux fur coat with a fitted top and statement pants. (Madison wears patterned pants and a simple top in the series; I swapped these for leather pants and a sequin top in our example look.) To accessorize, add a killer pair of heels and some statement rings.
Madison Montgomery Fashion – Outfit #2: Wannabe Supreme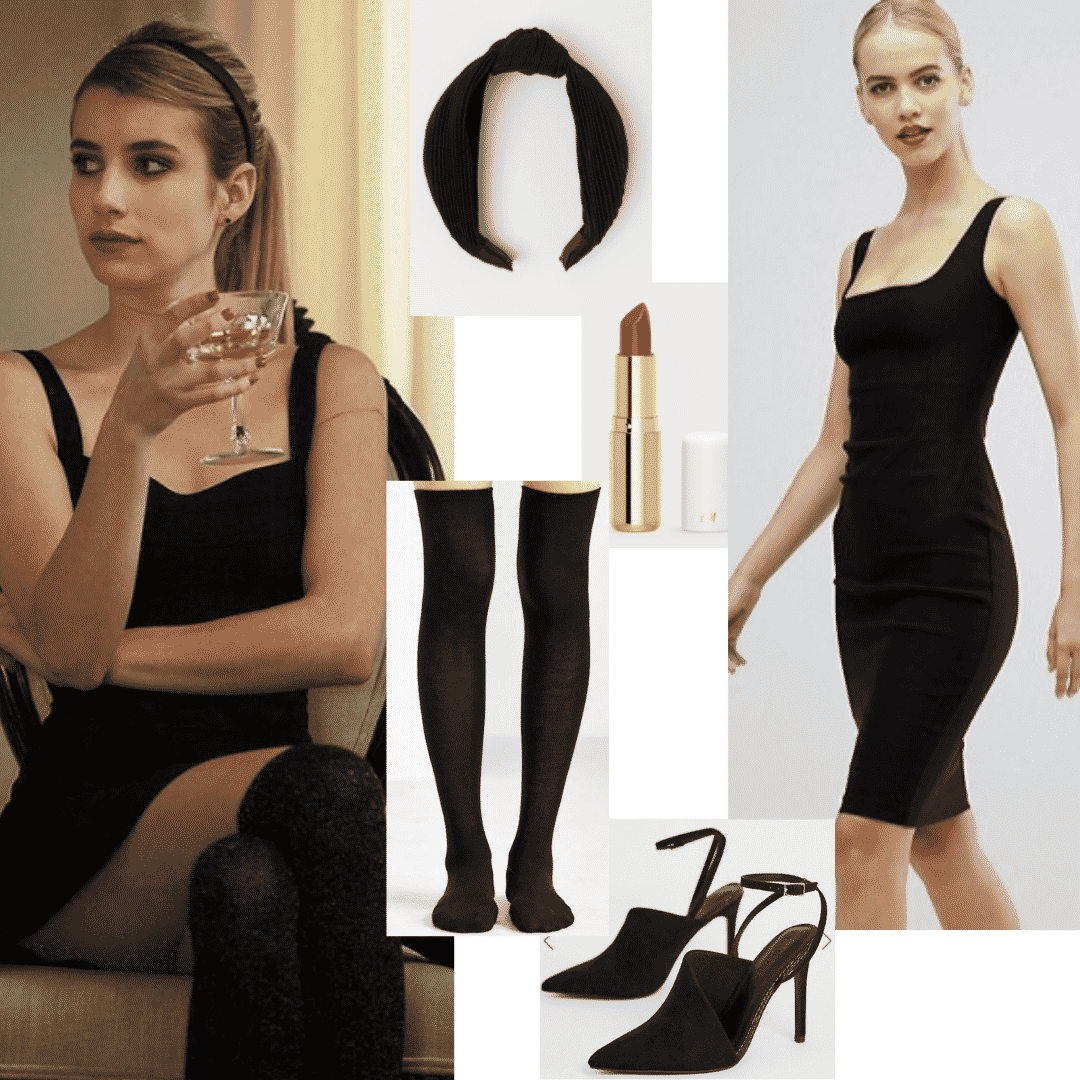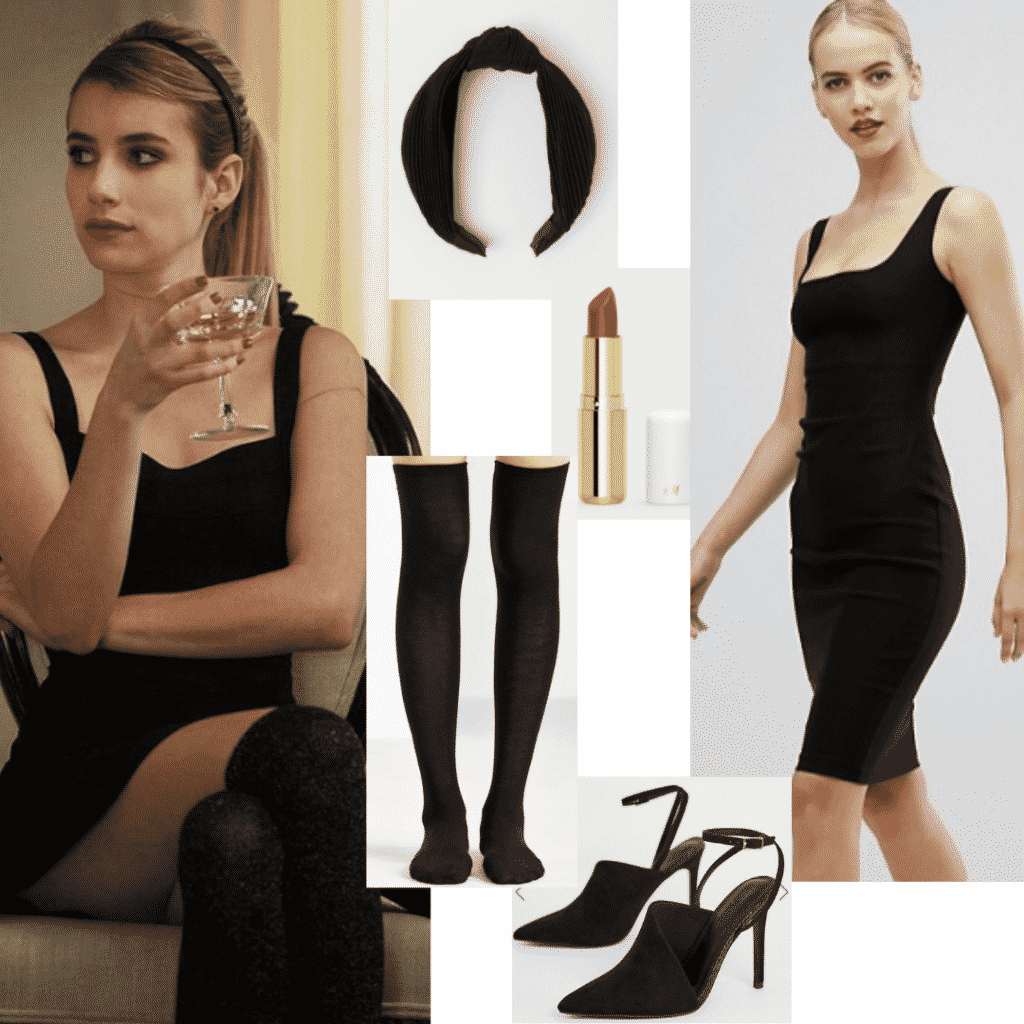 Products: Dress – ASOS, Headband – H&M, Socks – Urban Outfitters, Heels – ASOS, Lipstick – H&M
In the season finale of AHS Coven, all of the young witches are brought together to decide who is to be the next Supreme, AKA the leader of the Coven. Madison, always sure of herself, will not let this opportunity pass her by, at least not without a fight… and a temper tantrum.
At the event to crown the next Supreme, Madison wears head to toe black, with a pop of red lipstick. This look is meant to represent her character's personality and to show that she means business. It accomplishes both.
To get this look for yourself, style a little black dress with a standout pair of black heels or ankle boots. Accessorize with black knee-high stockings, a red lip, and a black headband, which is an upcoming trend for 2019.
Also Read: The 6 Best Fashion Styles In The Chilling Adventures Of Sabrina Outfits
Madison Montgomery Fashion – Outfit #3: Wear Something Black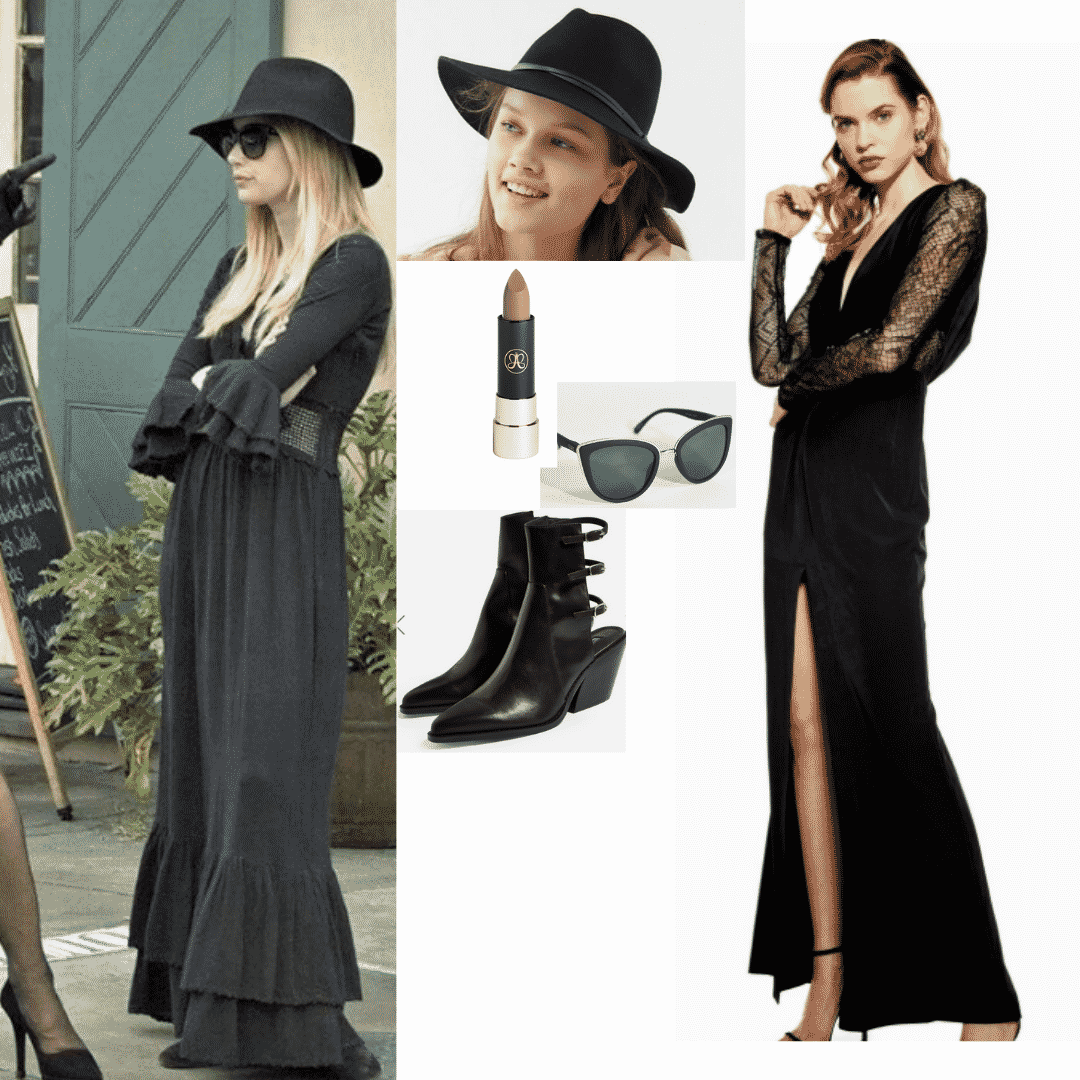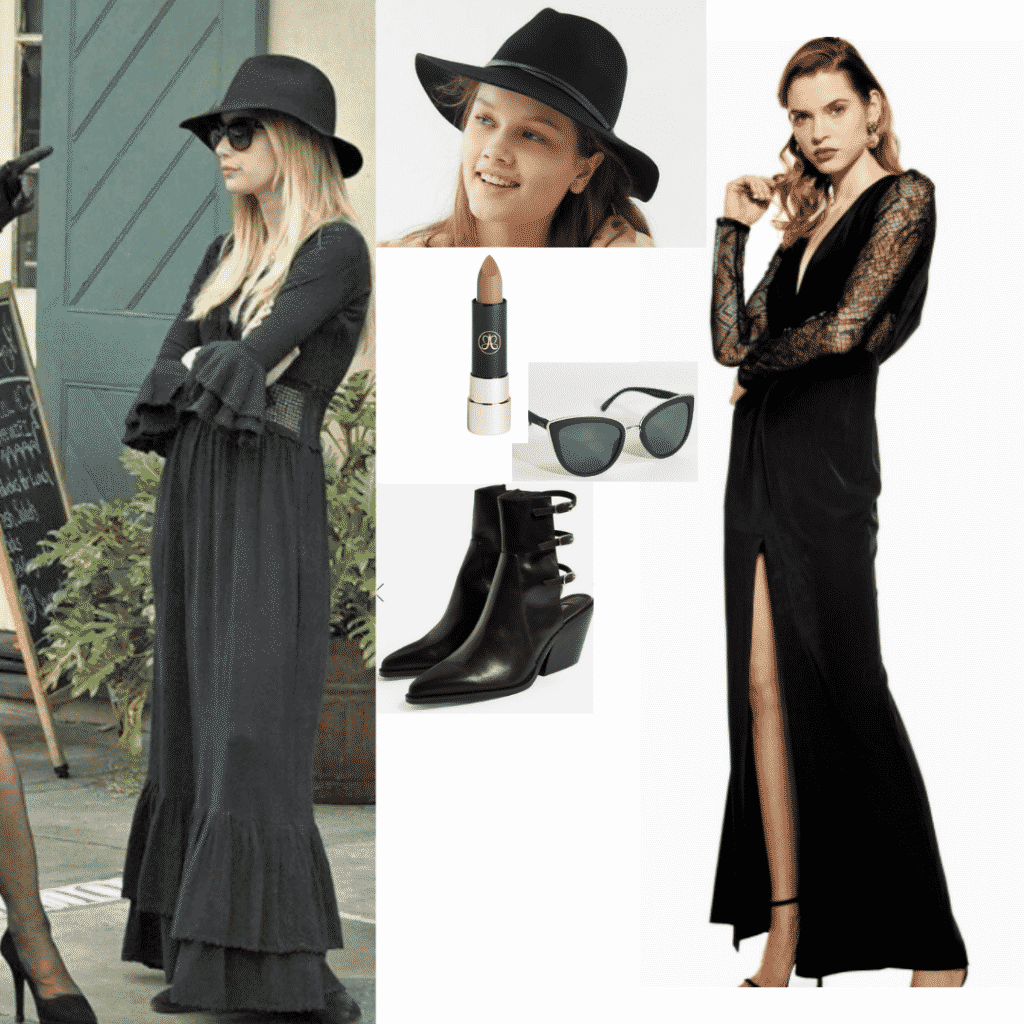 Products: Dress – Topshop, Hat – Urban Outfitters, Sunglasses – Unique Vintage, Boots – Topshop, Lipstick – Ulta
This wouldn't be a Madison Montgomery fashion guide without her all-black look from the first episode of the show. In this scene, all of the girls are told to wear something black for an outing in New Orleans. Each girl then puts her own twist on the classic witch aesthetic.
Madison goes for a '70s bohemian styled witch look, reminiscent of the great Stevie Nicks (who actually makes an appearance on the show). She wears a long, flowing black dress that features ruffles and lace. She also wears a black hat that is clearly a take on the archetypal black hats witches wear in film and literature.
To copy the bohemian witch look, start with a standout boho maxi dress. For accessories, choose a black hat in whatever style you like, then add some simple black boots and classic black cat-eye sunglasses. With this look you are sure to bewitch anyone who crosses your path.
What do you think of Madison Montgomery's style?
Though Coven might have aired over five years ago now, Madison Montgomery is still one of the most iconic characters in AHS and TV fashionista history. We still want to copy her fashion-forward looks, and her quotes will forever live on through social media.
What did you think of our Madison Montgomery fashion guide? Which look was you favorite? Tell us in the comments below!