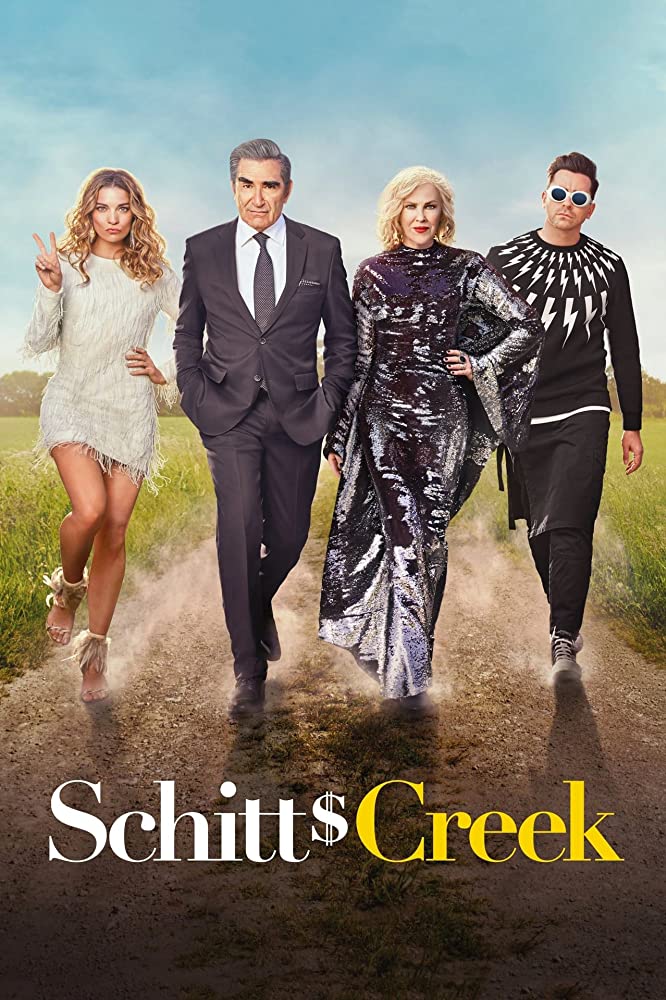 If you haven't watched the sitcom Schitt's Creek, you're missing out on a lot. In addition to being absolutely hilarious, there are plenty of heartwarming moments… and Schitt's Creek is ripe with fashion inspiration too!
Schitt's Creek also manages to tackle its subject matter with both honesty and wit. This is one of the things that I love most about it!
A Brief Synopsis of Schitt's Creek
The show follows the adventures (and misadventures) of the once wealthy Rose family when they are forced to give up their lavish lifestyle after being conned by their business manager.
With only one asset left to their name – a tiny town called Schitt's Creek – parents Johnny and Moira, and their adult children, David and Alexis, have no choice but to move to the town together. They take up residence in its only (and rather questionable) motel.
Furthermore, they must learn get along with each other while rebuilding their lives without money or social connections.
In Schitt's Creek, the Roses stick out like sore thumbs thanks to their highly privileged and often tone-deaf outlook on life. However, it's not just their views that make the Schitt's Creek family stand out, it's also their individual taste in fashion.
Schitt's Creek Fashion
In addition to some rather… unique perspectives, each of the Roses have a distinct sense of style, which reflects their respective personalities.
This directly contrasts with the Schitt's Creek residents, who all wear comfortable, casual clothing.
Below, I've broken down the personal style of each member of the Rose family. I've also created outfits inspired by each of them.
Outfit #1: David Rose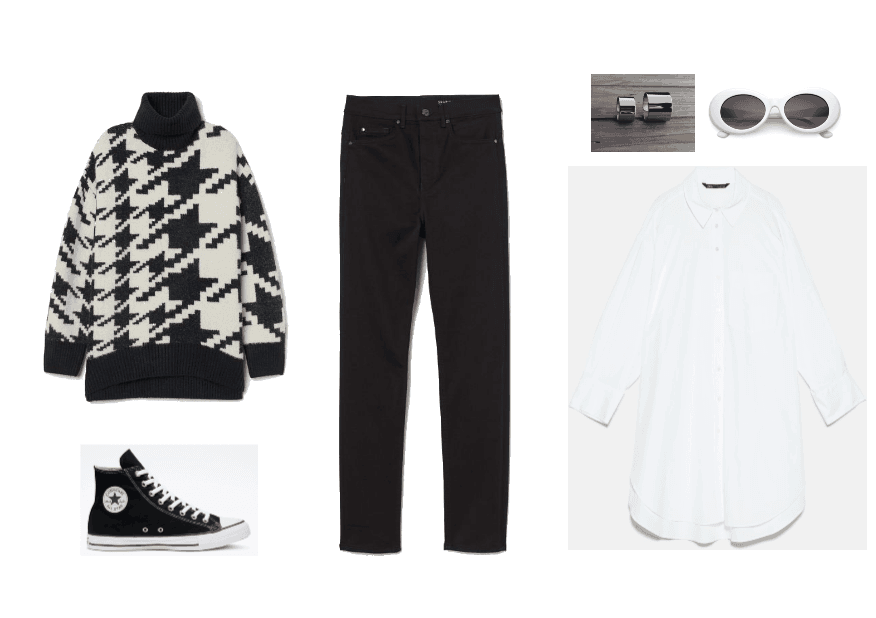 Products: Sweater – H&M, Sneakers – Converse, Jeans – H&M, Ring Set – Etsy, Sunglasses – Amazon, Shirt – Zara
David Rose is the eldest of the two Rose siblings. He's the jet-setting fashion fiend of Schitt's Creek and he has impeccable style.
David nearly always sticks to a black and white color palette, but his outfits never fail to make a statement. He is known for cool, androgynous silhouettes, interesting prints, and his high-fashion aesthetic (anyone remember his mohawk hoodie?).
To capture his style for yourself, begin by putting an oversized, white shirt over a pair of black skinny jeans.
As an homage to David's collection of knits, throw on a sweater with a busy black and white print.
As mentioned, David's style leans androgynous, and he's not afraid to embrace more traditionally feminine silhouettes (see this skirted pant look for reference). Leave the tails of the shirt untucked to create a modern skirt-over-pants effect.
David always wears a set of four wide rings in various configurations. Here, I've featured an edgy duo with a similar look to David's set.
David does like a good pair of sunglasses, so choose these white, oval sunnies.
To complete this David-inspired ensemble, all you need is a pair of retro sneakers. These black Converse do the trick!
Outfit #2: Alexis Rose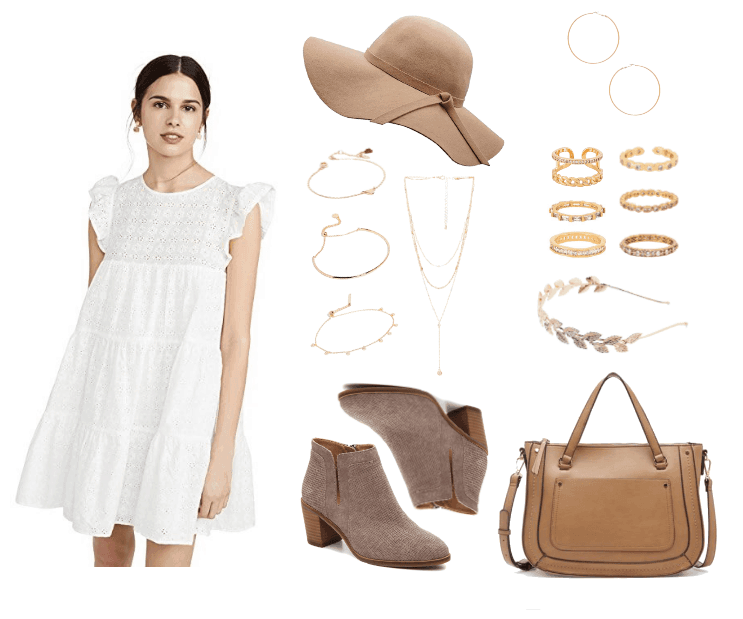 Products: Dress – Shopbop, Hat – Amazon, Heart Bracelet – Shopbop, Bar Bracelet – Shopbop, Mini Charm Bracelet – Shopbop, Necklace – Revolve, Ankle Boots – Sole Society, Earrings – Revolve, Layered Ring – Revolve, Rhinestone Stacking Ring Duo – Revolve, Crystal Ring Trio – Revolve, Hair Band – ASOS, Bag – Sole Society
Alexis Rose's fashion taste is the most bohemian of Schitt's Creek. Her look is very feminine and almost innocent-looking. This makes for a funny contrast to some of the ridiculously scandalous situations Alexis manages to get herself into.
Alexis's outfits typically center around a flowy dress, so if you want to recreate her look for yourself, begin with a boho mini style that can be dressed up or down.
Next, add a bunch of delicate jewelry. Seriously: you cannot put on too much.
Alexis is a big fan of hats and hair accessories. She lives for floppy panama hats and hippie hair bands. Feel free to add one of these to your ensemble for an Alexis-approved touch!
To finish off the look, nothing says Alexis more than a pair of heeled ankle booties and a satchel bag.
Outfit #3: Moira Rose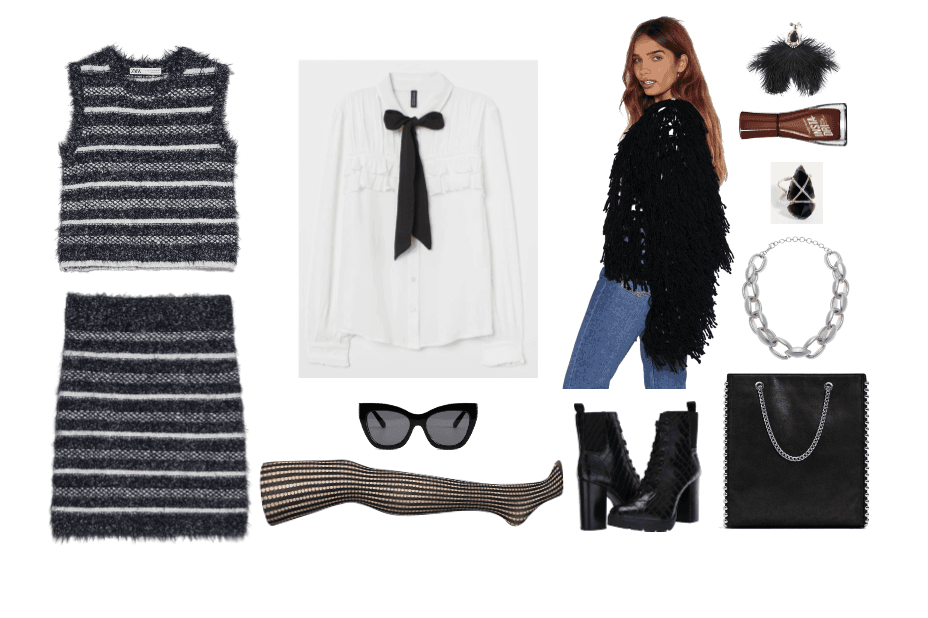 Products: Sleeveless Top – Zara, Skirt – Zara, Blouse – H&M, Sunglasses – Mango, Tights – Bare Necessities, Cardigan – Nasty Gal, Ankle Boots – Zappos, Brooch – Nordstrom Rack, Nail Polish – Ulta, Ring – Free People, Necklace – Nordstrom, Tote – Zara
Moira Rose, the matriarch of the Rose family, has the wildest style of all. That is not debatable.
Her eccentric aesthetic is a cross between a glamorous Gothic villain and something you'd see on a couture runway. Frankly, it suits her overly dramatic and wig-naming character perfectly. Her fashion taste is a stark contrast to the townspeople in Schitt's Creek.
Like her son, Moira primarily wears black and white pieces. However, sometimes she switches things up with some metallic pieces.
For a slightly more wearable Moira-inspired look, start off by putting on a contrasting tie-neck blouse.
Next, add a quirky, matching faux-fur sleeveless top and skirt set.
To make this look pack an even bigger punch, throw on a textured, fringe cardigan.
Moira loves a good pair of crazy tights. Grab a pair for yourself, such as this black, patterned pair.
As far as jewelry goes, the more the better! Don't hesitate to pile on multiple statement pieces at once. A black cocktail ring, a bold chain-link necklace, and a feathered brooch, all fit the bill perfectly.
A pair of oversized, cat-eye sunglasses are another favorite of Moira's when it comes to accessories.
As for shoes, I can't recall a situation in which Moira wasn't wearing sky-high heels of some sort. That's why I went with these chunky heeled ankle boots.
A studded tote adds a chic finishing touch to the outfit.
Outfit #4: Johnny Rose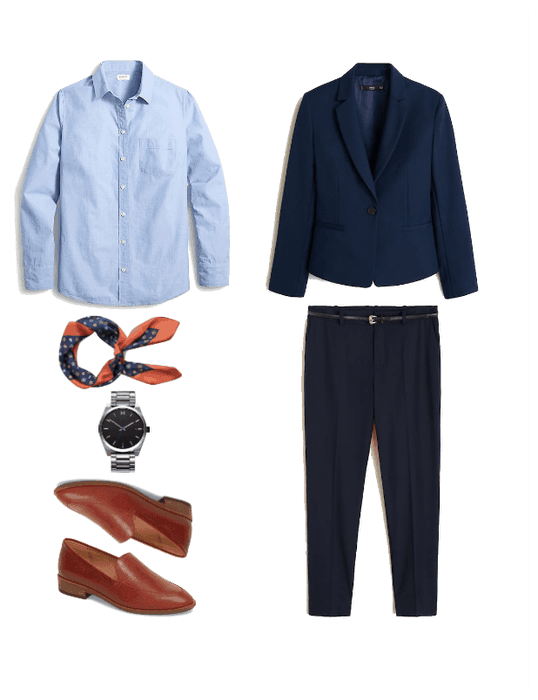 Products: Shirt – J.Crew Factory, Bandana – Mango, Watch – Nordstrom, Loafers – Nordstrom, Blazer – Mango, Pants – Mango
Last but not least, we have Johnny Rose, Moira's husband.
Johnny's fashion taste is definitely the simplest and most timeless of all the Schitt's Creek characters. His elegant and sophisticated attire clearly reflects his high-end business background and desire to be taken seriously as a businessman.
Regardless of what he's doing, Johnny always wears an expensive suit in either black, dark blue, or gray.
To recreate Johnny's signature look for yourself, begin by putting on a classic blue button-up shirt. They're more versatile than you think!
Next, tuck the shirt into a pair of navy belted trousers. After that, throw on a matching dark blue blazer.
Johnny keeps things pretty minimal accessories-wise, so opt for an oversized watch and a perfectly folded pocket square or silky bandana scarf.
To finish off this outfit, slip on a pair of loafers. I love the mahogany color of these ones, as they complement the shades of blue found throughout the outfit.
What do you think?
Which Schitt's Creek character has the best taste in fashion? Which character's style is closest to what you would wear yourself? Finally, what's your favorite moment (style-related or otherwise!) from the Schitt's Creek?
Let me know in the comments!