This Madison Beer Outfit style guide will show you how to dress like Madison Beer and copy her clothes on a budget.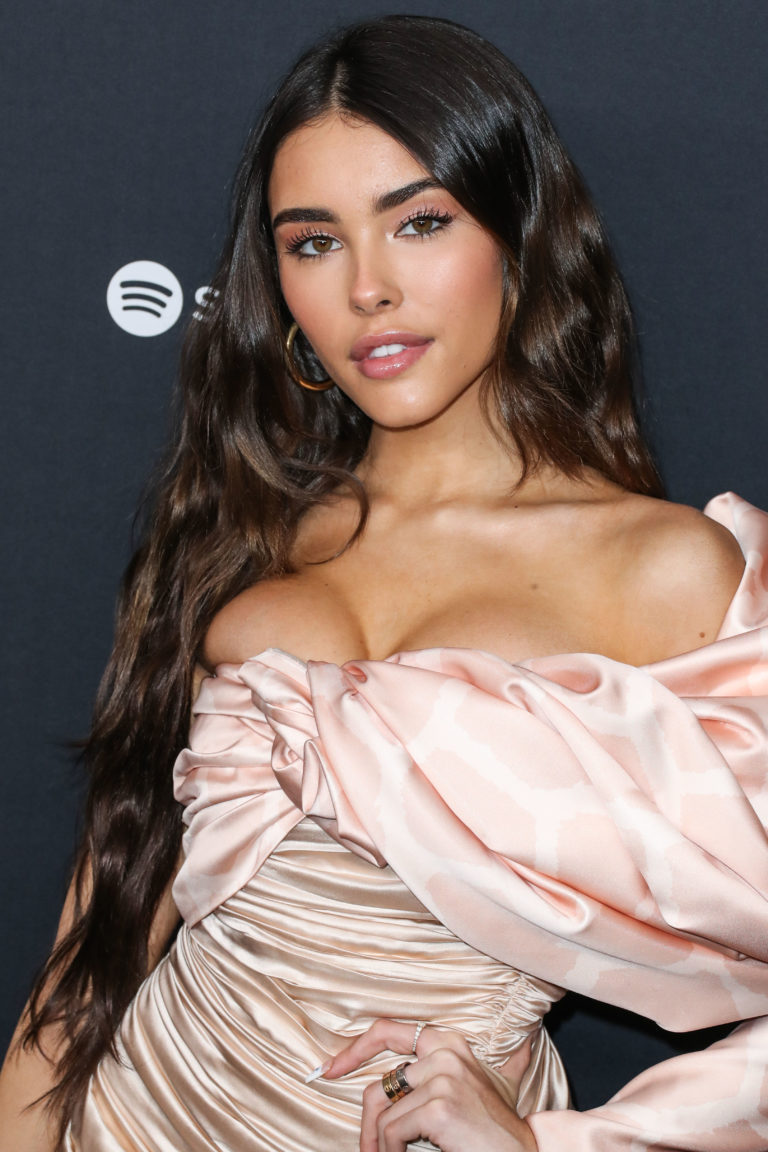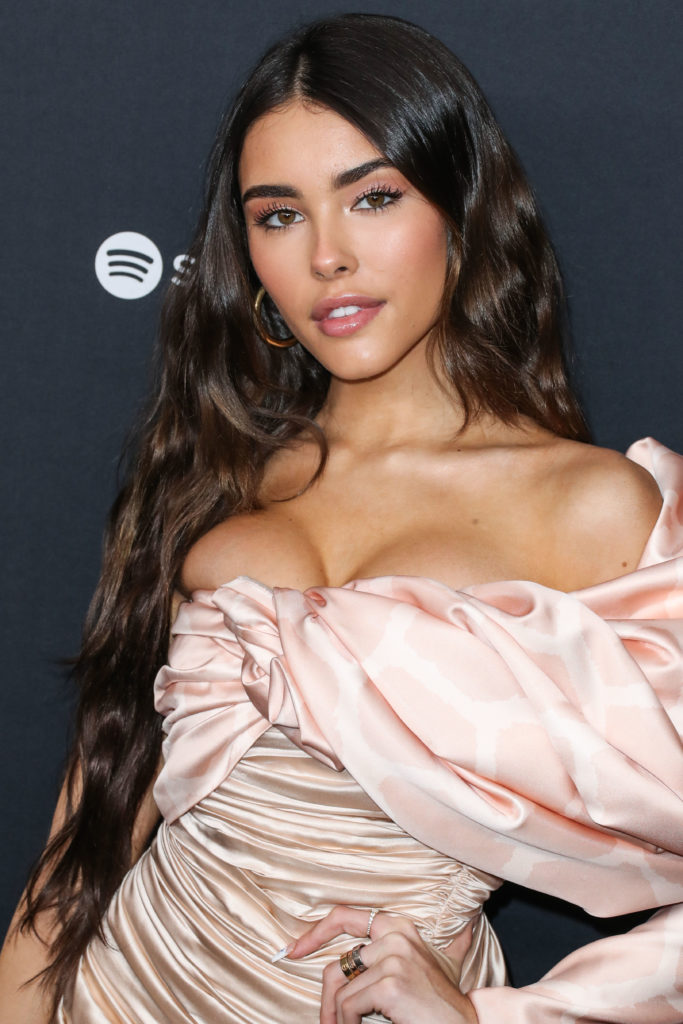 This week, we are breaking down Madison Beer's personal style, which has a major Y2K influence that is ultra-trendy.
The 22-year-old singer recently released her debut album Life Support, for which she hosted a global virtual concert for this past weekend.
And with 23 million followers on Instagram and another 14 million on TikTok, it's safe to say Madison is also a social media sensation whose personal style has inspired viral fashion trends (I'm talking about that pearl choker necklace).
Read on for the key elements of Madison Beer's style, and how you can achieve her look on a budget.
Madison's Cropped Camis
One of Madison's favorite things to wear is cropped camis with lace or colorful prints.
These tops have a total Y2K vibe and are a rising trend that will be major this summer.
1. Get Madison's Look: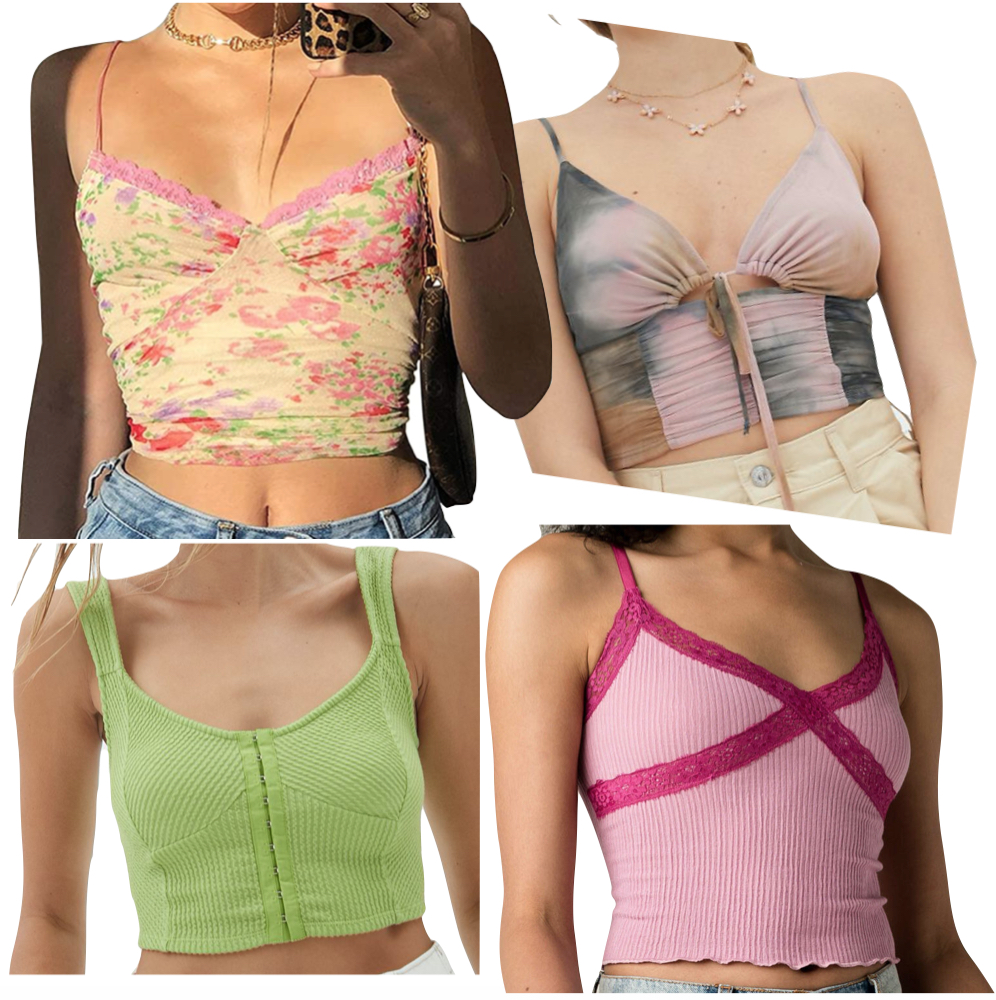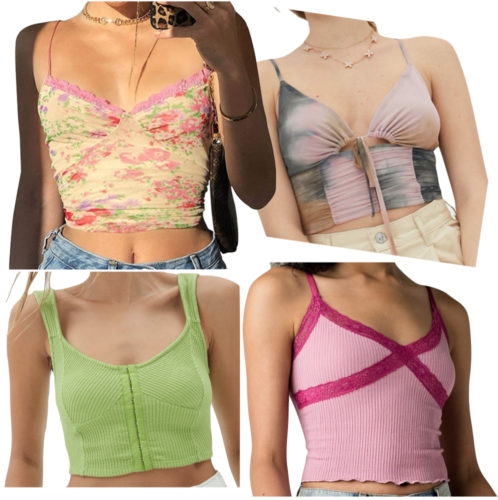 Products:
While you used to only be able to find these 2000's-inspired camis at thrift shops (or the very back of your closet), this style is coming back in a big way.
Take a cue from Madison and opt for cropped camis with spaghetti straps and dainty detailing, like contrasting lace trimming or a bustier-style silhouette.
Madison isn't afraid of rocking some bold colors, so choose bright cami tops in hues like neon green or bubblegum pink. Or, have fun with prints and try a tie-dye or floral print cami.
Also Read: Middle School Trends, Re-Styled: How To Wear Colorful Camis
2. Madison's Old-School Sweaters
Madison also favors vintage-inspired sweaters and sweater vests, especially ones which feature an argyle print.
Madison styles her sweaters with denim or with pleated tennis skirts, for a casual take on the academia look. She also keeps her knitwear looking modern by accessorizing with plenty of jewelry and chic shoulder bags.
Get Madison's Look: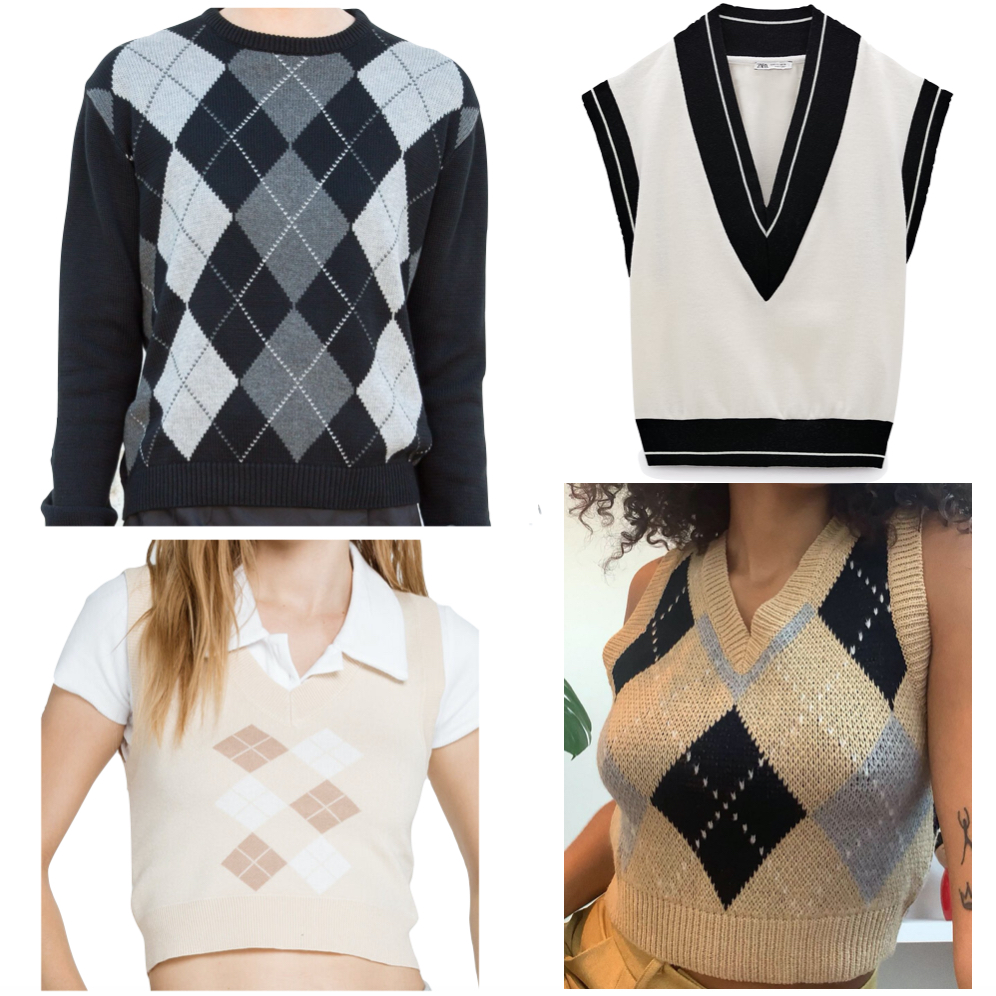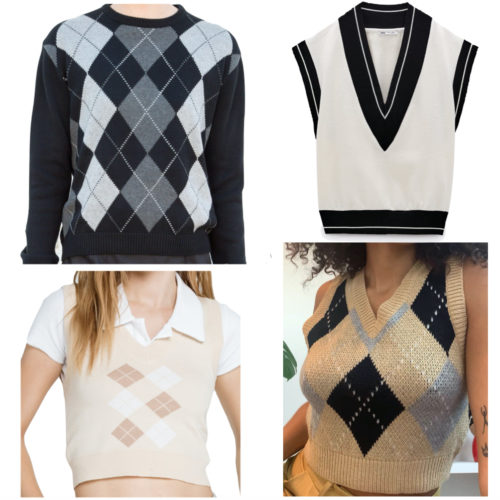 Products (L-R, Top-Bottom)
Argyle sweaters (or "grandpa sweaters") and sweater vests have been a fan favorite here at CF, and they'll continue to make a stylish statement into the spring season.
As temperatures rise, ditch the sleeves in favor of sleeveless vest styles.
3. Madison's Jeans
When it comes to denim, Madison tends to stick to wearing light wash, straight-leg jeans. No skinny jeans for this Gen-Z style star!
Think of vintage Levi's, with high waists and relaxed silhouettes – Madison wears this denim style all the time, whether she's hanging out or going out for the night.
Get Madison's Look: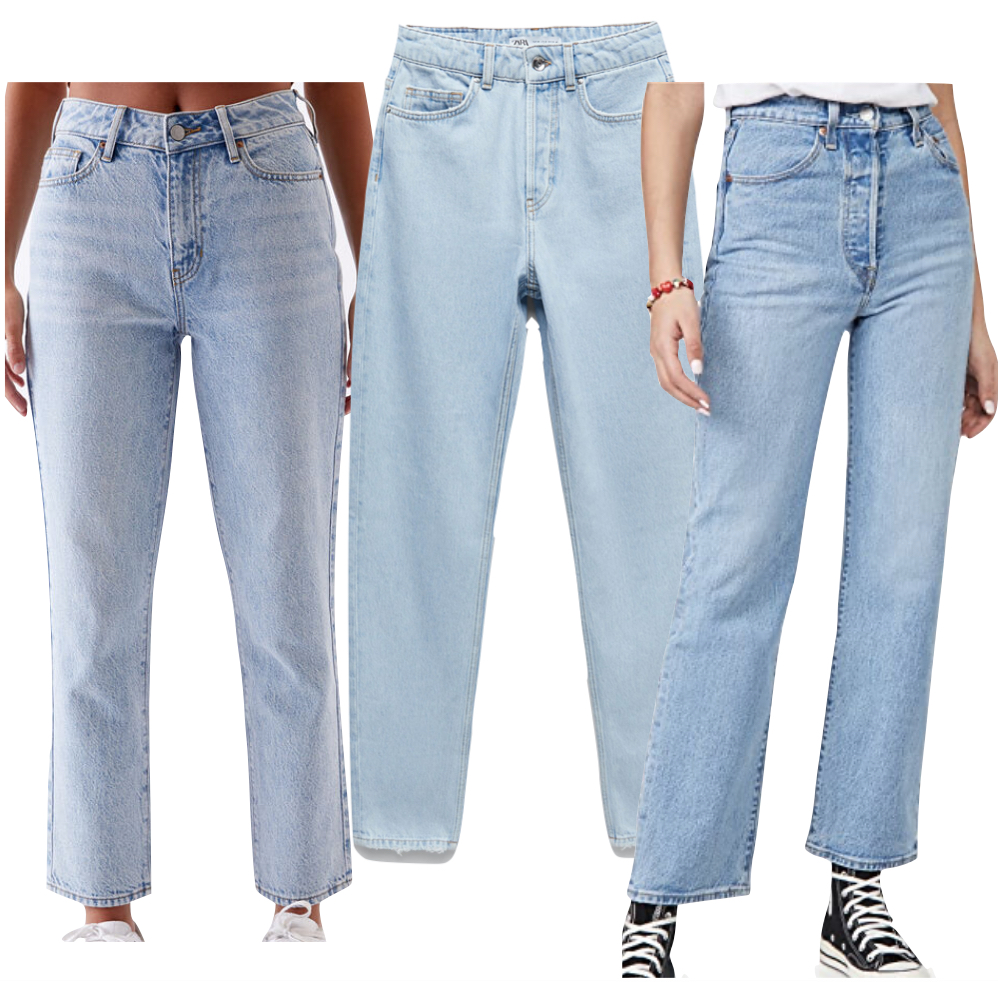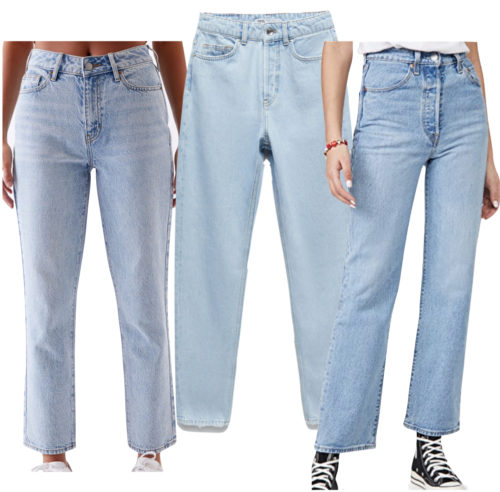 Jeans L-R:
Light-wash, straight-leg jeans are the "it" denim of the season. I especially love light wash denim in the spring and summer, so now is a great time to find your perfect pair.
Don't forget to look for a pair with a high-rise waist, which are ideal for wearing with cute crop tops.
4. Madison Beer's Accessories
Like her clothing, Madison has a thing for the '90s and '00s-inspired accessories and she makes these fun pieces look incredibly cool.
But we can't talk about Madison Beer's accessories without talking about the trend she started (or at least perpetuated): the well-known Vivienne Westwood pearl choker necklace with a crystal pendant.
The "Mini Bas Relief" choker is one of Madison's staple jewelry pieces which she always seems to be wearing, and has inspired others to sell out this piece (or find dupes of it).
She also has a thing for trucker hats, hoop earrings, and shoulder bags.
Get Madison's Look: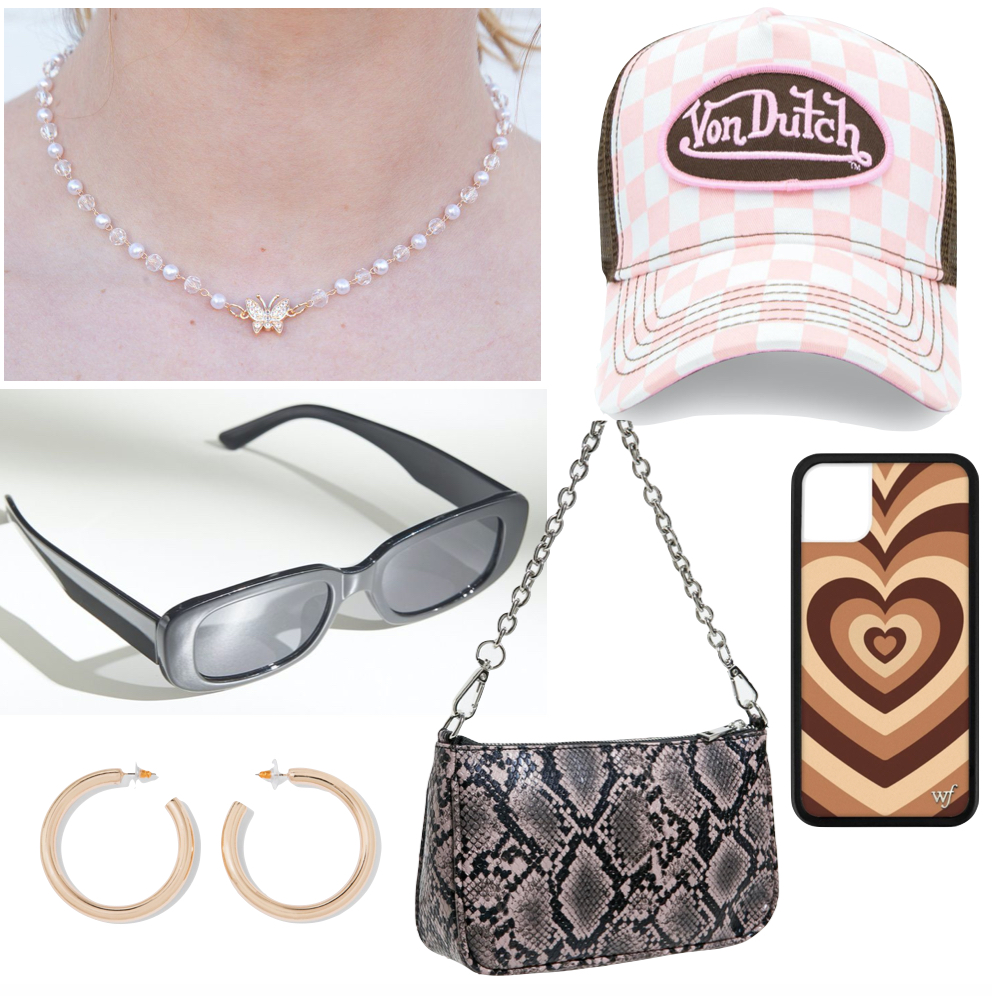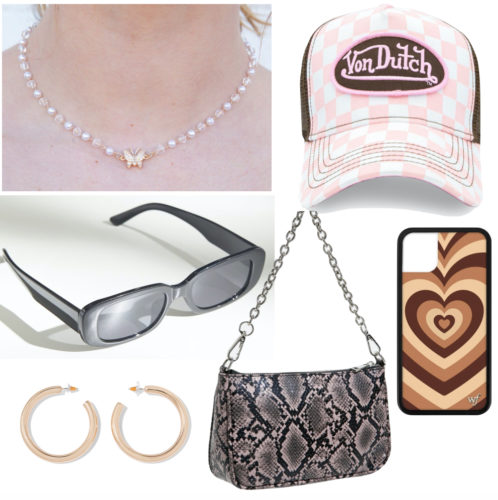 Products:
I found a super cute alternative to Madison's designer choker necklace: this faux pearl and bead choker with a butterfly pendant. It's similar to Madison's without being a knock-off, and is much more affordable!
This necklace will also pair perfectly with some chunky gold hoop earrings, which are a favorite of Madison's.
To accessorize like Madison, be sure to wear vintage-inspired pieces like rectangular sunglasses and small printed shoulder bags. She also has posted a selfie featuring this adorable heart print phone case.
For a real throwback, wear a Von Dutch Mesh trucker hat like Madison for the ultimate 2000s vibe.
5. Madison Beer's Graphic Prints
Another style Madison gravitates toward is All things graphic-printed.
She has a huge collection of graphic print sweatpants, sweatshirts, and t-shirts, featuring all sorts of different logos and designs.
Many of her graphic print pieces have a vintage look which fits her aesthetic, as well.
Get Madison's Look: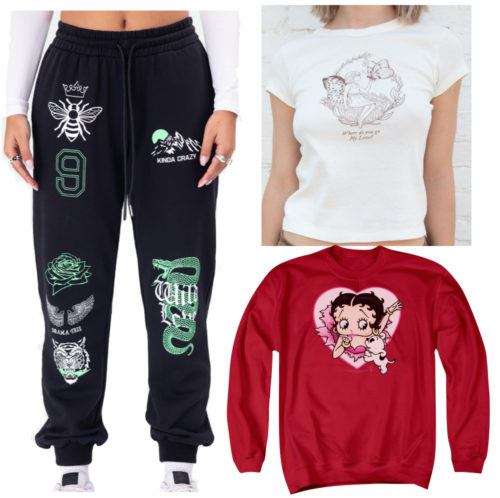 Products:
These graphic print sweatpants seem like something Madison would totally wear, especially since they have a baggy fit which she's often seen in.
You can get Madison's exact look with this cute red Betty Boop crewneck sweatshirt, which Madison has worn (and taken selfies in on Instagram).
And of course, graphic print t-shirts are a must-have; Madison prefers styles with a "shrunken" fit like the one above.
Also read: Graphic Sweatshirt Outfits: Fall & Summer Styling Ideas
6. Madison Beer's Shoes
Though Madison has rocked some killer heels on red carpets, she spends much of her daily life in more comfortable shoe options.
There are a few styles of shoes that she tends to wear the most, including Converse high-top sneakers and Nike Air Force 1 sneakers.
Get Madison's Look: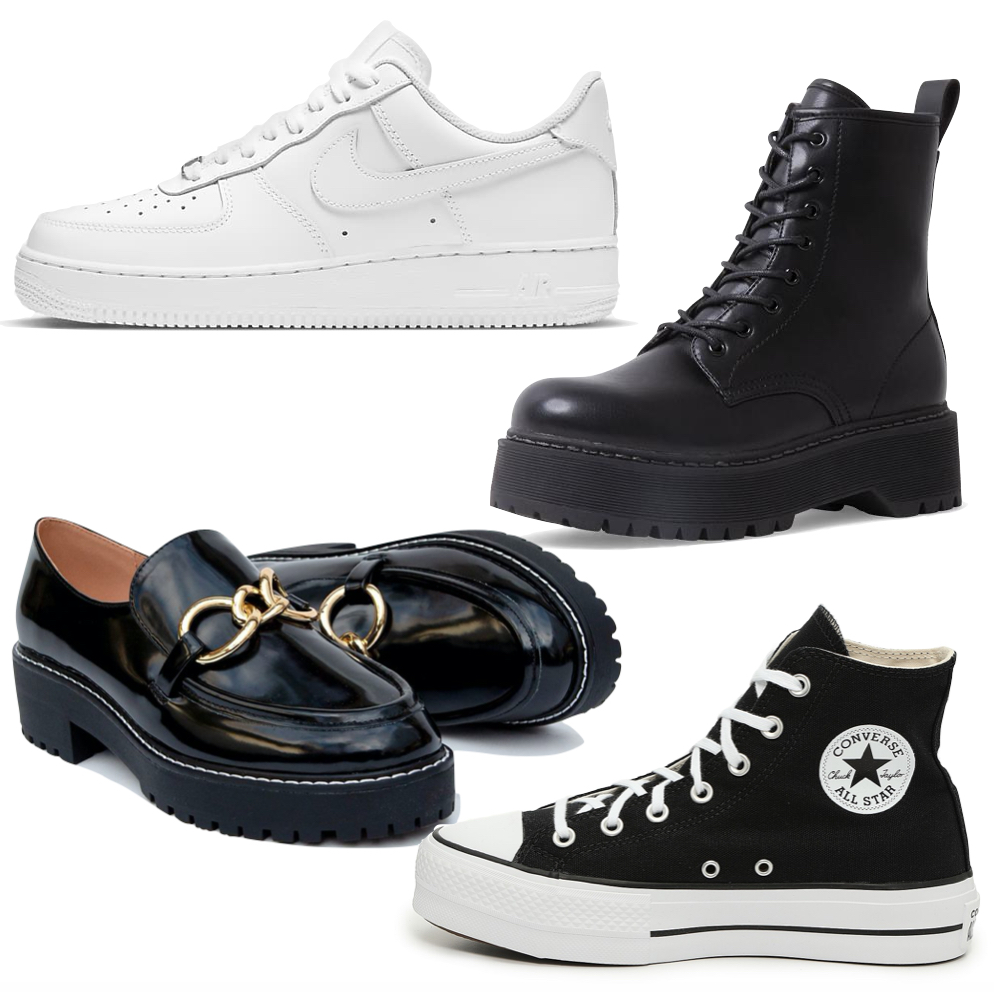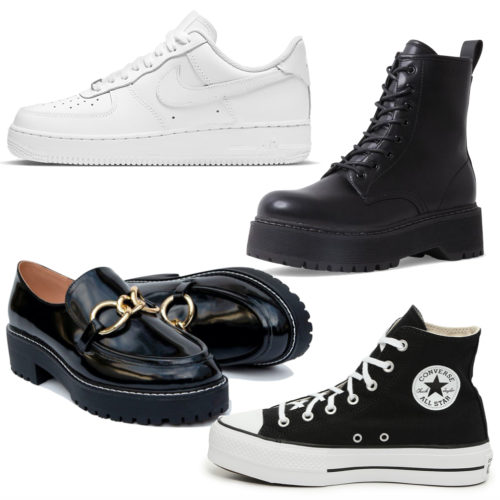 Products:
Not only are the above four shoe styles keys to Madison's daily style, but I think they would be perfect for a capsule wardrobe since they're all quite versatile.
Nike Air Force 1 sneakers are a go-to shoe for Madison, and she's also worn platform Converse Chuck Taylor All-Star high-tops.
For edgier looks, Madison opts for chunky lace-up combat boots.
Recently, she's also been wearing the Prada Logo Plaque loafers which have a chunky silhouette similar to these chunky tread loafers; this more affordable pair also has an eye-catching metal chain detail for added flair.
What do you think of my guide to Madison Beer's style?
Which styles would you be most likely to wear? Which other celebrities would you like to see featured? Leave a comment and let us know!
For more celebrity fashion inspiration like Madison Beer Outfits, check out our favorites below –