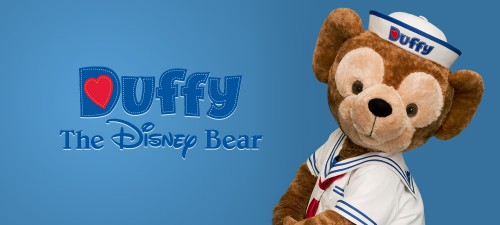 Duffy the Disney bear is one of the newer faces at the Disney Parks but is still just as loveable as the rest. And, after reading his cute little back story below from the Disney World site, you'll fall in love with him, too! You can also watch a video version of the Duffy story here.
One day Mickey was preparing to set sail for a long voyage around the world. Minnie thought he should have something special to remind him how much he was loved at home. She stayed up all night to hand-make a plush teddy bear with all of her heart. Mickey adored him and named him Duffy.

With Duffy in tow, Mickey traveled the globe and went to ports in California, Japan, Castaway Cay, Paris and Hong Kong. There were plenty of stops along the way to meet old friends and make new ones. Mickey and Duffy took pictures together, always saying "Cheese!" in front of landmarks and with their pals.
So cute, right? And luckily for you, Minnie has made a few more so that you can have your very own Duffy to take along on your adventures! Although Duffy is a Disney Park specialty, you can also find him online at the Disney Store, along with cute little outfits modeled after the countries in Epcot and some of your favorite Disney characters.
Even if you don't have a Duffy of your own, you can use this adorable little bear as a source of fashion inspiration! That's right! Duffy's signature look is a cute little sailor outfit, perfect for those who are obsessing over the nautical trend, like me. Below, I've created a few real-life-wearable outfits inspired by Duffy to give you some ideas for your own looks. Scroll down to view them all!
Duffy the Sailor Bear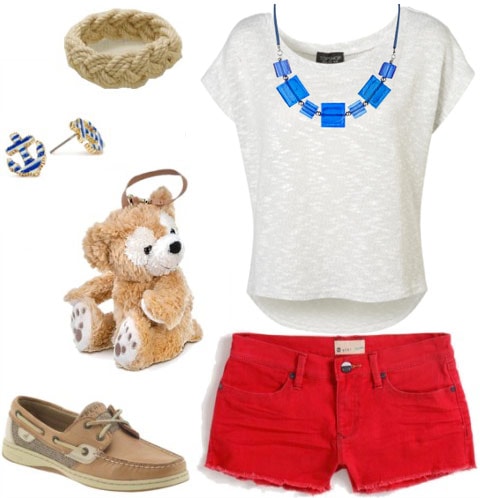 Tee – Topshop, Necklace – Wallis, Shorts – PacSun, Shoes – Piperlime, Wristlet – Disney, Earrings – Endless, Bracelet – Rugby
Nautical and nice, this outfit is perfect for any adventure, even if it's just on campus. Pair a white tee with a statement necklace to create a look that's reminiscent of Duffy's sailor shirt in a subtle way. Next, add a pair of bright red shorts and classic boat shoes. For accessories, wear a pair of anchor earrings and a rope bracelet. And, if you're looking for an extra Duffy flair (and a hint of '90s chic), grab this adorable Duffy bear wristlet before heading off on your trip.
Ahoy, Duffy!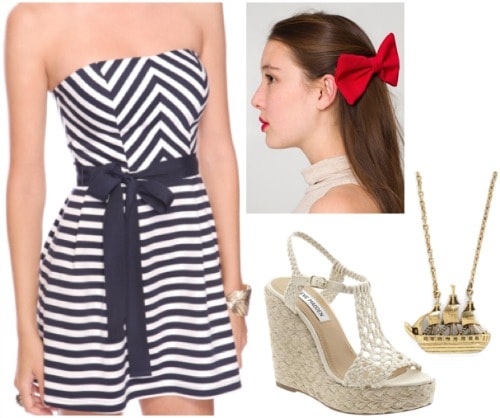 Dress – Forever21, Wedges – Piperlime, Necklace – Modcloth, Bow – American Apparel
For a trendier look, try wearing a navy and white striped dress with a pair of espadrille wedges. Put on a ship necklace and add a red bow to your hair for a cute look that's perfect for summer.
Bear-y Cute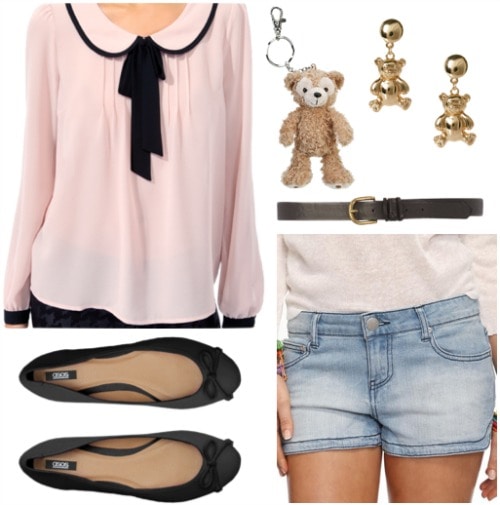 Top – Forever21, Shorts – Forever21, Flats – ASOS, Belt – Dorothy Perkins, Earrings – ASOS, Keychain – Disney Store
There's no denying that Duffy is utterly adorable. Steal his cuteness with a collared tie blouse tucked into a pair of denim shorts with a black belt. Slip on a pair of ballerina flats to maintain a pretty but comfortable appeal. For a fun accessory, wear bear drop earrings. And, for the Duffy fanatics, add a Duffy bear keychain on a belt loop on your shorts or as a bag charm for a cute twist.
What do you think?
Are you a fan of Duffy the Disney Bear? Would you wear any of the looks above? Which outfit is your favorite? Would you like to see more posts like these in the future? Let me know in the comments!