Today I'm continuing our Style and Art Direction inspiration series with outfits inspired by the 2013 film The Great Gatsby.
Both the book and movie versions of this work are popular sources for style inspiration, and we've already covered them here, here, here, and here. This article will focus specifically on fashion inspired by the 2013 film's art direction.
This film is notable for its visually-striking costumes and production design. In fact, it won an Academy Award for Best Production Design in 2014.
The sets feature high-end interiors that channel the 1920s. The film takes place in New York, so the setting gives a city vibe, unlike the last two films I've covered. You'll notice that the interiors are characterized by contrasting color schemes in the interiors. Colors that don't often clash do in this film.
So, here's how to get fashion inspiration from the settings of this iconic film:
The Great Gatsby Movie Fashion #1 – The Buchanan House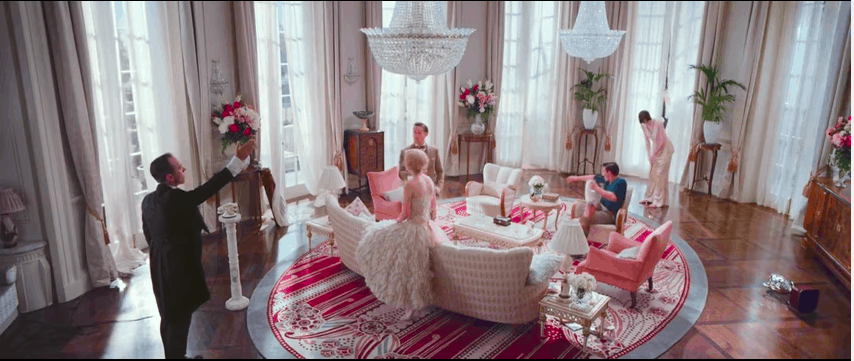 In this scene, the main character Nick meets Daisy Buchanan, Gatsby's love interest, at her palatial home in East Egg. Nick also meets Daisy's husband Tom, and her friend, Jordan Baker.
What I love about this setting is the bold combination of red carpets and pink furniture. These colors usually clash, which may be a nod to the conflicting feelings Daisy wrestles with in the film. This room channels Daisy's personality and charm more than any other scene. It also reveals her love of all things showy and luxe. (That's two crystal chandeliers, if you're counting.)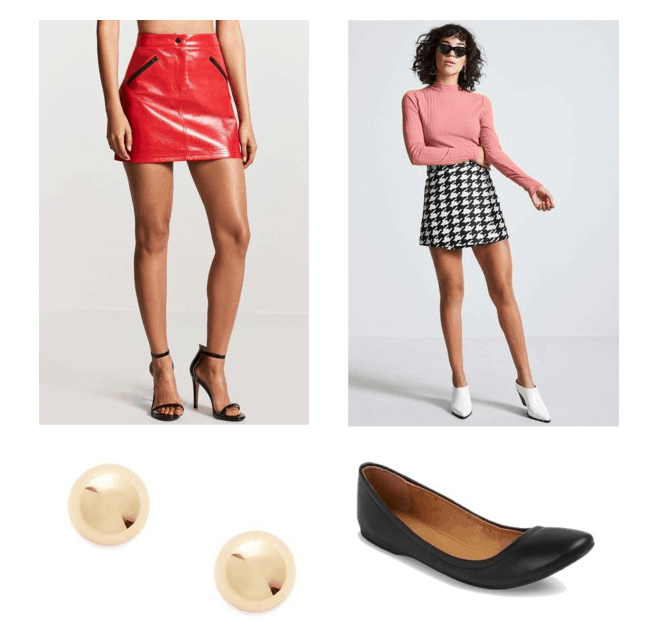 Products: Skirt – Forever 21, Top – Forever 21, Studs – Forever 21, Flats – Target
To copy the vibe of this room, focus on the pink and red color scheme. This mixes Daisy's sweet femininity with something a bit more alluring, as a nod to her personality. So start off with a red leather skirt and a pink sweater.
The colors are bold enough as-is, so it's best to keep the rest of the look simple. Finish off with basic black flats as a nod to the chic, old money aesthetic of East Egg. Add in some cute gold studs for a hint of the glitz Daisy loves so much. This outfit is as cute as Daisy Buchanan herself.
The Great Gatsby Movie Fashion #2 – Gatsby's Tea Party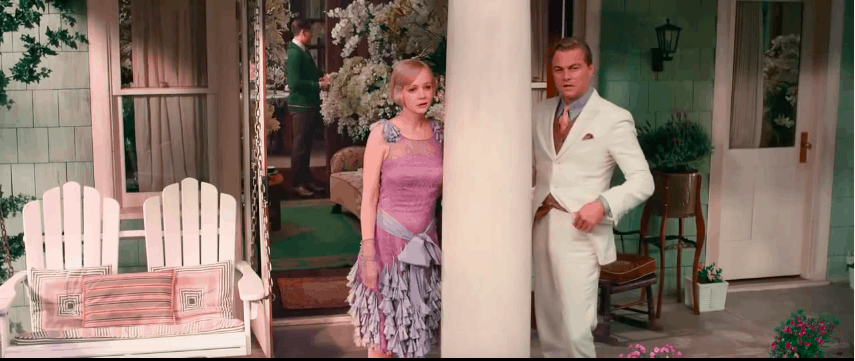 Nick, at Gatsby's request, invites Gatsby and Daisy to his house for tea. Gatsby has set up the scenario in hopes of impressing Daisy, and even goes to the trouble of having hundreds of bouquets delivered to Nick's cottage. Our friend is nothing if not over-the-top.
I love how the decor in this scene is organized: It's quirky, sweet, and just what a summer cottage should be. I even love that Daisy and Gatsby are shot on both sides of the column, representing the inescapable space between them. The luxurious bouquets add a romantic, extravagant feel to the space.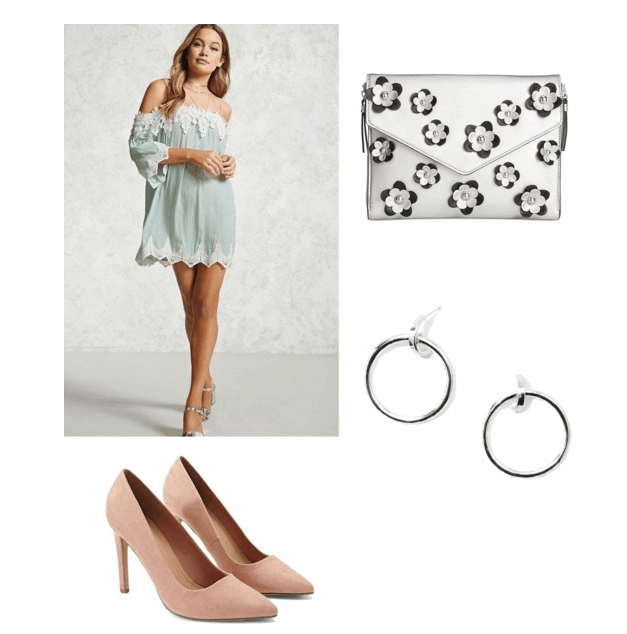 Products: Dress – Forever 21, Heels – Forever 21, Earrings – Forever 21, Clutch – Macy's
Mint green and the pearl pink are the main colors of this setting. So begin with a mint-green off-the-shoulder crochet dress that's just as romantic as the scene. Add some pink to your look with these adorable dusty rose heels.
Naturally, one must reference the flower displays, so do so by adding a cute floral clutch. Complete your look with glam hoop earrings.
The Great Gatsby Movie Fashion #3 – Gatsby's Epic Party
The Great Gatsby Party Scene
The art direction of Gatsby's parties is so grand that it deserves to shown as a video itself. Just watch and let it all sink in.
This scene is where we are first introduced to The Great Gatsby himself. We later find out that he hosts these over-the-top parties to impress Daisy, which makes sense: Why else would any sane person go to such party planning extremes?
There are so many aspects of the production design to consider here: It would take hours to dissect every detail. However, the gold interiors, the white balloons, the butterfly decor, and, of course, the fireworks, stood out to me most.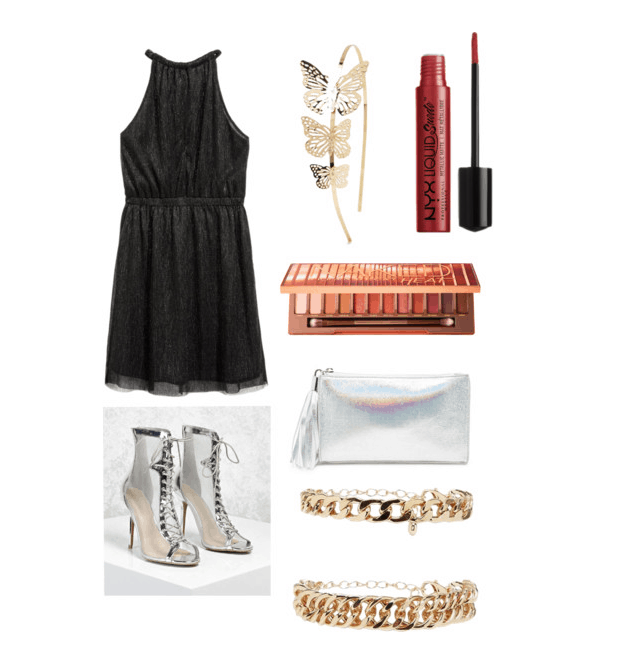 Products: Dress – H&M, Heels – Forever 21, Headband – Forever 21, Lip Gloss – NYX, Eyeshadow – Urban Decay, Clutch – Forever 21, Bracelet – Forever 21
This outfit is perfect for attending a Gatsby soiree — or just hitting the town with your BFFs.
This look is all about metallics, in true Gilded Age fashion. First, channel the fireworks with a black dress featuring metallic shimmer. To reference the white balloons, add a silver clutch and lace-up heels.
Stack up some chain bracelets to nod to Gatsby's mansion's gold interiors. Finally, channel the butterfly decor with a headpiece. Now you are ready to party!
What do you think?
Have you seen the Great Gatsby? Do you also want to go to Gatsby's party? Will you be rocking metallics during your nights out? Leave a comment below!