Today, I'm continuing our new series combining Style and Art Direction with outfits inspired by the art direction of the 2009 romantic comedy, It's Complicated, starring Meryl Streep, Alec Baldwin, and Steve Martin.
In case you haven't seen it, let me get you up to speed: The film follows Jane (Meryl Streep), a successful baker and mother of three grown children who starts an affair with her ex-husband (Alec Baldwin) whom she divorced after he cheated on her. In the midst of that, she also begins a relationship with her architect, Adam (Steve Martin).
It's Complicated - Internet Trailer
This is one of my favorite movies, and I love it because it's not your typical romantic comedy starring a hot, young cast. You don't often see rom-coms about characters over 50. This film does the subject justice and, obviously, appeals to movie fans of all ages.
Aside from being fun to watch, the film's visuals are simply gorgeous: It's Complicated takes place in Santa Barbara, which means the city's beautiful views are all on display. In addition, the interior shots are stunning, reflecting the well-to-do status of the main characters.
The stunning visuals come as no surprise to film buffs: The film's writer/director Nancy Meyers is known for including gorgeous interiors in her romantic comedies.
It's Complicated Movie Fashion – Outfit #1 –  Jane's Bakery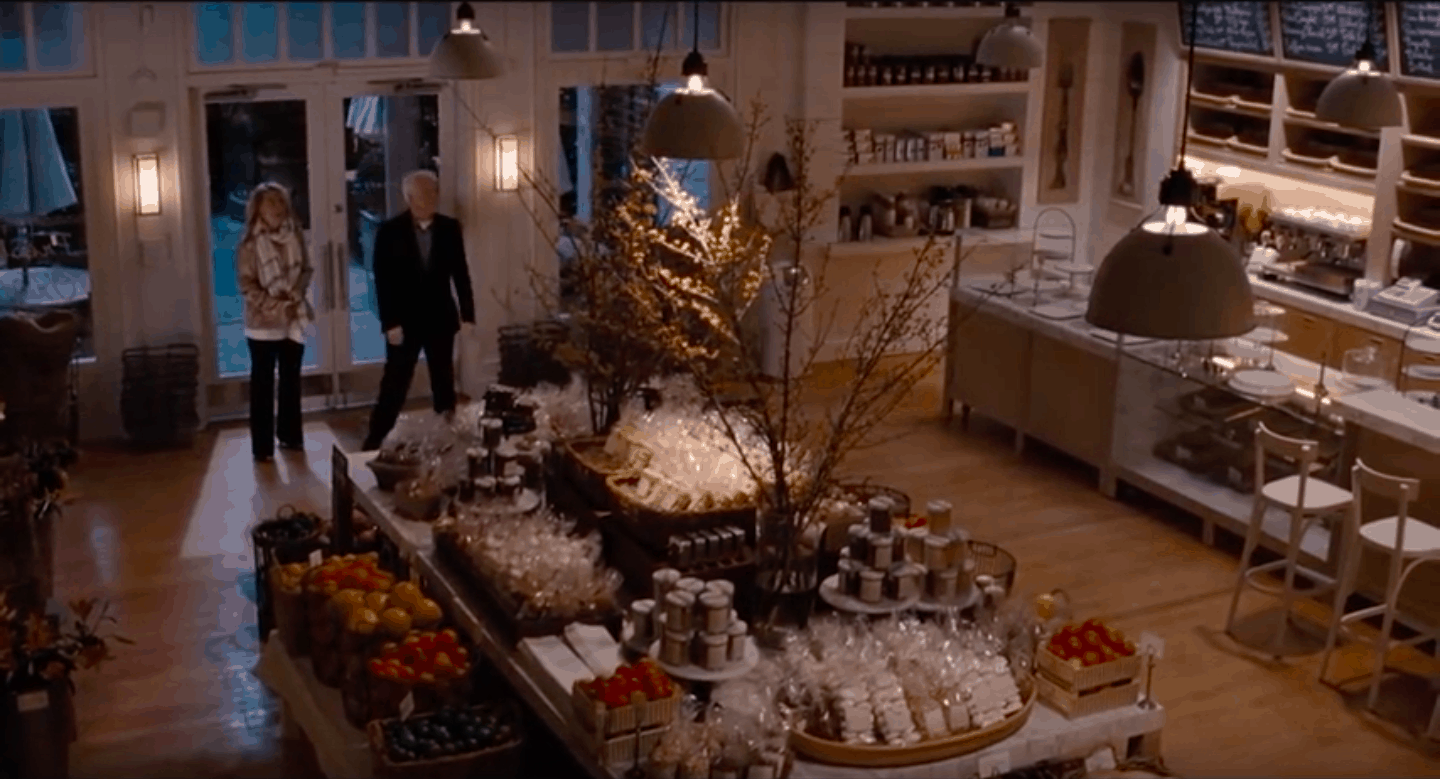 Jane owns one of the most popular bakeries in Santa Barbara, and it's not hard to see why with decor this stunning! Jane's bakery has a warm, contemporary vibe, with white furniture and wall decor, accented by colorful fruit baskets in the center.
This scene takes place after hours, which is why the bakery is so empty. I actually love the emptiness, though: It effectively draws our focus to the shop's decor.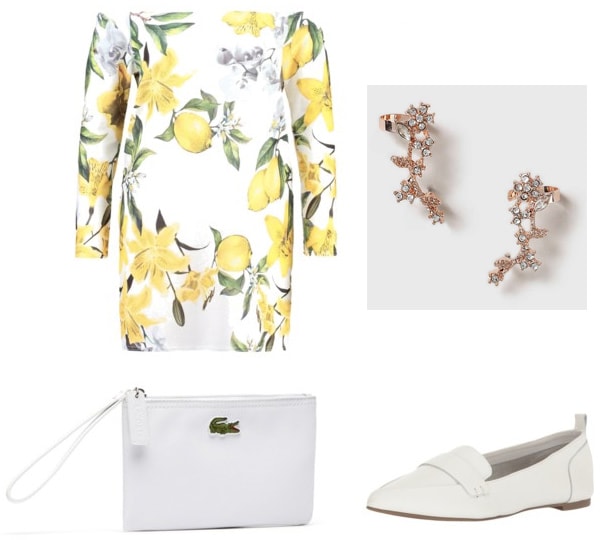 Dress – Boohoo, Ear Cuffs – Dorothy Perkins, Pouch – Lacoste, Flats- Amazon
Reflecting the aesthetics of the bakery, this outfit is all white with a splash of fruit. 
I started off with an off-the-shoulder dress with a fun lemon print. Add simple pops of white with loafer flats and a minimalist clutch. Finally, we need a hint of glam: Top off the look with some cute ear cuffs.
It's Complicated Movie Fashion – Outfit #2 – Jane's House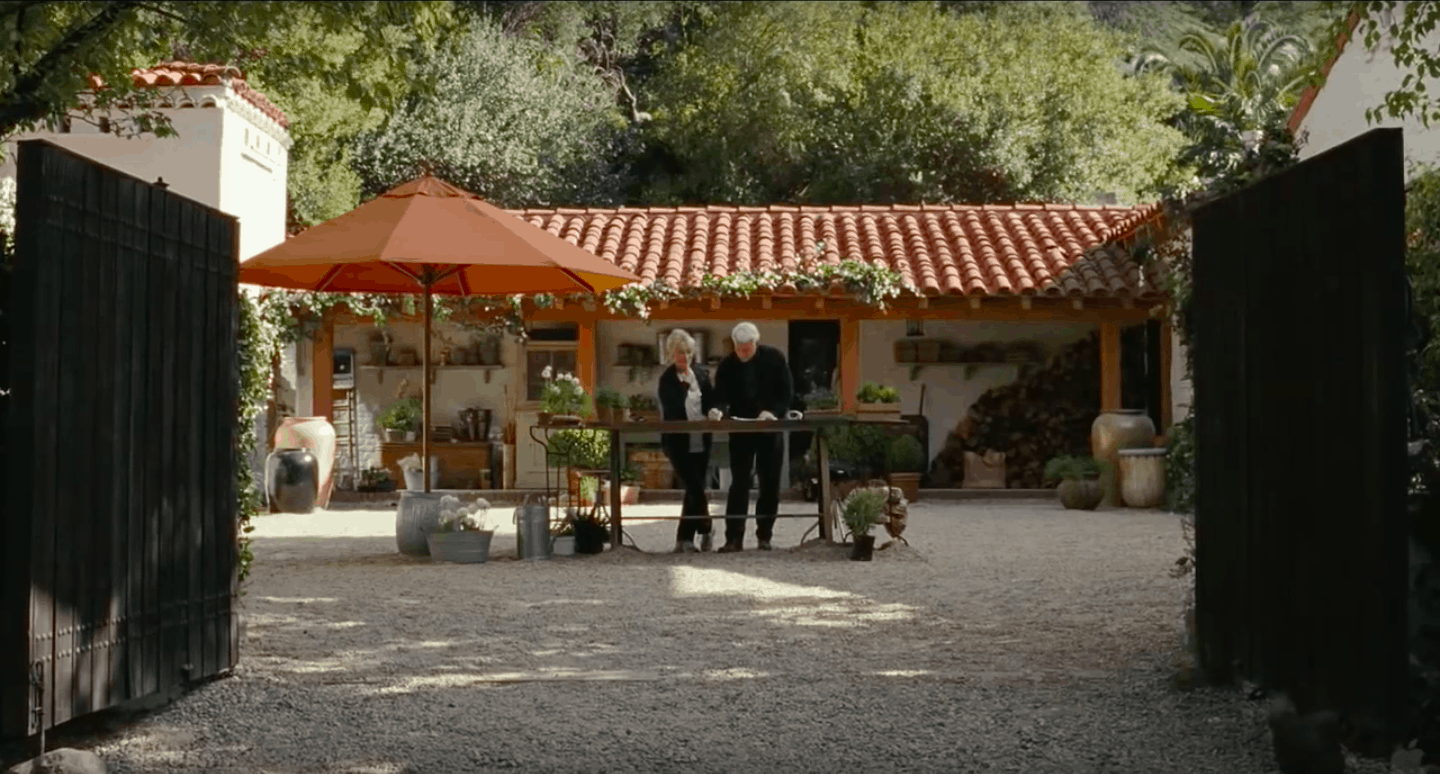 This is Jane's home, which she is re-modeling with the help of her architect – and soon-to-be second love interest – Adam.
Jane's home is shown repeatedly throughout the film, and for good reason: It's total eye-candy. Her home definitely has a paradise feel to it, calling to mind glamorous vacation homes in Europe.
To be honest, I find it hard to believe that Jane would want to re-model her home; it's already so beautiful…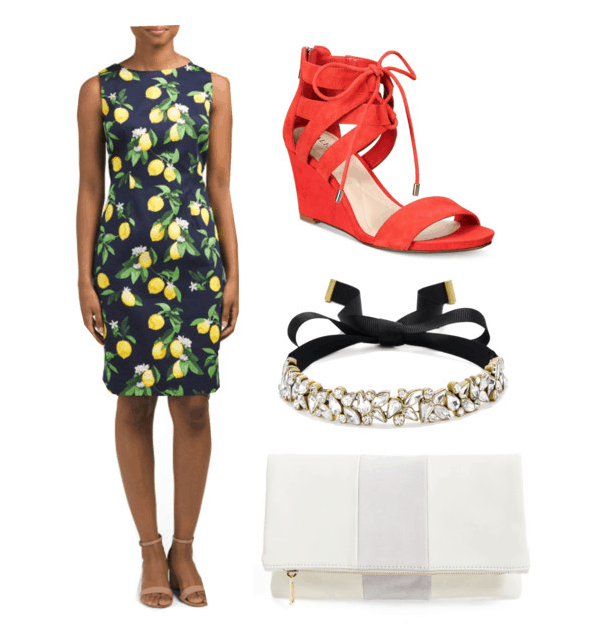 Dress – TJ Maxx, Wedges – Macy's, Choker – BaubleBar, Clutch – Nordstrom
As you guys know, we're loving the fruit print trend this season. So I thought I'd do another take on a lemon dress for this second look.
To contrast with this navy lemon print dress, get yourself a pair of orange wedge sandals that reflect the rooftop. Add a choker to reflect the rest of the home. This is the ideal outfit for going out, so remember to bring yourself a clutch.
It's Complicated Movie Fashion – Outfit #3 – Jane's Dinner Party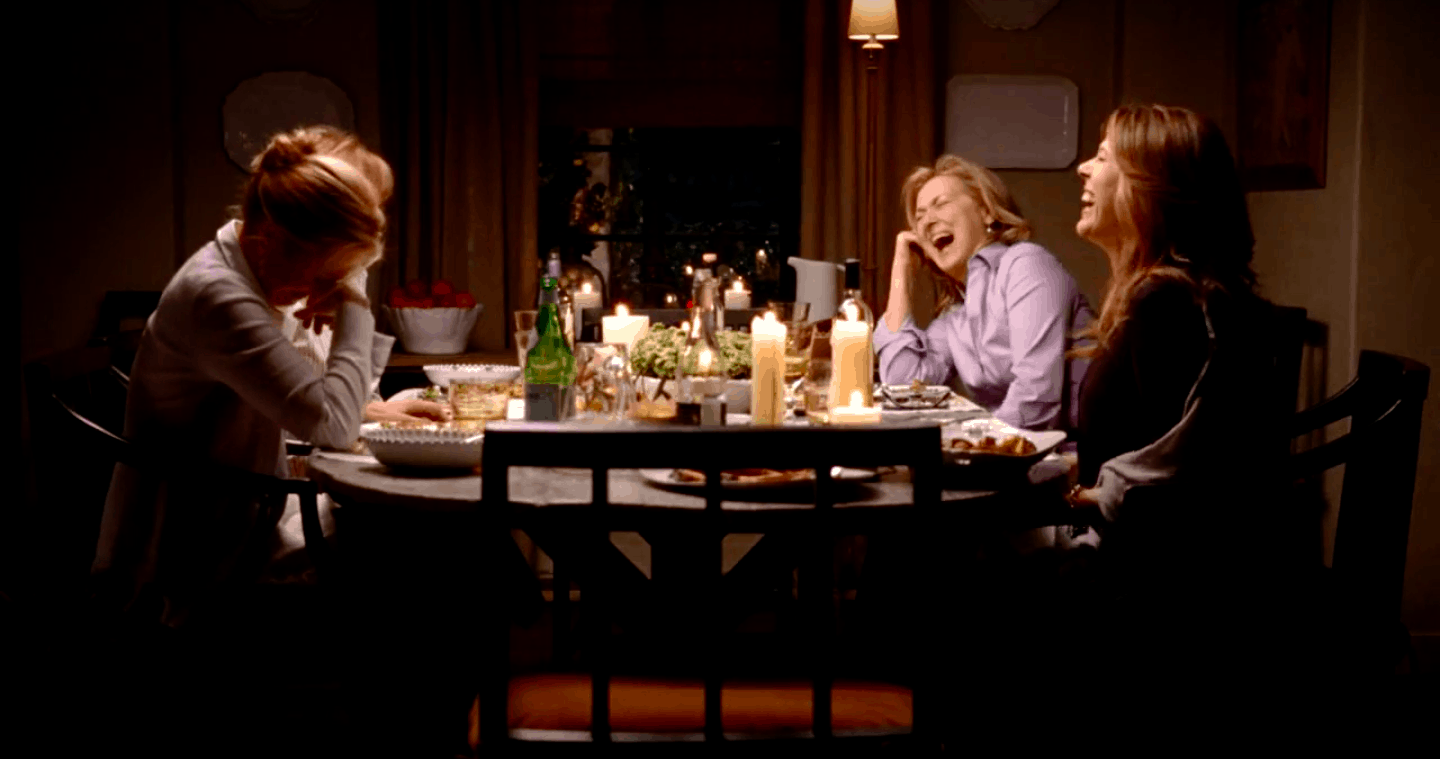 In the film, Jane hosts tons of fun dinner parties with her girlfriends. Honestly, it makes you want to join her squad.
Since she is a baker, Jane loves to provide a feast. Her dinner parties are an opportunity for her squad to talk about love and share many laughs while stuffing their faces.
Later in the film, Jane's affair with her husband gives her more energy to host more gatherings. These get-togethers are a nice reminder that fun times with friends shouldn't stop as we grow older.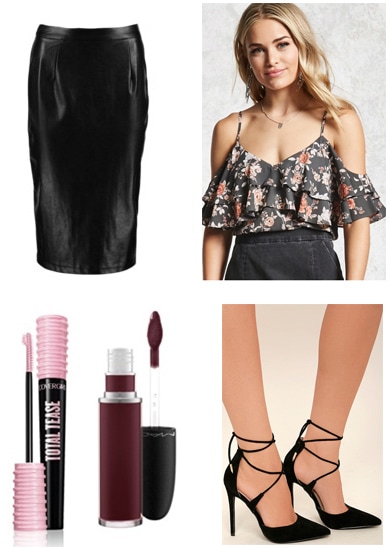 Skirt – Boohoo, Top – Forever 21, Heels – Lulus, Lip Cream – MAC Cosmetics, Mascara – Target
This look is both fun and sophisticated, perfect for a fun dinner party – or dinner out – with your favorite girls.
To start, pair a pencil skirt with some gorgeous black heels. Add a printed top with ruffles for interest. Finish off the look with lip cream and mascara and get ready to feel fabulous, like Jane and her friends.
What do you think?
Have you seen It's Complicated? What was your favorite part? Which setting is your favorite? Which outfit reflects your style the most? Leave a comment below!