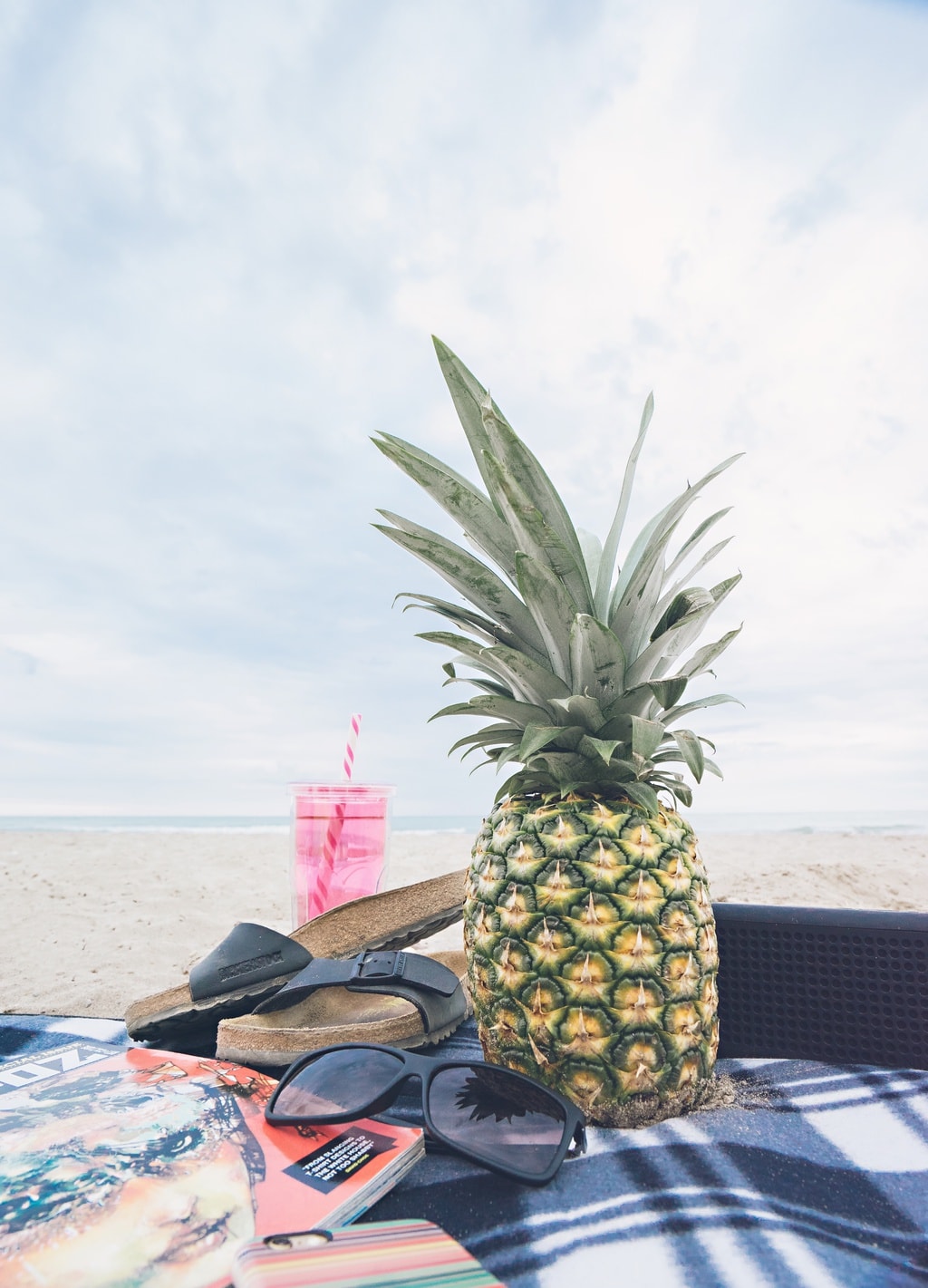 If the iconic pattern for spring is florals, then the comparable one for summer is definitely the oh-so-adorable fruit print.
You may have noticed this precious pattern popping up in all of your favorite stores lately – including everything from banana dresses to strawberry print scarves.
My personal favorite fruit print fashion trends are the three that I'm featuring today: pineapple, watermelon, and lemon prints! Read ahead for some of my favorite pieces of fruit print clothing and fruit accessories that are sure to bring a touch of bright playfulness to your summer attire.
Pineapple Print Clothes & Accessories
Products: Gold Clutch Purse – Charming Charlie, Socks – Charlotte Russe, Bracelet – Charming Charlie, Romper – Forever 21, Sunglasses – Target, Manicure Set – Charming Charlie, Straw Clutch – Forever 21
#1 on my list is classic summer pineapple print!
The bright yellow color of the pineapple is appropriately cheery, while the shape of the fruit itself is full of geometric visual interest and looks amazing when paired with island-y greens and blues.
You can find fancier pineapple accessories (like this gold pineapple clutch purse, manicure set, and link bracelet) or dressed down in a more casual look in pieces like these pineapple-print socks, straw clutch, sunglasses, or pineapple romper.
Watermelon Print Clothes & Accessories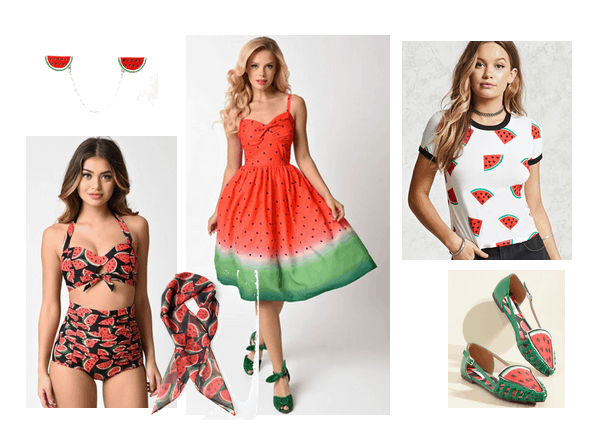 Products: Sweater Pull – Unique Vintage, Swimsuit Top – Unique Vintage, Swimsuit Bottom – Unique Vintage, Scarf – Unique Vintage, Dress – Unique Vintage, Shirt – Forever 21, Shoes – ModCloth
Next to the pineapple, few prints are less quintessentially summer than watermelon print. Just the thought of it calls to mind summer picnics, barbecues, and 4th of July parties!
The articles of clothing I found for this print show how you can't wear watermelon ANYTHING without instantly looking cuter.
Unique Vintage has a really great collection of watermelon-inspired fashion pieces this season, including a watermelon sweater pull, watermelon swimsuit set, hair scarf, and retro-inspired watermelon dress.
For a more casual look, try a watermelon-printed tee from Forever 21, or try an outlandish accent piece like these watermelon-shaped flats.
Lemon Print Clothes & Accessories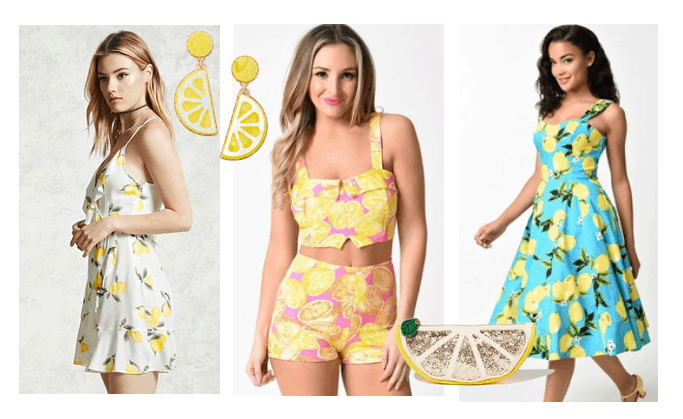 Products: White Dress (sold out – similar print top at Forever 21), Earrings – Macy's, Swimsuit Top – Unique Vintage, Swimsuit Bottoms – Unique Vintage, Zipper Pouch – Charming Charlie, Blue Dress – Unique Vintage
Our final fruit is the lemon! Lemonade is, of course, the perfect summer drink, and its fruit makes the perfect summer pattern. (And, I mean, the Beyonce Lemonade references are obvious too.)
The great thing about yellow is that it pairs well with nearly everything: blue, pink, green, cream, red, purple…the possibilities are endless.
Some of my favorite lemon fashion pieces for the season are the two lemon dresses and the lemon print swimsuit set above (they all make the perfect base to plan your outfit around!), while these funky lemon statement earrings and lemon-shaped zipper pouch are also definitely eye-catching.
What do you think?
Do you like fruit prints, or is the pattern too loud for you? Would you try the fruit print fashion trend? Which of the above would you be most excited to wear? Let me know in the comments!