Welcome to the latest edition of Looks from Books, which aims to prove that you can look smart, while still being book-smart, too. Fashion inspiration can be found between the pages of your favorite stories, on well-designed book covers, and in your favorite characters… if you read closely enough.
Unless you've been living under a rock throughout its extensive media campaign, star-studded premiere, and the ensuing polarizing reviews, you probably know that the latest film adaptation of The Great Gatsby blazed into theaters on May 10th, in a swirl of sequins and sparkling champagne.
We've done outfit posts inspired by the new movie (and the old one), the decade and the author's wife… but until today, we had yet to tackle the iconic novel from which the glamorous legacy originated! So that's what I'm here to do. Read on for CF's take on this American classic.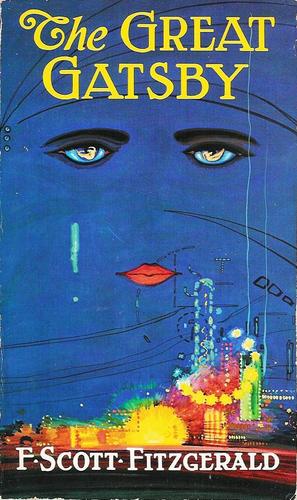 The Great Gatsby's iconic book cover, via Amazon
Inside Cover: A Little Bit of Background
The Great Gatsby is a classic work of American fiction, originally written by F. Scott Fitzgerald in 1925.
Written and set during the height of the Roaring '20s, the novel explores themes of  decadence, idealism, and social excess, as well as the demoralizing effects of the Jazz Age. The supposed death of the American Dream presented within the novel was a response to the revelry without limits that Fitzgerald observed during this time period. The novel has, in turn, become an iconic title associated with the decade.
Though a classic today, the book was not a best-seller when it was first published; in fact, none of Fitzgerald's works were. He believed himself to be a failure, and when he died in 1940, he thought his work would be forgotten with him. However, that was certainly not the case: The Great Gatsby is one of the most popularly assigned high school novels, is consistently listed and ranked among literary masterpieces, and is considered an example of the "Great American Novel."
A Fashionable Literacy
Gatsby has been adapted for film and stage numerous times – including an opera in 1999! – but the most popular adaptations are, arguably, the movie versions released in 1974 and 2013.
While the elder of the two adhered mostly to the wardrobe of the time period, the menswear in the film tended to stray towards a more timely aesthetic. The 2013 film, however, blew open the doors on all things tried-and-true, and strove for an ultra-glam flapper look all its own.
Designed by director Baz Luhrmann's Oscar-winning wife, Catherine Martin, in conjunction with fashion juggernaut Miuccia Prada, the 2013 film's frocks are lavish and luxe, just like they would have been in the time period, with a slightly updated fix: the pair combed Prada's archives for 40 classic looks, that were then revamped to blow even our modern minds. Take, for instance, the "chandelier" dress that Daisy wears to Gatsby's party in the film: while it looks perfectly suitable for the glammed-up gal-about-town back in 1922, the frock is, in fact, an adaptation of a dress from Prada's Spring/Summer 2010 collection.
The idea motivating the designing duo was that while the gowns would fit the time period, they weren't, as Martin said, making a "documentary," but instead, capturing the fiercely modern man's prose in a new fashion onscreen.
How to Add Gatsby to Your Wardrobe
When studying this novel, my high school AP English teacher emphasized Fitzgerald's use of color symbolism. I really enjoyed the topic, and am passing on the amazing subject matter on to you. By integrating specific colors used in the novel, and tying them to prominent themes within it as well, you too can integrate a little Gatsby into your modern life!
Gatsby Green and the American Dream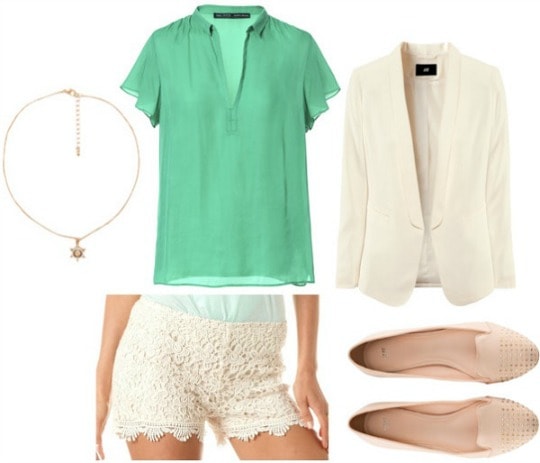 Product Information: Necklace – Forever 21, Blouse – Zara, Shorts – Charlotte Russe, Blazer – H&M, Loafers – H&M.
Gatsby himself is closely associated with the color green, representative of hope and future.
In the story, Gatsby serves as the embodiment of hope, being that he is constantly pursuing another chance with Daisy, and that his story represents a typical "rags to riches" Cinderella tale. In short, Gatsby exemplifies the "American Dream." Unfortunately, Fitzgerald's story is about the decay of American morals in the '20s, and like the decade in which he flourished, Gatsby's story ends on a tragic note.
Interpret Gatsby's status as both a symbol of hope and the American Dream by riffing on his "beautiful shirts" with one in a shade of emerald green. Pair it with a cream blazer, white lace shorts, and studded loafers to create a look that contains both trendy and classic elements. A ship wheel necklace links to Gatsby's origins,  while also hinting at the light at the end of a certain dock.
Wilted Daisy, Tainted by Gold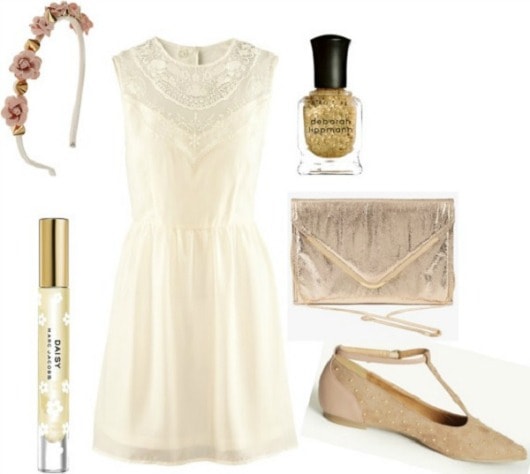 Product Information: Dress – H&M, Clutch – Bebe, Flats – Ruche, Fragrance – Marc Jacobs, Headband – Topshop, Nail Polish – Deborah Lippman.
Traditionally, white symbolizes innocence, while gold symbolizes wealth. As such, Daisy is often depicted wearing white dresses, but like her floral namesake, the true center of a Daisy is golden.
Daisy was Gatsby's dream, his "golden girl" in her "white tower,"  but over the five years since he's seen her, she's changed. Fitzgerald's sharp take on the excess and uselessness of the upper classes, the old money in East Egg, and their greed, is all showcased in Daisy's apathetic and unapologetic attitude: something that once may have been innocent, is now tainted by wealth.
Take on one of Daisy's white dresses, and her high status, by accessorizing with golden tones. A studded floral headband, t-strap flats, an envelope purse, and dazzling nail polish are feminine with a hint of edginess, perfectly representing the leading lady's sharper edges beyond her floating flightiness. Finally, I'm sure that Ms. Buchanan would have been positively ecstatic over a perfume sharing her name.
Eckleberg Blue, and The Fault lines of Reality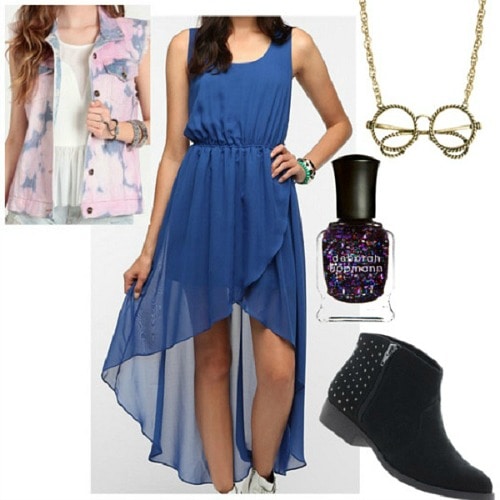 Product Information: Dress – Urban Outfitters, Vest – Threadsence, Necklace – Asos, Nail Polish – Deborah Lippmann, Boots – Asos.
In the novel, Eckleberg's eyes are described as blue. This color is commonly interpreted to mean unhappiness, but in Gatsby, it also comes to mean illusions and alternatives to reality. For instance, Wilson views the eyes symbolically, in his madness, as those of God. This would explain why the color also surrounds Gatsby, and why Myrtle is wearing a blue dress when she meets with Tom in front of her husband, as they themselves are not who they say they are.
Explore these fault lines of reality by highlighting the hue in a diaphanous high-low dress. Blur these delineations even further with an acid wash vest, a necklace referencing Eckleberg's eyes, and low boots grounded in the same ashy tones from which the billboard rises. Multi-toned nail polish ties to the many other colors represented within Fitzgerald's symbolism.
What Do You Think?
Have you ever read The Great Gatsby, or any of Fitzgerald's other incredible works? Have you had it assigned for an English class in high school, or did you read it for fun? What did you think of the novel and the elements at play?  What do you think about my outfits and styling tips? Let me know, in the comments below!