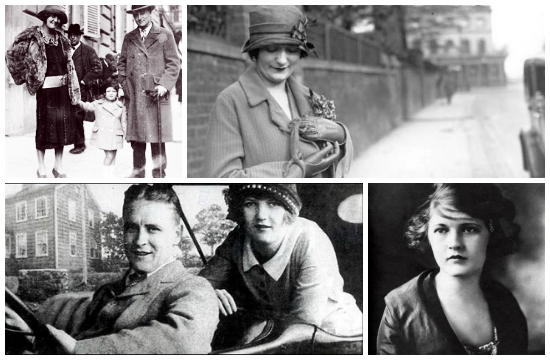 Even though it got pushed back to summer 2013 (boo!), the upcoming Great Gatsby film is sure to propel a fashion revival — expect to see lots of Roaring Twenties-inspired fashion in the near future!
However, if you want to capture a genuine 1920s-era look, there's no better source of inspiration than Zelda Fitzgerald's iconic style. The wife of Gatsby author F. Scott Fitzgerald, Zelda had a brazen personality and a style to match. She was even referred to by her husband as the "first American flapper."
Want to emulate her glamorous style for yourself? Simply scroll on down to check out three looks inspired by Zelda Fitzgerald:
Outfit #1: Prim & Polished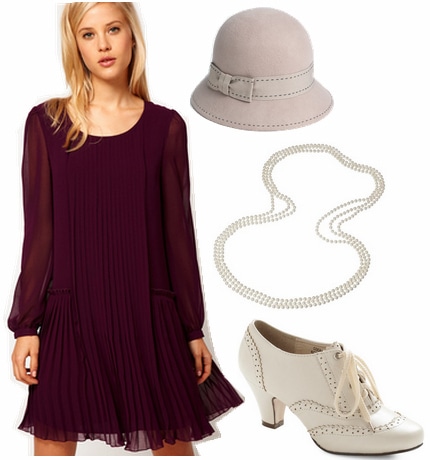 Product Info: Dress- ASOS, Hat- Nordstrom, Necklace- Target, Shoes- ModCloth
Drop-waist dresses were all the rage in the '20s, so for this look, we've found a vintage-inspired drop waist frock that still has a modern vibe. An off-white cloche hat contrasts nicely with the plum color of the dress, while heeled oxfords continue the vintage aesthetic. For the finishing touch, accessorize with a classic strand of pearls.
Outfit #2: 1920s Winter Wear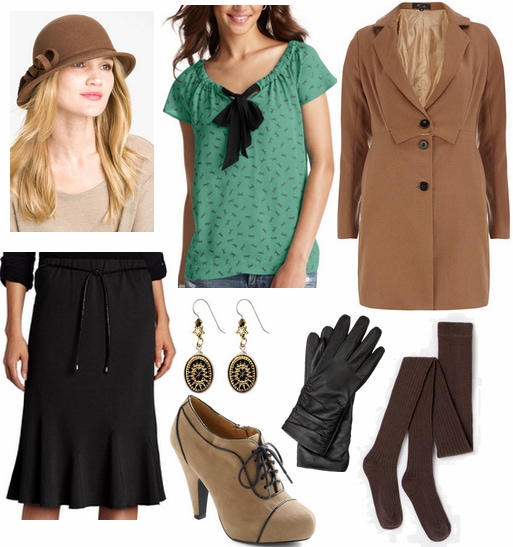 Product Info: Hat- Nordstrom, Top- LOFT, Coat- Dorothy Perkins, Skirt- amazon.com, Earrings- Tarina Tarantino, Shoes- ModCloth, Gloves- Target, Tights- Lacoste
For this next outfit, start by pairing a printed tie-neck blouse with a black fluted skirt to create an effortlessly chic look. A long camel coat is a practical choice, while heeled ankle booties add a stylish touch. Accessorize with winter-appropriate items like opaque tights and faux leather gloves, and capture the opulence of the Roaring Twenties with gold and black studs. Complete this look with an adorable bow-adorned cloche hat.
Outfit #3: Glamour Girl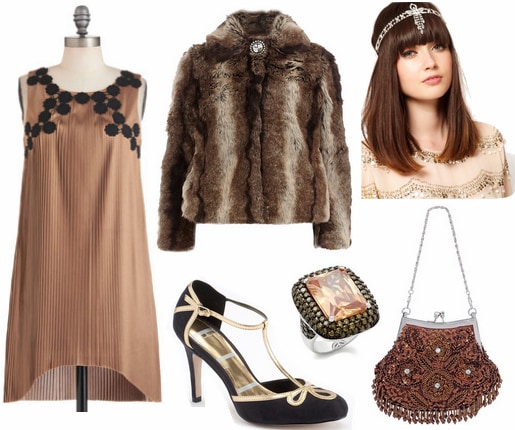 Product Info: Dress- ModCloth, Coat- Dorothy Perkins, Headband- ASOS, Shoes- Kohl's, Ring- Fantasy Jewelry Box, Bag- The Pyramid Collection
This final outfit, perfect for a formal occasion, is inspired by the glamour of the flapper era. Start with a gorgeous silk slip dress and a pair of t-strap heels for a dressy look. A faux fur coat not only continues that luxe vibe, but helps to make this outfit winter-appropriate. A beaded clutch and bold cocktail ring complement the dusky pink color of the dress. Finally, accessorize with a statement-making jeweled headband.
Your thoughts?
What do you think of Zelda Fitzgerald's style? Would you wear any of these outfits? Which one is your fave? Are you a fan of 1920s-era fashion? As always, remember to leave a comment below and tell us what you think!