This post may contain affiliate links, which means we may receive a commission if you purchase through our links. Please
read our full disclosure here
.
Hey guys! It's Fall, which means that if you're like me, every weekend for the next five months will be spent watching football.
I don't know about you guys, but I love dressing up on Game Day! I get so excited about supporting my school and my favorite teams. It's definitely something to look forward to after a long week of classes and studying.
To celebrate #GameDay, I created this quiz to help you ladies who need a new outfit idea for this season.
The Quiz:
Outfit Inspiration:
Outfit 1 – Comfy Cozy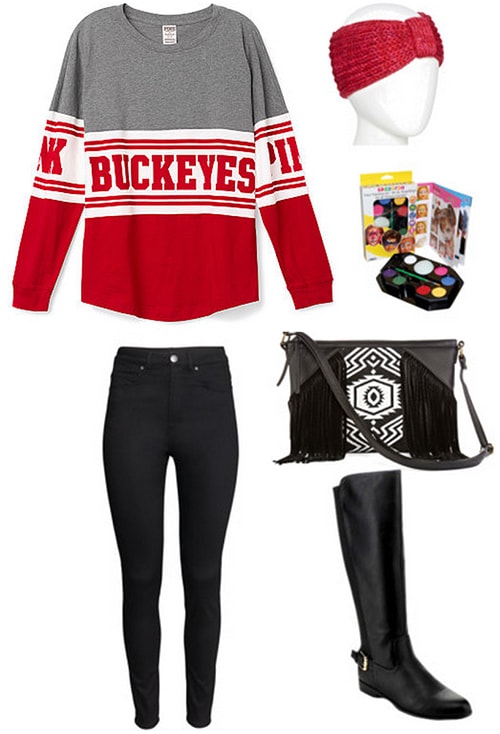 Products: Shirt, Pants, Bag, Shoes, Headband, Face paint
Outfit Idea #1 is super comfortable, perfect for the girl who wants to dress for the cold weather and stay cozy. A long sleeve tee with your school colors and some neutral-colored pants or leggings would be perfect. Add a pair of riding boots to keep your tootsies warm and don't forget a small cross-body purse to keep your I.D. and money safe. Add extra spirit with face paint, if you're so inclined.
Outfit 2 – Jerseys Out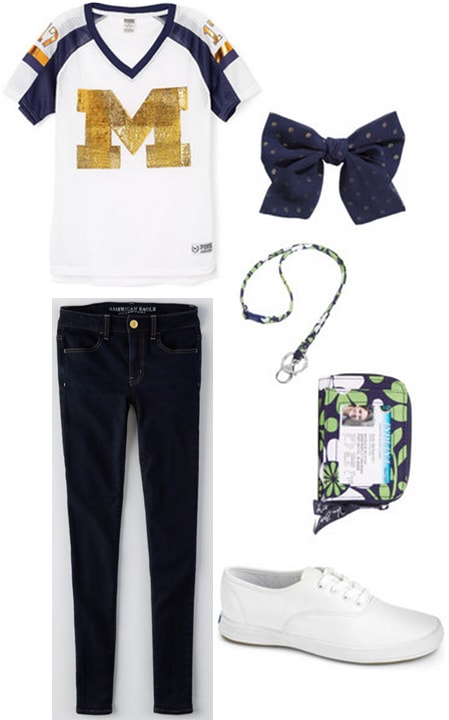 Products: Jersey, Jeans, Keds, Lanyard, Wallet, Bow
Outfit Idea #2 is for the girl who is more than ready to cheer her team to victory! Cute dark skinnies and your fave collegiate jersey should be the #1 choice for a hardcore fan. Put a cute bow in your hair and add your white keds for a flawless look. Bring along your lanyard and detachable wallet to keep your keys and I.D. close to you.
Outfit 3 – Cute and Supportive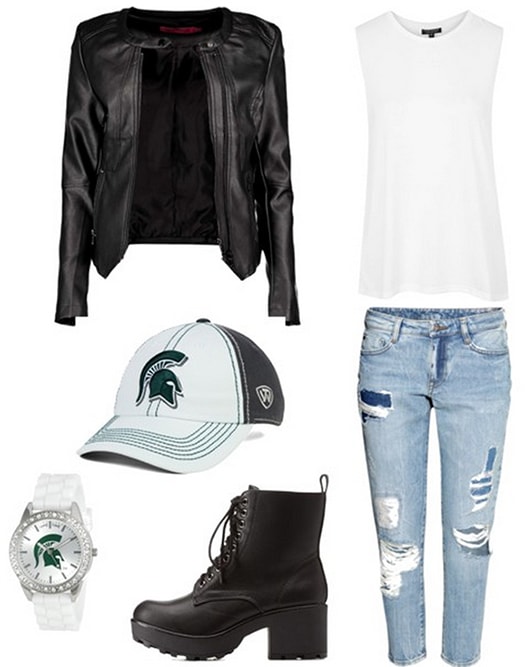 Products: Jacket, Denim, Tank, Boots, Hat, Watch
Outfit Idea #3 is for the girl who has a busy schedule on Game Day. You want to come to the game to support your team, but you still have your fundraiser tonight and already worked this morning! Accessorize your outfit by adding a cute college hat and color-coordinated jewelry. For the outfit itself, just wear a simple tank with some distressed denim and a leather jacket to keep you warm. To complete the look, add chunky boots.
What do you think?
What do you think? Did you like these outfits? What will YOU wear on Game Day? Let us know in the comments!