This post may contain affiliate links, which means we may receive a commission if you purchase through our links. Please
read our full disclosure here
.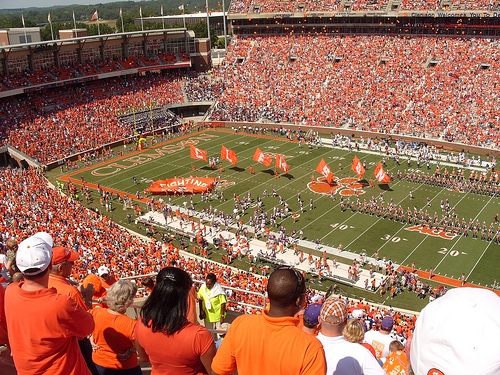 At most universities, attending at least one football game is a staple of the "college experience." Even if your school's team isn't that great, it's still fun to get together with your friends, experience tailgating, and cheer on your team from the stands.
However, dressing for a football game can be a tricky affair. For most of the season, it's hot, sunny, and you're packed into the stands with thousands of other fans. You need something that shows your school spirit but still looks cute and keeps you cool. University t-shirts (usually of the giveaway variety) are popular among many college game-goers, but when was the last time a boxy, unisex T-shirt flattered anyone? Read on for some tips to help you support your school in style.
Tips on What to Wear:
Invest in separates in your school colors. For example, the colors of my school are blue and grey. Over the past year, I've picked up a navy sundress, a casual gray skirt, and gray and navy tank tops that I can mix and match to wear to various Rice events. When I pair these with owl accessories (see the next tip), I look like my school's number one fan but don't sacrifice any of my fashion cred.
Keep your eyes open for themed accessories. Animal-themed jewelry has been very popular recently at chains like Forever 21, Charlotte Russe, and Urban Outfitters, so it shouldn't be too hard — or expensive! — to pick up a ring, necklace, or bangle that shows your school spirit. Whether your mascot is an owl (Rice, represent!), tiger, or elephant, there's probably some jewelry out there for you.
Look for "fashionable" versions of your school's attire. Victoria's Secret PINK, Old Navy, American Eagle, and Brooks Brothers are just a few popular retailers that have collegiate collections. If you're lucky enough to go to a university that is included in these lines, you can pick up some seriously stylish apparel that shows your school spirit. Also, stores like Forever 21, Urban Outfitters, and even Target sometimes carry tops touting the logos of various universities, many of which have a vintage feel to them and are very cute!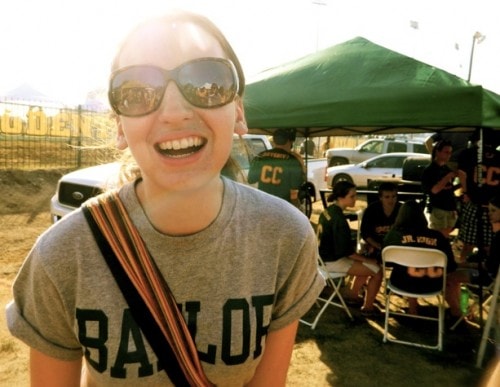 Tips on What to Bring:
Pack light. The floor of a football stadium is not the ideal place to put your purse — it's dirty, sticky, and someone could spill a drink on it or step on it. Instead, carry a cross-body bag that you pack with just the essentials. It won't get in the way when you're cheering and you don't have to worry about losing it.
Don't forget to wear sunscreen! Most stadiums have open roofs, giving you absolutely no protection from the sun's harmful rays. Apply some sunscreen before you leave your dorm (bonus points if you pack a travel-size version in your bag so you can reapply later) and you'll be able to enjoy the game worry (and sunburn)-free.
Outfit Ideas:
Here are two sample outfits you could wear to a football game – they're both casual but each one incorporates unique details to make it a little more fun.
Outfit 1: Subtle Support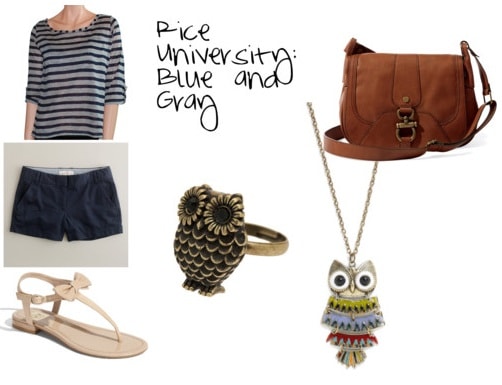 Shirt, Shorts, Sandals, Ring, Necklace, Bag
Outfit 2: Number One Fan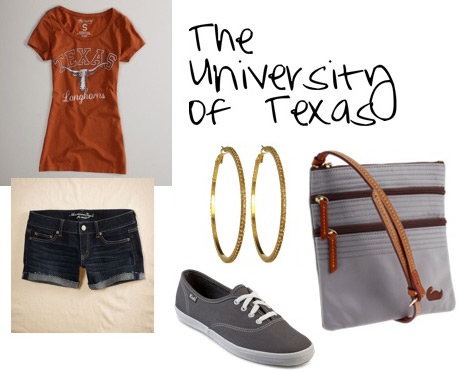 Shirt, Shorts (similar), Shoes, Earrings, Bag
Need more ideas?
Check out these past CF posts on football game fashion:
What Do You Think?
Do you go to your school's football games? What do you wear? Do you have any tips on what to wear to athletic events? I'd love to hear from you, so be sure to leave a comment!