This post may contain affiliate links, which means we may receive a commission if you purchase through our links. Please
read our full disclosure here
.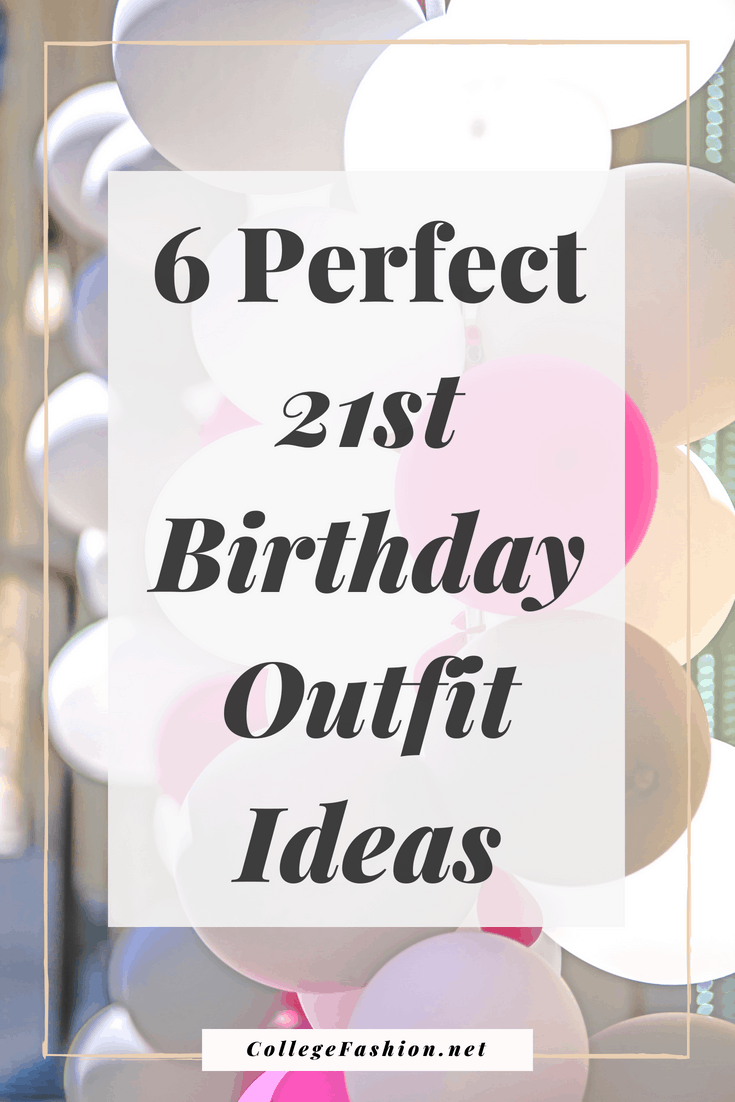 So last week we went over some 21st birthday ideas and now that you have the perfect idea in mind for what to do, your next thought might be, "What do I wear?"
Picking out an outfit for your birthday can feel like an impossible task. You want to mix looking like a queen with also not looking like you are trying *too* hard. What you wear also totally depends on the type of birthday celebration that you are going to have.
Not sure what to wear on your big night? Below, I've listed some fashion tips and outfit ideas for going out on 21st birthday! Cheers to another year and happy birthday!
Key Pieces for a 21st Birthday Outfit:
Before we get to the fashion picks, here are a few must-have items for a 21st birthday look:
Crossbody, wristlet, or clutch with wrist strap – For a crazy night out, you don't want to be burdened by a heavy bag – go for a wristlet or clutch that attaches to you so you won't lose your money and ID.
21st birthday tiara, sash or light-up shot glass – These are optional but so much fun! Aside from perhaps a bachelorette party, a 21st birthday is the ONLY time you'll have a built-in excuse to look completely ridiculous at the bars and at restaurants. It's your birthday, so live it up!
Flashy heels – It's your birthday, so why not make a statement with your footwear? Something sexy, sparkly, or bright is a must for your 21st!
Amazing dress – Your 21st birthday is the perfect opportunity to splurge on that perfect party dress -go for something you absolutely love, and make sure it's something you'll be able to dance in. 21st birthday dresses are supposed to be fun!
Lipgloss – You'll want to freshen up as the night goes on. Glossy lips are always a bonus.
5 Best Stores for 21st Birthday Dresses:
Now for the looks! Whether you're planning for a casual day with your best friends or a night out on the town with your squad, below are 6 different 21st birthday outfits to wear on your special day.
If you're planning something casual:
Casual 21st Birthday Outfit #1: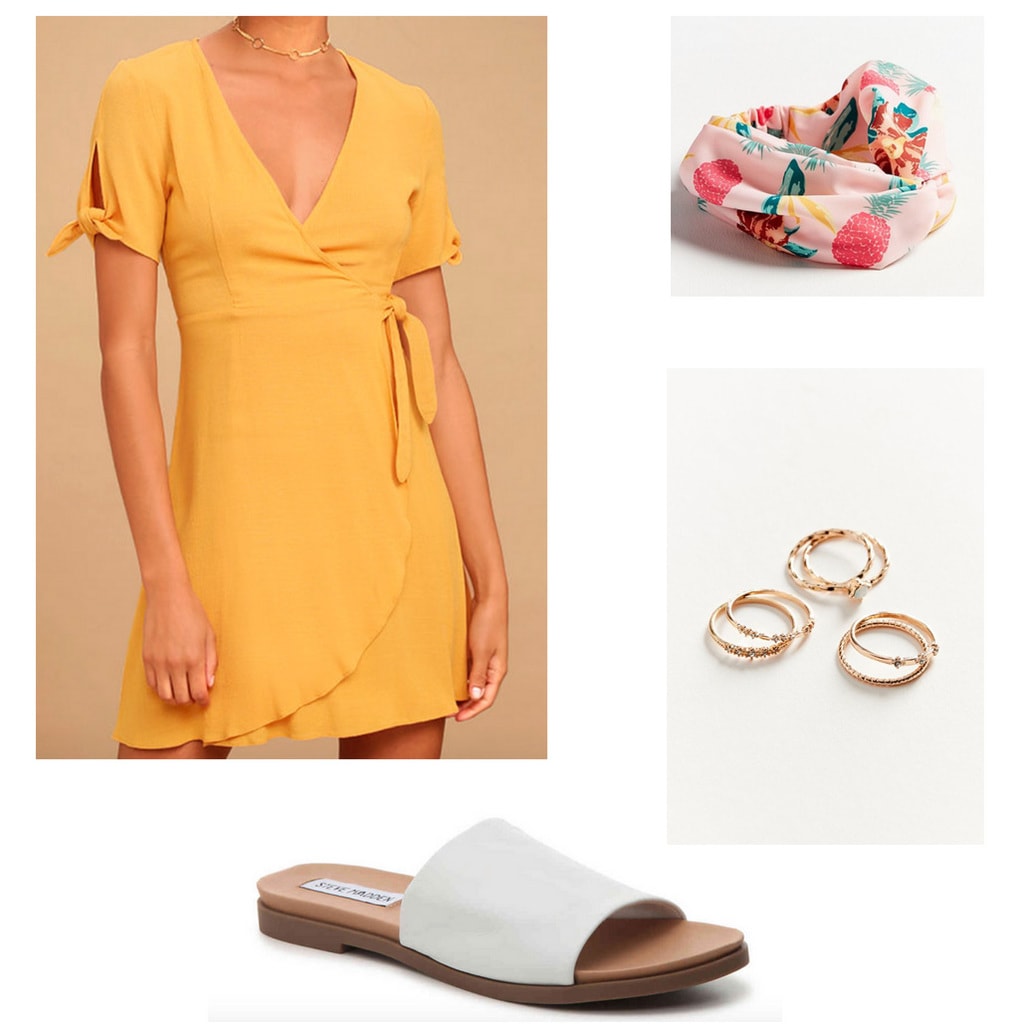 Products: Dress – Lulu's, Shoes – DSW, Headband – Urban Outfitters, Rings – Urban Outfitters
With this sunny yellow dress, you are sure to be noticed wherever you go. I also love the headband to go with this look as it's both fun and bright, perfect for a birthday! The headband has hints of yellow to tie the whole outfit together. I suggest pairing this outfit with simple sandals and gold rings to complement both the romper and the headband.
Casual 21st Birthday Outfit #2: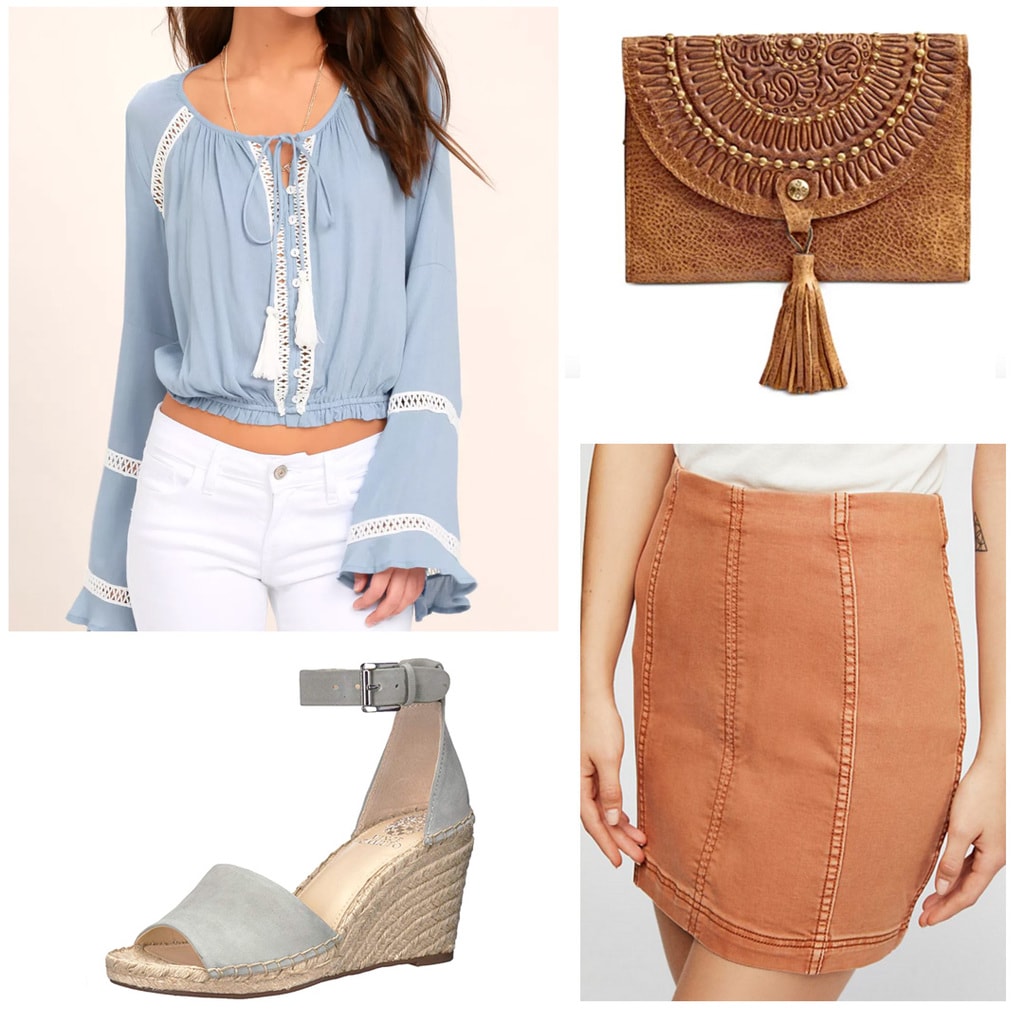 Products: Shirt – Lulu's, Skirt – Free People, Shoes – Amazon, Bag – Macy's
Although you could wear this shirt on a daily basis with a pair of jeans, make the look special by pairing it with a tighter skirt. The skirt contrasts with the blue from the shirt while the shoes bring in more blue and make the whole outfit pop! I love the woven detailing on the bag, which unique and cute. This look is perfect for spending a day in the city for your birthday.
Casual 21st Birthday Outfit #3: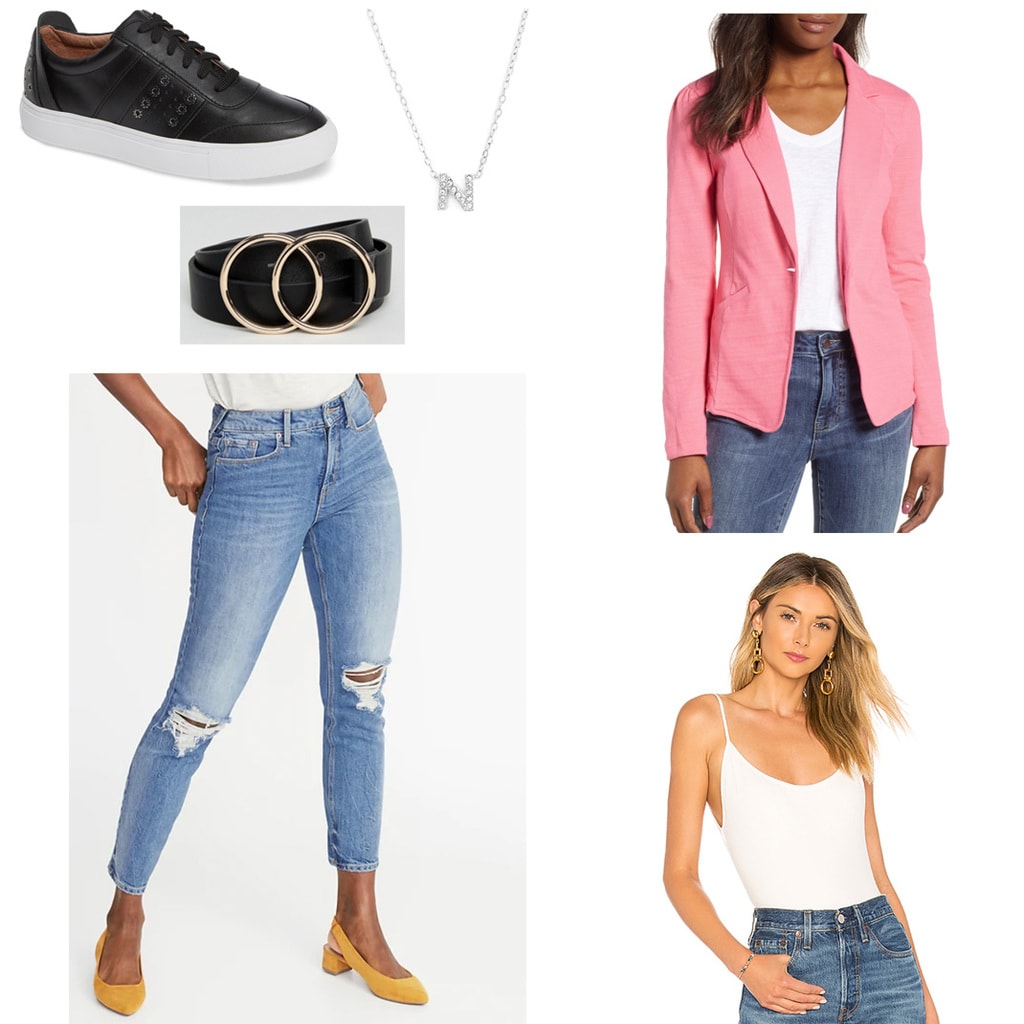 Products: Blazer – Nordstrom, Bodysuit – Revolve, Jeans – Old Navy, Shoes – Nordstrom, Belt – ASOS, Necklace – Nordstrom
This minimalist look is cool and casual, the perfect outfit for your low-key birthday party. That being said, this pink blazer will definitely have you standing out in a crowd. Pair the blazer with a simple white tank top and ripped straight leg jeans. The black sneakers and belt add an extra edge to this classic look. Finish with an initial necklace because it's all about you today!
If you're planning on going out:
Dressy 21st Birthday Outfit #1: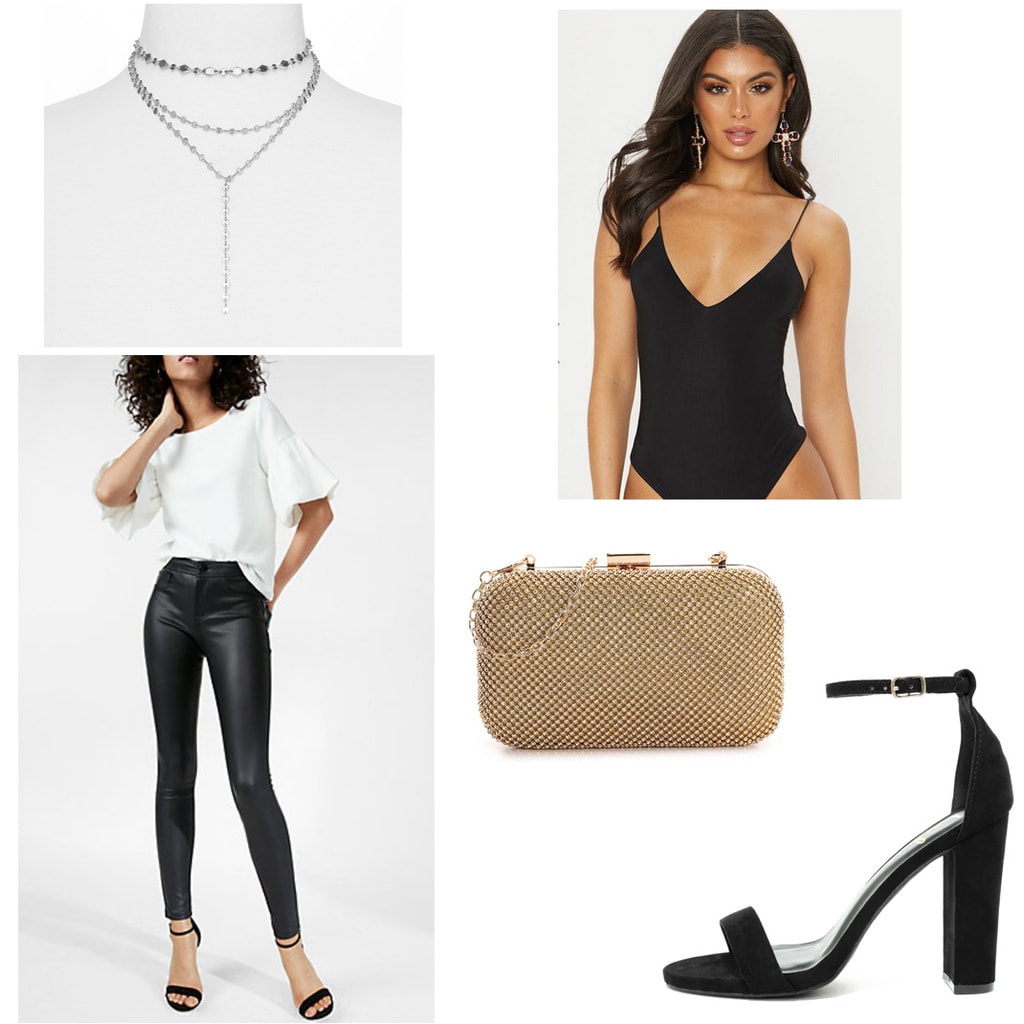 Products: Leggings – Express, Choker – Nordstrom, Bodysuit – Pretty Little Thing, Clutch – DSW, Heels – Lulu's
This slinky bodysuit will look amazing for a night on the town. Pair it with some cool leather leggings and strappy heels to elongate your legs. Add a statement silver choker necklace and a glitter bag to feel and look fantastic all night long. After all, you deserve it.
Dressy 21st Birthday Outfit #2:
Products: Jumpsuit – Urban Outfitters, Shoes – Amazon, Necklace – Forever 21
If you're looking for something that will definitely make you stand out in a crowd, try this unexpected rose gold jumpsuit. Not only does it have pants so that you don't have to sacrifice comfort but the low cut of this jumpsuit is the ultimate show stopper. Pair this jumpsuit with matching, chunky heels and it will look like you have legs for days. Add some layered gold necklaces to complete this look.
Dressy 21st Birthday Outfit #3: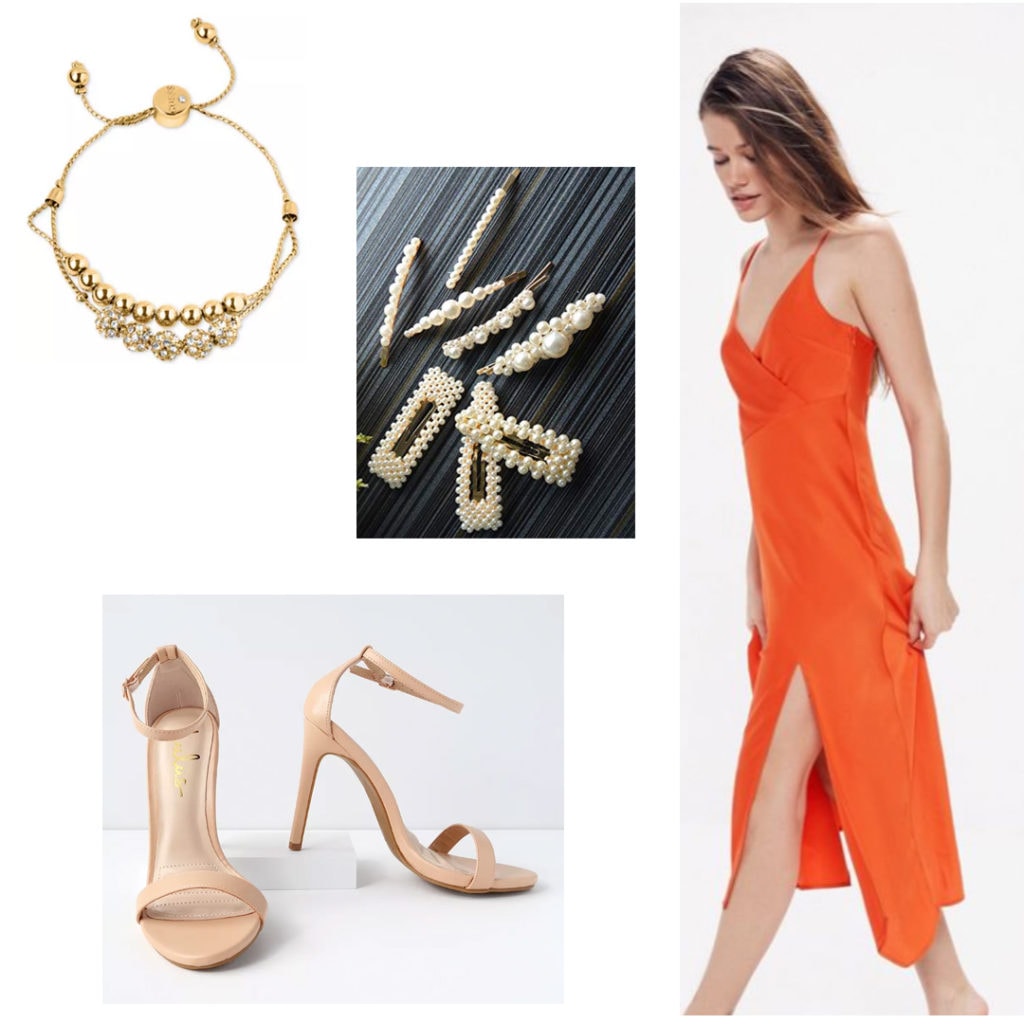 Products: Dress – Urban Outfitters, Shoes – Lulu's, Hair Clips – Amazon, Bracelets – Macy's
The bright, shiny fabric of this slip dress will, without a doubt, make you shine too. I love how this dress captures attention — there's no question that you will look amazing on the dance floor. For an on-trend look, add a few pearl-embellished hair clips. Finish with nude heels and a couple of gold bracelets and feel cooler than ever in this look.
Do you have a 21st birthday coming up?
An outfit can create the mood for the entire day or night, so make sure to wear something that you feel comfortable and beautiful in. Whether you're planning to do something laid back or something out of this world, with the 21st birthday outfits above, you are sure to look great!
Which of the outfit ideas above is your favorite? Do you have any suggestions for girls planning out what to wear for their birthday? Tell us in the comments below!
Editor's note: This post was originally published in 2018; it was completely updated and revamped in 2019 with new outfit sets and information.