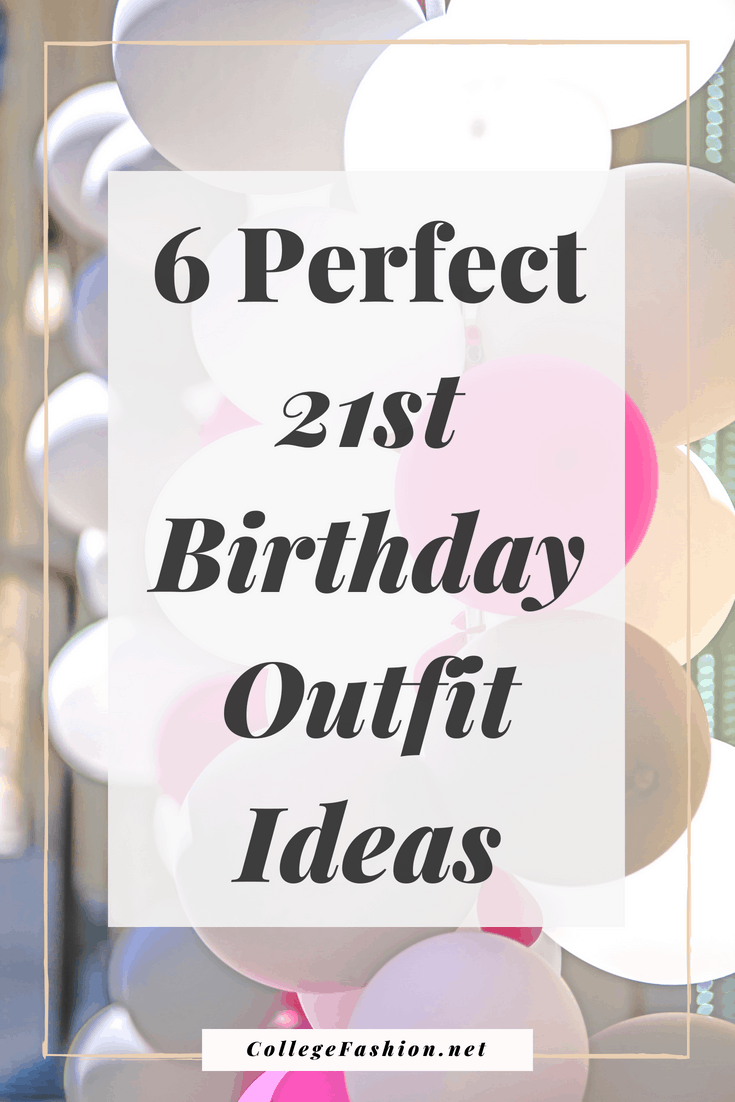 This post will show you cute 21st birthday outfits perfect for any celebration.
So last week we went over some 21st birthday ideas and now that you have the perfect idea in mind for what to do, your next thought might be, "What do I wear?"
Picking out an outfit for your birthday can feel like an impossible task. You want to mix looking like a queen with also not looking like you are trying *too* hard. What you wear also totally depends on the type of birthday celebration that you are going to have.
Not sure what to wear on your big night? Below, I've listed some fashion tips and outfit ideas for going out on your 21st birthday! Cheers to another year and happy birthday!
Related reading: Our Ultimate List of the Best 21st Birthday Party Ideas for Her
Key Pieces for a 21st Birthday Outfit:
Before we get to the fashion picks, here are a few must-have items for a 21st birthday look:
Crossbody, wristlet, or clutch with wrist strap – For a crazy night out, you don't want to be burdened by a heavy bag – go for a wristlet or clutch that attaches to you so you won't lose your money and ID.
21st birthday tiara, sash, or light-up shot glass – These are optional but so much fun! Aside from perhaps a bachelorette party, a 21st birthday is the ONLY time you'll have a built-in excuse to look completely ridiculous at the bars and at restaurants. It's your birthday, so live it up!
Flashy heels – It's your birthday, so why not make a statement with your footwear? Something sexy, sparkly, or bright is a must for your 21st!
Amazing dress – Your 21st birthday is the perfect opportunity to splurge on that perfect party dress -go for something you absolutely love, and make sure it's something you'll be able to dance in. 21st birthday dresses are supposed to be fun!
Lipgloss – You'll want to freshen up as the night goes on. Glossy lips are always a bonus.
5 Best Stores for 21st Birthday Dresses:
Now for the looks! Whether you're planning for a casual day with your best friends or a night out on the town with your squad, below are 6 different 21st birthday outfits to wear on your special day.
6 Different 21st Birthday Outfits To Wear On Your Special Day
1. 21st Birthday Outfit #1 – Casual Outfit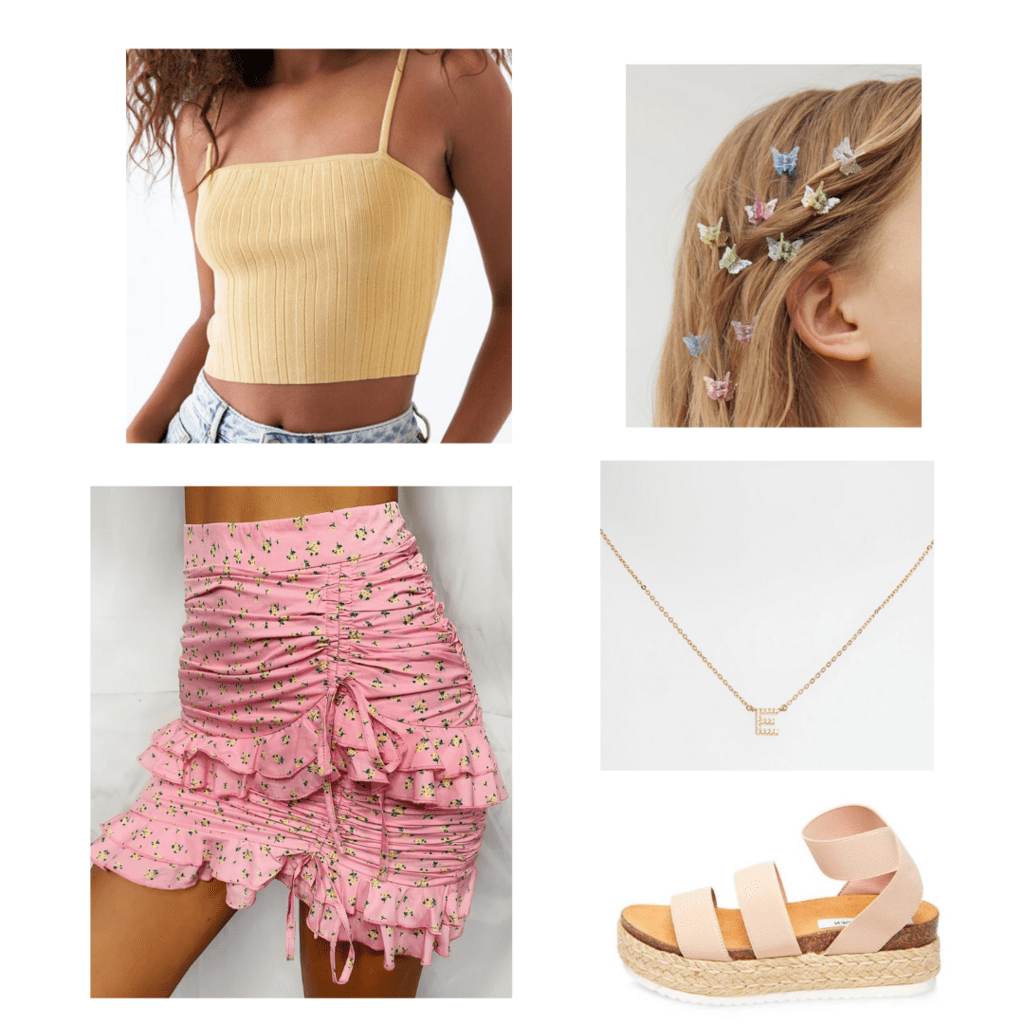 Products:
If you are going to have a more laid-back birthday or if you want to dress in something more casual, this 21st birthday outfit is for you!
It pairs a cute pink ruffle skirt with a yellow crop top and wedge sandals so that you can stay comfortable on your birthday, but also look super cute.
This outfit also includes some fun accessories like butterfly hair clips, which are very trendy, and a simple letter necklace, which adds a pretty jewelry piece to this look.
2. Outfit #2 – Dressy Outfit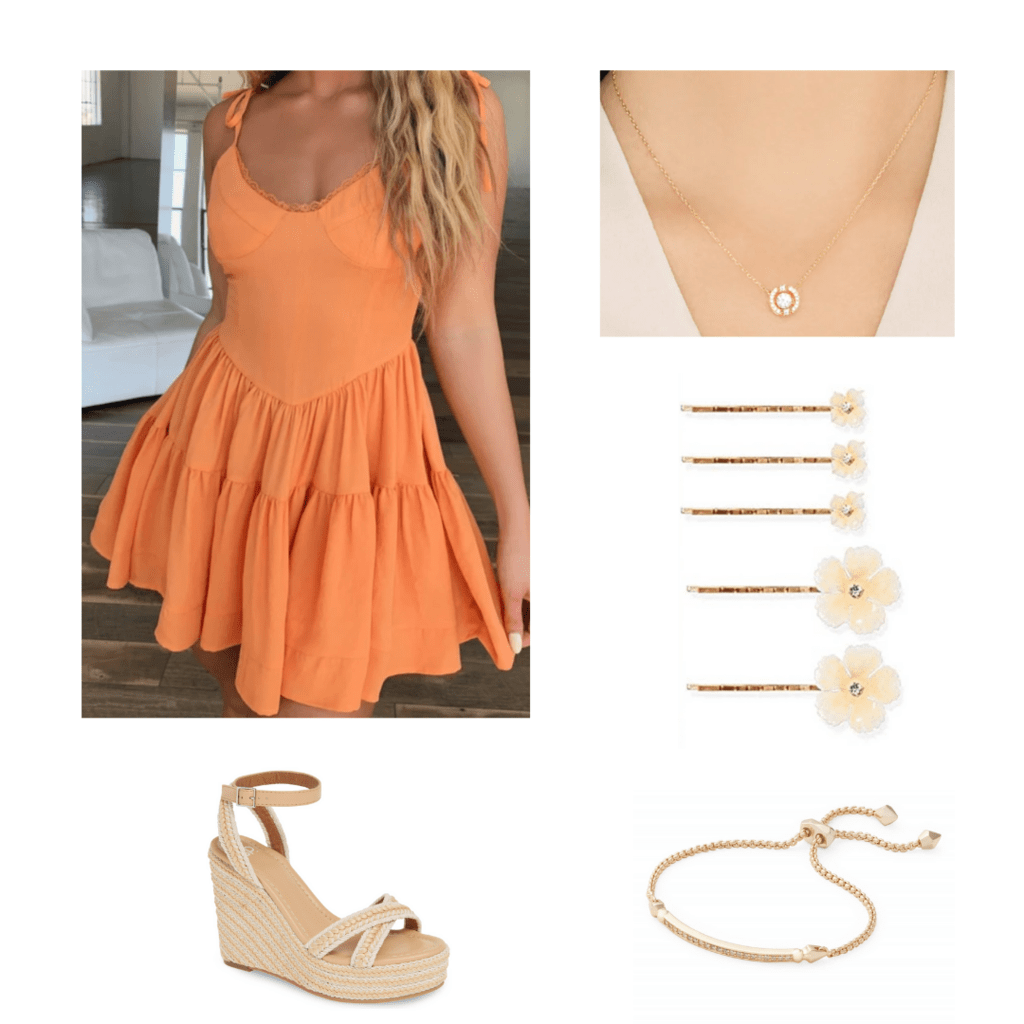 Products:
For your birthday, you may be going somewhere fun that has a little bit more of a fancier dress code. This 21st birthday outfit is perfect for occasions like that!
To get this look, mix an adorable orange dress with wedge heels — these neutral ones are comfortable and super cute!
You can also spice up this look by adding jewelry pieces, like this gold necklace and bracelet. Classic gold jewelry will add sparkle to the look without detracting from the bold dress.
Also, if you want to do something cute with your hair, adding these gold flower hair barrettes will do the trick!
3. Outfit #3 – Birthday Dinner Outfit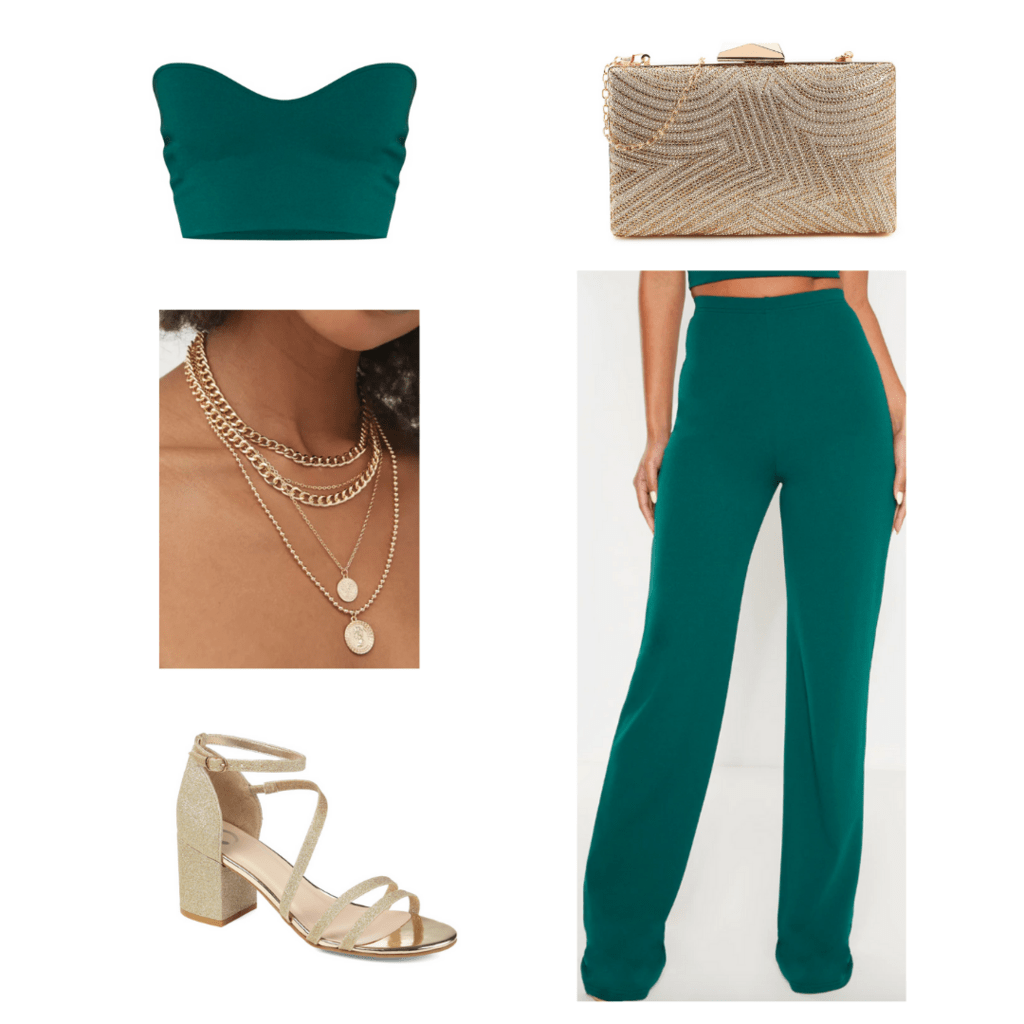 Products:
A lot of times people choose to go to a nice restaurant for dinner for their birthday. If this is what you are doing, you should choose to wear this outfit!
Two-piece sets are very in style and can provide you with a great look for your 21st birthday dinner. This two-piece set will look adorable and will work perfectly at a casual or fancy restaurant.
These gold heels go great with the outfit and can add a little sparkle to it so you stand out for your birthday.
Again, a gold necklace adds a little extra style to the look without taking away from the bold jumpsuit. Finally, if you want to bring a purse with you to dinner, this gold clutch will look super cute with this outfit!
4. Outfit #4 – Birthday Party Outfit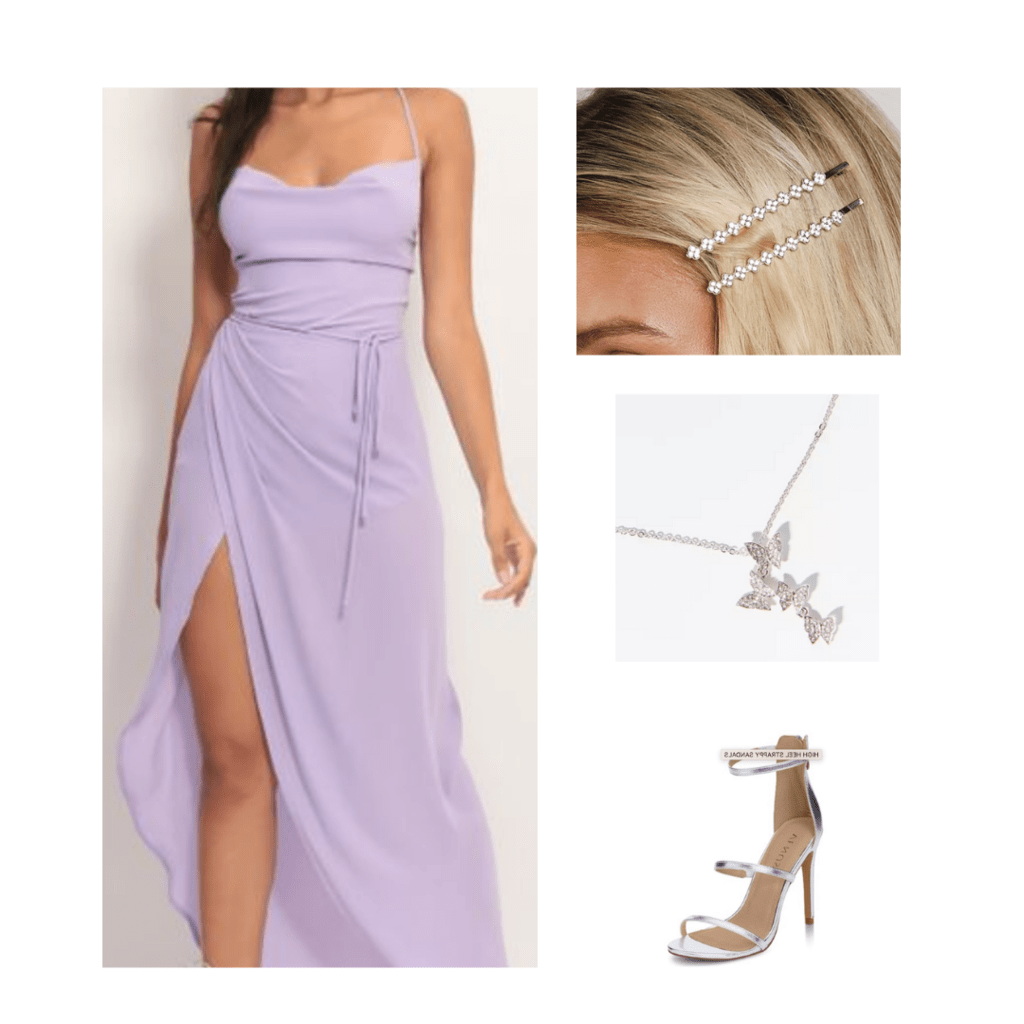 Products:
For those who are planning on having a full-on birthday party on their 21st (or more likely, planning to do this next year), this look is for you!
You will probably want to wear a dress to your birthday party, therefore, this maxi dress is perfect. It's sexy without being overly revealing and glam without being over the top.
On your feet, silver heels are perfect and will make sure that you look amazing at your birthday party.
You can also add to this look with a necklace, like this butterfly one, and hairpins, such as these rhinestone ones, to make your hair look cute for your party.
5. Outfit #5 – Sign Night Outfit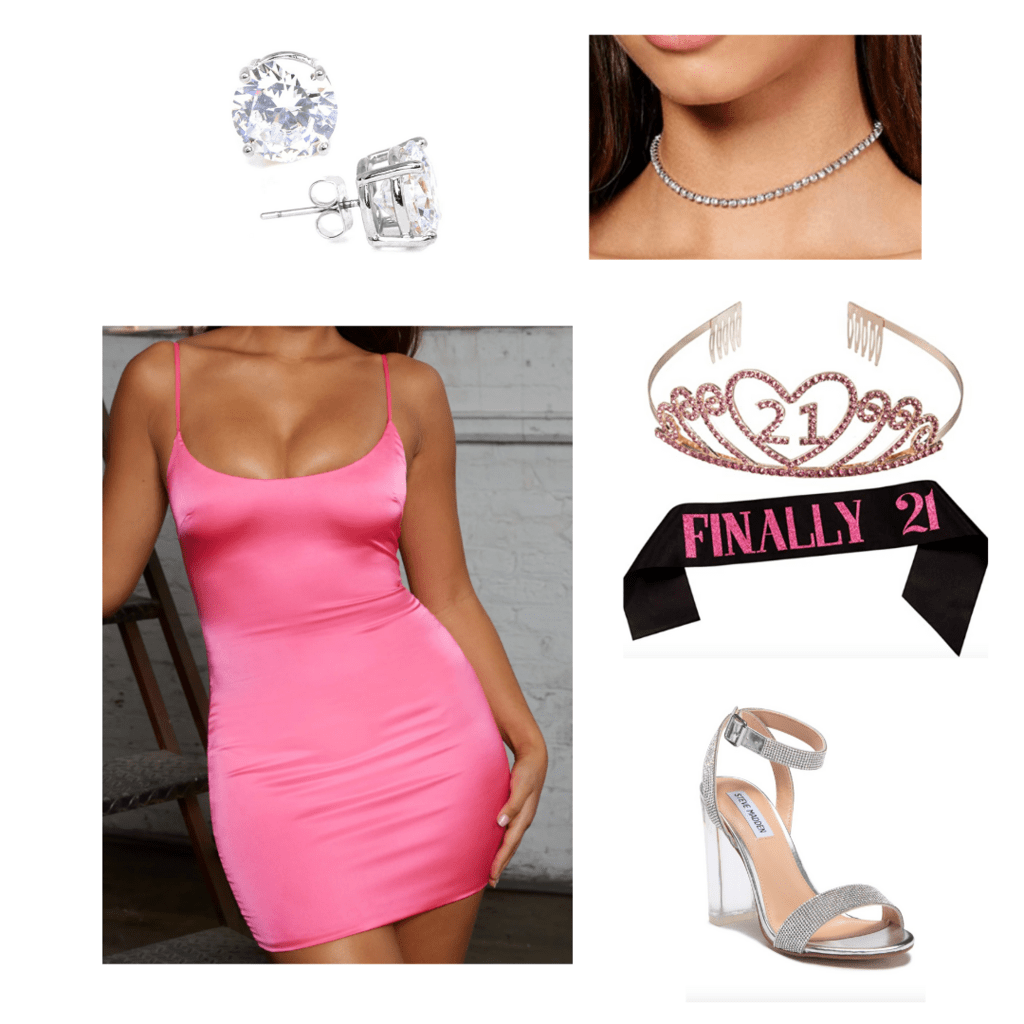 Products:
A popular thing that college girls do for their 21st birthday has a sign night. This is a super fun night where your friends plan your party and create a sign with a list of 21 things you have to do for your birthday.
This is the perfect opportunity to really dress up for your birthday, which you can do with this outfit!
This pink dress is great if you want to dress girly for your sign night. Also, the rhinestone heels and matching rhinestone choker and earrings will make sure that you sparkle on your 21st!
Also, a common thing to wear to sign nights is a tiara and sash. Therefore, this pink tiara and sash will look perfect with this outfit!
6. Outfit #6 – Going Out Outfit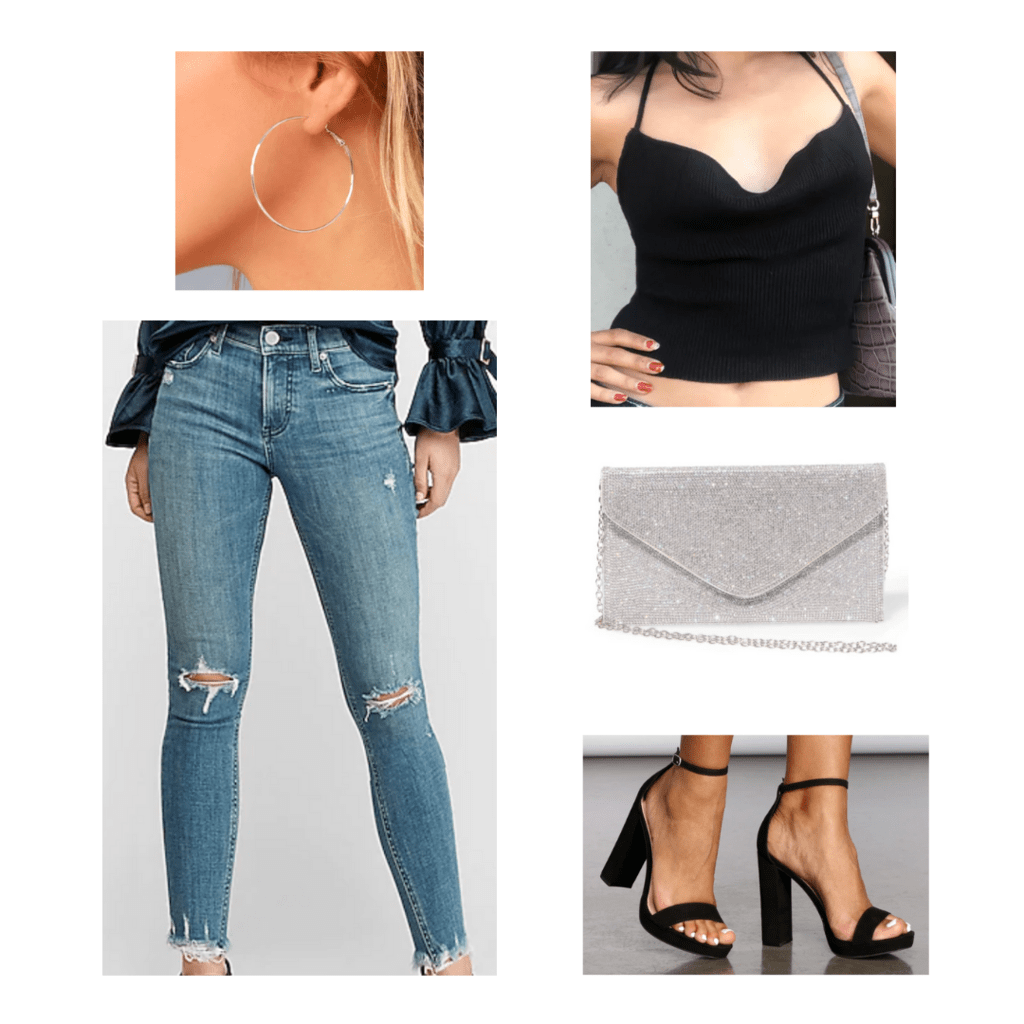 Products:
Turning 21 is a really exciting event and to celebrate, you may want to have a fun night out with your friends.
This is the perfect outfit for going out because it includes ripped jeans, a black crop top, and heels, which are a go-to look for going out.
You can also stand out in the crowd with this look by wearing these large silver hoops, which are so trendy and fun, and you can bring a sparkly clutch with you, like this one, so you do not lose any of your belongings while you are celebrating!
Related reading: Vegas Outfit Ideas: What to Wear in Las Vegas
What do you think of these 21st birthday outfits?
For more birthday ideas, be sure to see our guide to 20 Fun Ways to Celebrate Your 25th Birthday.
Which of the outfit ideas above is your favorite? Do you have any suggestions for girls planning out what to wear for their birthdays? Tell us in the comments below!
For more 21st Birthday ideas, check out our related posts below –