What Should I Wear…?! is a biweekly column that is here to answer that very question. If you have an event coming up that has you stumped fashion-wise, this is guaranteed to be your best source for outfit inspiration when you need it the most!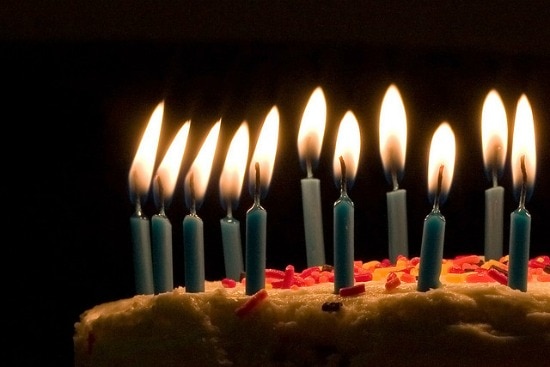 My 21st birthday – my golden birthday – was two weeks ago, which means that I finally passed another of life's milestones. (Next up? College graduation!) In honor of my special day, as well as all of your special days, we're focusing on birthdays for this week's What Should I Wear…?! column.
After all, your birthday should be one of the most important days of the year for you… it is after all "your day," and you should feel special. And the best way to make sure you are the belle of the ball, the star of the show, and the princess of the party is to have the best outfit.
In the past, CF has tackled posts on what to wear on your birthday and even a post just for 21st birthdays, but I wanted to expand of those ideas and incorporate all of the different ways a birthday can be celebrated, from family get-togethers to full-on ragers.
By the way, be prepared to see a lot of gold in these looks, because it's my favorite and I am still in golden birthday bliss! Scroll down to see what you should wear on your birthday:
Family Feasting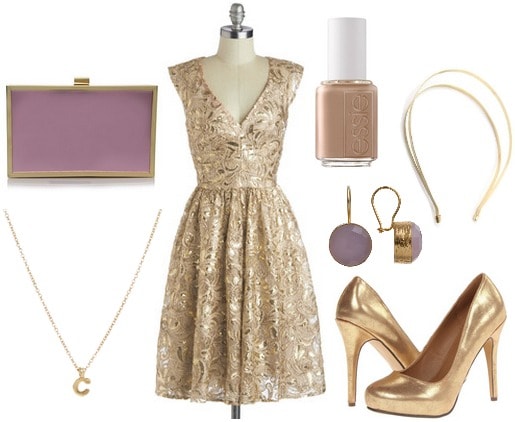 Product Information: Dress, Clutch, Shoes, Headband, Necklace, Earrings, Nail Polish
If part of your "welcoming another year of life" celebration involves a nice dinnerwith the family, this ensemble is for you! Perfect for an evening at a lovely restaurant, this gorgeous outfit centers on a ModCloth dress that's both fashionable and totally great aunt-approved.
I would feel like a modern princess in this getup, and could even see Kate Middleton wearing this for her own soirée. Wearing a big ol' tiara on your head would be a bit too much in this atmosphere, so pull a Blair Waldorf, as I like to say, and substitute that for the more socially acceptable headband.
Consider this my disclosure: some (definitely not ALL) of the jewelry in this post is a little pricier than what is usually featured, but that is because they are birthday gift… to and from yourself. I believe in always splurging on yourself at least once a year. Something that you will keep for years to come, and really symbolizes you! Hence, the initial pendant, which was the go-to accessory of another queen bee: Regina George.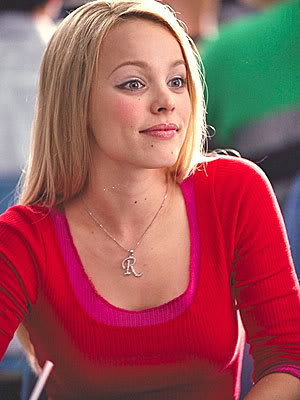 Clearly upset you're infringing on her territory, don't you know that initial pendants and hoop earrings are "her thing"?! | Official Promotional Image
Dinner Date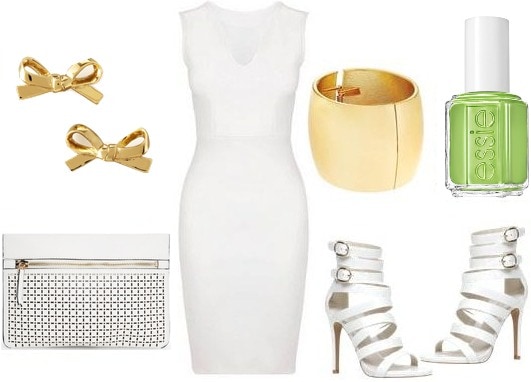 Product Information: Dress, Clutch, Shoes, Earrings, Bracelet, Nail Polish
If you are going out with your S.O. to celebrate, you need an outfit that is classy… but it needs to be a bit on the sexy side, too. However, if you have been together a long time (maybe, not even) and have really hit it off with their family as well, they may wish to join you. So, my point is, you can't be THAT sexy – hey, he/she could have a little sister!
I love this dress because it is body-con, but the length is more demure. The all-white look is HOT and those shoes add an edginess that is still acceptable. For an added "it's my birthday" vibe, Kate Spade's signature bow earrings represent ribbons all tied up on top of a birthday present.
Also, I chose this particular nail polish because peridot is my birthstone, and its color naturally forms on a large green range. You will see me incorporate many of these shades of green as accent colors in various outfits sets to follow. As usual though, the colors and other personalized details are meant for you to customize… just as much as you wouldn't buy the "C" initial pendant above – unless your name began with that letter too, right?
Nostalgic Nod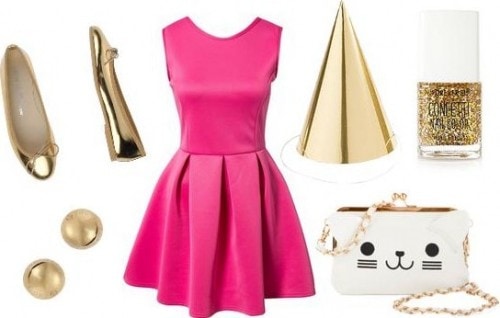 Product Information: Dress, Purse, Shoes, Hat, Earrings, Nail Polish
If you are really missing the birthdays of your younger years, this look is for you! I love the dress, shoes, and birthday hat because they are so precious yet still age-appropriate. Seriously, how could not even a little part of you not be in love with this getup?!
Let me go on to address that adorable bag now though because I am sure there is a lot of questioning when it comes to my choices. I wanted to go with something cute for the nostalgic factor, but I also chose it because "Cat" was one of my childhood nicknames. In a way, it's also a nod to my astrological sign, Leo, and it's symbol, the lion.
Wishes and Waltzing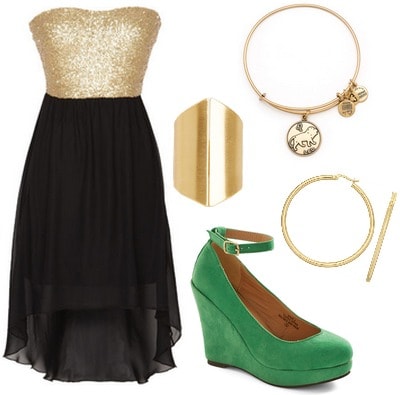 Product Information: Dress, Shoes, Earrings, Bracelet, Ring
If your birthday plans include hitting the dance floor, you'll need an outfit that will really allow you to bust out those moves. When it comes to picking out a dress, choose one that is long (nobody needs to see your panties, or lack thereof – hey, I don't know your life!) and flowy. Also, you need shoes that you can be on your feet in for a long time. My rule? Ask yourself, "could I do a dance-a-thon in this pair?"
I included another Leo-inspired piece in this look, this time in the form of a pretty gold bracelet. Remember: using your sign is always a fun way to rep your birthday! P.S. – Alex and Ani makes those charm bangles for every Zodiac sign.
Candles and Clubs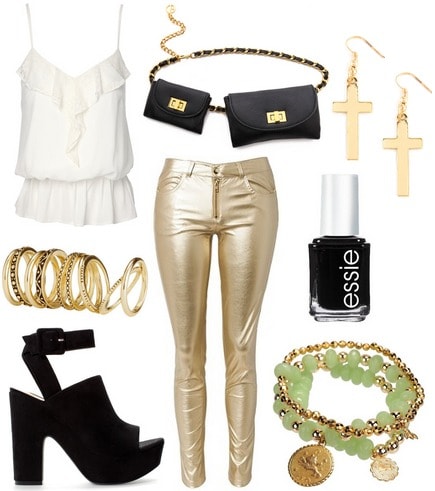 Product Information: Top, Bottoms, Bag, Shoes, Earrings, Bracelet, Rings, Nail Polish
Similar to the outfit above, this look has a '70s vibe, and would be ideal for a b-day celebration at a nightclub. I created this look for my "pants only" girls. As a self-described "girly-girl," I love no piece of clothing more than a dress, but i always try to keep those of you in mind.
Now, about that fanny pack – if you read my last article, you know they have been rechristened as "hip packs" and are back in a big way. Go buy one now! Warning: this one is a little on the expensive side, but as they gain popularity, I am sure more affordable retailers will be offering their own versions soon.
These carryalls are so much cooler than the one your mother probably used back in the '90s, plus it's so convenient. Seriously, you just sling it around you hip and, presto, you are worry-free for the evening.
Sassy and Sash-y
Many of you will probably be receiving those very-popular-with-college-girls sashes from your friends, but please do NOT just throw them over whatever you are wearing. Have some fun and plan your entire outfit around them!
Below are three outfit formulas based around three different sashes for three very different styles:
Sequin-y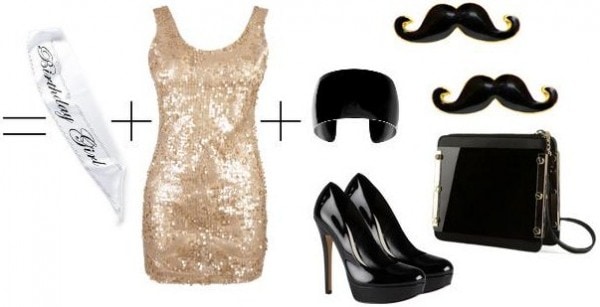 Product Information: Sash, Dress, Shoes, Bag, Earrings, Bracelet
Sexy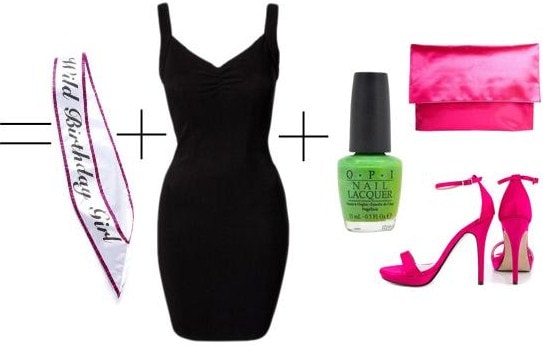 Product Information: Sash, Dress, Bag, Shoes, Nail Polish
Sophisticated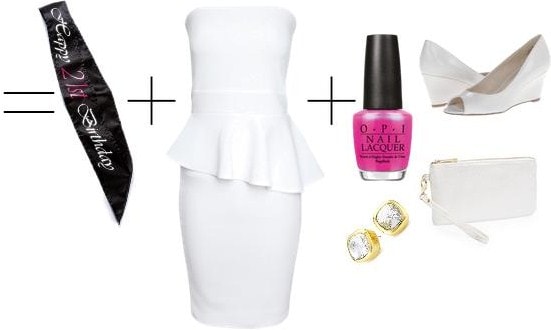 Product Information: Sash, Dress, Bag, Shoes, Earrings, Nail Polish
Birthdays with Books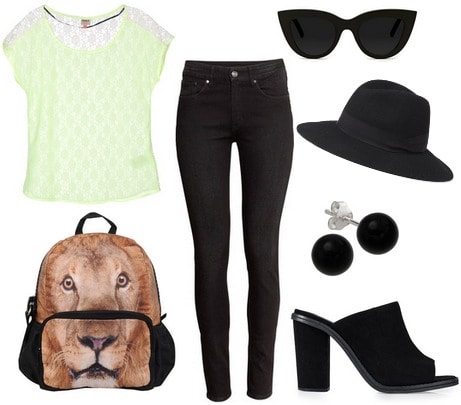 Product Information: Top, Bottoms, Hat, Bag, Shoes, Earrings, Sunglasses
I have never known the sorrow of having to go to school on my birthday – summer birthday perk – but for those of you that do have to face this (my friend always has her birthday during finals…ew), make sure you still dressed for your special day!
For this outfit, I again worked in peridot in a subtle way with this blouse, then added a lion backpack to show off that Leo pride. This is the type of ensemble you would look and feel good in, and it still works perfectly for school. After all, you have to be a student before you are the birthday girl, right?
Friendly Festivities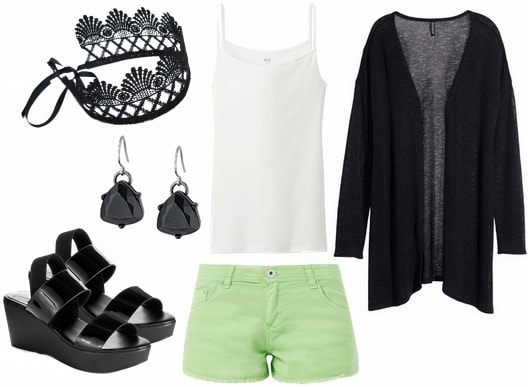 Product Information: Top, Bottoms, Cardigan, Crown, Earrings, Shoes
When your plans are more low-key, like going out for dinner or dessert (or both!) with your friends at a casual place, wear something like this. I found that adorable "crown" on Etsy, and think it's understated yet fun. Just throw it on after classes or work for a bit of birthday recognition!
You can reuse it and have friends or family members wear it on their special days, too, or could even just tie it into your hair like a headband on other days of the year. Needless to say, I love this crown and think it works so well with the rest of this comfy yet cute look.
Tell me what you think:
When is your birthday? Would you wear any of these outfits to celebrate it? Did anyone else turn 21 this year? Let me know in the comments if there are any special events or occasions you would like to see covered in "What Should I Wear…?!".