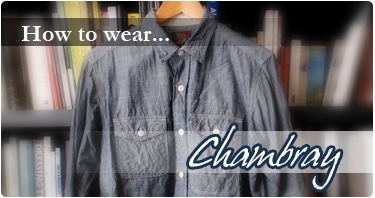 It looks like denim, feels like cotton, and hangs like linen. It's soft, cozy, and refreshing. And it comes in a dreamy palette of blues and grays. Chambray — what's not to love?
As far as campus style goes, this is probably one of the hottest trends I've seen this spring, and I'm starting to think that everyone should have a little something chambray in their wardrobe. Check out these outfits below to see the many different ways you can wear this charming fabric in the warmer weather.
Classic: Chambray Shirt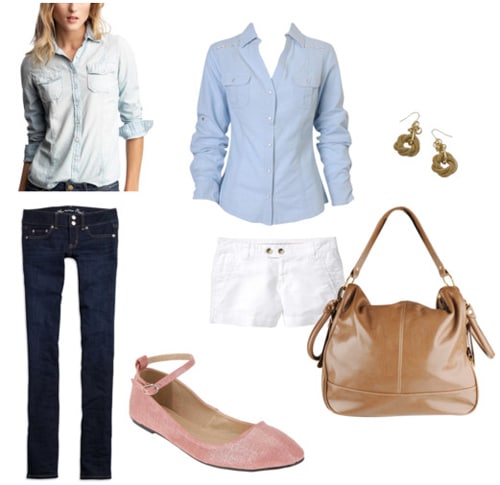 Loose Shirt – Gap, Fitted Shirt – Forever 21, Earrings – Monsoon, Jeans – American Eagle, Shorts – Old Navy, Flats – Urban Outfitters, Bag – Forever 21
This is by far the most common way I've seen the fabric worn around campus, probably because it easily replaces plaid boyfriend shirts and preppy oxford shirts. Loose-fitting styles like the one on the left look great paired with skinny jeans, while fitted shirts like the one on the right are adorable over white shorts or cropped pants.
To stand out from the crowd, wear this outfit with a whimsical flat in a romantic hue and subtle but unique accessories, like the fun dangle earrings shown above.
Flirty: Chambray Skirt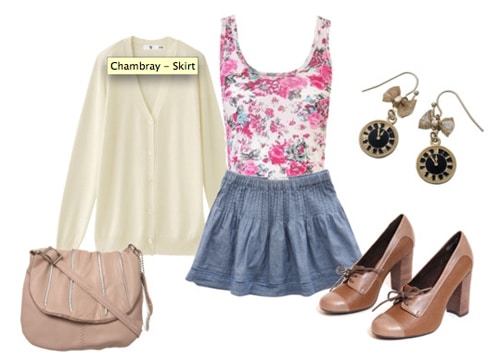 Cardigan – Uniqlo, Tank Top – Forever 21, Earrings – Monsoon, Skirt – Aeropostale, Bag – Miss Selfridge, Shoes – Ruche
Try the chambray trend on the bottom of your outfit rather than the top for a fun twist. There are tons of skirt options available, but a simple one with a tucked waist and a sweet silhouette will be the most versatile. Play up the feminine skirt with a cheerful floral top, but then switch to a neutral cardigan to add balance. The oxford pumps, crossbody bag, and fun earrings bring together contrast between flirty and demure for an overall sweet look.
Versatile: Chambray Dress
Dress – Urban Outfitters, Headband – J.Crew, Earrings – ASOS | Amrita Singh, Scarves – Piperlime, Belts – New Look | Topshop | ASOS, Shoes – Delia's | Target
Chambray dresses are also very popular this spring, and while the shirtdress is the most popular silhouette, consider making a fashion statement with an unconventional shape, such as this simple A-line style.
The great thing about chambray dresses is that because their shape and texture are so neutral, you can accessorize them a million different ways, most likely with items that are already in your closet. Here, I've suggested a couple of different types of accessories that you can try with chambray dresses, to give you an idea of where you can take this versatile basic.
Trend Testing: Chambray Accessories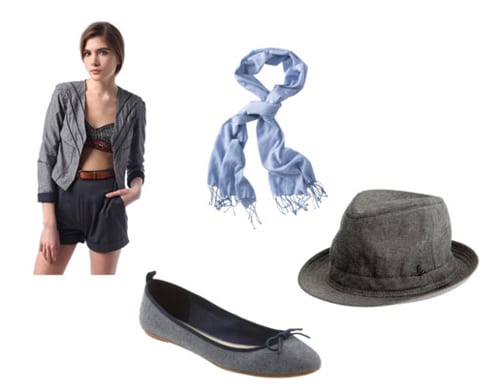 Blazer – Urban Outfitters, Scarf – Gap (currently out of stock), Fedora – Urban Outfitters, Flats – Gap
If you're unsure about the chambray trend, or if you want to try it in a way that's really different from how everyone else will be wearing it, consider a chambray accessory or non-basic item such as a statement blazer. You'll immediately score fashionista status by being both on-trend and unconventional.
What do you think?
Have you gotten in on this trend yet, and if not, are you thinking about it? Where in your outfit would you be most likely to incorporate something chambray? I'd also be curious to get everyone's opinions on whether this trend will last — can you see it going for more than one season, or at least showing up again next spring? Tell me with a comment!