"The person, be it gentleman or lady, who has not pleasure in a good novel, must be intolerably stupid."

-Northanger Abbey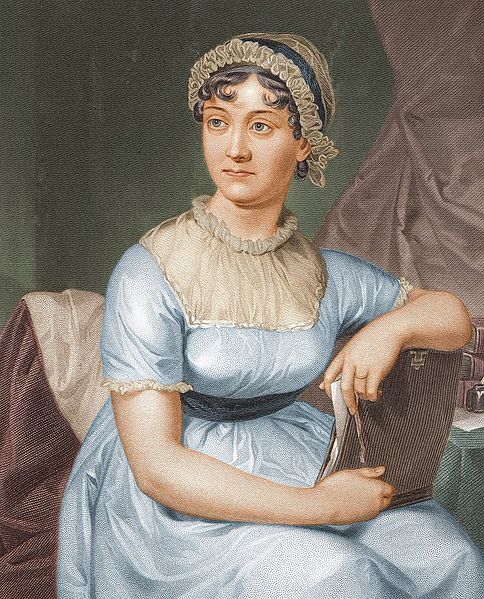 Valentine's Day may have come and gone, but that doesn't mean February stops being the month of love! Celebrate love away from the winter wasteland outside by curling up with a good book. And if you want a book with romance, wit, and a good dose of drama, look no further than a Jane Austen novel.
Jane Austen has gone beyond famous literary figure to a cultural icon (and a major favorite here at CF). She was born in 1775 and died in 1817 at the age of 41, and in her short lifetime she wrote six novels and a great deal of short fiction.
There have been dozens upon dozens of adaptations or retellings of all of her novels, from classic movies and miniseries to modern-day adaptions (Bridget Jones's Diary, Clueless). As mentioned above, we've caught the Austen bug a few times, featuring Sense and Sensibility and Emma here on CF. So strap on your bonnet and get ready for another post inspired by the late, great Jane Austen!
Sense and Snarkability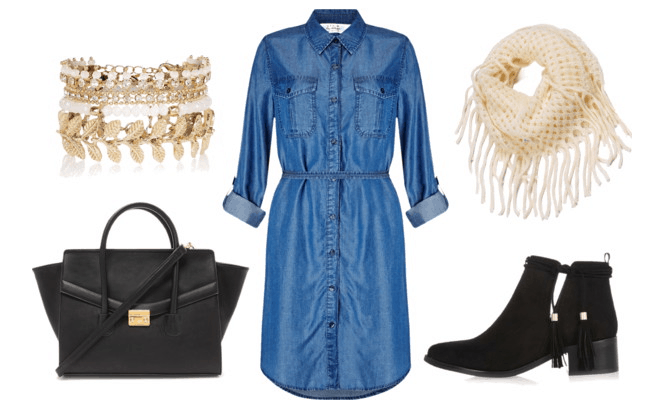 Products: Dress, Shoes, Bag, Scarf, Bracelet
Jane Austen was known for her sharp, sometimes biting wit. She would often take writing as an opportunity to lampoon the problems she noticed in society. Whether she was tearing apart a sadist aunt who pretends to be virtuous while really being hypocritical, like Mrs. Norris from Mansfield Park, or an ignorant clergyman, like the ridiculously funny Mr. Collins from Pride and Prejudice, Austen enjoyed pointing out inconsistencies and contradictions. All of Austen's novels have amazing characters that range in personality and status while still feeling like real people.
Take inspiration from Austen's talent for being snarky without being too mean and wear this staple chambray dress – it's a not-so-serious take on a classic. Add the structured bag and shoes to class up the outfit while also staying sensible. Don't forget a little bit of quirk with a knitted scarf and detailed bracelet.
Light and Bright and Sparkling
"In vain have I struggled. It will not do. My feelings will not be repressed. You must allow me to tell you how ardently I admire and love you."

-Pride and Prejudice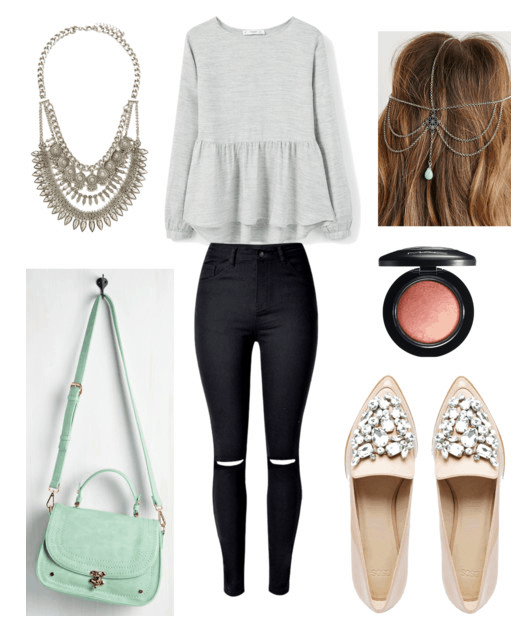 Products: Shirt, Jeans, Shoes, Bag, Necklace, Hairpiece, Blush in "Gentle"
Austen described her third novel Pride and Prejudice, arguably her most famous work, as "light and bright and sparkling". Indeed, the novel fits this description. In case you're not familiar, Pride and Prejudice is a classic tale of a dislike-at-first-sight romance between Elizabeth Bennet, a witty and determined girl from a financially-struggling family, and Fitzwilliam Darcy, a proud yet fiercely loyal rich man.
If, like me, you'd love to be Elizabeth Bennet, why not dress the part? The peplum detail on this top starts the look on a girly note, while the jeans keep it from being too stuffy. Accessorize with a sensible handbag and statement necklace. Finish things off with this gorgeous hairpiece, some shimmery blush, and shoes that sparkle like Elizabeth's "fine eyes" that Darcy admires so much.
Half Agony, Half Hope
"You pierce my soul. I am half agony, half hope."

-Persuasion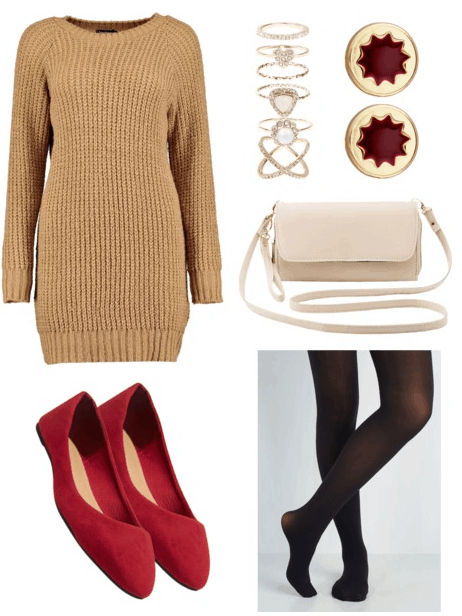 Products: Dress, Shoes, Rings, Earrings, Bag
Persuasion was Austen's sixth and last completed novel before she passed away from a long and painful illness. Often referred to as the writer's "autumnal" novel, Persuasion focuses on Anne Eliot, a squire's daughter who craves a second chance with her lost love, Captain Frederick Wentworth, who she dumped years before due to her family's disapproval. Its tone is a bit more angsty and adult than Austen's previous novels, and you feel every emotion and thought that Anne goes through.
Start off this outfit by bundling up in this sweater and tights. For convenience's sake, take this crossbody bag to hold your essentials as you go after your long-lost love like Anne Eliot, or seek out a Gothic abbey like Catherine Moreland from Northanger Abbey. Add a pop of color with these cute red flats, and finish with some coordinating earrings and simple rings.
At the Ball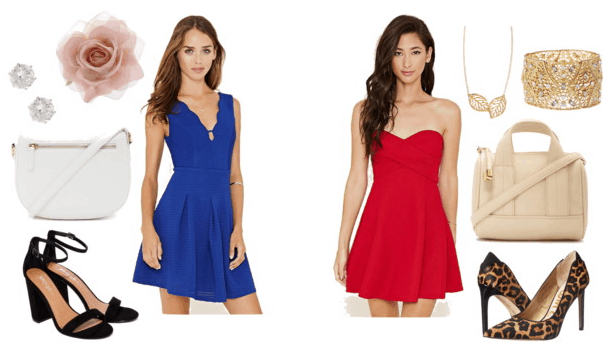 1st Outfit: Dress, Shoes, Bag, Rose, Earrings // 2nd Outfit: Dress, Shoes, Bag, Necklace, Bracelet
Balls and country dances were not just fun ways to pass the time in Austen's world. These were some of the few events where men and women could interact with one another, and how you were seen at these balls was of the utmost importance. Of course, you probably won't get a invitation to a ball nowadays (unfortunately) but the next time you have the chance to dress up, whether it be for a sorority event or a regular party, take inspiration from the elegance of an Austen dance.
I put two options up here for two different dressy occasions. Or you could use these for you and a friend! The formula is simple. First take a dress, then choose some shoes that really reflect your style or personality, like trendy strappy heels or wild leopard pumps. Then pick a neutral bag to keep the focus on your colorful dress. Finally, finish off your outfit with some accessories that reflect you, like a flower in your hair with some simple studs, or some shiny gold jewelry to jazz it up.
Final Thoughts
Jane Austen isn't only a personal icon of mine, she also inspired many authors after her. Even though her work wasn't well known during her lifetime, it ultimately impacted so many people after her, and will continue to live on for centuries to come.
So what did you think? Do you like Jane Austen? What's your favorite Austen novel? Which author would you like to see next? Let us know in the comments below!