Welcome to the latest edition of Looks from Books, which aims to prove that you can look smart, while still being book-smart, too. Fashion inspiration can be found between the pages of your favorite stories, on well-designed book covers, and in your favorite characters… if you read closely enough.
This week, as you start the new year off right with some resolutions of your own, we're turning to a similarly-minded novel, which stars an iconic heroine with a penchant for improving the lives of her friends… or so she thinks! Here's Jane Austen's Emma: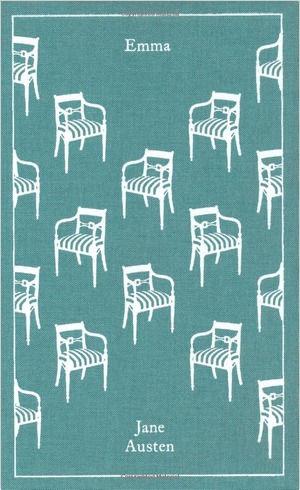 Cover via Amazon
Inside Cover
Emma is a classic British novel, and one of the most well-known works of quintessential nineteenth-century novelist Jane Austen. It was published in 1815, and was the last novel published during the author's lifetime.
The novel follows romantic, headstrong, and witty heroine Emma Woodhouse, a privileged girl whose enthusiasm for those she cares about leads to several misadventures in matchmaking. Despite the fact that her good intentions in advice don't always amount to a happy ending, Emma has to figure out for herself whether her own judgement provides the best outcomes for her friends.
Some of those friends include Harriet Smith, an unsophisticated and impressionable girl to whom Emma extends her friendship and guidance, and George Knightley, the brother to Emma's elder sister's husband, as well as neighbor and close associate.
Upon writing Emma, Austen herself famously recognized that she was writing a character whom no one but herself "would much like." Accused of being impetuous, spoiled, snobbish, and, at times, deliberately unkind, Emma is probably one of the most visibly flawed of Austen's heroines, and is often determined by dedicated readers to be, yes, one of the least likable.
A Fashionable Literacy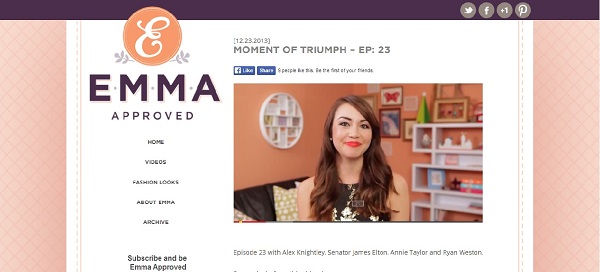 Emma Approved blog – Screenshot
Emma has seen many adaptations, including the 1995 high school classic Clueless, as well as the 1996 Gwenyth Paltrow version. The most recent close adaptation is the 2020 film Emma.
However, one of the most interesting adaptations of the age-old story is told through a new medium… the same one, in fact, that made last year's YouTube web series The Lizzie Bennet Diaries a surprise success! That's right: fresh off of their Emmy win for "Outstanding Creative Achievement in Interactive Media" (as well as a summer's sojourn to Sanditon), Hank Green and Bernie Su are at it again, with a third Austenian adaptation,Emma Approved.
In this iteration, Emma Woodhouse is a lifestyle blogger documenting her life as a matchmaker and lifestyle consultant through vlogs, as well as posts on her very own (and constantly updated!) blog of the same name. Alongside her videos, she posts fashion updates that break down the blog's looks, piece by piece, which help dedicated readers follow Emma's advice that much more closely.
How to Add Emma to Your Own Wardrobe
By integrating key elements of the novel into your own outfits, you, too, can rock a look that's all class and style… but hopefully with a little more common sense.
Pretty, Polished, and Privileged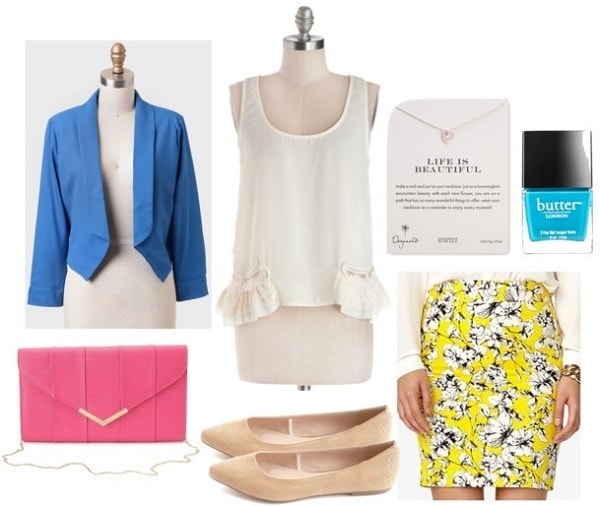 Product Information: Blazer –  Ruche, Bag – Charlotte Russe, Blouse – Modcloth, Flats – Charlotte Russe, Necklace – Bloomingdales, Nail Polish – Butter London, Skirt – Forever 21.
Emma belongs to the upper levels of society, a fact of which she is incredibly conscious. However, Emma is never totally a snob: she visits the poor, spends time with those from all means of the social spectrum, and even takes up the association of Harriet Smith, the illegitimate daughter of "someone," as a means of making Harriet her next matchmaking project. Her social distinction is matched with beauty, wit, and compassion, and while she has a lot to learn about where people's worth really lies, she's never a wholly unsympathetic character.
To channel some of Emma's characteristic snobbishness and high thinking, matched with her youthful zeal, enthusiasm, and optimism, try "higher" dressing, with elegant and classic silhouettes, matched with some not-so-serious colors and patterns. A romantic blouse, nude flats, and an understated necklace ground the look in elegance, while a bright blazer, patterned pencil skirt, envelope clutch, and punchy nail polish, channel Emma's vivacity and verve.
Always Improving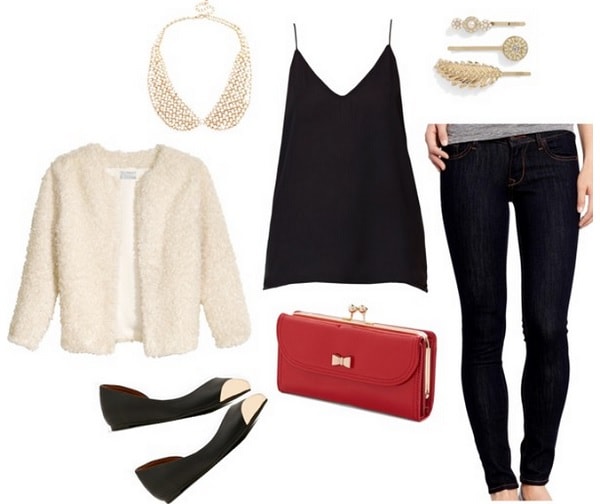 Product Information: Hair Pins – Nordstrom, Jacket – H&M, Flats – NastyGal, Blouse – Zara, Clutch – Modcloth, Necklace – Debenhams, Jeans – Old Navy.
Emma has always had a passion for self-improvement. Already gifted by practice in piano and drawing, she is known for making long lists of books she would like to read (though she doesn't always get around to it), and is a well-practiced conversationalist. While her regard for becoming a more accomplished individual is sometimes spurred on by jealousy, and a more conscientious one, by the critique of Mr. George Knightley, Emma develops a more acute understanding of her own limitations, and is a better person because of it.
Channel this passion for improvement and an elevated understanding into a style remix of sorts. A basic black tank and skinny jeans get upcycled into an outfit that's perfect for a more dressy affair than the pairing would originally suggest. A fluffy cardigan adds texture, while a spark of color in the red clutch adds interest. The hardware in the cap toe shoes, collar necklace, and hair pins elevate the look with their shine.
The Perfect Match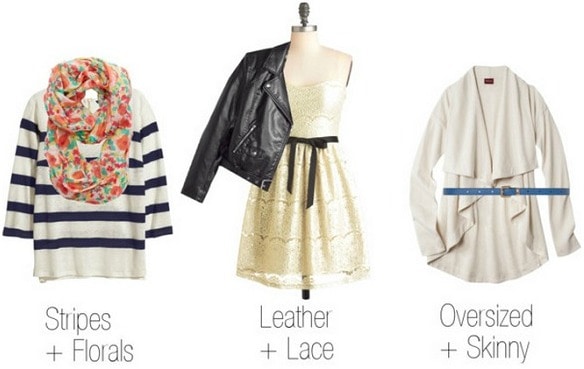 Product Information: Sweater – H&M, Scarf – American Eagle, Jacket – H&M, Dress – Modcloth, Cardigan – Target, Belt –Dorothy Perkins.
By pairing up those around her, Emma thinks she's found the perfect match for everyone… the problem is, she's not as good at reading people as she thinks she is! From accidental misunderstandings, to concealed engagements, to the very act of being blind to her own feelings, Emma isn't that great of a matchmaker after all; still, her love of love, and those around she loves, too, are some of her most well-known traits as a compassionate character.
Pay homage to Emma's matchmaking tendencies by doing a little mix-and-matchmaking of your own, pairing "opposite" type pieces together for classic combinations. A dose of fanciful florals brightens up a staid striped sweater, while a leather jacket roughs up a lace dress, and a flowing over-sized sweater gets cinched in with a skinny belt.
What Do You Think?
Have you ever read Emma, or any other novels by Jane Austen? Have you seen Clueless, or any of the BBC Emma adaptations? Do you watch Emma Approved? What do you think of the outfits and styling tips? Let me know, in the comments below!