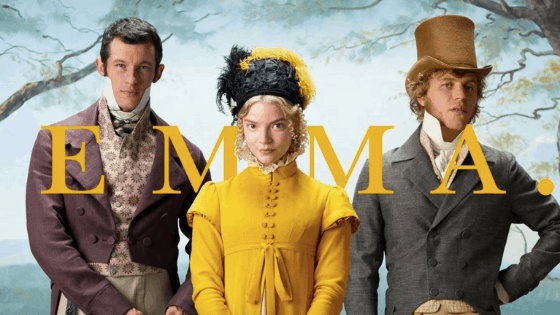 If you are looking for an escapist film to whisk you away to another time, may I present to you, 2020's "EMMA."
A beautiful film based on the famous Jane Austen novel, this flick is full of witty characters, gorgeous interiors, beautiful gardens, and some of the most luxurious costumes ever put to screen. Get ready to be sucked into a bright and beautiful world with this film.
"EMMA." tells the story of a clever, beautiful, and rich young lady, who loves nothing more than to play matchmaker. When she befriends a new young lady in the village, her matchmaking skills are put to the test. As she struggles to find her friend a love match, she learns that her own heart might be getting in the way.
This romantic film is full of some gorgeous springtime fashion inspiration. From the pastel color palette to the over the top hats, and the gorgeous dresses, you will be ready for spring in no time.
If you want to create your own EMMA inspired looks, keep on reading to discover our Emma fashion guide, with four modern day looks inspired by the film.
Emma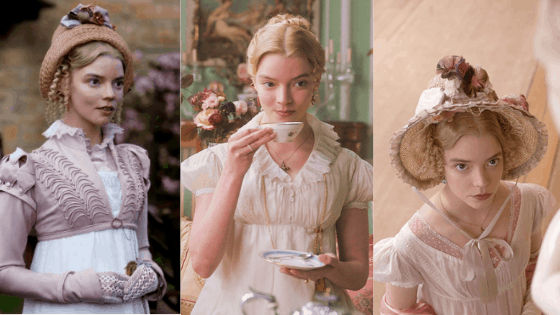 The star of the film, naturally, is Emma. She is a witty and fashionable girl who sometimes lets her bratty attitude get in her way. Throughout the film we watch Emma develop from a spoiled child into a truly humble young woman.
Emma's fashion sense is certainly the most elegant in the film. Her primary color palette consists of a pink and white, with the occasional pop of vibrant blue and yellow. She is often seen wearing dresses with delicate frills and lace, short jackets with high necks, and of course, an OTT hair accessory.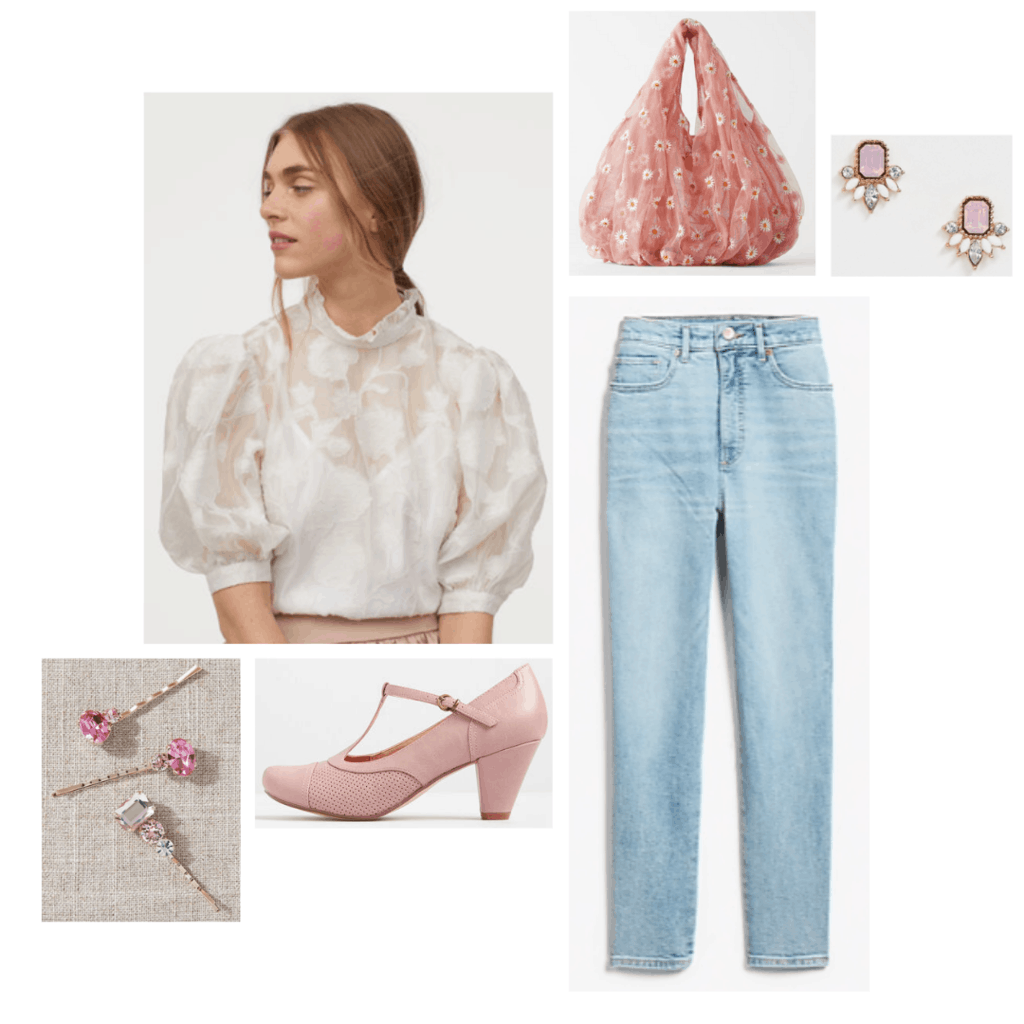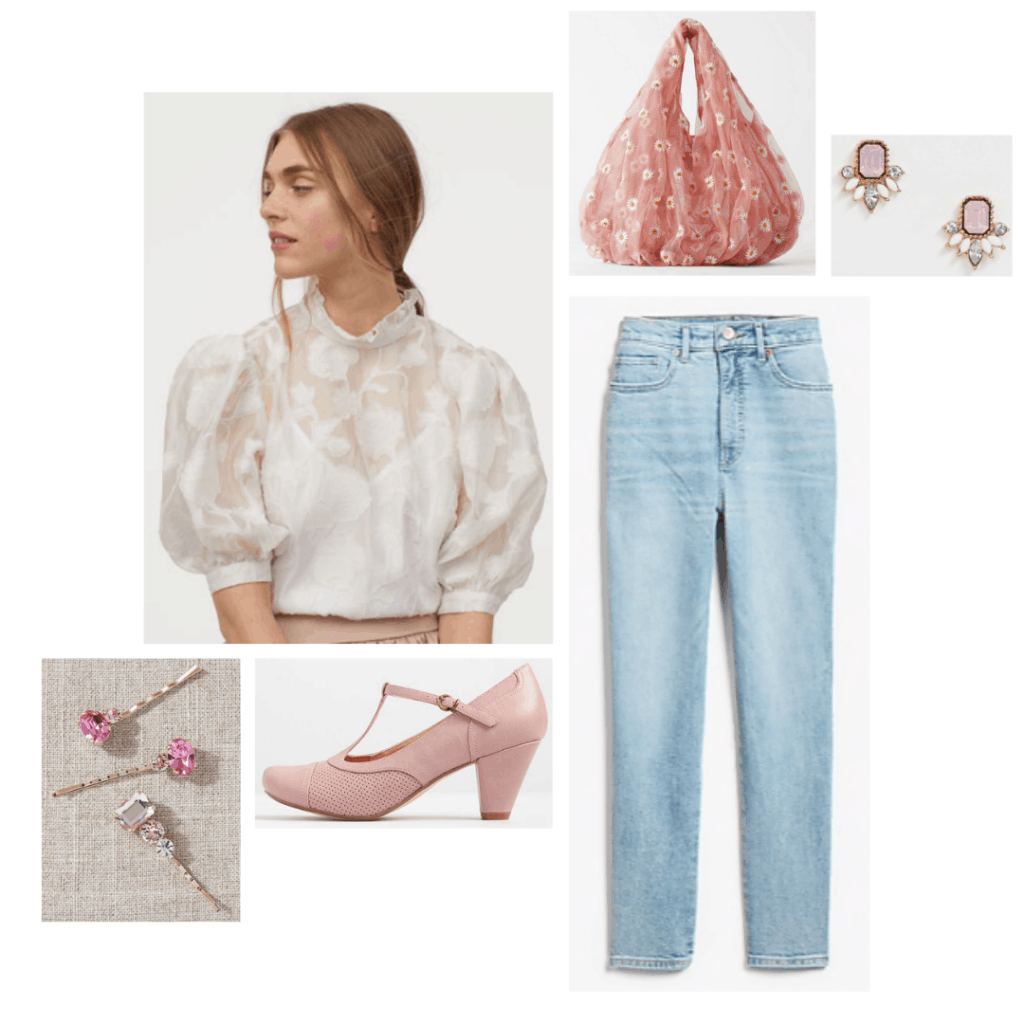 Products: Top – H&M, Jeans – Express, Shoes – Modcloth, Hair Pins – Anthropologie, Bag – Zara, Earrings – ASOS
To get Emma's look in a modern way, think about going for laid back preppy girl aesthetic.
Start the look off with an embroidered white top and a classic pair of blue jeans. Add on to the look with some fun little accessories. (Emma's outfits are never complete without a few beautiful accessories.) For this outfit, I went for a daisy printed bag and a couple of rhinestone hairpins.
When you rock this cute look, you will be ready for any occasion, whether you're doing some work from home or having a date with your significant other.
Harriet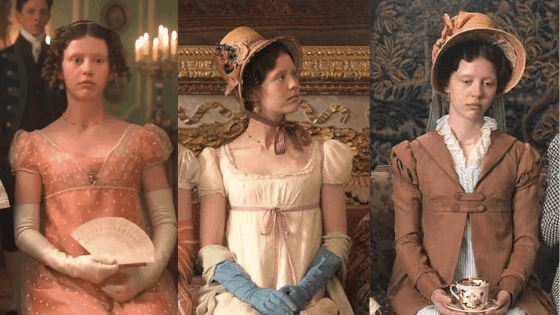 In the film, Emma befriends Harriet, the quintessential new girl in town. Unlike Emma, Harriet is quite shy and naive about the world around her. She has a hard time developing her own opinions on love, and often just follows Emma around like a lost puppy.
And speaking of following Emma around, Harriet quite often tries to emulate Emma's style. She often wears more toned-down versions of Emma's fashionable looks and sticks to a simple, neutral color palette.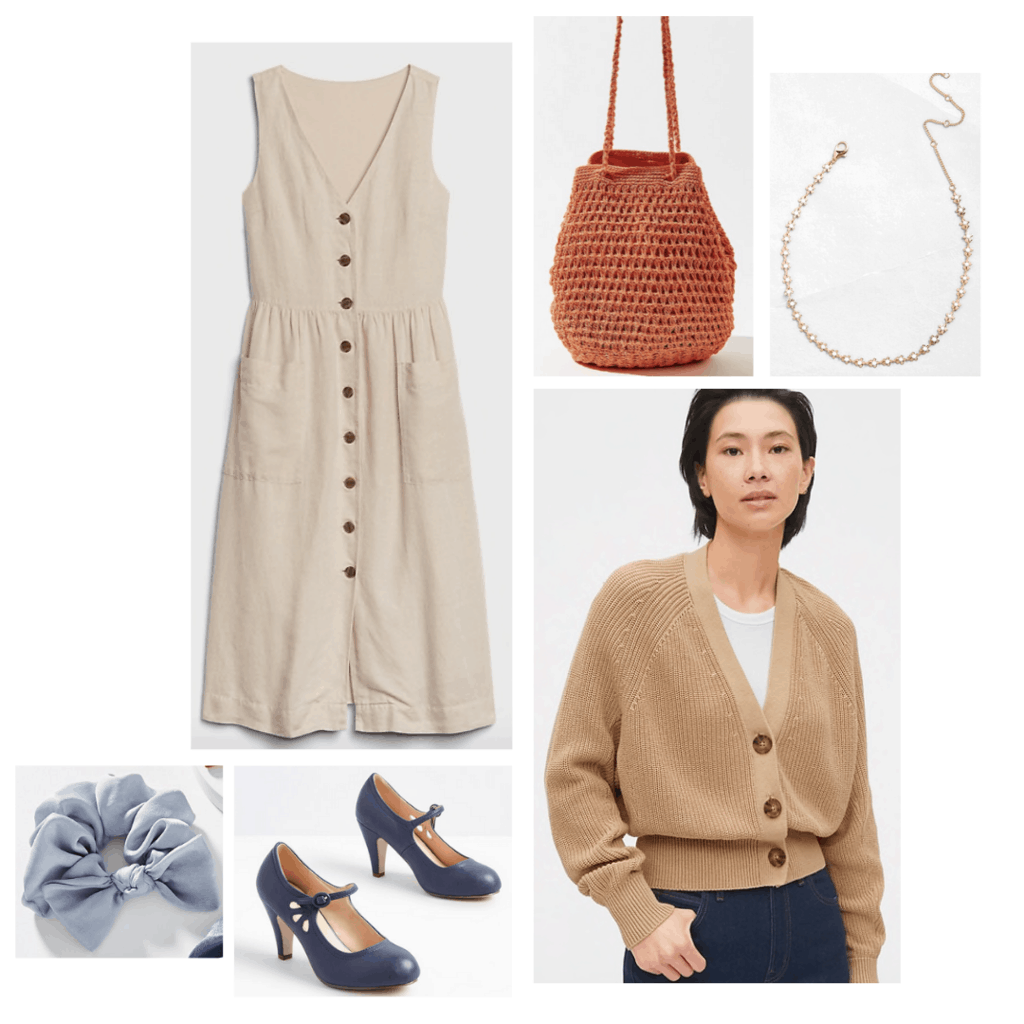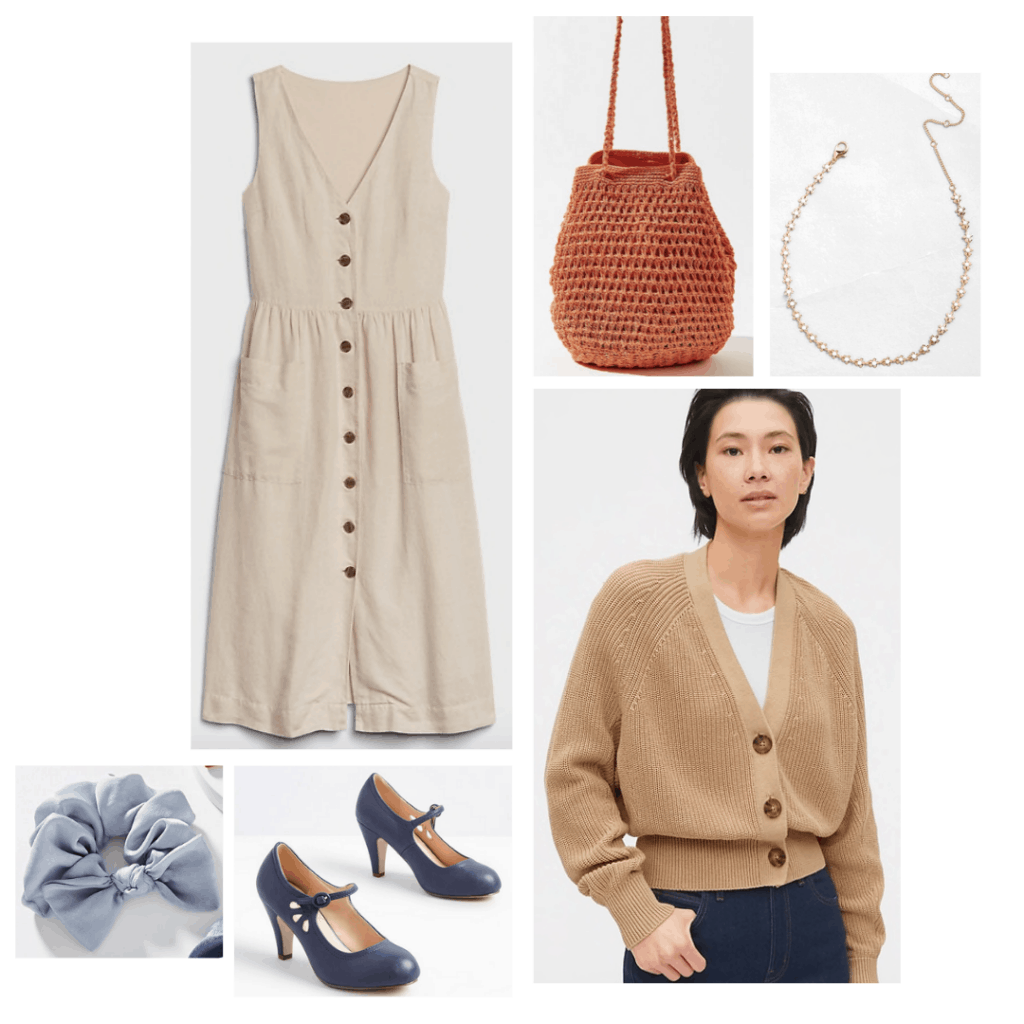 Products: Dress – GAP, Cardigan – GAP, Shoes – Modcloth, Scrunchie – Anthropologie, Necklace – Modcloth, Bag – Urban Outfitters
When it comes to getting Harriet's vibe, a feminine spring look is perfect. To start, try a spring dress layered under a knit cardigan. This would be a perfect combination for lounging around the house and hanging out in the garden.
Then for accessories, go delicate and simple with your choices. A woven bag is perfect for this look, as is a girly scrunchie. Also, a dainty necklace would be a great piece to embody Harriet's personality.
Mrs. Elton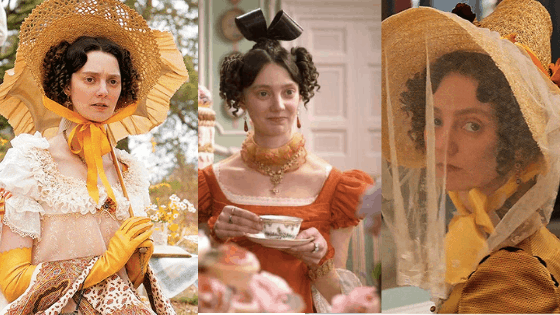 Though there isn't truly a villain in the film, the mean girl of the village certainly has to be Mrs. Elton. She is a frivolous woman who always has a judging look on her face, and likes to see herself as being above everyone else.
Unlike the majority of the women in the film, Mrs. Elton is all about being overly decorated and wearing as many accessories as she can. She is always seen in either bright orange or yellow, to set herself apart from Emma, and always has the most ridiculous hairstyle possible. She also chooses frilly chokers to highlight her long neck.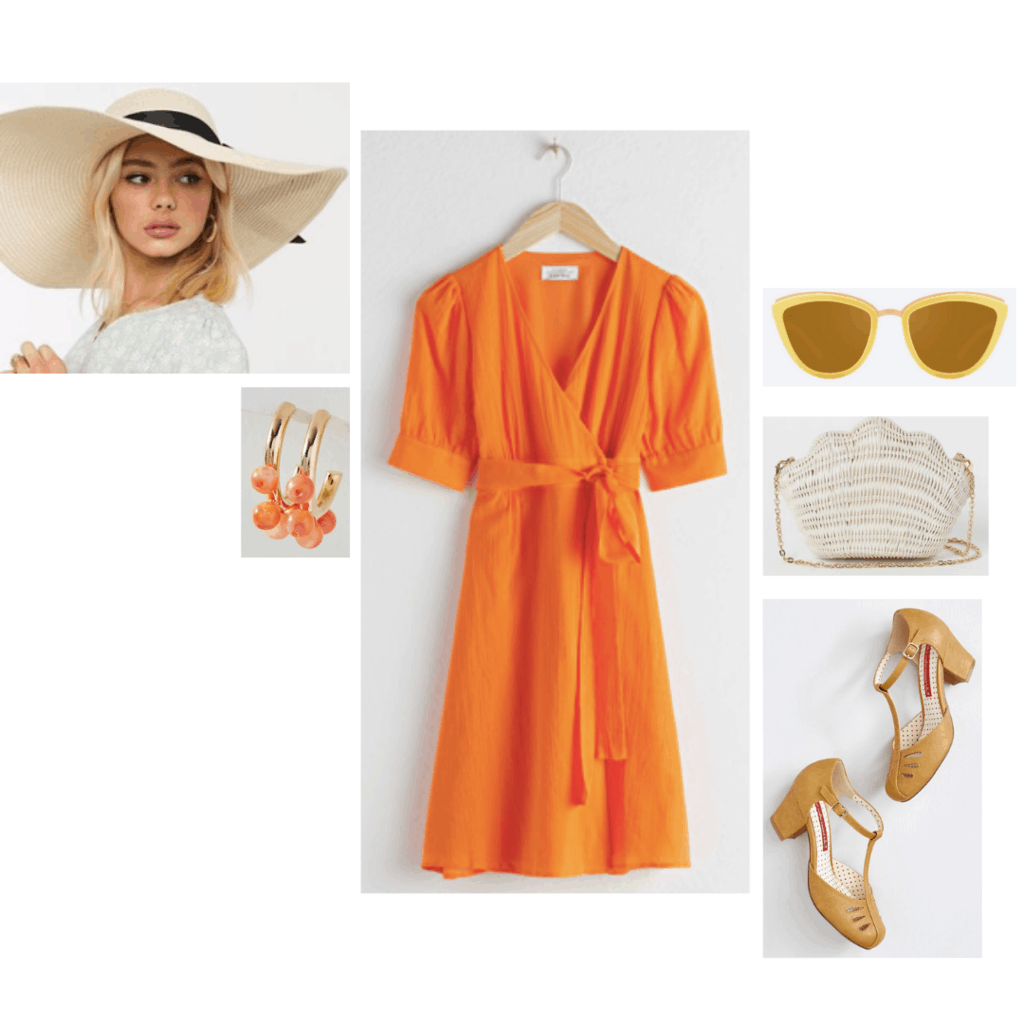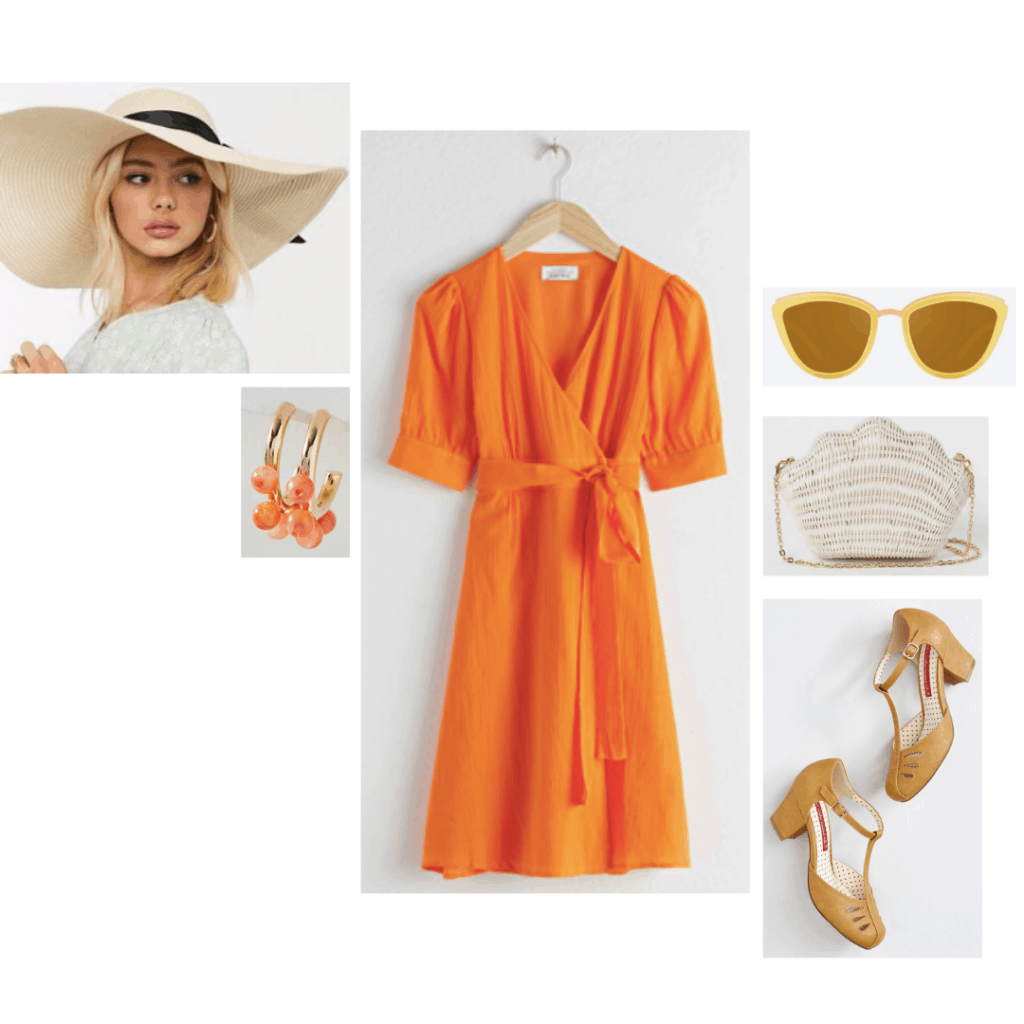 Products: Dress – & Other Stories, Shoes – Modcloth, Bag – H&M, Hat – ASOS, Earrings – Anthropologie, Sunglasses – Blenders
When it comes to Mrs. Elton's look, don't be afraid to go big and bold. A bright orange dress with puffed sleeves is your perfect statement piece for recreating Mrs. Elton's style. Then to tone down the look just a bit, a pair of sensible heels are a perfect choice.
As for accessories, go crazy by using them to enhance the look. As you can see, I went for a fabulously large hat that will certainly make you the center of attention wherever you go.
Mr. Knightley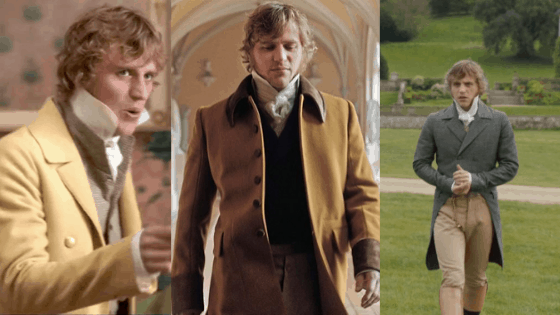 No Emma fashion guide would be complete without Mr. Knightley, the main love interest of the film.
Mr. Knightley serves as the voice of reason in the film and as a foil to Emma. He is an amazing character, as he is a man who loves and respects Emma, but is also not afraid to tell her when she is doing wrong or taking things too far.
And not only is he a great character, but he is also a fashion icon in his own right. I mean, who can't appreciate his amazing yellow coat? His style is very put together, but at the same time insanely stylish. Though he's buttoned up, he can serve as the perfect inspiration for anyone's off duty look.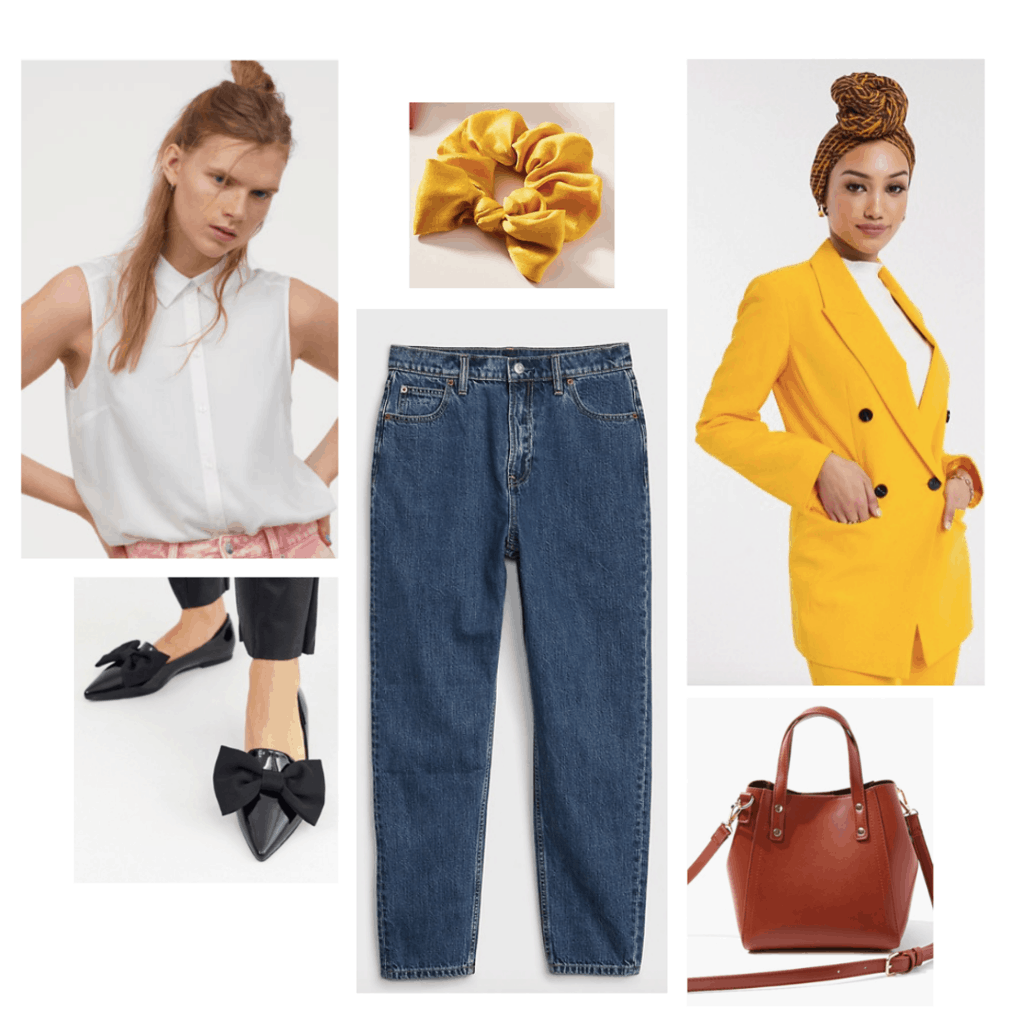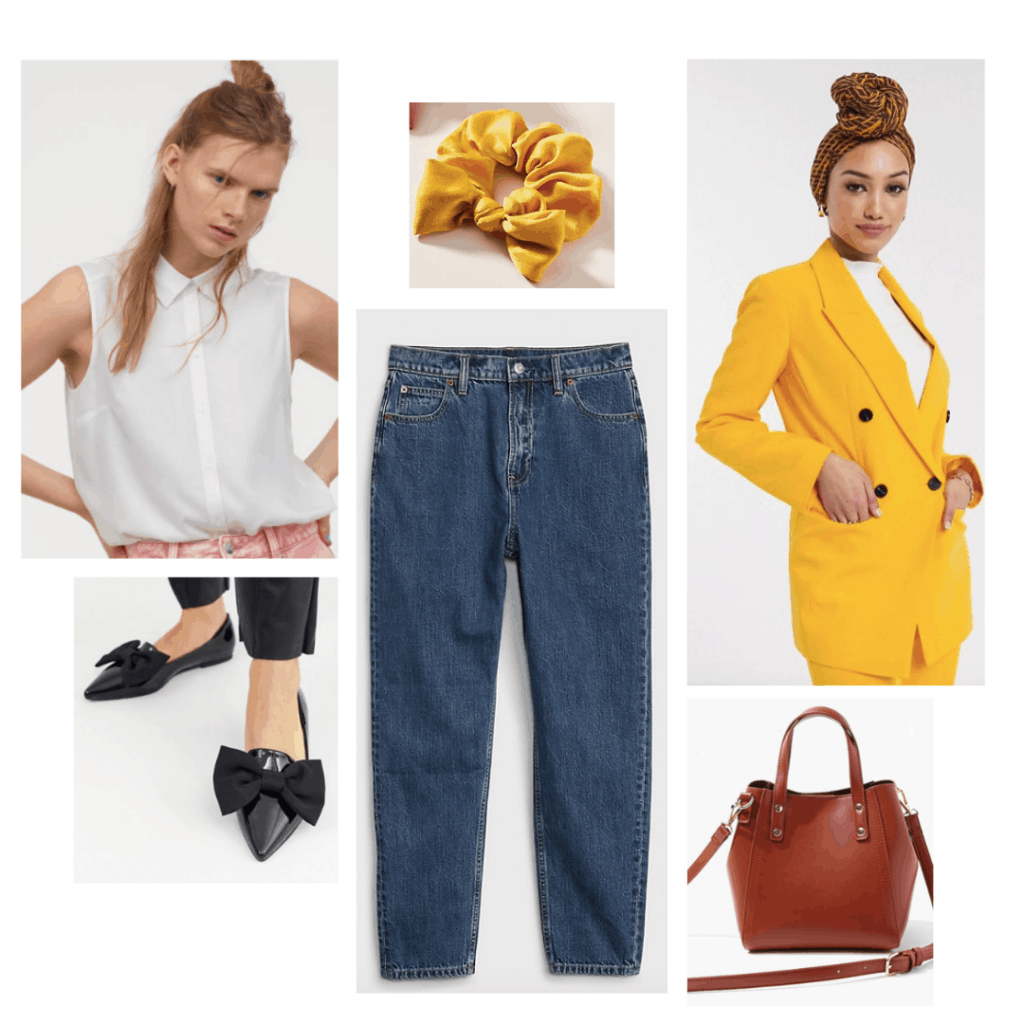 Products: Blazer – ASOS, Jeans – GAP, Top – H&M, Shoes – ASOS, Bag – Forever 21, Scrunchie – Anthropologie
Mr. Knightley is a very serious man, so I figured a work from home look would be perfect for his outfit.
I first went for a yellow blazer, reminiscent of the yellow coats and jackets he wears throughout the film. I then paired it with a white blouse and a pair of dark blue jeans. These pieces together form the perfect work look that can easily transition to lounging around the house.
And then, of course, there are the accessories, which for this look can be a bit more simple than the other ones. A pair of black flats and a brown bag are great finishing pieces to make the look Knightley-approved.
What did you think of our Emma fashion guide?
Which character do you think has the best style? And did you have a favorite look from the film? Let us know down in the comments.