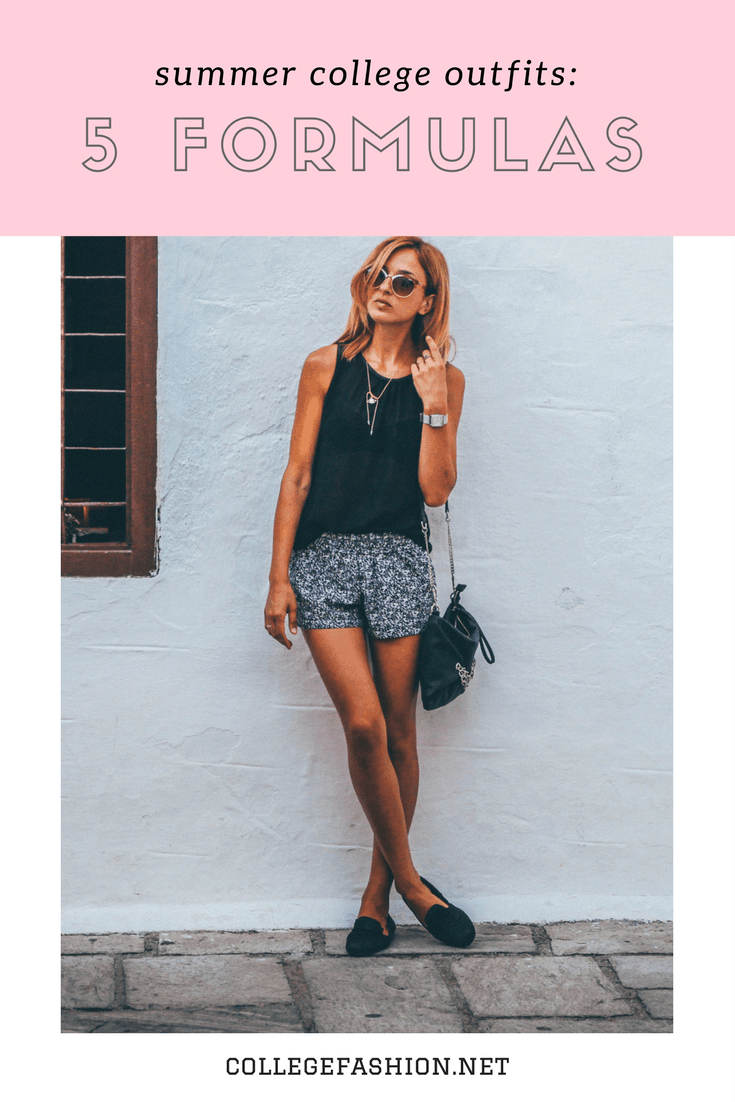 It's the height of summer, and most days I look forward to getting ready and selecting an outfit to wear while I conquer my day. But every once in a while there are lazy mornings where the thought of getting dressed in something other than leggings and a tank seems more daunting than taking a Calculus test.
In my opinion, the best summer styles embody a carefree, relaxed spirit. However, there is a clear difference between effortless style and just plain sloppy. (Can I get an amen?) I think we can all admit to running errands in our pajamas – but you know what? We're better than that. And let's face it, you never know who you'll run into on a random lazy Sunday morning picking up face wash at Target.
So what's the solution? It's simple: having a set of tried-and-true outfit combinations armed and ready for those days when you literally just can't. If you need some summer college outfits, I've got you covered.
Below are five foolproof formulas for a comfy yet chic summer outfit. Read on to learn more:
Related reading: The Cutest Summer Outfits for Women to Wear on Repeat
Graphic Tee + Mini Skirt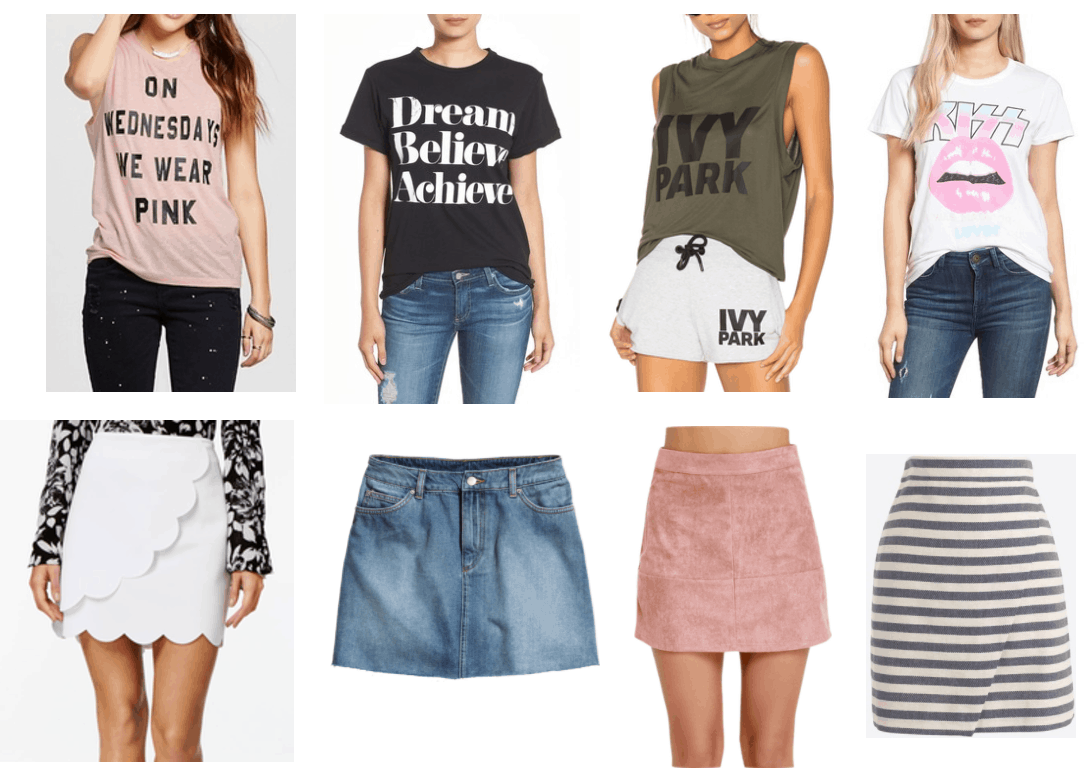 Products: "Pink" Tank – Target, "Dream" Tee – Sincerely Jules, Ivy Park Tank – Revolve, Kiss Tee – Nordstrom, White Skirt – Macy's, Denim Skirt – H&M, Pink Skirt – Lulu's, Stripe Skirt – J.Crew Factory
This is one of my favorite summer combos because it's super comfortable, plus skirts are an easy, breezy solution to the sweltering heat. Chances are, you probably own at least one of each of these items already, and the possibilities are endless. A feminine skirt instantly dresses up what would otherwise be a more casual outfit.
Shift Dress + Sandals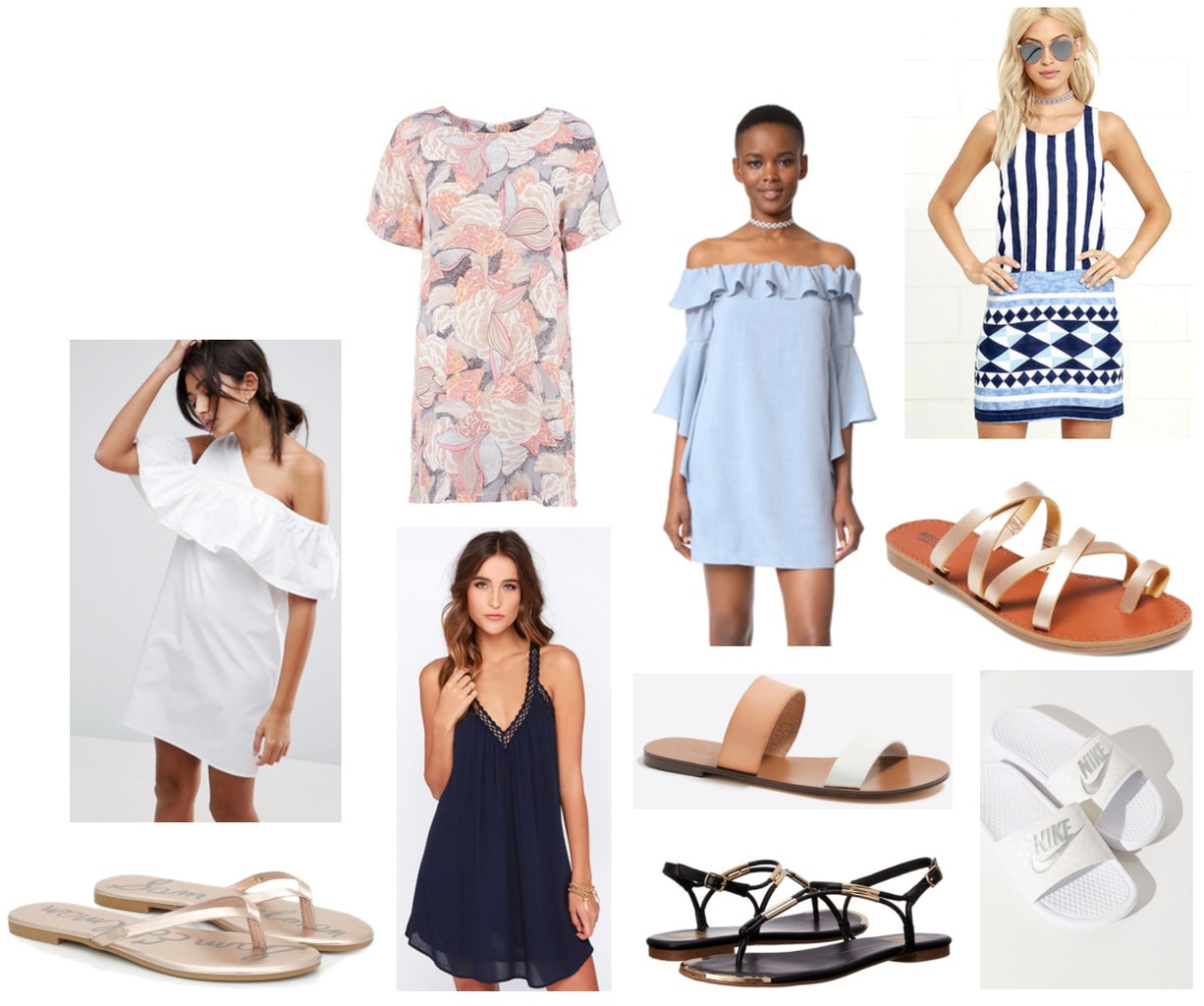 Products: White Dress – ASOS, Pink Dress – Boohoo, Blue Ruffle Dress – Shopbop, Blue Stripe Dress – Lulu's, V-Neck Dress – Lulu's, Gold Flip Flops – Sam Edelman, Black Sandals – Dolce Vita, Brown and White Sandals – J.Crew Factory, Gold Strappy Sandals – Target, Nike Slides – Urban Outfitters
One of the absolute easiest and quickest outfits to throw together is a dress with a pair of sandals. I love dresses because you only have to put on one article of clothing, accessorize, and BAM — you have an outfit. Shift style dresses are always in style, and they are particularly great for summer because they are figure flattering and insanely comfy.
Solid Tank + Kimono + Cutoffs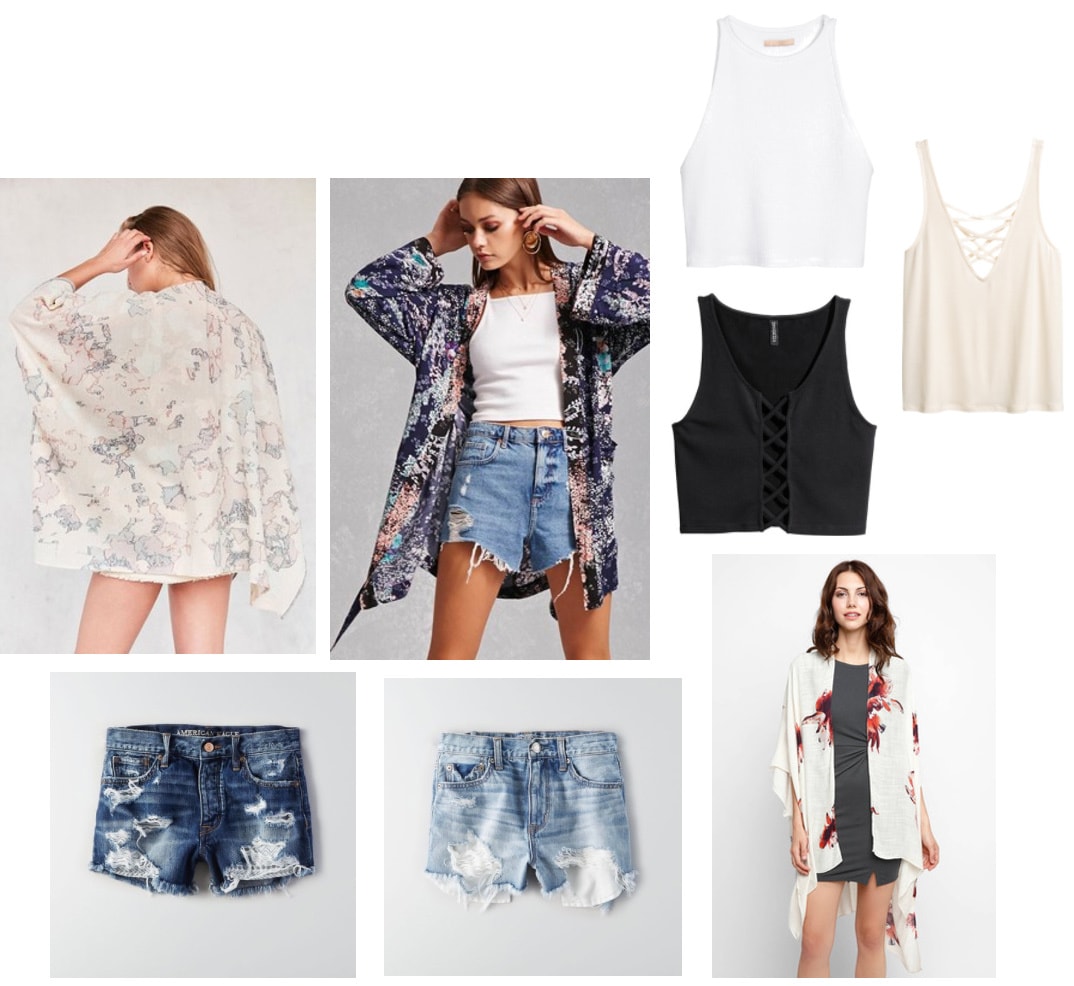 Products: White Tank – H&M, Beige Tank – H&M, Black Crop Top – H&M, Beige and Pink Kimono – Urban Outfitters, Navy Kimono – Forever 21, Dark Wash Shorts – AEO, Light Wash Shorts – AEO, White and Red Kimono – South Moon Under
The kimono jacket is another on-trend piece that has the magical ability to transform an otherwise drab outfit into a knockout look. These jackets are perfectly light, yet provide enough warmth to protect you from the chilly AC when you go inside.
This is one of my favorite summer college outfits. Try a brightly colored solid kimono with layered necklaces and bracelets, or a more intricately patterned kimono with some statement earrings for a stylish and cool summertime look.
Colored Shorts + Patterned Top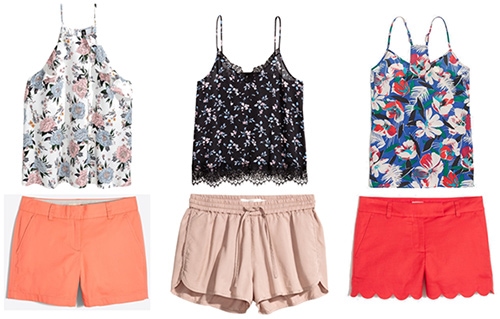 Products: White Tank – H&M, Black Tank – H&M, Blue Tank – J.Crew Factory, Orange Shorts – J.Crew Factory, Pink Shorts – H&M, Red Shorts – J.Crew Factory
Remember back in your elementary school art class when you learned about contrasting colors? Little did you know that your teacher's wise words would one day come in handy for those last minute fashion emergencies. Contrasting colors and patterns are an easy way to put together an outfit that looks ultra-chic.
Try contrasting a floral pattern with a striped short, a bright color with something more subdued, or a complimentary color scheme, such as orange and blue.
Chambray Shirt + Denim Bottoms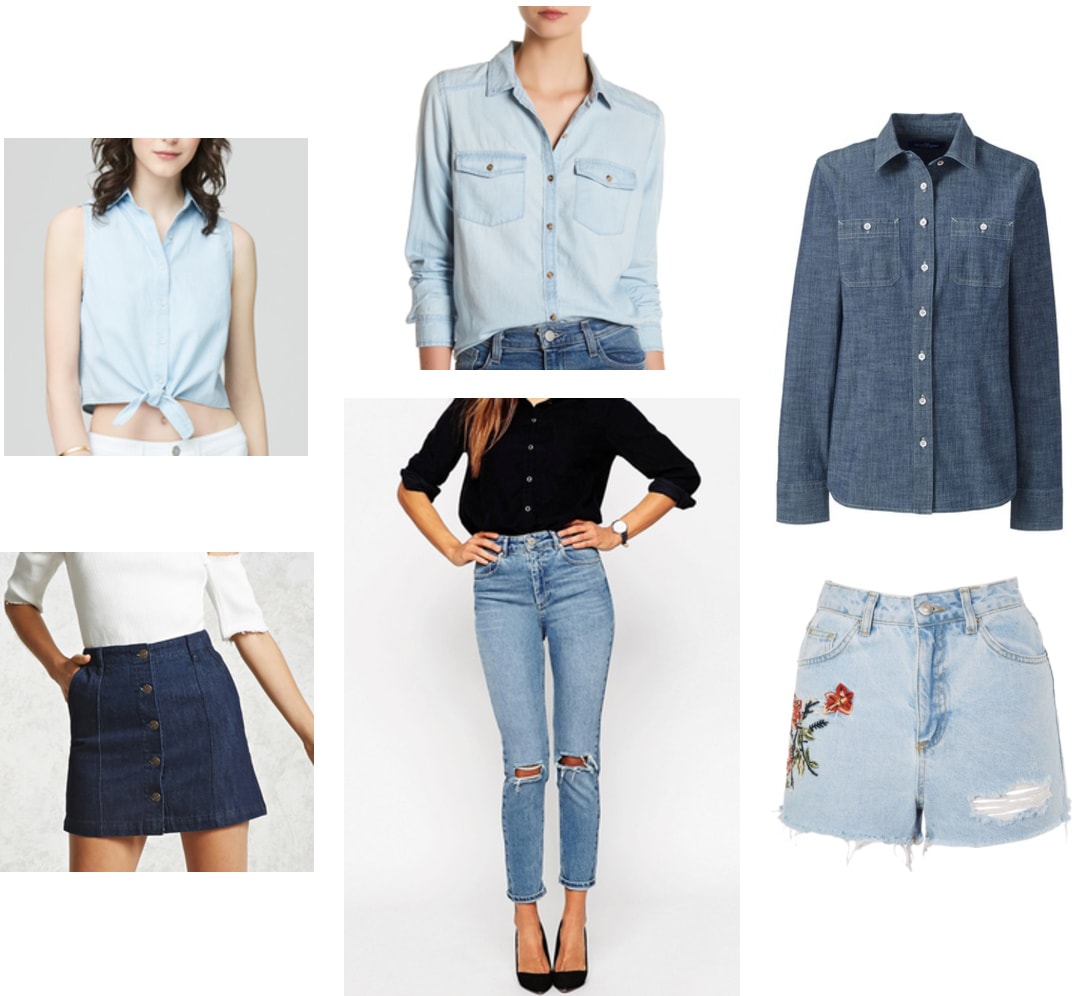 Products: Tank – Aeropostale, Light Wash Shirt – Nordstrom Rack, Medium Wash Shirt – Lands End, Skirt – Forever 21, Jeans – ASOS, Embroidered Shorts – Topshop
Denim on denim?! I know what you're thinking. How can that possibly be cute? I was also skeptical at first, but I promise that, when styled correctly, denim on denim can be fabulous.
The key to avoiding looking like you're wearing a "Canadian tuxedo" is contrasting the washes of denim. If you're wearing a darker top, opt for lighter bottoms and vice versa. Try it, I dare you!
Your Thoughts?
What do you think of these formulas? Have you used them before? What are your go-to outfit combinations when you're in a hurry? Let us know!
Bonus: For more fashion formulas, check out my fellow CF writer Callan and her series on Easy Outfit Formulas!
Editor's Note: This post was originally written in 2014. It was completely updated and revamped in 2017 for accuracy and completeness, and to reflect current fashion trends.