This post may contain affiliate links, which means we may receive a commission if you purchase through our links. Please
read our full disclosure here
.
Photo Credits: Photo 1, Photo 2, Photo 3
If you're a regular College Fashion reader, I hope that you are currently surprised by a couple of things. First of all, the title of this post has the word "his" in it. Secondly, the header image consists of three men. And finally, my name is Peter.
No, I am not a rogue blogger, but I am a new CF writer and yes, I will be writing about men's fashion.
Some of you may be asking how men's clothing will fit into College Fashion. Well, for now, all I can say is that we will find out. But, I can give you this reassurance; men and women don't exist independently. Whether it is a boyfriend, best friend, or annoying little brother, most of us are in constant conversation with a member of the opposite sex.
So, consider my posts a conversation. Let's take a walk into my dream closet, learn together, and pass along some knowledge. Teach your brother how to tie his own bowtie. Buy your boyfriend a blue oxford button front shirt. But most importantly, improve the wardrobe of a guy that is close to your heart. I'm going to show you how to do just that.
Pass it Along – Basic Men's Fashion Tips
Shorts and t-shirts are the quintessential staples of a guy's closet during the summer months. Cool, light, and easy to throw on in the morning, the shorts and t-shirt combination captures the summer mindset. However, it is often hard to think of shorts as anything other than casual and simple. We tend to associate the shorts wearer with the teenager loitering outside the movie theater or the dad on vacation with his kids. It is hard to imagine the classic shorts-and-t-shirt look as trendy or fashionable.
Fortunately, it's not impossible to make shorts and a tee look more stylish. In the photo above and the header images, we see the classic shorts-and-"t-shirt" combination reconstructed. Graphic tees and cargo shorts have been replaced with flat front shorts, oxford shirts, and lightweight polos. As a result, the young men in the photos look like… young men. Not teenagers, or a middle aged men, but your average American young adults.
Let's be honest: no one has ever taken a guy rocking flip flops, baggy shorts, and an '80s rock band t-shirt seriously. So, in the season of internships, networking, and growing up, make sure the guy you love is taken seriously. Do me a favor: pass along the tips below and clean up your guy's shorts game up. Trust me, he will thank you later.
Look 1: The Classic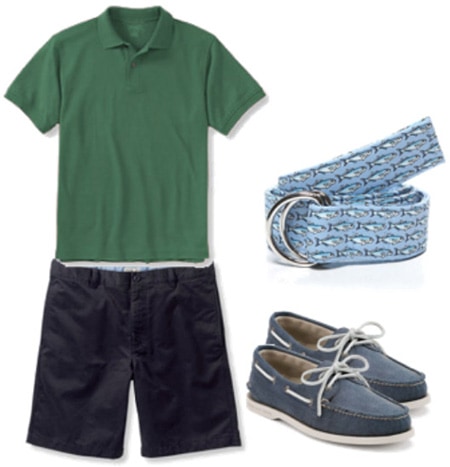 Products: Polo – L.L. Bean, Shorts – L.L. Bean, Belt – Vineyard Vines, Shoes – Sperry
I love navy shorts. In my opinion, they are the only color shorts a guy needs in his wardrobe. Navy shorts go with almost any color and they work from the end of spring to the beginning of fall. So pass this along: pick up some navy.
When navy shorts are paired with a simple colored polo, the look is money. In the outfit above I went with canvas Sperry Top-Siders because they are light in the heat of the summer, and a D-ring belt because it is less casual than one with a buckle. (Side note: for the truly adventurous, swap the Sperry's for these bad boys.)
Look 2: The Edgy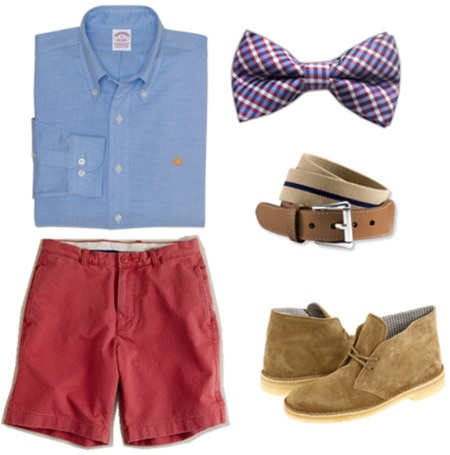 Products: Shirt – Brooks Brothers, Shorts – J.Crew, Bow Tie – Tie Bar, Belt – L.L. Bean, Shoes – Zappos
If navy is too boring for the guy in your life, why not try a brighter colored short with a muted shirt? In the outfit above, I choose a blue oxford button down to go with the Nantucket red shorts. Yes the look somewhat screams "America", but when you throw in the bow tie and desert boots, you can't go wrong.
My biggest tip here is not to fear the prep. Though I realize it can be hard to picture your average male college friend wearing a bow tie and shorts for no particular reason, when the bow tie is tied properly and paired with an oxford with the sleeves rolled up, you will never look at bow ties, and shorts for that matter, the same way again.
Look 3: The Bold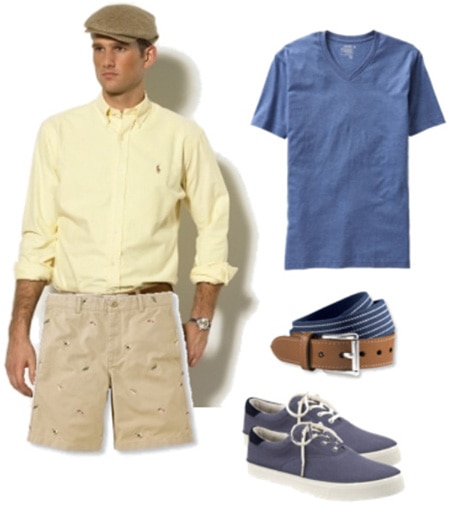 Products: Shirt – Polo Ralph Lauren, Shorts – L.L. Bean, T-Shirt – Old Navy, Belt – L.L. Bean, Shoes – Gap
Embroidered shorts are a fiercely-debated piece of men's clothing. I am personally a huge fan, but I know that some people consider them tacky and a little bit too preppy.
It's true: embroidered shorts are certainly a bold statement. However, when paired with simple a shirt, belt, and shoes, the shorts make the wearer look sophisticated. So, tell your guy friends to take calculated risks. By this I mean let them purchase embroidered or patterned shorts, but make sure they don't go overboard with the rest of their outfit (or do something crazy like plaid on plaid).
What do you think?
Is there a place for men's fashion on CF? Would you recommend any of my tips/pieces of clothing to your male friends? What do men fail at most when it comes to fashion? I write for you! Let me know what you think by leaving a comment…