This post may contain affiliate links, which means we may receive a commission if you purchase through our links. Please
read our full disclosure here
.
Each week, our Fashion Challenge column highlights a risky trend that's a a bit outside the norm, and this week's item is no exception. Believe it or not, the crop top is back in a big way, and is going to be hot for Summer 2010. I know this garment may remind you of the 80s in a bad way, but it's easier to wear than you think – and that's why I chose it as our challenge this week.
Think you have what it takes to make the crop top work? Read on for some tips, then try it yourself!
Tips & Tricks for Wearing Cropped Tops
Own it. As with most of our Fashion Challenges, this look requires a major dose of confidence: I mean, it's not everyday you expose your stomach to the world!
Tuck it in. I am already prepared for tons of complaints about this look not working for anyone but super-skinny models. That's just not true! If you aren't prepared to bare your whole stomach, tuck in the front and let the sides hang out of a high-waisted garment for a great blouson effect. When you lift your arms and move around, your sides and back might peek out, but most of your stomach will stay covered. See an example on Cammileco below: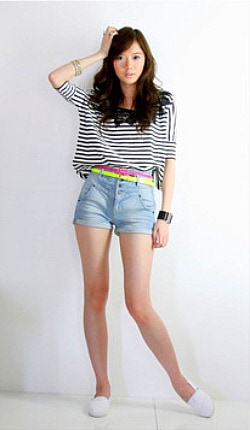 Layer, layer, layer. Want another alternative to baring it all? Try layering a cropped top over a basic tank. Cutout or lace styles would amp up the look a bit.
Consider location. I don't want to sound like your controlling mother, but use your judgment when wearing a cropped top. You might not want to wear this to, say, your sister-in-law's baby shower (or maybe you would?). But this look isn't always acceptable, so just consider where you are going.
Get The Look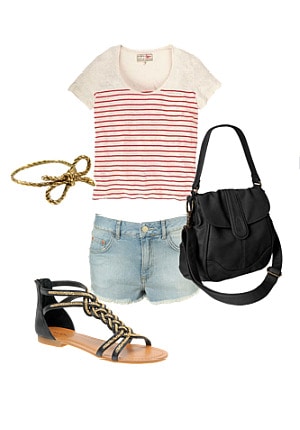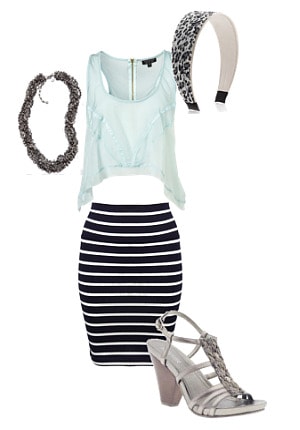 Product Information: Outfit #1: Striped crop top – Aubin and Wills, Shorts – Topshop, Gladiator sandals – Aldo, Cross-body bag – Old Navy, Knot ring – Fred FlareOutfit #2: Crop top – Topshop, Skirt – Forever 21, Sandals – Piperlime, Print headband – Monsoon Accessorize, Necklace – American Eagle
I wanted to give you guys two different options for this Challenge, so I decided to go with one boxy cropped shirt (like Whitney Port's in the picture at the top of the page), and one shorter cropped tank.
For Outfit #1, I decided to go simple. Because the shirt is so loose-fitting, I added short, frayed jean shorts to show off long legs. Black and gold accessories finish off a nautical-inspired look.
Outfit #2 is more versatile because you can wear the shirt out and loose to show a bit of tummy, or you can tuck it into the high-waisted skirt for more coverage. I love the mixing of stripes and leopard print, so I threw in a headband. A heavy chain necklace adds just the right touch of toughness.
Extra Credit Reading
Dying for some more info on cropped tops? Check out these sources:
So, will you take the Fashion Challenge?
How do you guys feel about this look: tacky or trendy? Thoughts on where to (or not to) wear a cropped top? Already work this trend? Send us pictures of you in your crop top and we'll feature them here!* As always, we are open to suggestions for future fashion challenges and we'd love to hear from you!
* Send your outfit pictures to fashionchallenge AT collegefashion DOT net!