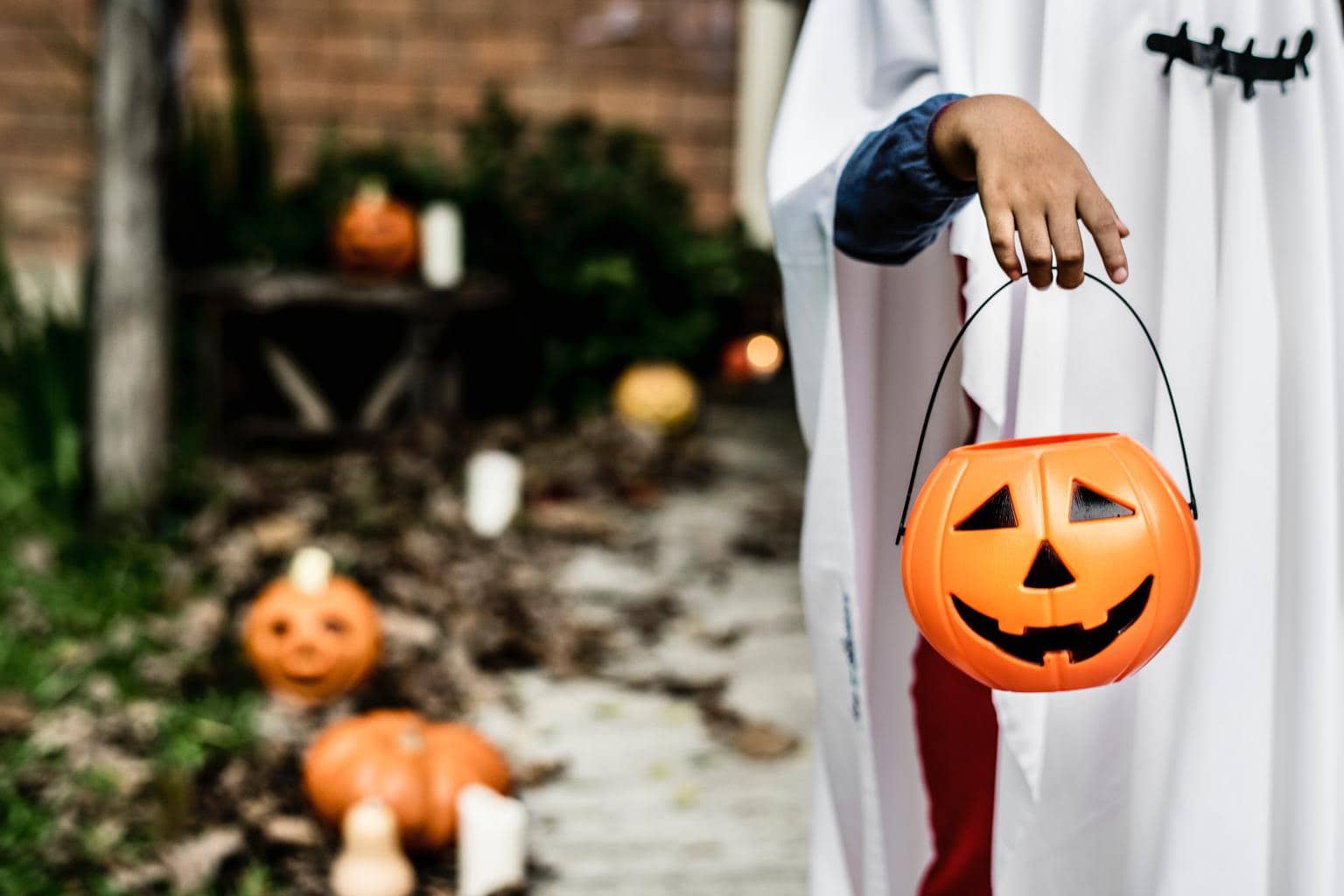 So, you've read all of the CF Halloween articles, you've finally picked out the perfect costume, and you're totally psyched for the holiday that's all about candy and fun and scares and…a 50% chance of snow?!
Growing up in Southern California, I never had to worry about inclement weather on Halloween: I could always count it on being comfortably cool and crisp while I went trick-or-treating. Once I moved to Boston for college, though, I experienced my first truly cold Halloween. (Granted, I was a freshman and I may or may not have used the warming effects of alcohol to counteract the chill. This is not recommended.) Two years ago, it actually did snow on Halloween!
While you can always just throw on any old coat over your costume, it's always a bit of disappointment to have to cover up your carefully planned ensemble. Obviously, if you're going to spending the entire night indoors, you can rock your costume without worrying about being warm, but if you're planning to be out and about, it's probably a good idea to cold-proof your look.
Halloween comes but once a year, so don't spend the night shivering in your costume or being sad because no one can see it! Read on for advice on how to stay warm without sacrificing your style:
5 Tips and Tricks for Staying Warm on a Cold Halloween
1. Choose wisely
First and foremost, consider what you want to dress up as. Some costumes are inherently warm, while others may not be so conducive to adaptation for cold weather.
For instance, a Princess Jasmine costume is pretty much defined by the bare midriff: if you're forced to cover that up, it just doesn't look quite as Jasmine-y anymore. On the other hand, you can throw on a pair of heavy black or beige tights under just about any costume that involves a short skirt, like a Star Trek uniform, and it will still be recognizable.
Better yet, pick a character who's already wearing warm clothing: Sherlock from Sherlock, Castiel from Supernatural, Katniss from The Hunger Games, and Katara from Avatar: The Last Airbender spring to mind.
2. WWMCW? (What would my character wear?)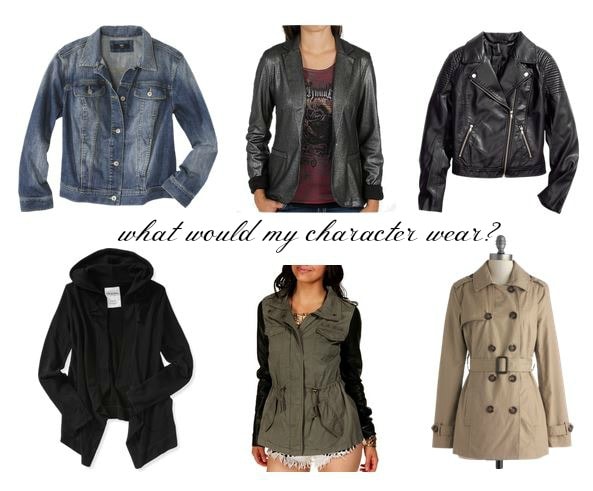 Product Information: Top Row: 1, 2, 3 | Bottom Row: 1, 2, 3
So you have to throw on some outerwear…but will that fleecy North Face jacket really complement your steampunk robot costume? Try to find outerwear that "goes" with your costume — that is, think about what your character would be wearing if they needed to bundle up.
For instance, if you're dressed as a cowgirl, a jean jacket would be an ideal choice. If you're going as a rock-and-roll type character, leather's the way to go. Cargo jackets and trench coats complement a variety of costumes.
For fantasy-themed costumes à la Harry Potter or Lord of the Rings, a cloak or wizard robes will add, rather than detract, from your overall look. Since you probably don't have Hogwarts robes lying around, a flowy black cardigan or even a black bathrobe could get you the look. This is also a great chance to break out those black graduation robes that you were forced to purchase.
For a futuristic sci-fi costume (Star Trek or Tron, for instance), try to maintain sleek lines with a sharp blazer or jacket.
3. Double up on tights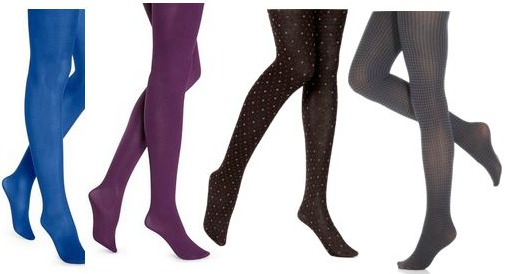 Product Information: (L to R) 1, 2, 3, 4
This is a great idea for cold weather in general. One pair of tights may not be enough to keep out the chill, but if you layer two or more pairs of tights, you'll create a nearly impenetrable barrier against wind. Remember, the higher the denier, the warmer you'll be.I've also found that the multiple layers tend to suck you in, smooth it all out, and create a generally slimming effect. A win-win scenario!
4. These boots were made for walkin'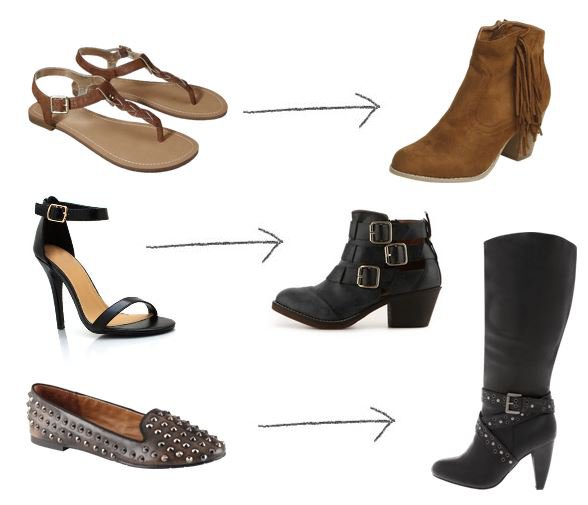 Product information: Top row: Sandals, Boots | Middle Row: Heels, Boots | Bottom Row: Flats, Boots
Swapping in a pair of boots – whether they're ankle, mid-calf, tall, or over-the-knee – for pumps or sandals seems like such a little thing, but it can make a huge difference in your comfort level! Not only will the extra coverage keep you warm, heeled boots tend to be more comfortable than regular heels if you're going to be walking a lot.
5. Onions have layers (And you should, too)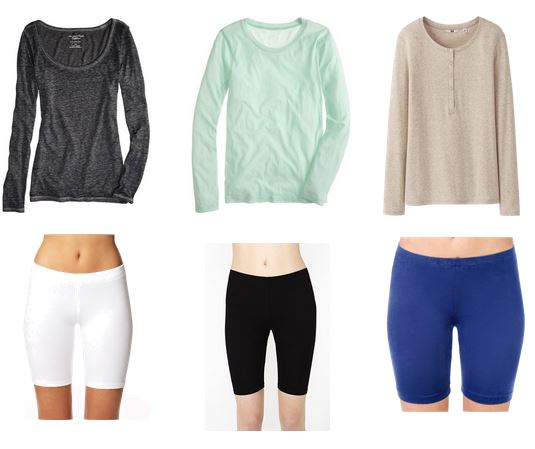 Product Information: (L to R) Tops: 1, 2, 3 | Shorts: 1, 2, 3
Make like an ogre and layer! If your costume has one predominant color, layer a thin long-sleeved shirt in that hue underneath. (You could also use a skin-tone or a complementary color tee.) If your costume has a skirt or roomier pants, try a pair of bike shorts underneath.
What did you think?
Do you plan your costumes around the weather? Will you be trying any of these tricks? Do you have any tips to share? Let us know in the comments!