This post may contain affiliate links, which means we may receive a commission if you purchase through our links. Please
read our full disclosure here
.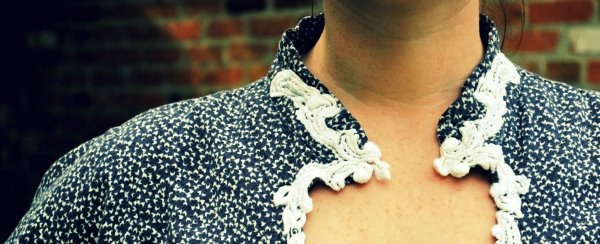 Last week I shared some basic ways to alter old dresses in How to Remake a Thrift Store Dress: Part One, and this week I want share three more dress alteration ideas for you to try out. So grab your DIY Toolbox and let's start designing!
1. Adjust the Fit
There are several ways to do this. Last week I mentioned adding a waistband, either with elastic or a belt. If you want to get more advanced, you can use some simple tailoring methods:
Turn the dress inside out and put it on. Pinch and pin the parts you want to be tighter on both sides, making sure to take even amounts from each side. Take the garment off (get a friend to help you if you need to keep from pinning yourself!) and measure each side. Then find the average of those two measurements and re-pin that far in on each side. Sew along your new line, cut out the excess and volia! This works well for waistlines, sleeves, and most other puffy parts.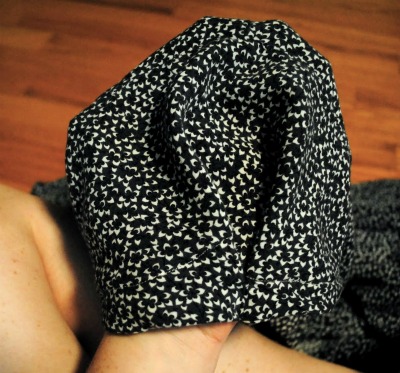 2. Take Off or Shorten the Sleeves
I love dresses with sleeves, but old dresses often have sleeves that don't work quite right as-is. The dress pictured above is an example: Its sleeves were much too big and fluttery, so I decided to create puffed sleeves. First, I hemmed them up. Then I measured two points equal distance from the middle of the sleeve and folded those points in to the center. I sewed everything up along the bottom to create a cute puffed sleeve.
You can also simply cut off sleeves and roll the cut edge under and hem. I find that using this technique in conjunction with the fitting technique above can help a dress fit better in the torso and have arm holes the right size.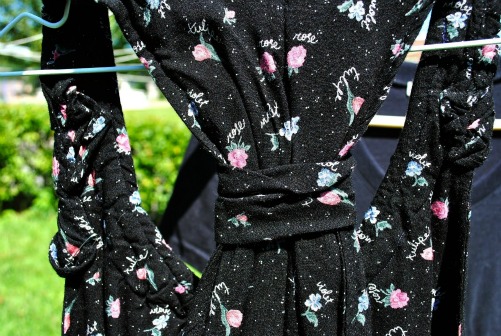 3. Add Your Own Embellishments
This is the really fun part. You've got the fit right, the length good, but the dress still needs something. That's where your creativity comes in! Here are some ideas for fun add-ons:
1. Use the leftover fabric from cutting off the bottom of the dress to make ruffles, either around the collar, like I did below, or on the sleeves. Or you can do what I did above and use extra fabric to wrap around a too-large back and make a racerback!
2. Replacing the buttons can do wonders. Big buttons make a statement, or little ones can tone down an overpowering look.
3. Don't limit yourself to the fabric that came on the dress! Adding patches, lace, or even old doilies can make a dress look totally unique and well thought-out. People will wonder where you bought it.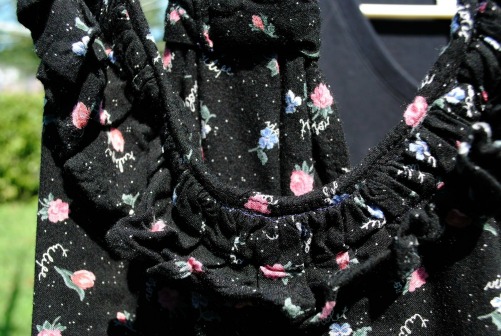 Keep in Mind…
1. Proportions matter. A dress doesn't work if it's big everywhere. The key is to strike a balance throughout the piece. Spend some time looking at dresses at stores or online to look at what shapes and styles work and which don't.
2. Some fabrics are harder to work with than others. Silky, plastic-y, scratchy, floaty fabrics are very hard to sew correctly, especially when they're a part of a preexisting garment. Steer clear if you don't have much sewing experience.
3. Think about where you will wear it. I've bypassed some great dresses in my time because I knew that even after a good red0, I'd never leave the house in them. Be practical when looking at potential projects.
4. Know what suits your body type. Remaking clothes for yourself is a wonderful opportunity to play up your favorite body parts! Great legs? Short is the way to go. Toned arms? Say goodbye to those sleeves! Whatever your shape or size, you can create a piece that reflects your style and fits you well — often better than things you buy off the rack.
Now I want to hear from YOU!
Have you ever redone an old dress or would you like to? Are there any other items you like to redo, or would like to learn more about redoing? I want to know! Share your thoughts and ideas with me and other readers in the comments!