This article will show you some cute DIY school supplies tutorials to help you personalize your notebooks, pens, and even your computer.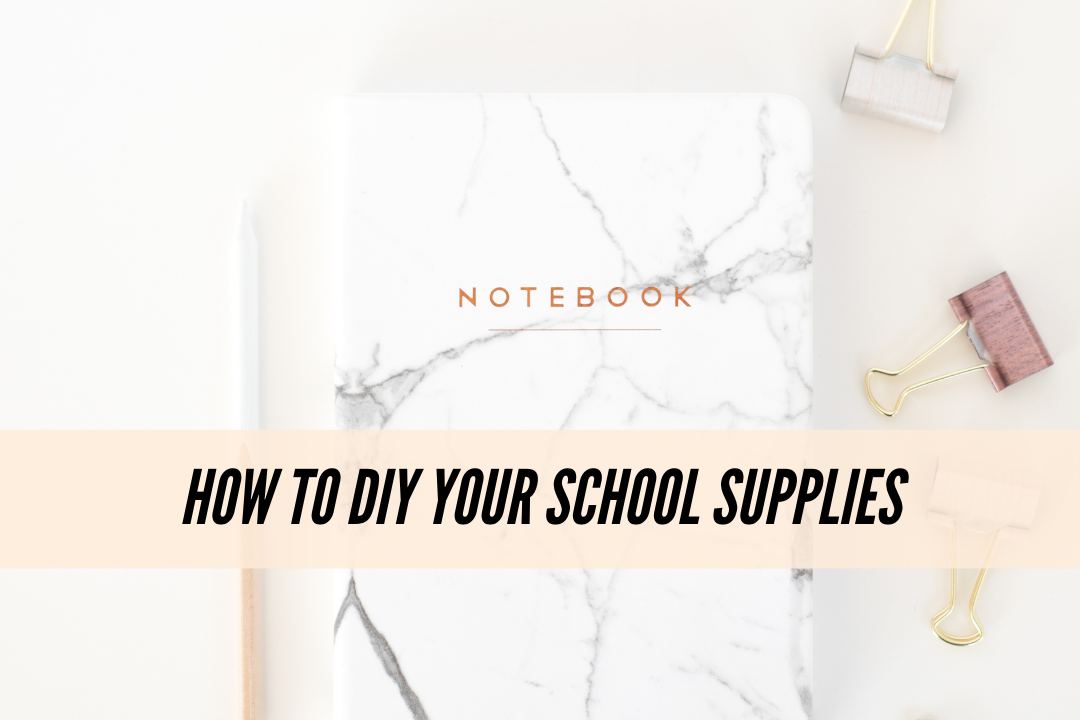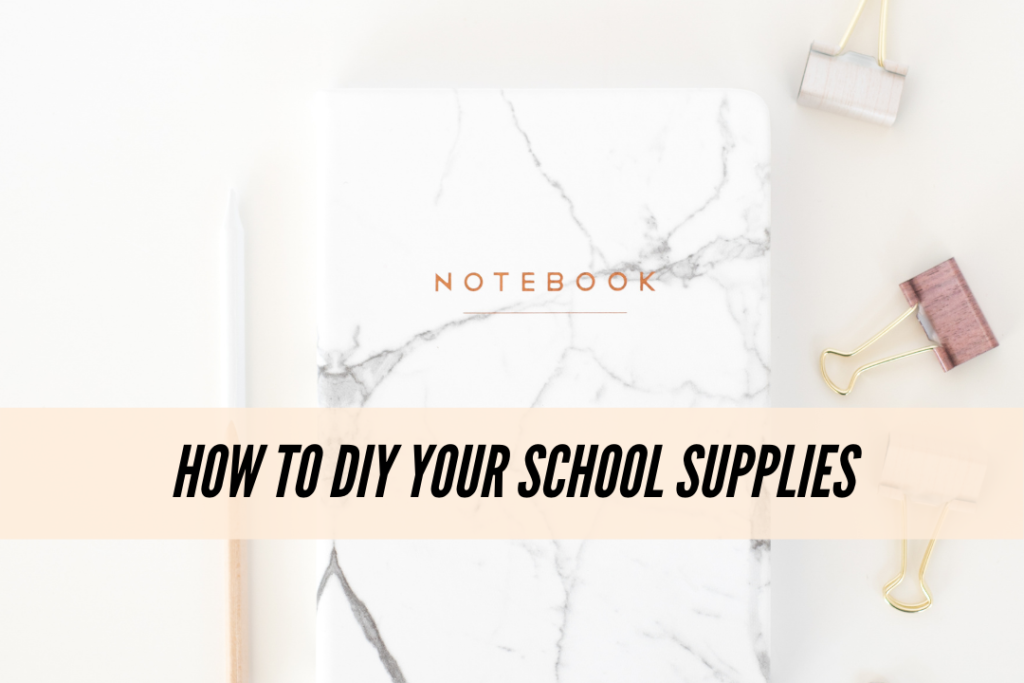 With the semester in full swing, most of us are beginning to get swamped with assignments, midterms, presentations and the plenteous amount of notes that come with those.
Whether you're note-taking by hand or typing out your notes, by now your school supplies are probably getting a lot of use — and you might be noticing that they aren't the most *aesthetic*.
Or maybe you're just a stationery buff who spends hours at a time perusing for the best deals on pens, pencils, and notebooks that are pretty. (Pretty school supplies make me more likely to study, after all.)
Since you spend a lot of time with your college supplies you might want to make them more fun-looking as a cool project or a way to decompress from all the school work.
Below, I've rounded up the best DIY school supplies tutorials to make your notebooks, pens, and even your computer 10x cuter and more personalized.
Notebooks and Journals
1. Marble Notebook
I love the marble print effect on anything because it looks so classy and unique and it's actually quite easy to recreate on a notebook or journal.
For this DIY, you'll need marble contact paper, a ruler, scissors, and glue, plus the notebook you want to use.
With these simple supplies and the tutorial to guide you, you'll have your marble print notebook in no time.
2. Paper Cutout Notebooks
Next up we have a very simple DIY paper cutout notebook that you can completely personalize with any type of art you can dream up. Just print the art out from your computer and decorate!
This tutorial gets in-depth on 10 different styles of notebooks using this method and the result looks so custom and hardly DIY!
3. Fabric Covered Notebooks
Imagine when you take out your journal or notebook, instead of feeling a hardback or flimsy card, you feel soft fabric. Sounds nice, doesn't it?
You can get that feeling with a fabric covered notebook.
Fabric notebooks offer an opportunity to mix and match a lot of different patterns and with minimal sewing skills, you can make your own. The tutorial above is for a book cover, but you can use it for any notebook or journal you might have on hand.
The Ribbon Retreat Blog also has a tutorial for a journal that also has a pen holder included.
4. Washi Tape Notebooks
An easy way to jazz up a notebook is through masking tape or Washi tape.
Washi tape comes in various different designs so you can make your own unique notebooks to express your style.
The Washi Tape Shop has a range of tape to choose from for every mood and occasion. You can also get a variety of different washi tapes on Amazon for low prices.
The best thing is about Washi tape is that it's easy to remove so you can change your design anytime you want.
Laptops
1. Laptop Stickers
If you've been on a college campus anytime in the past few years, you know that laptop stickers are insanely popular. But you don't have to pay $$$ for this look.
This extremely cute DIY shows you how to make your own laptop stickers using sticker paper, which you can get on Amazon for a a few bucks.
It's so easy to print stickers instead of buying your own, for a completely custom look. (The stickers she uses in the video are linked in the video description, if you want to download the exact same ones.)
Also, this tutorial uses the same sticker paper to make a custom keyboard skin as well — it's such a cool DIY!
2. Washi Tape Laptop Case
Washi tape features once again in our DIY school supplies roundup; this time you can see how to use it to decorate your laptop. You could stick with one design or mix and match a bunch of tape designs.
The best thing if you're using Washi tape is that it leaves on no residue. So when you remove the tape, your laptop or tablet remains clean and pristine.
3. Laptop Skins
Okay, I know that laptop skins themselves are not really DIY but I just had to add them as a laptop accessory.
They come in a range of styles and colors, which you can find on websites like Amazon, Society6, and Gelaskins. A perfect way to add a little color and fun to the space where you do a lot of your work.
Pens and Pencils
1. Painted Pencils
These painted pens with customized messages on them would be a great self care activity.
You can write encouraging messages to yourself which you can look at if you need motivation to study or are feeling down.
You'll need some pencils, a paint brush, acrylic paint, painter's tape, and Mod Podge. Plus, you will need a printer to print out your text.
Paint your pencil in paint then wait it to dry. Then add your text by printing it out and mod-podging over it to seal it in.
2. Fluffy Pens
These are a good imitation of those '90s fluffy pens from Clueless. And with everything '90s coming back again, you can't go wrong with these.
All you'll need to is a pen (these glitter ones go great with the DIY), a hot glue gun, and a feather boa to cut up.
Place some glue on top of the pen and place the boa pieces on top in the u-shape explained in the tutorial.
3. Crochet Pen Holder
Finally, we have this cute pencil cup made entirely out of yarn. It will hold all your pens and pencils and is a great crochet project.
You'll just need crochet needles and some yarn.
Or if you don't want to crochet, you can rely on our old friend Washi tape and wrap some around a tin can to make your new pen holder.
4. Pringles Can Pencil Cup
This cute DIY pencil cup is actually made out of a Pringles can that's been painted with acrylic paint.
For this DIY, you just need a Pringles can, an X-Acto knife, some acrylic paint, and paint brushes. You can customize this with any colors you like and even match it to your pencils as seen in the video.
What do you think of our
DIY school supplies projects roundup?
What are your favorite stationery? Do you take notes by hand, by typing or on a tablet? Let us know what you think below in the comments.