This post may contain affiliate links, which means we may receive a commission if you purchase through our links. Please
read our full disclosure here
.
Our series on Gossip Girl Halloween costumes continues with a look at the blonde beauties of the group: Serena and Jenny. These two have totally opposing looks when it comes to hair and makeup, with Jenny as the punky princess and Serena as the buxom babe.
If you haven't seen it already, don't miss the first part in our series, How to Dress Up as Blair, Vanessa, and Georgina for Halloween.
Serena Van Der Woodsen: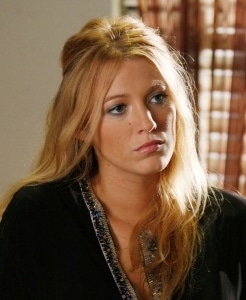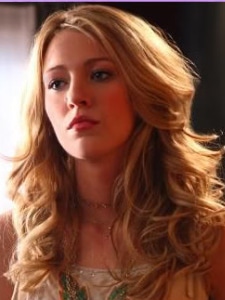 Serena's style is casual yet expensive, thrown together yet undeniably sexy. Get some pointers on how to steal her look here.
Her makeup follows the same rules: it looks totally natural, but complements her features expertly. To copy her makeup, start with a tinted moisturizer to even out your complexion. I like Physician's Formula 100% Natural Origin Tinted Moisturizer. Once your skin is smoothed out, take a blush and add some contour to your face by sweeping it along the bottom edge of your cheekbones.
Now, for the eyes. In order to maintain Serena's illusion of totally natural beauty, you'll need to use colors to accent your eyes that are neutral. Try a creme shadow that will add extra depth to a more subdued shade like pewter or a gold, like Benefit's Creaseless Cream Shadow in Birthday Suit. To finish, Serena's eye makeup is heavy on the lashes, not the liner. Thicken up your lashes with Lancome Hypnose Drama mascara.
Jenny Humphrey: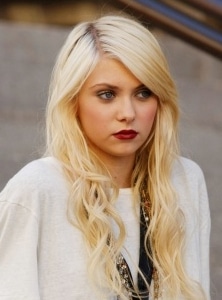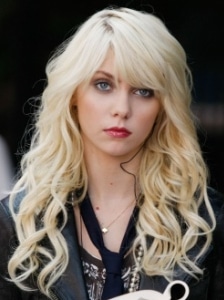 Zephyr did a great set of articles on Jenny's style, and the transition from old, innocent Jenny to the new punk-rocker Jenny. Your makeup look will vary based on which phase of Jenny you're doing.
Old Jenny:
This look is very much like Serena: Natural, sweet beauty. Keep it light with a brown eyeshadow and pretty pink lip gloss and blush. Line your eyes with a brown eyeliner to give them definition without crossing over into the New Jenny world of intentional, obvious eyeliner.
New Jenny: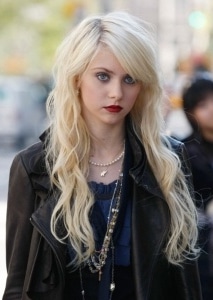 New Jenny is a much more fun, extreme look for Halloween–this girl is all about bold lips and eyes.
For lips, prime lips with a lip balm and lip liner around the ridge of your lips to prevent feathering or bleeding. I like Too Faced Border Line Anti-Feathering Lip Pencil because it's clear so you can wear it with every lipstick you own! Once you're prepped, take a fabulous berry or brick red lipstick (with a hint of a blue undertone) and apply carefully–this is a good time to break out your lip brush if you have one so you can control the color perfectly.
To tackle Jenny's rocker chick eyes, load up on black liner and black mascara. This season, Jenny has transitioned from a super smokey eye and nude lip to a darkly-rimmed eye and bright lip, so you don't need to worry about super dark eye shadows. First put a wash of gray over your lid and crease. Then, rim insides and outsides of eyes in black liner. Top it off with a few layers of black mascara, and you're ready to be a moody artistic genius.
What do you think?
Are you and your friends going as the Constance Billard School girls? What's your favorite Halloween makeup trick? Tell us in the comments!