This post may contain affiliate links, which means we may receive a commission if you purchase through our links. Please
read our full disclosure here
.
The ladies of Gossip Girl are gorgeous, decked out in the most fabulous clothes, and totally evil enough to make great Halloween costumes! Here are some easy instructions for how you can replicate the makeup and hairstyles of your favorite Upper East Side-r.
Today we're going to talk about Blair, Vanessa, and Georgina's looks. Check back soon for the next article in this series, which will focus on how to achieve Serena and Jenny's looks.
Blair Waldorf: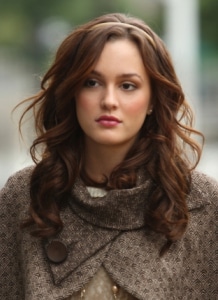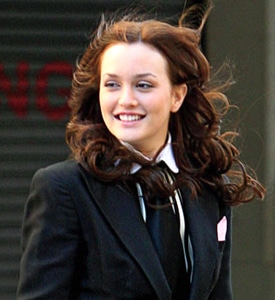 Last year Zephyr wrote a great piece on copying Blair's style with excellent pointers on her hairstyle, too, so here are the pointers for how to achieve her signature beauty look.
For makeup, start with a light coverage foundation. Blair's skin is flawless (I'm totally jealous), so you'll want to make sure skin is plenty moisturized before applying. I'm hearing rave reviews about the dreamy smoothness of Maybelline Dream Liquid Mousse Foundation.
Next, take a shimmery bronzer and dust it over your entire face to get a little bit of sparkle. Use it a bit more heavily underneath your cheekbones to give them shadowing and definition. I think Too Faced Mini Pink Leopard Bronzing Powder has a nice mix of shimmer and color.
The rest of Blair's daytime makeup look is polished with a glossy lip. For eyes, use a light taupe/golden eyeshadow on lids and blend a darker brown shadow in your creases. Line your eyes with a brown or gray eye pencil, and finish by curling your lashes and adding a light coat of mascara. For her lips, pick a really shiny gloss–I like Clinique's Full Potential Lips Plump and Shine.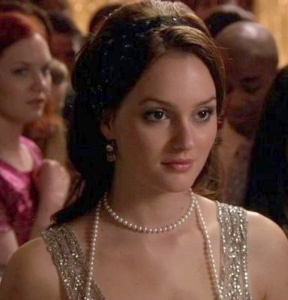 If you're going after Blair's evening makeup, all you'll need to modify in the steps above is that you'll use a darker base shadow–like a dark gray–and then blend a black shadow (either sparkly or matte, your choice!) into the creases of her eyes. Layer on the mascara more heavily, and take a shimmery white shadow and highlight under your eyebrows and in the inner corners of your eye.
You'll be glammed up for the most exclusive social event of the year!
Vanessa Abrams: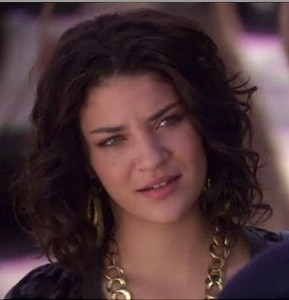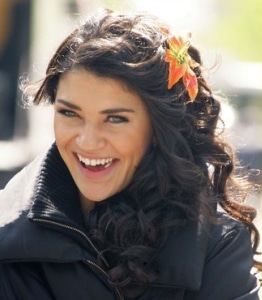 If boho-chic is more your style, this is a perfect Halloween look for you! Vanessa's fashion choices are all about being funky and original, and so is her beauty look.
For her hair, I'd recommend washing your hair the night before and sleeping in rollers like these twisty fabric ones. Towel dry hair after your shower, work in some anti-frizz and shine serum and then some mousse for hold, and then twist hair around these fabric rollers and snap the ends together. These are way more comfortable than sleeping on foam rollers, and they will give you that tight curl that Vanessa has! You could also do it with a 1/2″ barrel curling iron, but that would tire my arm out!! She usually wears her hair with a middle part, but has also worn it with a super cute bright flower pin holding it back behind her ear.
For her makeup,Vanessa loves to define her eyes with black liner on top and bottom–a little heavier on the top lid. The rest of her look is super clean and natural: stick with clean skin and a nude lip to complete her look.
To get her dewy glow, try dotting a teensy bit of Elizabeth Arden's Eight Hour Cream onto the tops of your cheekbones and blend out towards your temples. To get her totally natural lipcolor, try Urban Decay lipstick in Naked.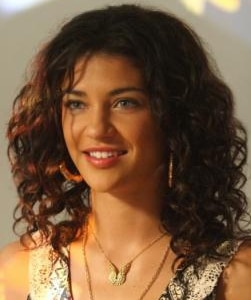 Don't forget about her chunky accessories! Chandelier earrings and big bangles are Vanessa's signature staples, and add to her glam factor.
Georgina Sparks: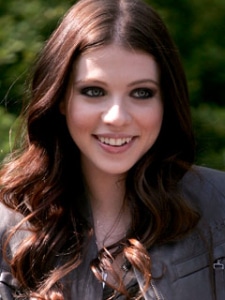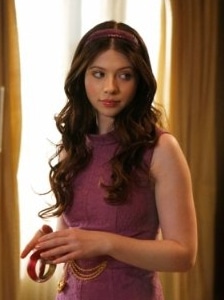 If you wear lots of black or love to channel your inner rocker, Georgina's look would be a perfect costume for you. Everything about her style is intentional and severe, which makes it stand out.
After you've mastered her wardrobe, try these makeup tips: start by using concealer like Laura Mercier's Secret Concealer to totally even out your skintone. Then, define your eyes with a deep black liner, making it darker if you're going to be "bad-gal" Georgina. Urban Decay Ink For Eyes has that super dark and rich texture that Georgina uses. Next, sweep a matte raisin-colored blush across your cheekbones, and finish with a neutral lipstick.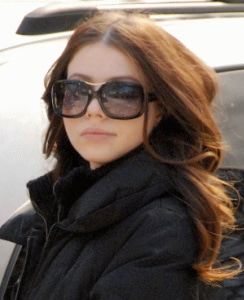 To finish off your Georgina look with her hair, start by plugging in your hot rollers before you jump in the shower. When you get out, blow dry hair straight, using a round brush or paddle brush while pointing your hairdryer down the hair shaft to keep hair from getting frizzy. Once your hair is dry, set hair using hot rollers, and do your makeup. Once you are almost ready to go and the rollers have cooled, take them out and spritz hair with hairspray. Part in the middle, throw on your darkest sunglasses, and you're ready to go!
What do you think?
Don't miss the next article in this series which will focus on Serena's and Jenny's beauty looks and how you can dress as them for Halloween!
In the meantime, what are you going to be this Halloween? Have you ever dressed up as one of the Gossip Girls? What kind of makeup and hair suggestions do you need? Tell us in the comments!