This post may contain affiliate links, which means we may receive a commission if you purchase through our links. Please
read our full disclosure here
.
Today I'm continuing my ultimate guide to Korean fashion, breaking down the predominant Korean fashion aesthetics and trends I observed on my recent trip to Seoul, South Korea.
Last week, I focused on what I like to call the first category of Korean style, a classic and feminine Korean wardrobe, so this week I'm moving on to category two, my favorite Korean fashion aesthetic: edgy street style.
Let's get right into it.
(For more Korean fashion inspiration, check out my Seoul, South Korea Packing Guide, my latest K-Pop Fashion Inspiration posts on Twice's Feel Special and Somi's debut single Birthday, and my BTS Airport Fashion Guide 2019.)
Korean Street Style 101
As I mentioned in my previous article, in Seoul, the sartorial choices of young women can be very roughly divided into two distinct categories:
Classic and Feminine: this subset features items including girly blouses, schoolgirl check skirts, pastels and beige, romantic floral pieces, tailored jackets, and tops and skirts in elegant, flowy fabrics.
Edgy Street Style: this aesthetic is encapsulated by athleisure pieces, distinctive coats and jackets, oversized items, flashes of neon, street-wear accessories and grungy footwear.
Elements of a Korean Street Style Wardrobe
Element 1: Deconstructed Denim
In my last post, I discussed the ubiquity of the trench coat in Seoul, and how every fashionista (and their mother) could be spotted in some variation of this classic piece.
However, the timeless trench wasn't the only jacket I saw on the streets during my time in South Korea. Denim jackets are another favorite of Korean fashionistas.
However, Korean denim jackets differ slightly from Western offerings. Mainly because you'd be hard pressed to find a plain one in Korea. Korean denim rarely comes in "classic" form: Instead, jackets are deconstructed, embellished, or bedazzled with graffiti; while the jeans are often artfully ripped.
I bought as much clothing as I could fit into my suitcase while in Korea, but my absolute favorite purchase was a black denim jacket with zip detail (similar to the one above) from street-style brand Holy Number 7.
My new jacket is so versatile and I already know that this piece is something I'm going to be reaching for again and again when Spring comes back around.
Get the Look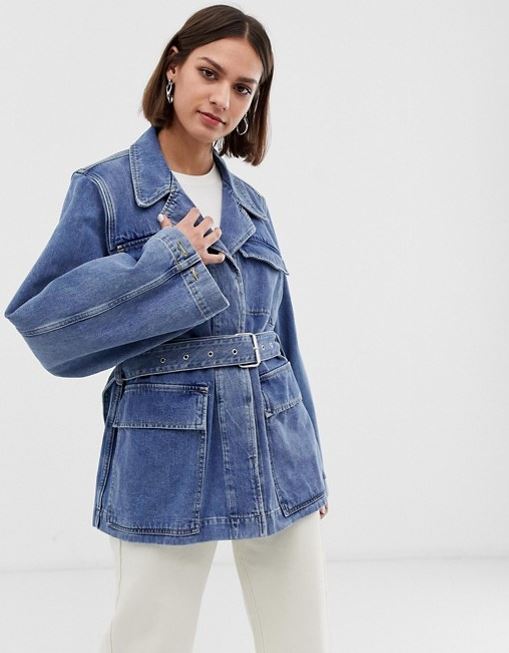 For unusual or deconstructed denim, I find that ASOS is a safe bet.
Due to the sheer number of brands and products on the site, it'd be difficult not to find an interesting new denim piece here to call your own.
Element 2: Puffer Jackets
Speaking of jackets, Korean street style enthusiasts LOVE their puffers!
With the weather becoming positively icy where I live, it's nice to know that these cozy, oversized jackets can be considered the pinnacle of urban fashion.
Hip Korean ladies throw their puffers over just about any outfit and manage to make everything look amazing.
I found a plain black puffer similar to the one above for only ₩15,000 (about $10!) in the popular shopping district of Myeondong. Bargain.
Get the Look
These gorgeous puffers are especially versatile – the black jacket from H&M will go just about any outfit, whilst Stylenanda's brown offering below can be paired with white, cream or beige for a fashion-forward take on winter neutrals.
Element 3: Urban Accessories
The easiest way to add an element of *extra* to any outfit is with some trendy accessories.
From bucket hats to ring belts, mini bags to chunky boots, accessories can make or break an outfit and add a totally different vibe to the simplest of looks.
In Seoul, Korean girls use these accessories to add extra style kudos to their outfits. I loved the athleisure, trend-driven aesthetic so much that by the time I left Korea, I looked like an extra from BTS's Mic Drop MV!
Get the Look
Element 4: Boyfriend Jeans
Boyfriend jeans are a staple of Korean girls' closets. Baggy denim is now the norm, with flared, boyfriend and mom jeans the most popular options.
Boyfriend and mom jeans are more comfortable than skinnies, and provide a more relaxed fit in keeping with the street style aesthetic.
Pair with element 3 , a trendy belt, for maximum street style points.
Korean Street Style Outfits
Look 1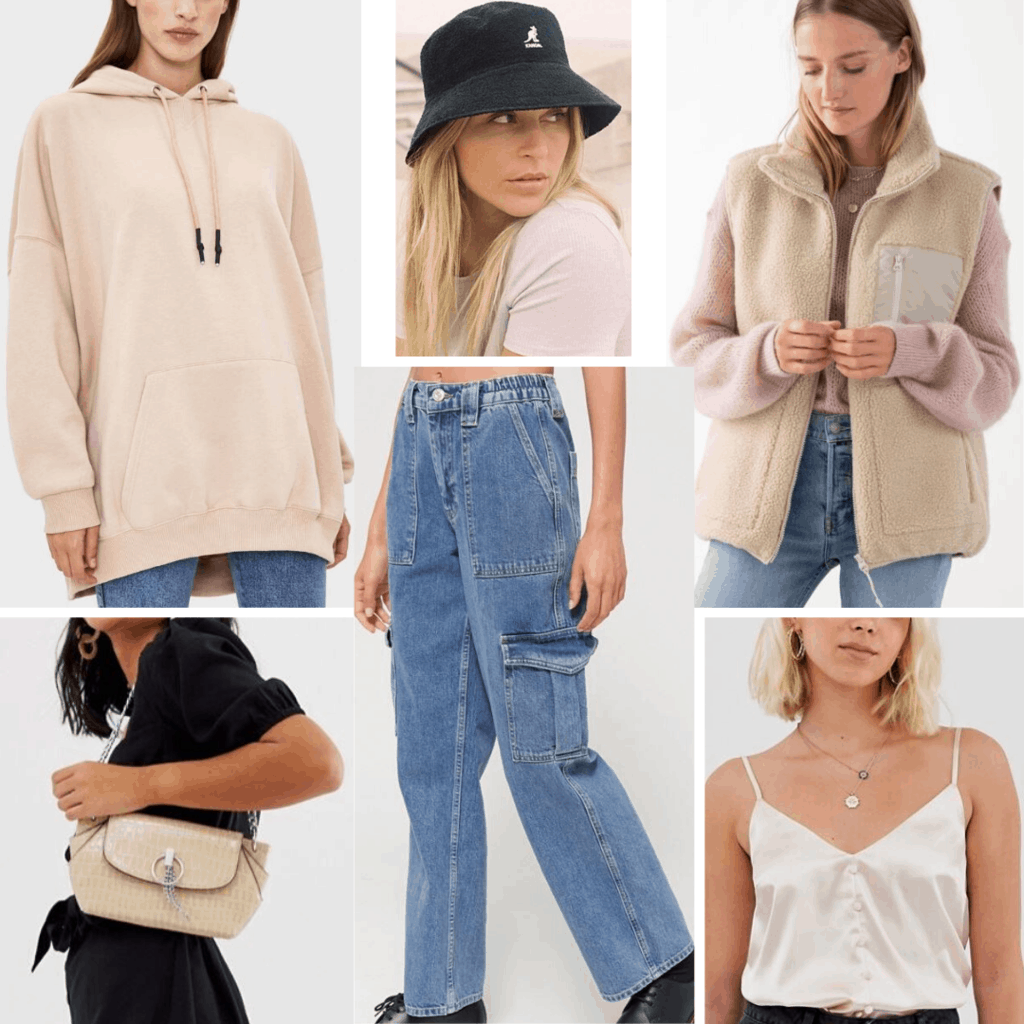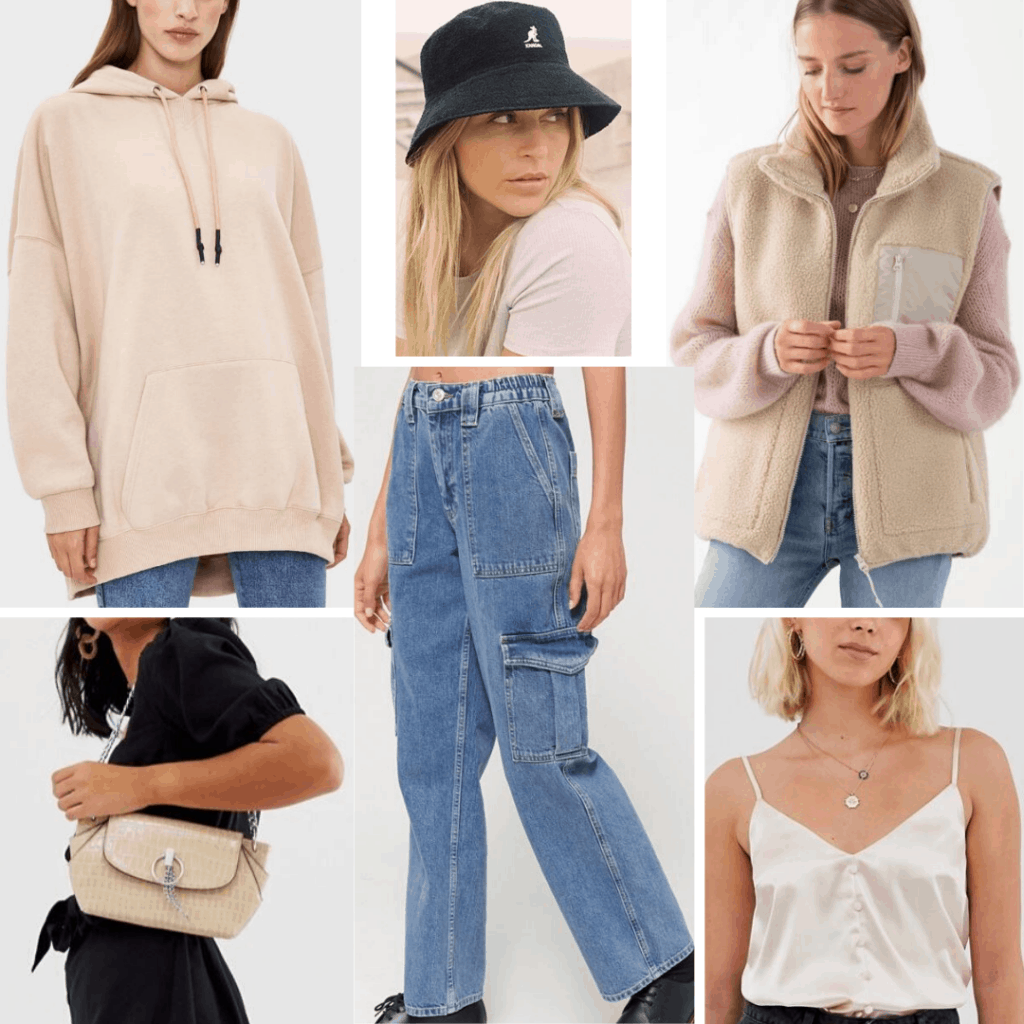 Products: Bucket Hat – Urban Outfitters, Camisole – Miss Selfridge at ASOS, Hoodie – Bershka, Vest – & Other Stories, Jeans – Urban Outfitters, Bag – ASOS.
Look 2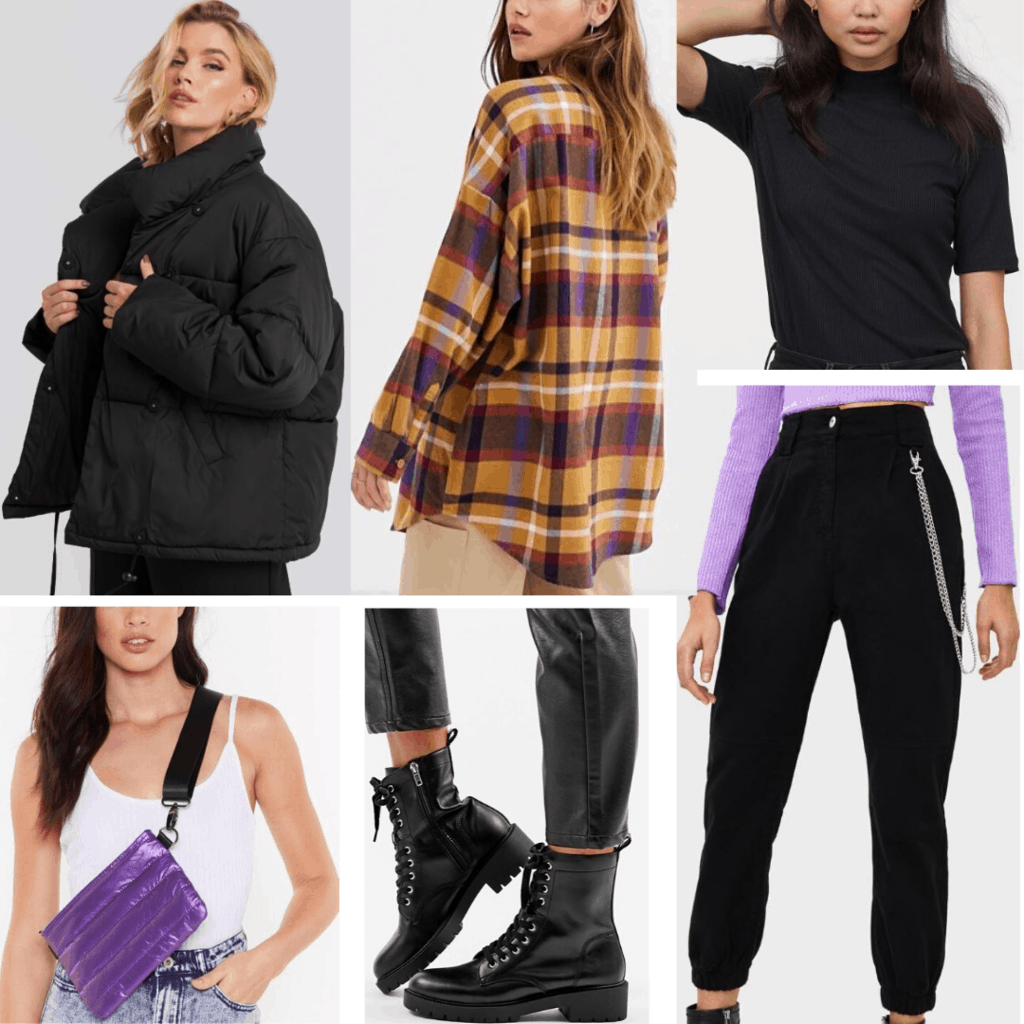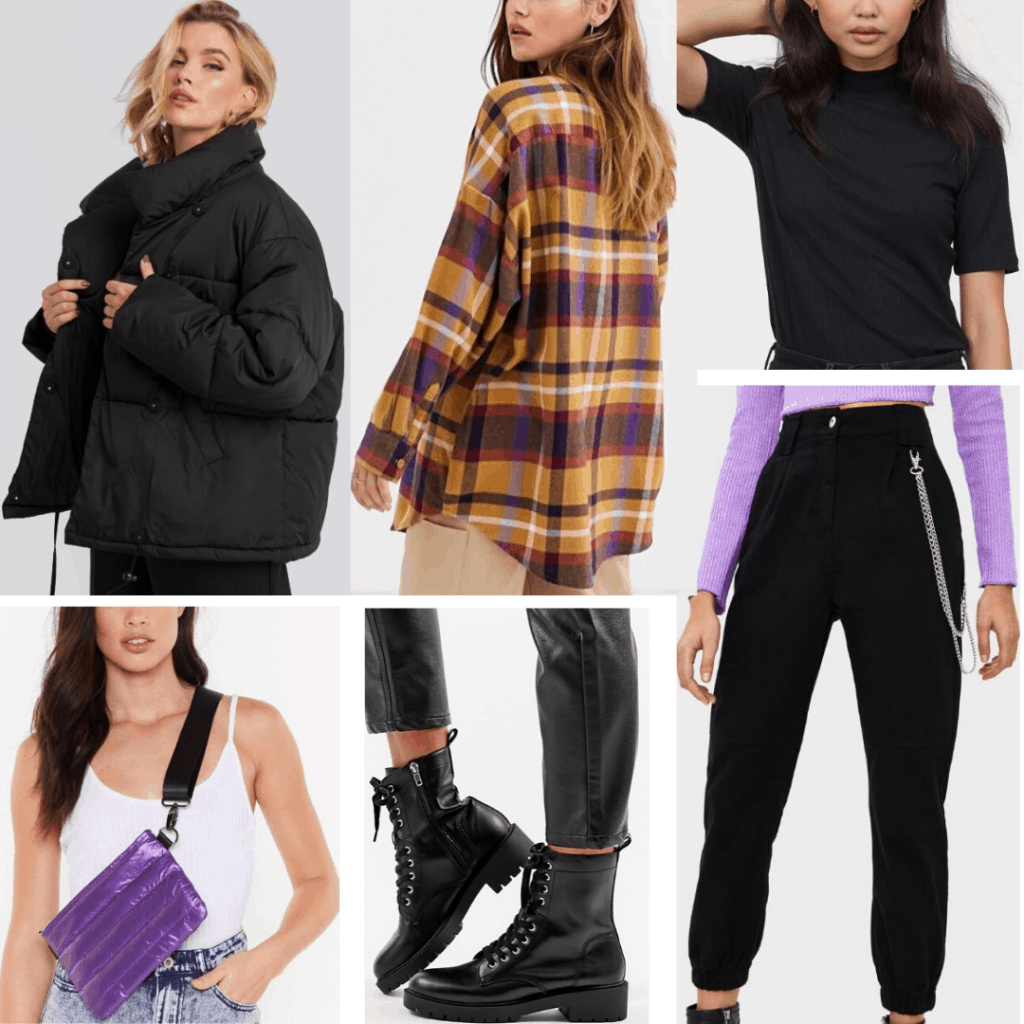 Products: Top – H&M, Flannel – Monki at ASOS, Puffer – NAKD, Bag – Nasty Gal, Joggers – Bershka, Boots – Steve Madden at Urban Outfitters.
Look 3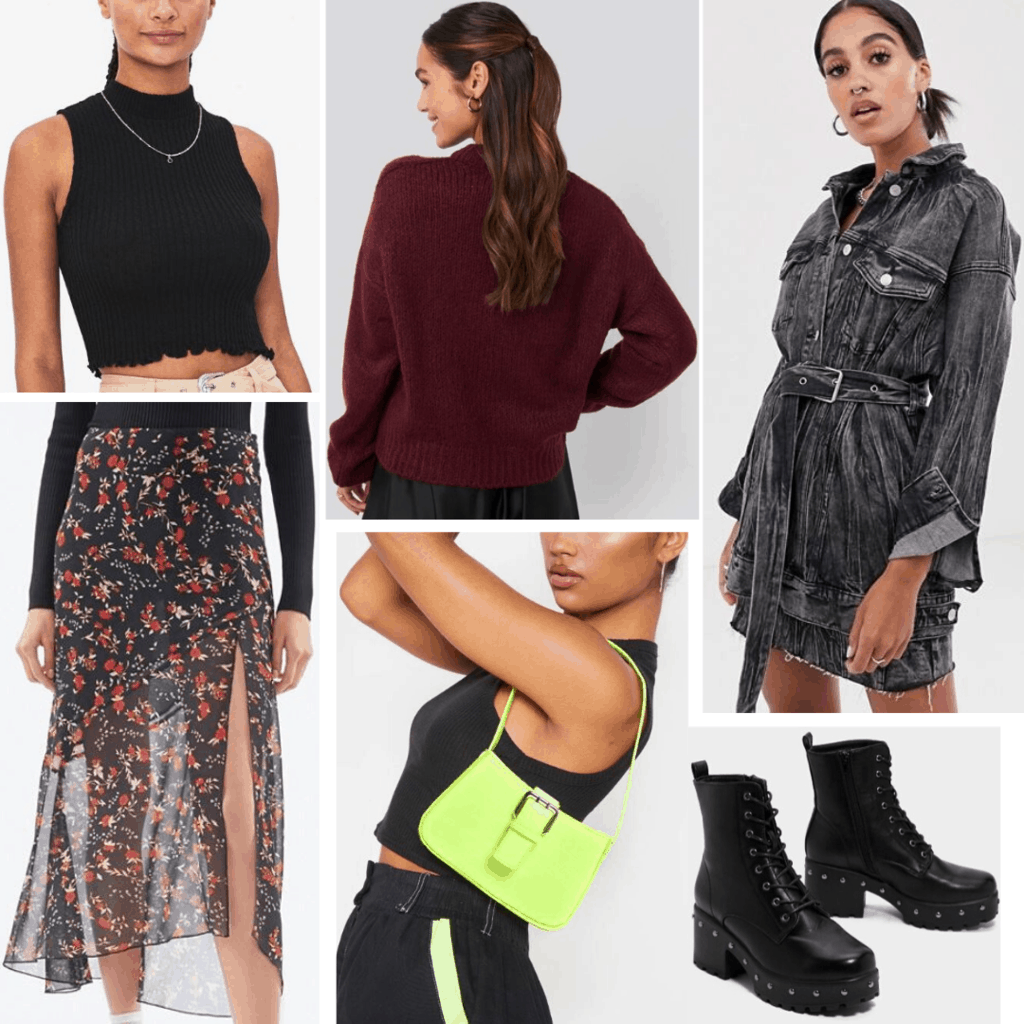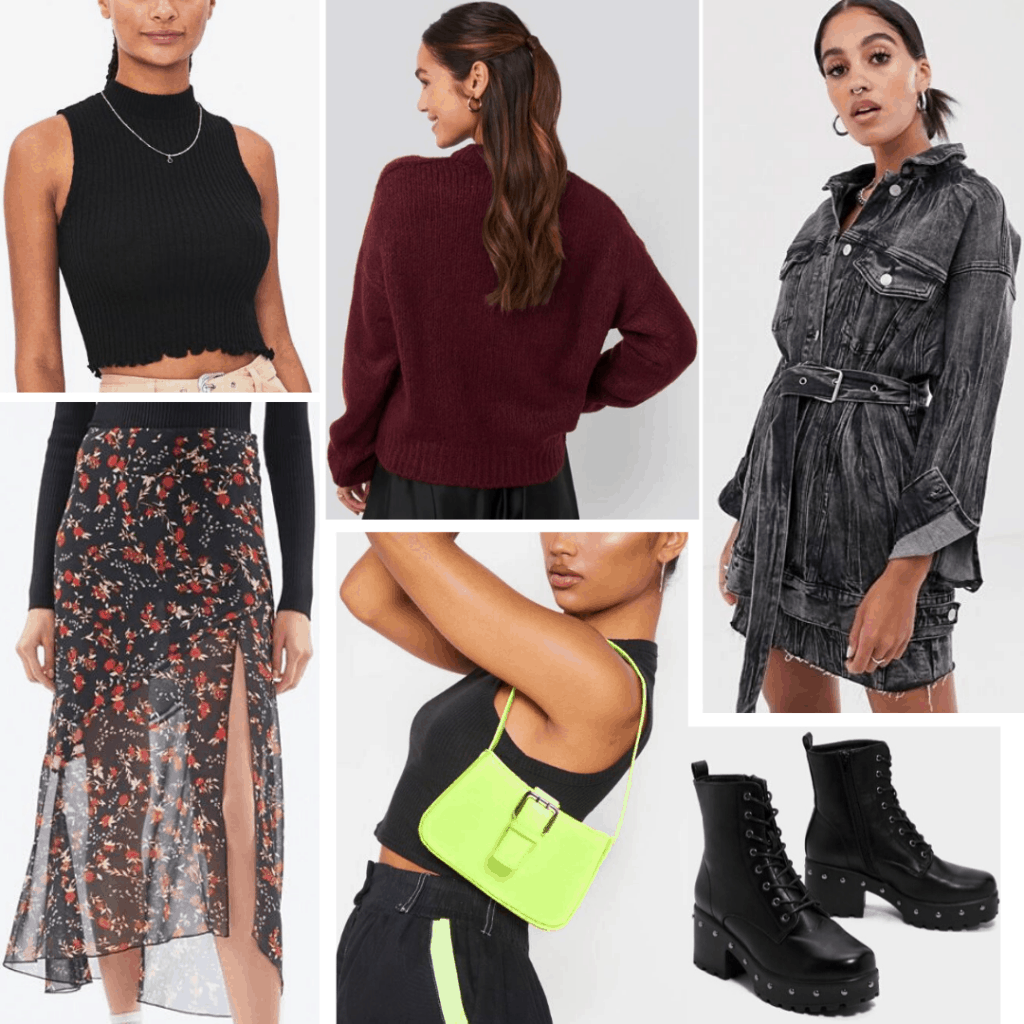 Products: Tank Top – Bershka, Sweater – NAKD, Jacket – Signature 8 at ASOS, Skirt – Urban Outfitters, Bag – Pretty Little Thing, Boots – Nasty Gal.
A Few Extras…
Have you already cultivated a basic street style capsule wardrobe?
If yes, then these key pieces should be next on your style agenda.
Leather Jackets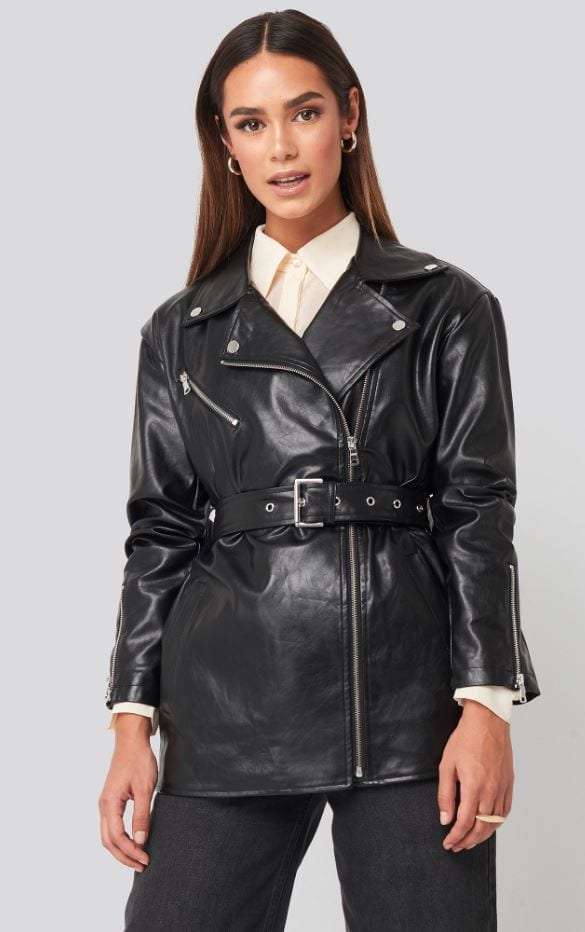 Vests
Suits
Oversized Sweaters
Mesh Skirts
What Do You Think of Korean Fashion?
Are you a fan of Korean fashion? Do you own any of these street style pieces? Would you like to see more posts on K-Fashion? Let me know in the comments below, I can't wait to hear from you!