This post may contain affiliate links, which means we may receive a commission if you purchase through our links. Please
read our full disclosure here
.
If you've been following my posts at all over the past few months, then you know that I'm an utterly devoted *stan* of the world-famous K-pop group BTS. I've been to both the Love Yourself and Speak Yourself tours, I'm a regular contributor to ARMY Twitter, and I live for a BTS comeback.
Given that I am a dedicated ARMY, it's no surprise that I love to write about my favorite band of all time.
I've done many posts on the members of BTS, given concert fashion advice, and covered this year's Persona comeback during my time here at CF.
Therefore, what harm could another Bangtan post do?
I've been requested on multiple occasions to cover the boys' airport fashion in detail, so fellow ARMYs, your wish is my command!
When I first completed my 7-part series on the individual members of BTS, you guys loved it! In fact, my Jimin post even made it to Naver and received over 3,000 likes and dozens of comments from Korean (and international) fans alike.
This was a really awesome moment for me personally, and it shows just how global and widespread BTS's fanbase is. The truth is, BTS is a safe haven for many fans.
The Love Yourself message they have embodied for the past two years is uplifting, their music is unflinchingly honest, and they were obviously born to perform together.
Cringe, I know, but what can I say? I love them, as do so many of us. Also, Jimin is my bias so I suffer a LOT. (ARMYs, let me know in the comments below which member of BTS is your favorite!)
ANYWAYS, now that I've stopped crying over Jimin, let's get into the post. BTS are a great source of style inspiration, in that each member has his own personal fashion aesthetic.
As well as this, BTS never stop working (they're now on an official extended break until October for the first time since 2013), so they're constantly being papped out and about in both casual and high-end clothing, usually at the airport.
BTS Airport Fashion 101
I'm going to break down each member's airport fashion aesthetic below, adding an accompanying outfit inspired by theirs and keeping in mind that most readers are on a college budget. Now, repeat the fanchant after me…
BTS Airport Fashion: Namjoon
Click here for RM's individual fashion inspiration post!
In my first RM post, I defined his style as mainly consisting of three components: neutrals, denim, and really good jackets.
This assessment holds true in 2019, with Namjoon's aesthetic remaining consistently casual. His style is a fantastic mix of street-wear meets tailoring (how cute are the suspender pants above)?!
The below outfit set showcases RM's casual and neutral airport aesthetic perfectly. I've swapped his items out for more feminine versions (the paperbag jeans are a personal favorite).
Also included is a khaki handbag (to substitute his backpack) and a similar version of his grey watch from the ever-trendy River Island.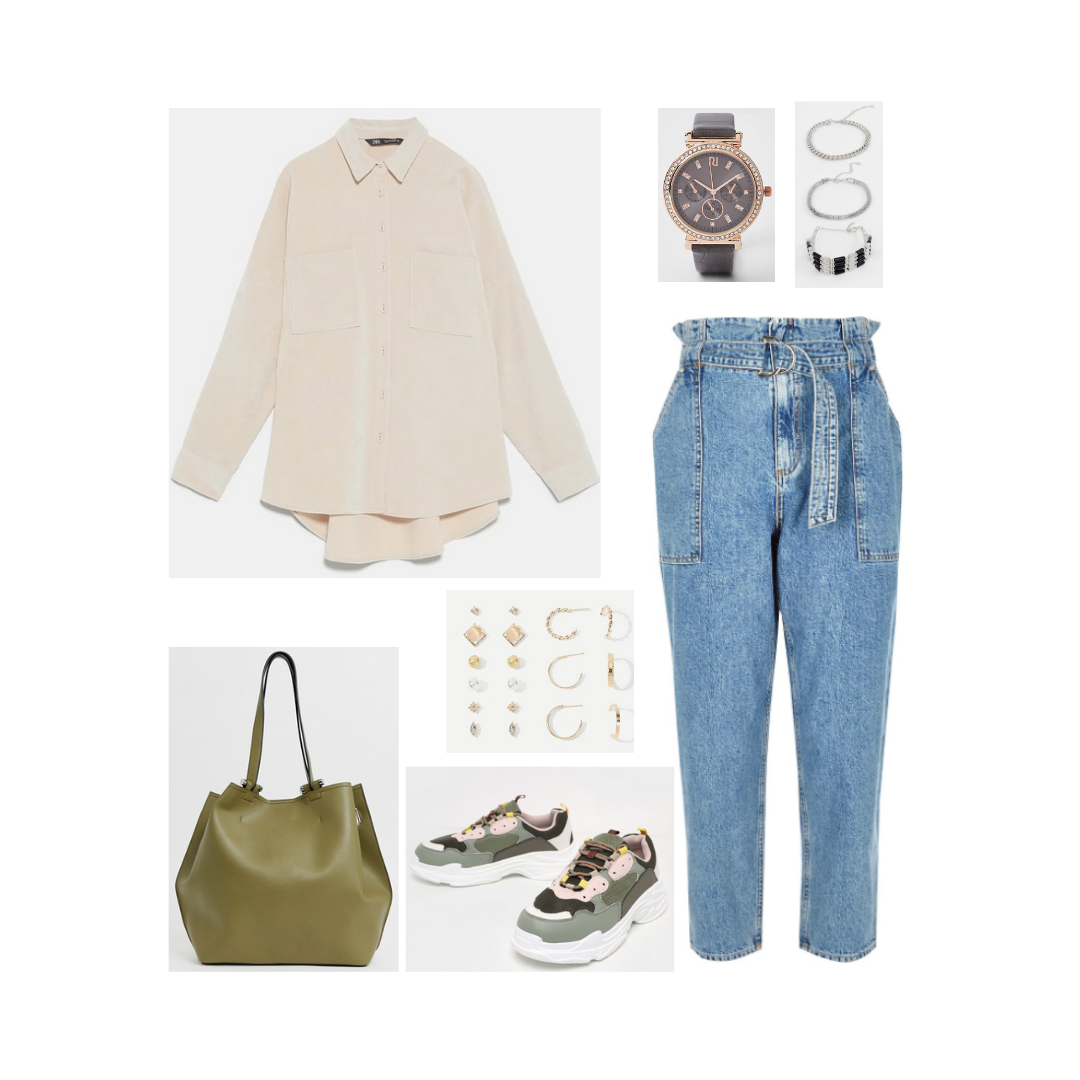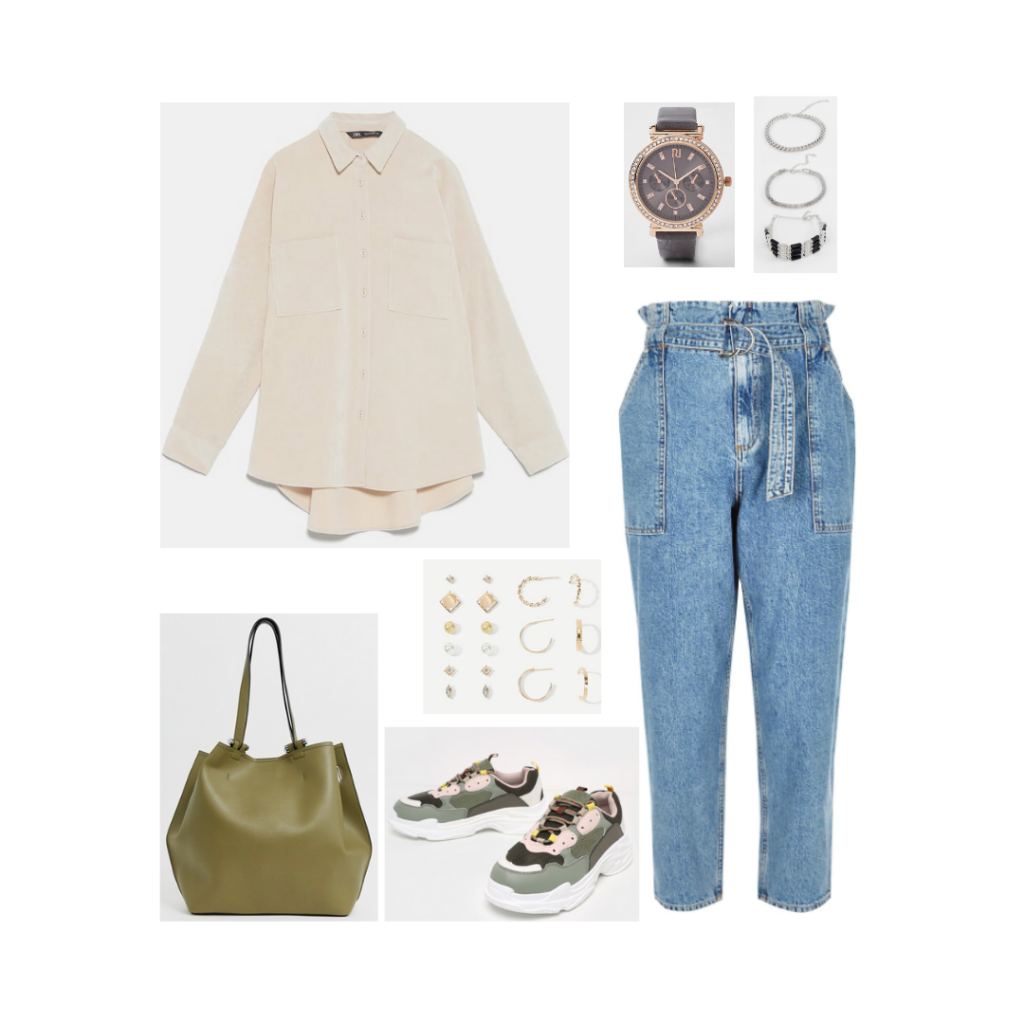 Products: Corduroy Shirt – Zara, Paperbag Jeans – River Island, Khaki Shopper – ASOS, Hoop Earrings – Shein, Bracelet Set – ASOS, Chunky Sneakers – Pretty Little Thing, Grey Watch – River Island.
BTS Airport Fashion: Jin
Click here for Jin's individual fashion inspiration post!
In my original post on Jin's style, Jin's outfit sets contained three key elements: oversize anything, pastels, and denim jackets. Of all the members, his style seems to have evolved the most in 2019.
Jin has been showcasing a more relaxed look at the airport this year, cozying up in comfy sweaters, usually paired with dressier pants. He's also very partial to caps, which I have, of course, included in his set!
This fun bomber jacket look shows that Jin is opting for brighter colors rather than pastels this season, as jewel tones dominate the catwalks.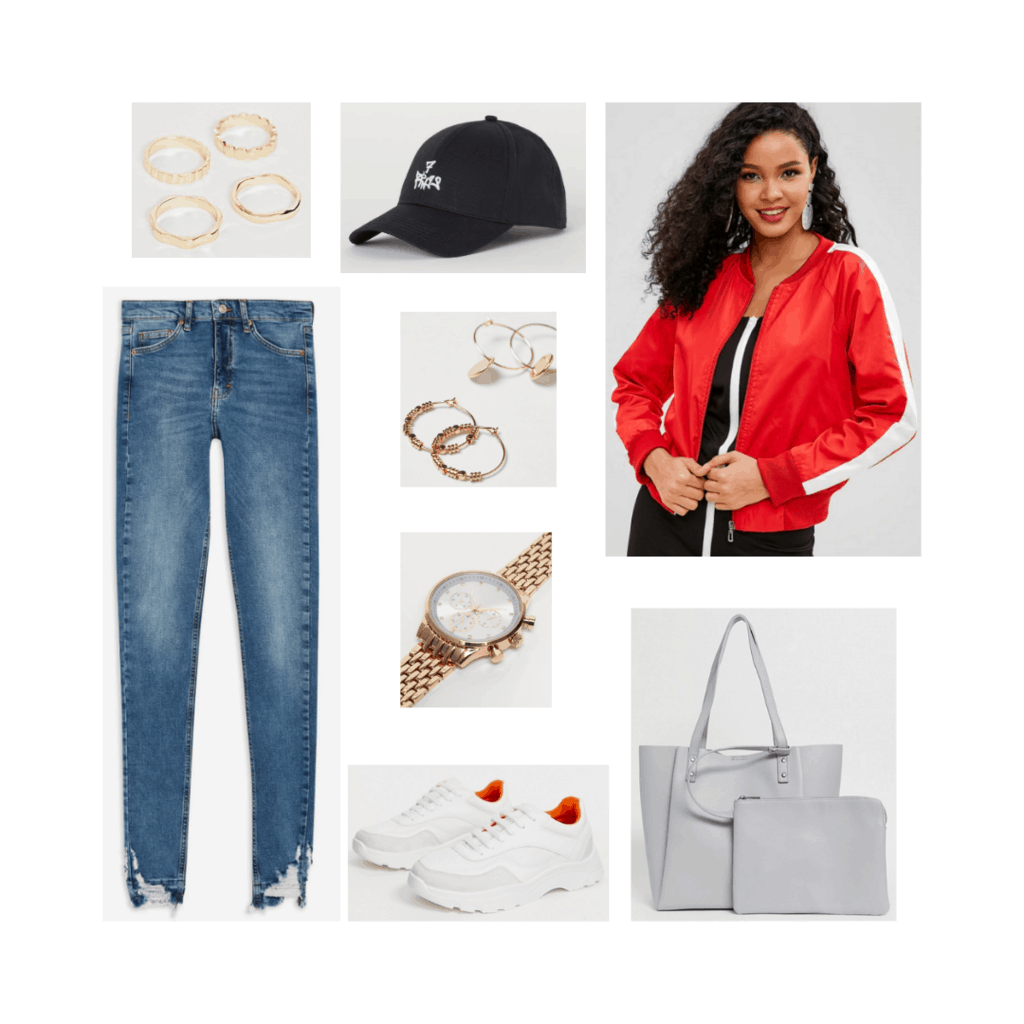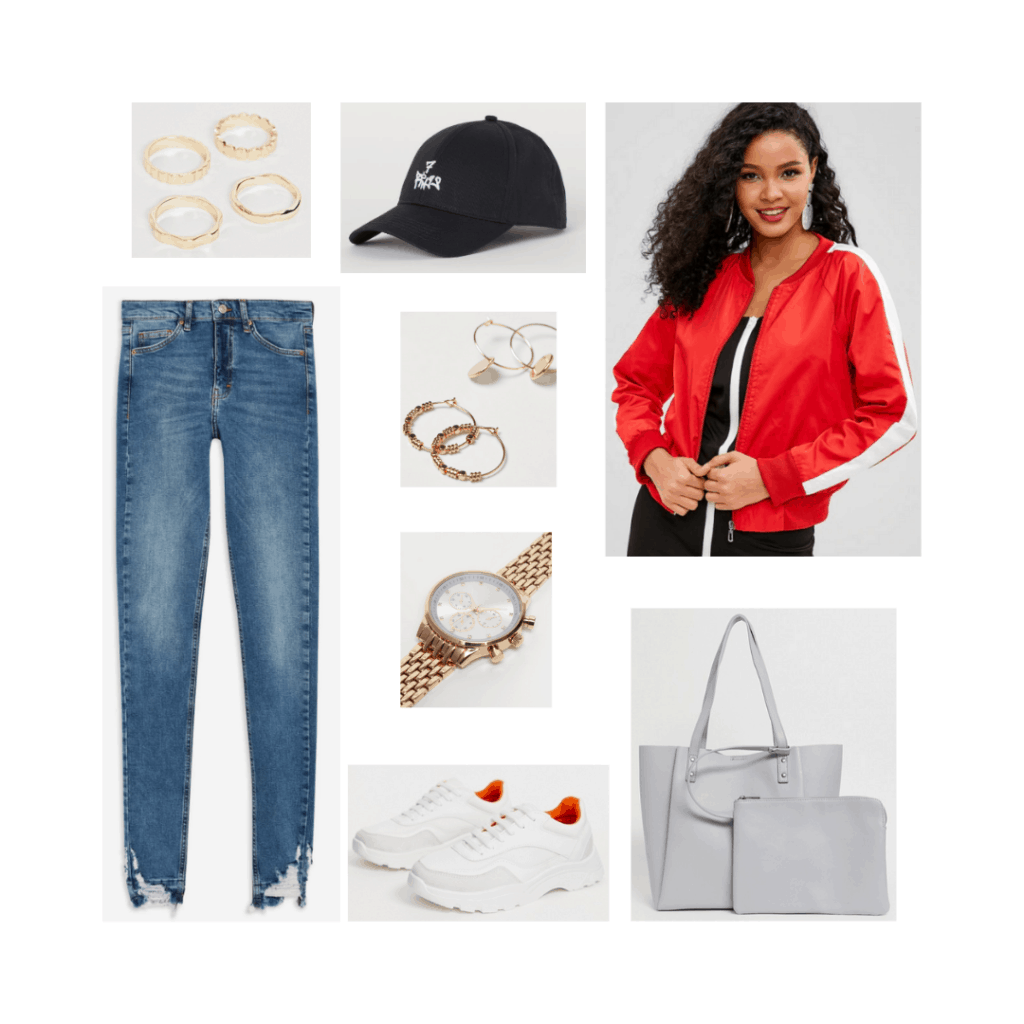 Products: Bomber Jacket – Zaful, Blue Jeans – Topshop, 7 Rings Cap – H&M, Ring Set – ASOS Design, Grey Shopper – ASOS, Rose Gold Watch – H&M, Chunky Sneakers – ASOS, Earring Set – H&M.
BTS Airport Fashion: Yoongi
Click here for Suga's individual fashion inspiration post!
Yoongi has stayed pretty consistent since my last post — he's keeping to two of my three named fashion elements this season: black and plaid.
However, Suga's love of camo print seems to be fading. Instead, he favors trends over print, as seen below as he wears both a bucket hat and a utility vest in one look.
Also, Yoongi's outfits are some of the easiest to recreate at home, largely due to the fact that most of them are all-black! We love consistency.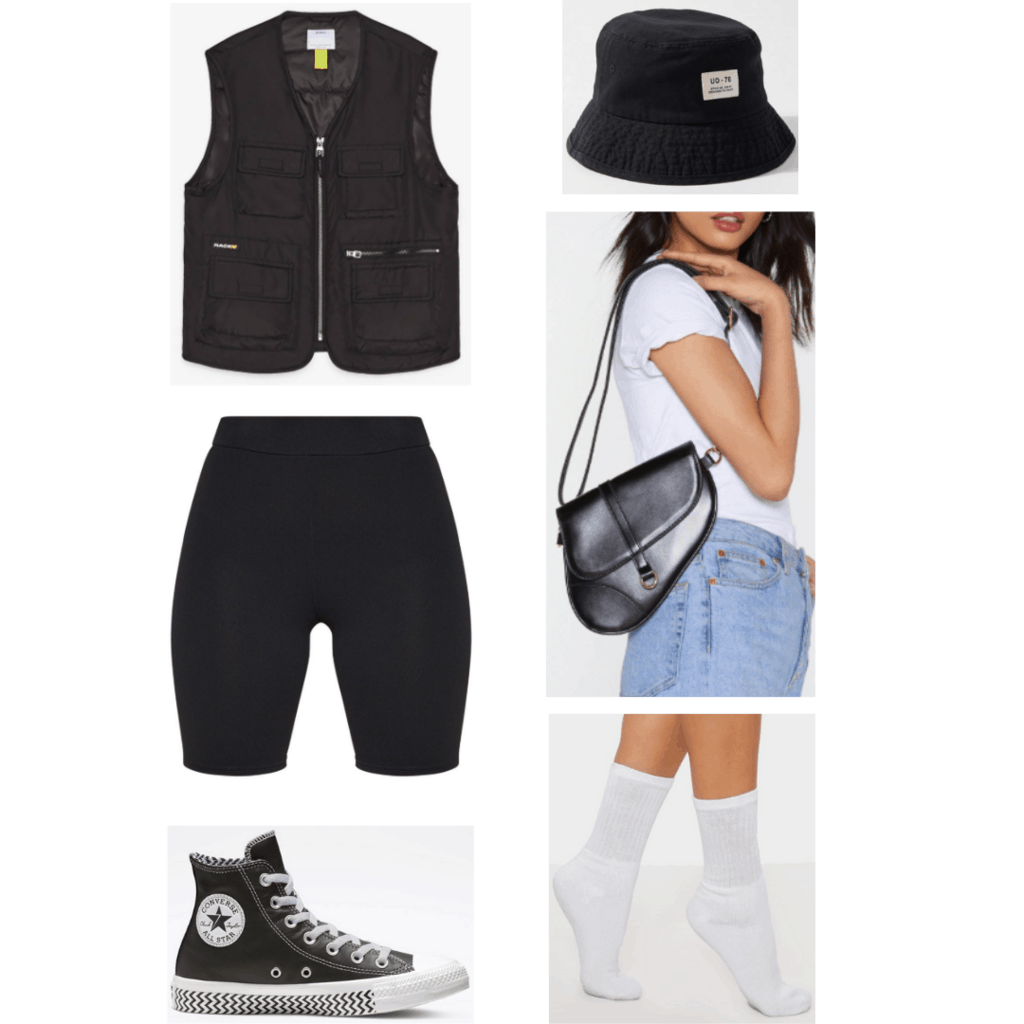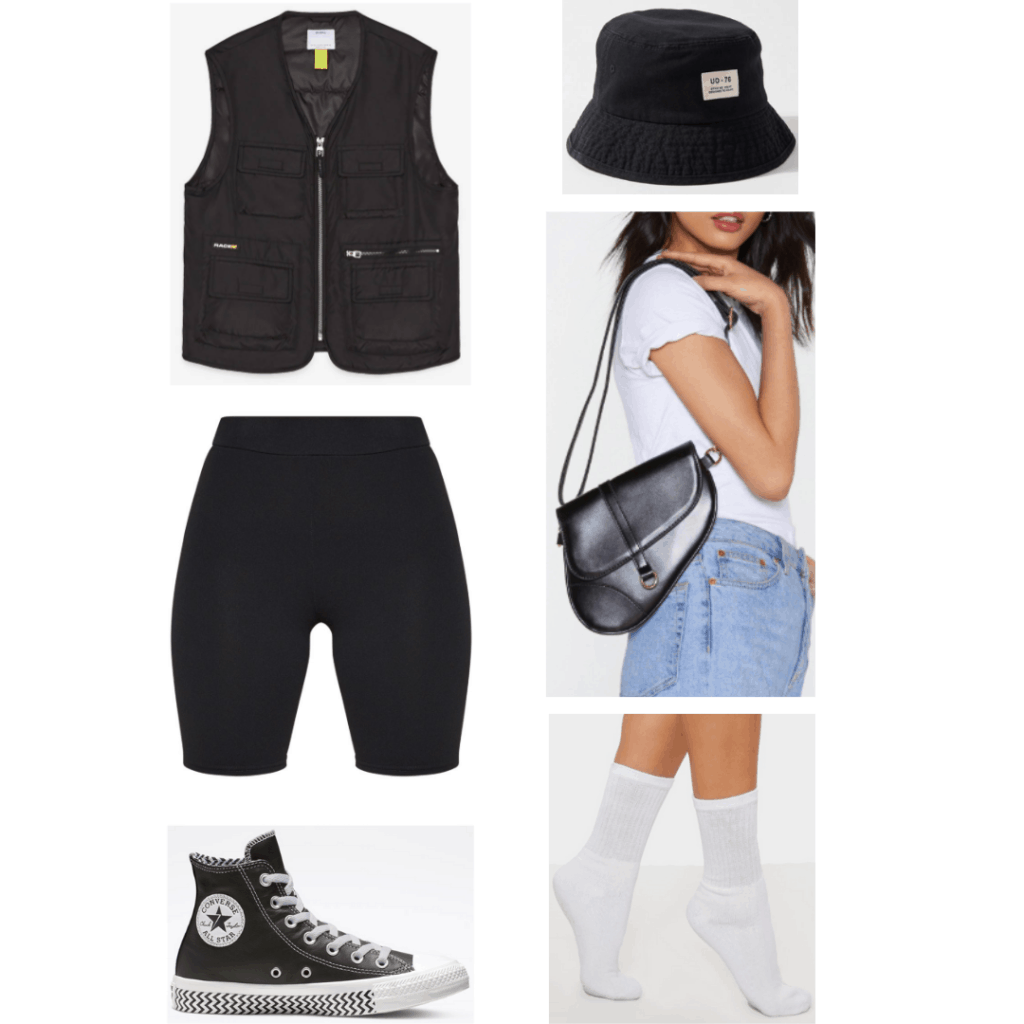 Products: Utility Vest – Bershka, Cycle Shorts – Pretty Little Thing, Bucket Hat – Urban Outfitters, Saddle Bag – Nasty Gal, Sport Socks – Pretty Little Thing, Chuck Taylors – Converse
BTS Airport Fashion: Hoseok
Click here for J-Hope's individual fashion inspiration post!
Hoseok looks as cool and collected as ever in his signature aesthetic combination of graphic prints, neutrals with pops of color, and athleisure basics.
However, this year he seems to be gravitating towards a more classic look, with the athleisure taking a back seat. This week, he even arrived at the airport in a classic denim jacket with star print, and no shirt. HAHAHAHAHAHA mental breakdown.
Anyways, this outfit set recreates one of Hoseok's best 2019 airport looks, on a student budget. Check out this gorgeous cream teddy jacket from Pretty Little Thing for a viable substitute for his designer one!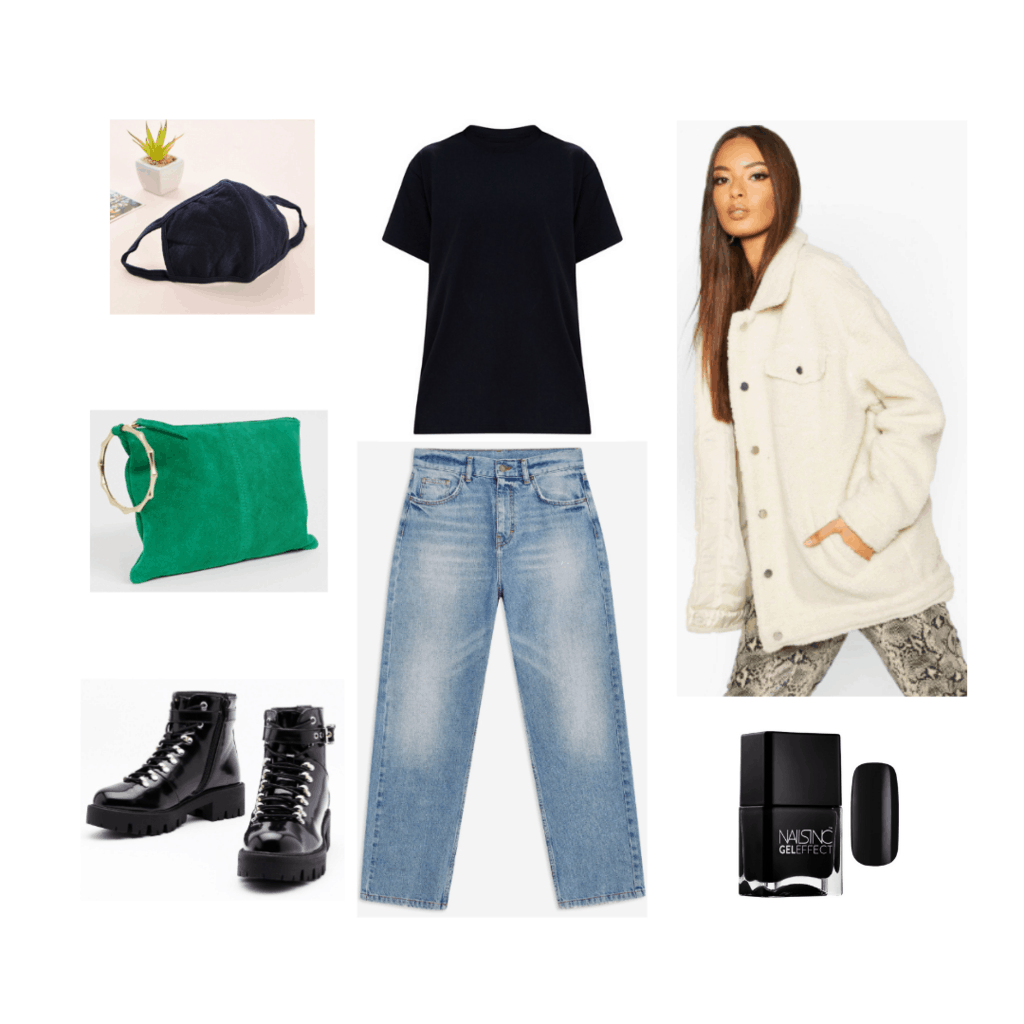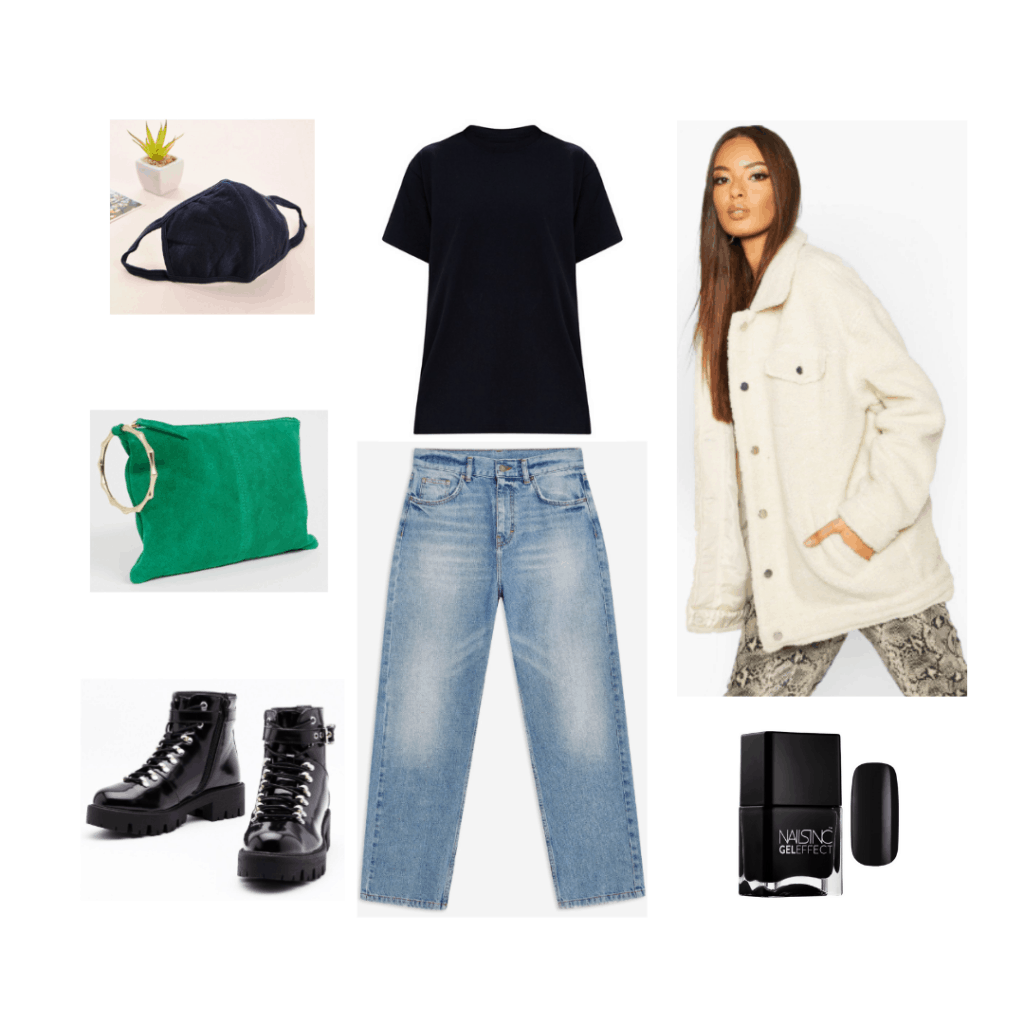 Products: Oversized T-Shirt – Pretty Little Thing, Cream Jacket – Pretty Little Thing, Blue Jeans – Topshop, Green Bag – ASOS Design, Black Mask – YesStyle, Nail Polish – NailsInc at Sephora, Buckle Boots – Nasty Gal
BTS Airport Fashion: Jimin
Click here for Jimin's individual fashion inspiration post!
On my individual post for Jimin, I defined his style aesthetic as consisting of the following: a classic shirt & tailored pants combination; oversized jackets, and his signature stripes.
Jimin's airport fashion has changed minimally in 2019. He often forgoes trends in favor of a more classic, clean look. Turtlenecks, dressy black pants, and his beloved sunglasses are all key staples for a Jimin wardrobe.
Did you know that last month, GQ named Jimin one of the 10 Best-Dressed Men of the Week? Check out his outfit set below which contains all the elements needed to recreate his cute and comfy red cardigan look (also, how well does the red contrast with his pink hair?)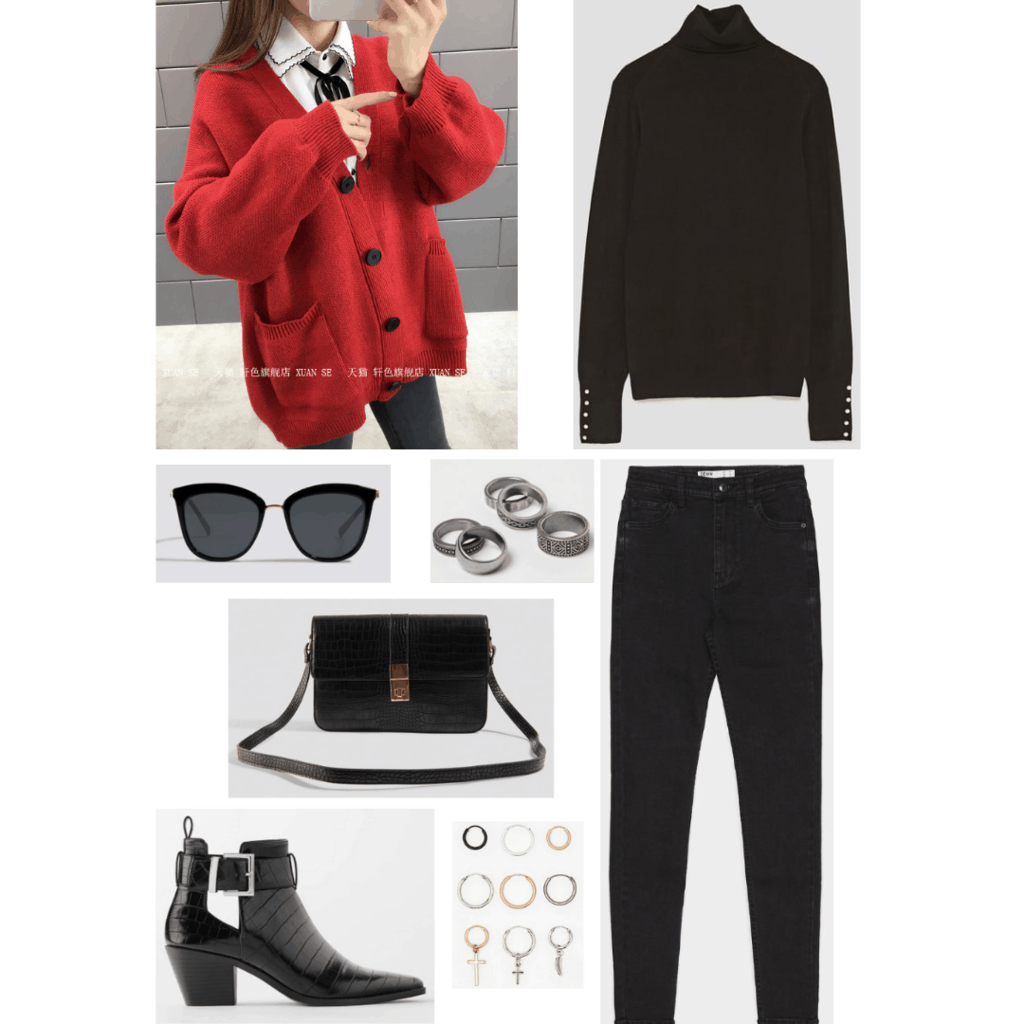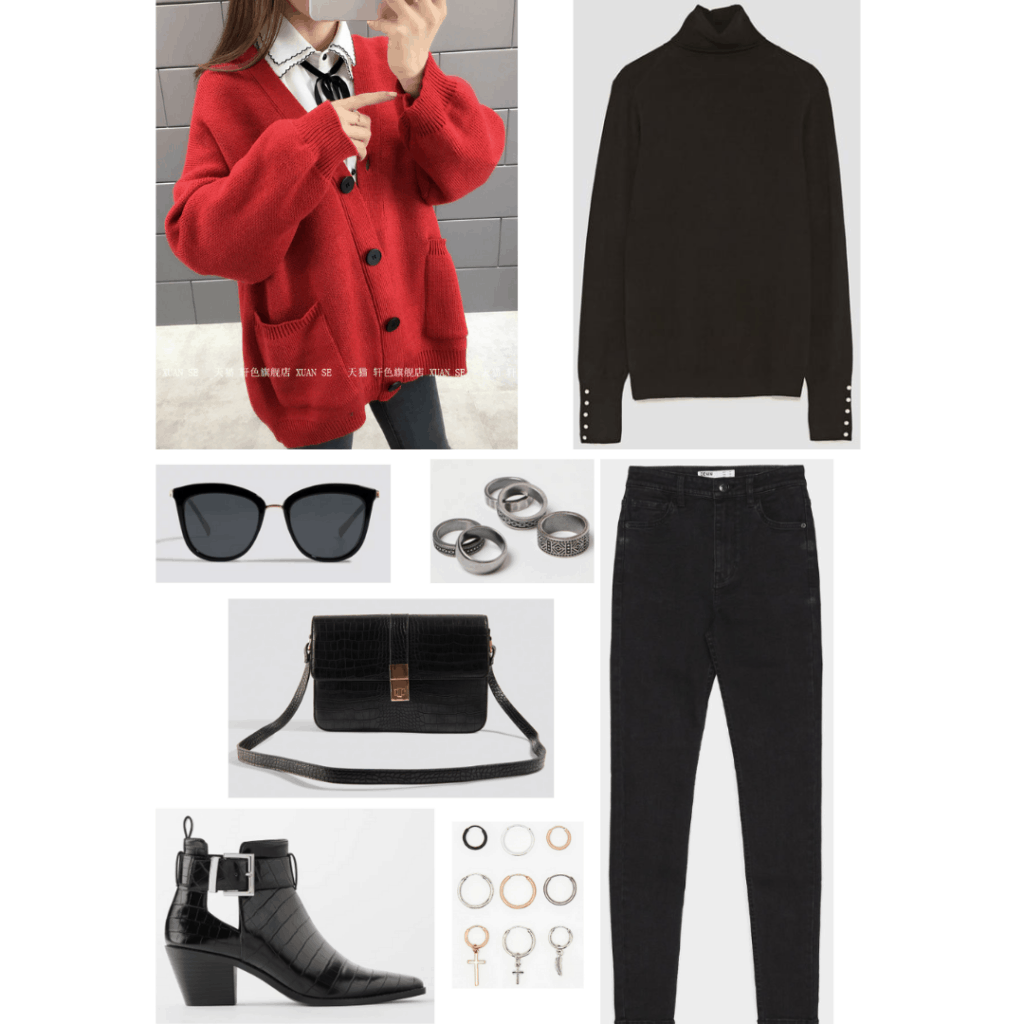 Products: Red Cardigan – YesStyle, Black Jeans – Bershka, Turtleneck Sweater – Zara, Round Sunglasses – NA-KD, Silver Rings – H&M, Hoop Earrings – Bershka, Briefcase Bag – NA-KD, Buckle Boots – Zara
BTS Airport Fashion: Taehyung
Click here for V's individual fashion inspiration post!
Like Jimin, Taehyung has been consistent in sartorial choices this year. Along with RM, V is known among the group as being 'into' fashion, and you can really tell by his eclectic looks!
In my last post, his cool and collected vibe consisted largely of knit sweaters, mixed prints, and colored stripes. He also favors loose, wide-leg pants to match his relaxed aesthetic.
Taehyung is also loving green at the minute, stepping out often in shades of khaki and other neutrals. Check out his set below, where he contrasted the color with his Boy With Luv-era electric blue hair.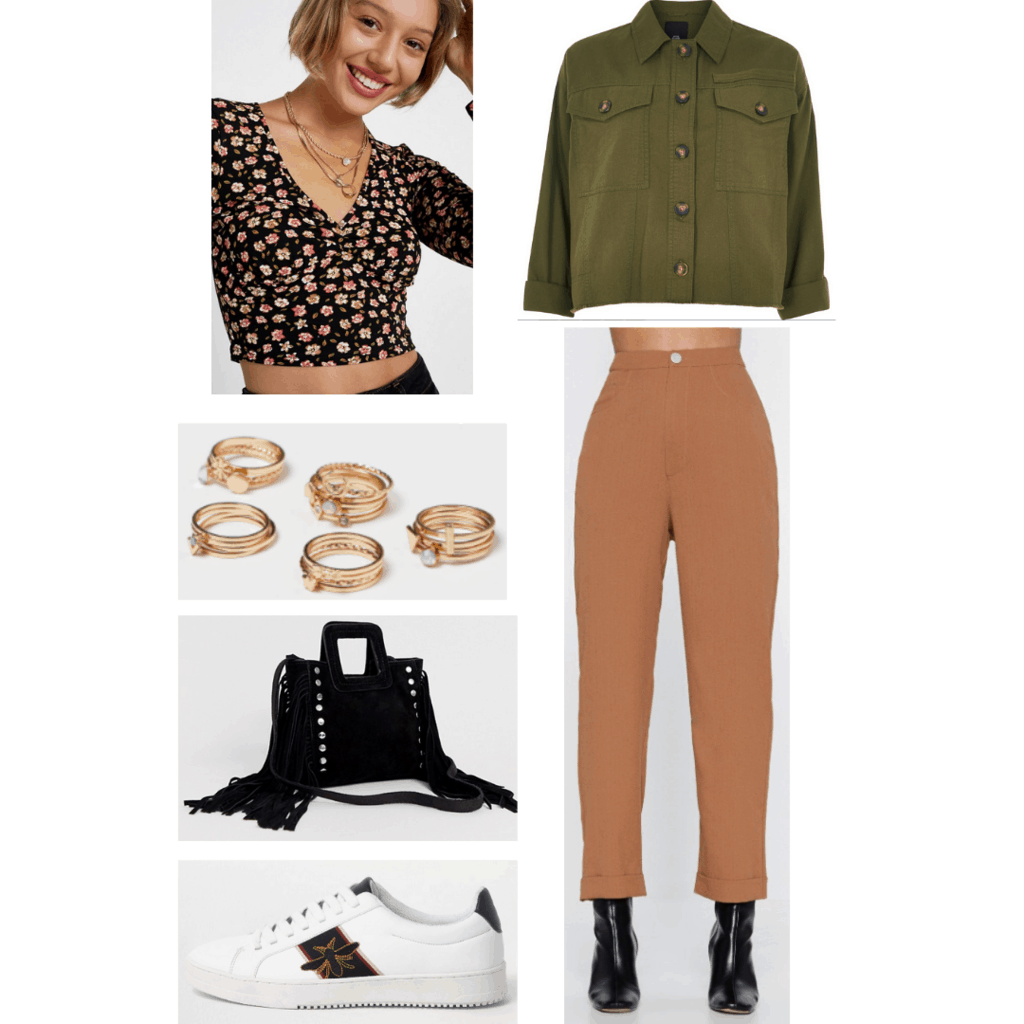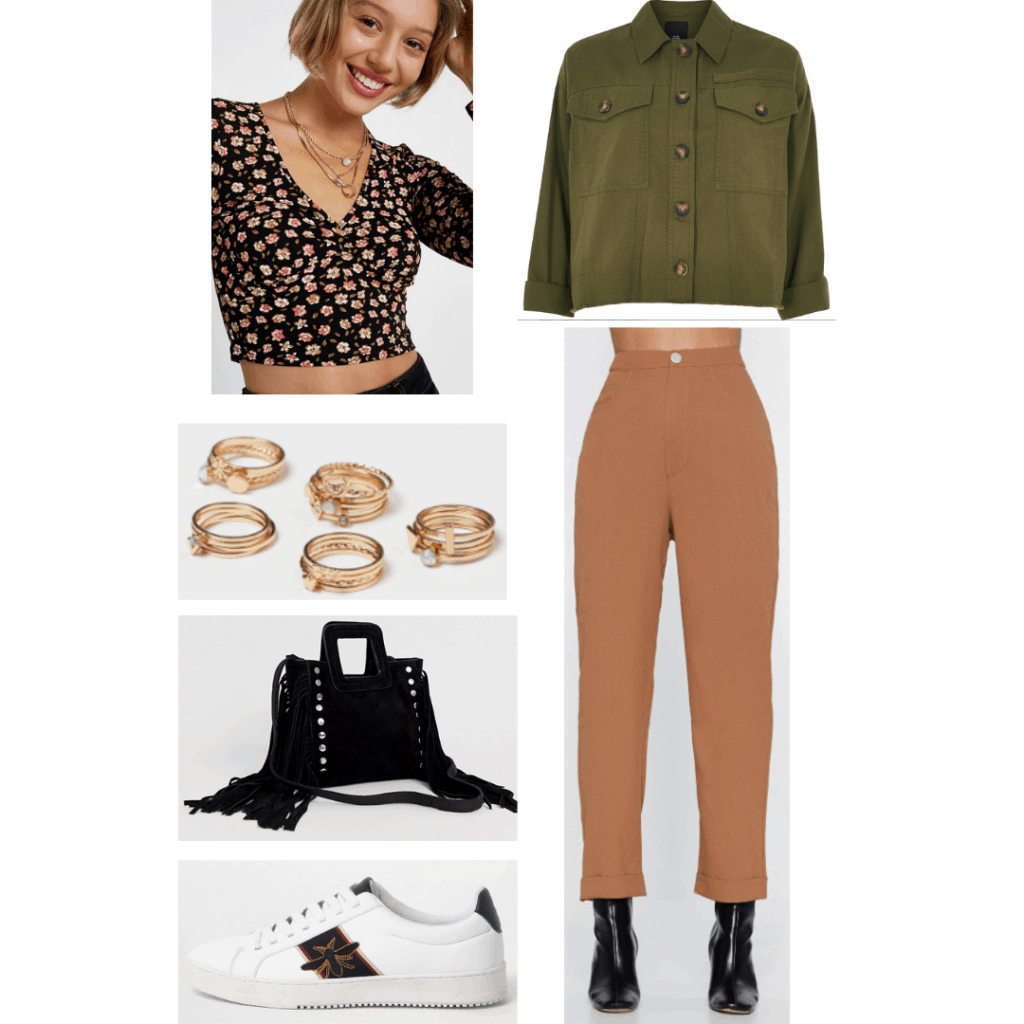 Products: Khaki Jacket – River Island, Floral Top – Urban Outfitters, Camel Pants – Nasty Gal, Fringe Bag – Pull & Bear at ASOS, Gold Rings – H&M, Wasp Sneakers – River Island
BTS Airport Fashion: Jungkook
Click here for Jungkook's individual fashion inspiration post!
Finally, we have the youngest member, Jungkook. 2019 has been a great year for him, both fashion-wise and because, you know, he's the main singer in BTS.
This year, Jungkook has gone viral for his airport looks more times than I can count, and with good reason.
In my original post, I listed black jackets, beanies, ripped jeans, hoodies & joggers as the key items needed for a Golden Closet (see what I did there?):
However, Jungkook has been pushing himself in the style stakes lately, incorporating trendy streetwear into his looks. Below in his set, you will find the airport look that made everyone lose their minds in April of this year. You're welcome in advance.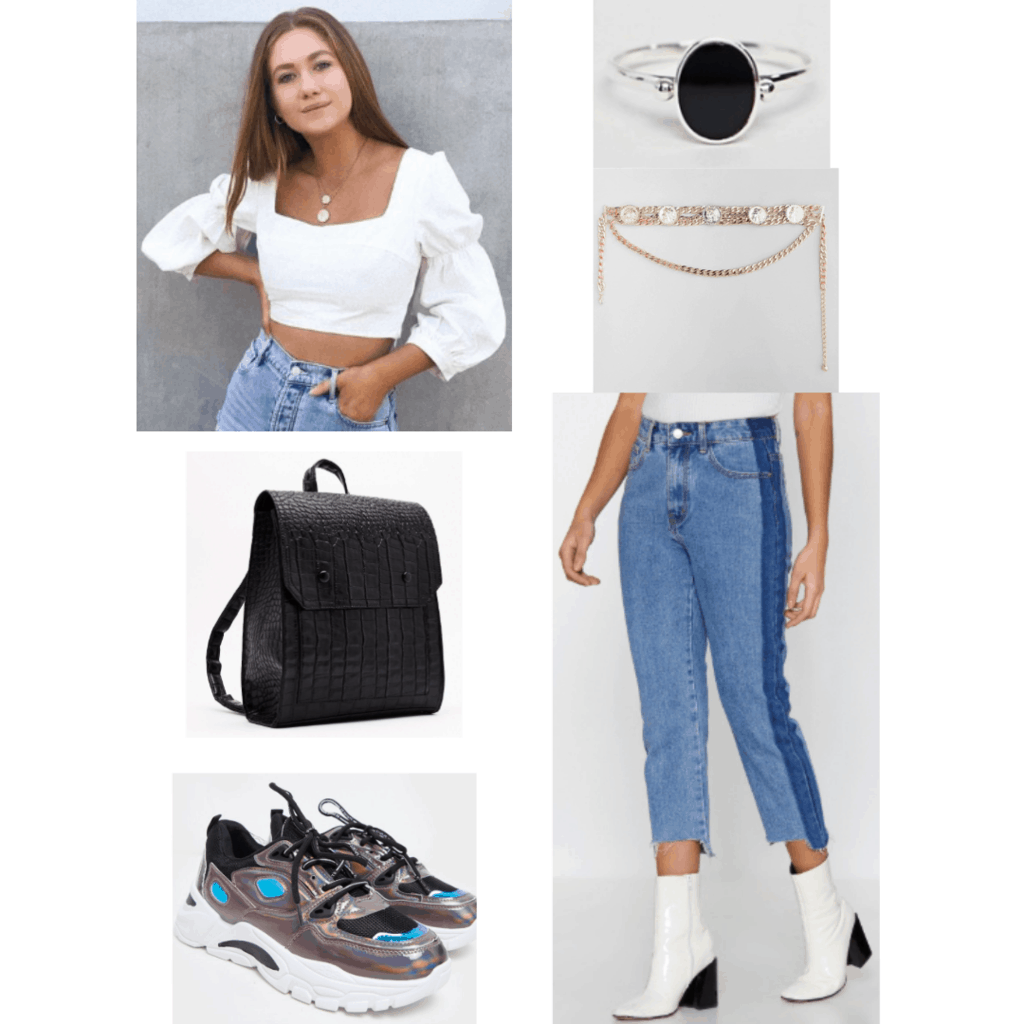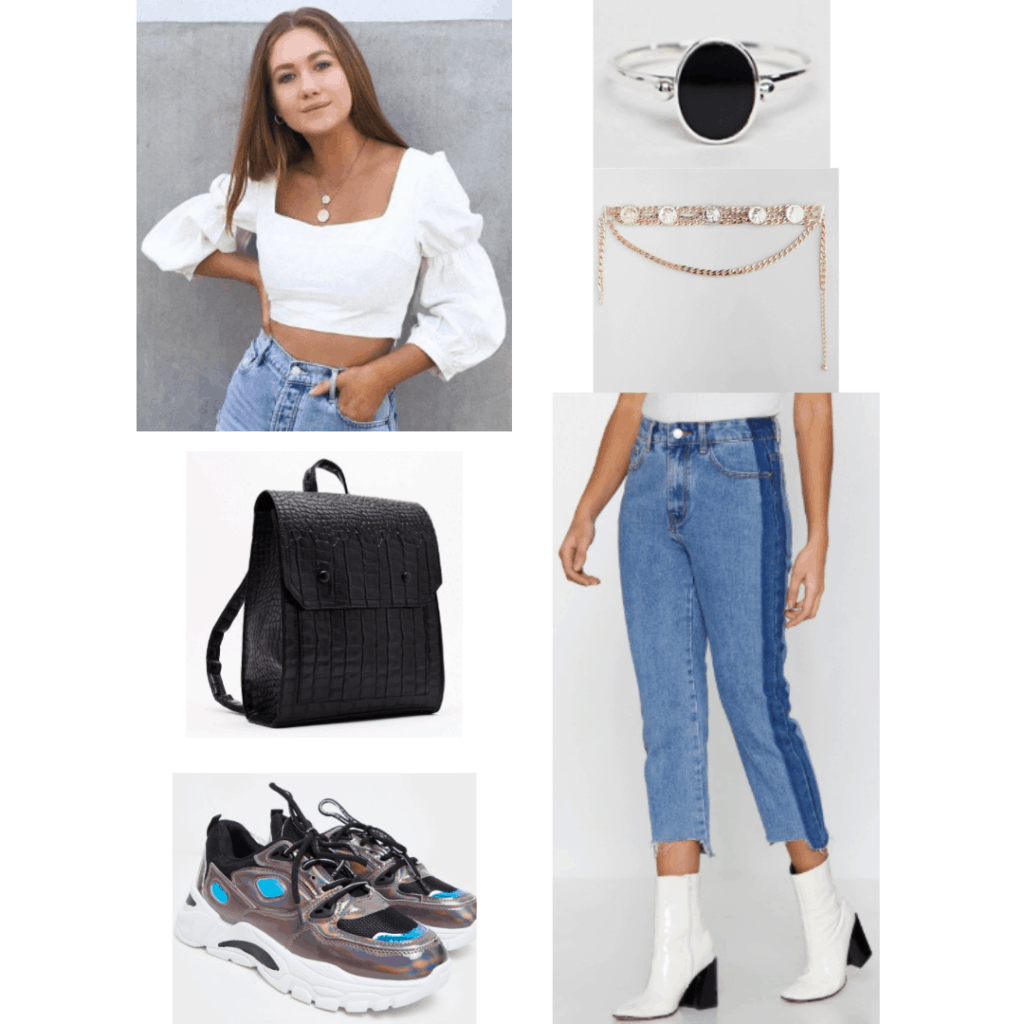 Products: White Top – Urban Outfitters, Blue Jeans – Nasty Gal, Black Backpack – Nasty Gal, Gold Belt – ASOS, Black Ring – Kingsley Ryan at ASOS, Chunky Sneakers – Pretty Little Thing
What do you think of our BTS airport fashion guide?
Which of these BTS airport looks was your favorite? Who is your BTS bias? Are you looking forward to their rumored comeback this October? Let me know (your comeback concept theories) in the comments below, I can't wait to hear from you!