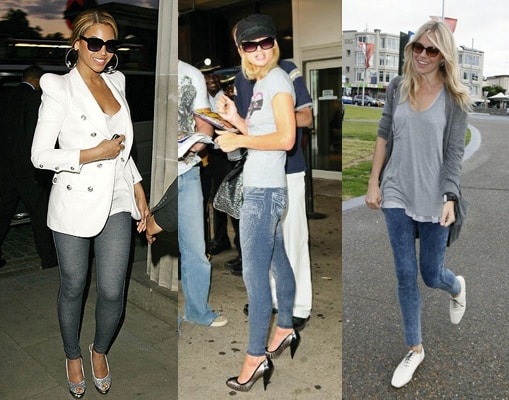 Beyonce, Paris Hilton, and Sienna Miller in denim leggings
Here's another trend you're either going to love or despise.. there doesn't seem to be any middle ground on this one!
We all know leggings are a hot trend among college students. Whether they're worn in place of sweats for their comfort factor (leggings, UGGs and a North Face anyone?), or used to supplement an already fierce sense of style (think liquid leggings with rocker accessories), one thing is clear: the legging isn't going away anytime soon!
The newest incarnation of the ubiquitous legging is the "jegging" – a jean/legging hybrid that combines the best (and worst) of both worlds. I'm sure you've already seen them in stores: denim leggings are soft and stretchy like a legging but dyed to look like denim.
One one hand, these are great because they offer the comfort of a legging with the look of jeans. And they're definitely a fun piece with trendy appeal. On the other hand, jeans are great because they're rigid and suck you in in all the right places: denim leggings may not be as flattering. And come on, are jeans really THAT uncomfortable to begin with? Things to consider.
Personally, I'm not sure what to think of this trend. I'm a skinny jeans fan so I do like the look of these. That said, I don't think it's a trend that's going to stick around for long.. so I'm not about to rush out and buy a designer pair!
What do you think?Would you wear denim leggings? Or is this a trend you're going to skip?
Leave your thoughts in the comments!