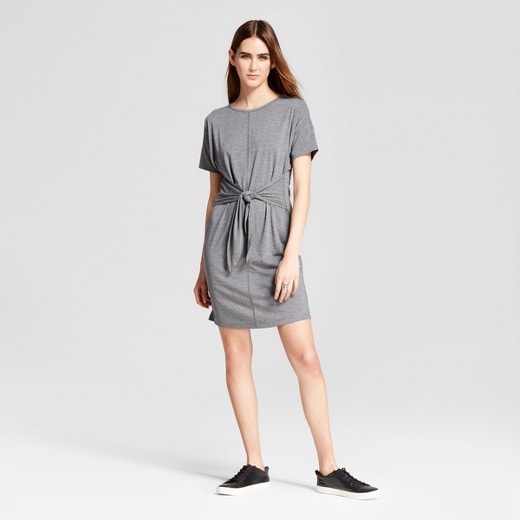 Welcome to the latest edition of Ask CF! Every two weeks, we select a reader fashion question and answer it here on the site. Do you have a specific fashion question for us? Scroll to the bottom of this post to learn how to send it our way!
Ask CF Question
Hi CF!
I'm working at a boutique, which I love, but there's a little problem. I have to wear the boutique's clothing to work (of course), but almost all the clothes are t-shirt dresses or billowing blouses. However, because I have a larger bust and pretty wide hips, clothes don't look great on me if they don't have a waist.
Can you think of any tips or advice on how to style these clothes?
Thanks!
I love y'all,
Searching for Waistlines
Our Response
Dear Searching for Waistlines,
I'm so happy you asked this question, since making clothes work for you is such an important part of fashion that gets overlooked. Too often, people try on an item of clothing that doesn't fit the way they want it to, and automatically think that it won't work for them, when in reality, all they need to do is get a little creative with styling to make the item look like it was made for them!
As far as your question goes specifically, you're lucky in that there are some pretty easy tips and tricks that you can use to add a waist to clothes that don't have one; keep scrolling to learn all about them.
Outfit #1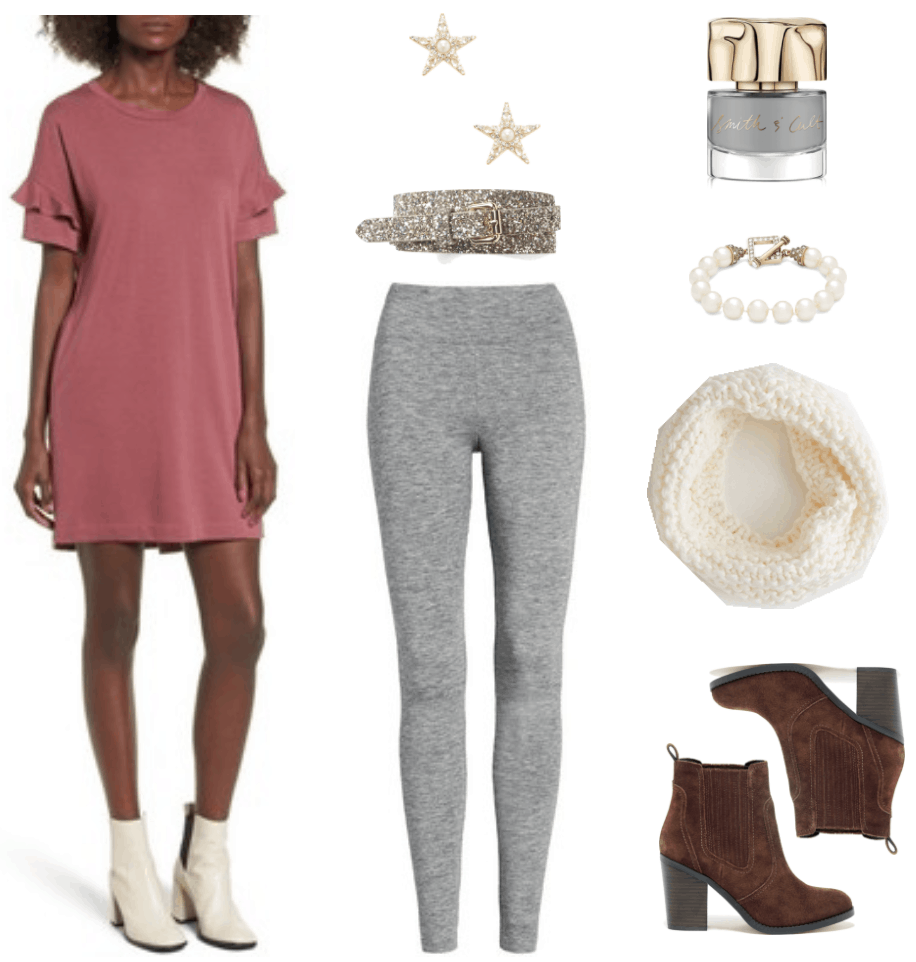 Products: T-Shirt-Dress – Nordstrom, Earrings – Gilt, Belt – Gap, Leggings – Nordstrom, Nail Polish – Dermstore, Bracelet – Saks Off 5th, Scarf – Hollister, Ankle Boots – Sole Society
The fastest and easiest way to create a defined waist on clothes that don't have one is to belt them! You mention in your letter that you often wear t-shirt-dresses to work, so here I've featured a lovely dusty-rose one with pretty ruffles on the sleeves.
I decided to style it with a pair of gray heathered leggings — a nice change from the usual black — and rich brown heeled ankle boots.
Sparkly star earrings and a crystal-embellished pearl bracelet are sure to make a statement, while a stylish chunky-knit infinity scarf will keep you nice and warm on blustery winter days.
Add a gold glittery belt to define your waist. Note: The belt featured here is narrower in width, which will most likely work if you have a small-to-medium-sized frame; if your frame is medium-to-large, however, you might find that a wider belt looks more proportional on you. Either way, feel free to experiment with different belt-widths to see which one works best for you!
Finally, paint your nails a light gray shade to add an extra dose of glamour to the look.
Outfit #2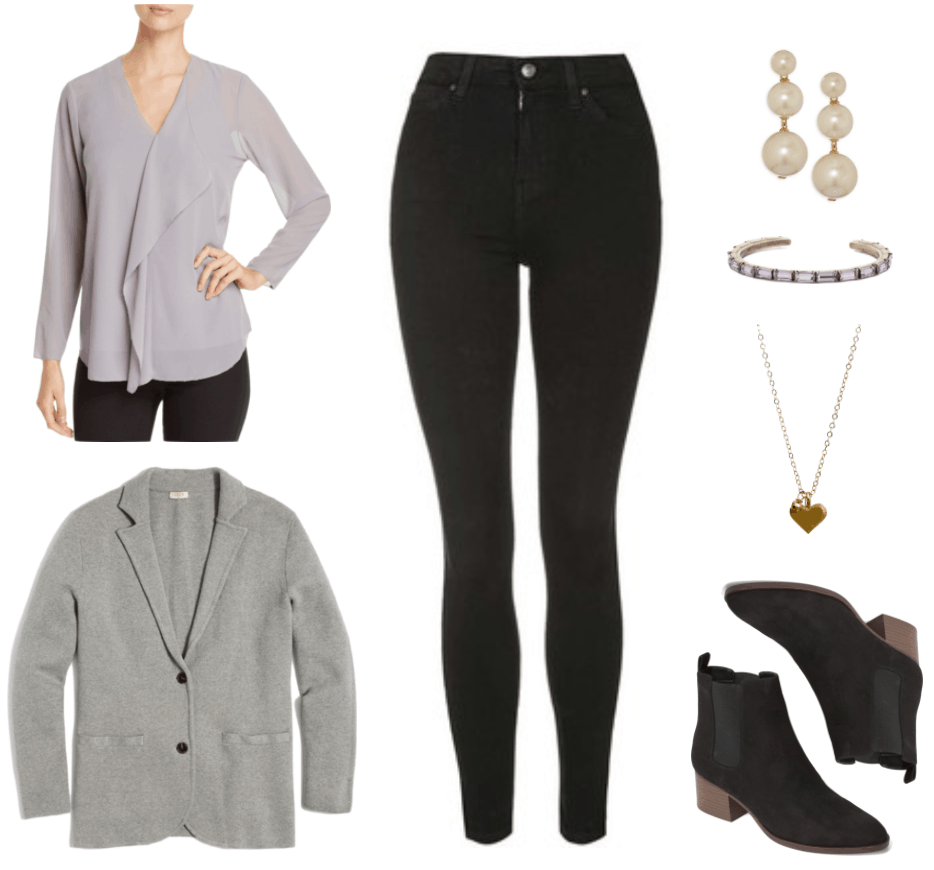 Products: Blouse – Bloomingdale's, Sweater-Blazer – J.Crew Factory, Jeans – Nordstrom, Earrings – Saks Fifth Avenue, Cuff Bracelet – Nordstrom Rack, Necklace – Nordstrom Rack, Chelsea Boots – Gap
While belting can be a great way to carve out a waist, unfortunately it doesn't work well with all clothing styles — especially tops that hit at the hip or higher (although of course, there are always exceptions).
So, for this look, I decided to put together an outfit that would do the work for you.
Here, I chose to pair a beautiful chiffon blouse with a sweater-blazer. I like this this one from J.Crew Factory for its relaxed style, and for the way that it tones down the formality of the blouse. Most importantly, though, it nips in slightly at the waist, which is something to look out for when buying blazers or jackets.
Pair the sweater-blazer-and-blouse combo with some black high-waisted skinny jeans (which, by the way, you could also tuck the blouse into if you want an even more defined waistline).
Black heeled Chelsea boots add an element of coolness to the look, while sophisticated jewelry, such as these pearl drop earrings, dainty heart necklace, and gorgeous cuff bracelet, complete the outfit in style.
Outfit #3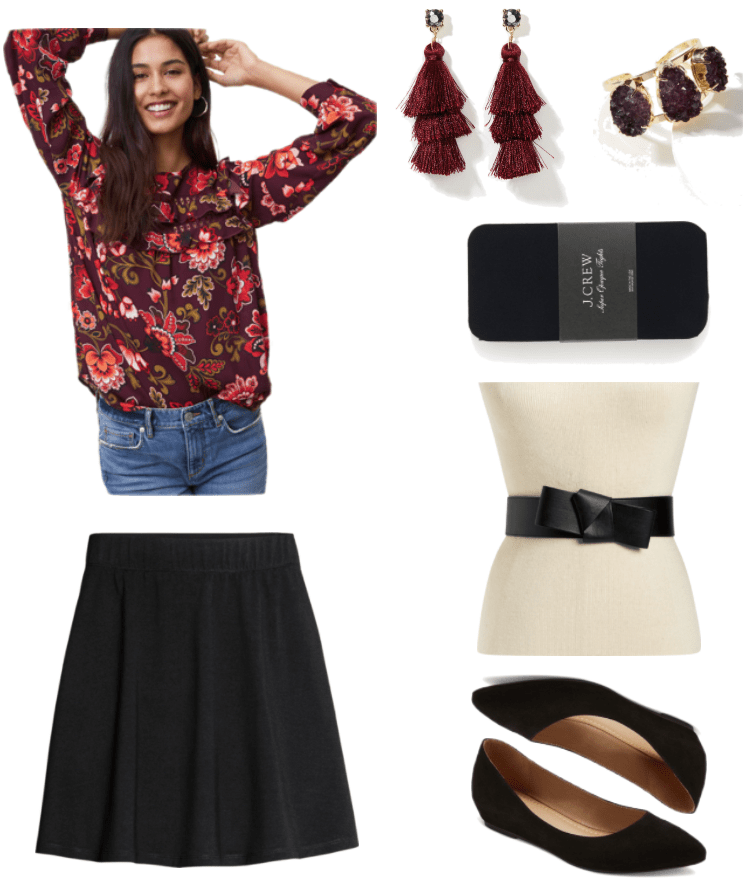 Products: Blouse – Loft, Skirt – H&M, Earrings – Loft, Cuff Bracelet – Anthropologie, Tights – J.Crew, Belt – Macy's, Flats – Target
A great way to define your waist is to tuck a billowy blouse — like this lovely printed one — into a simple circle skirt. (Bonus: This one happens to be on sale right now at H&M for only $6.99 — talk about a steal!)
If you would like to show off your waist even more, add a cute belt to the ensemble, as I did here. Note that this one is wider than the one shown in the first look, making it a great option to try if you have a medium-to-large-sized frame.
Put on some super-opaque black tights and a pair of classy black flats with a small hidden wedge. Finally, add some statement jewelry — here, I chose boho tiered tassel earrings and a stand-out druzy cuff — to finish off the look.
Outfit #4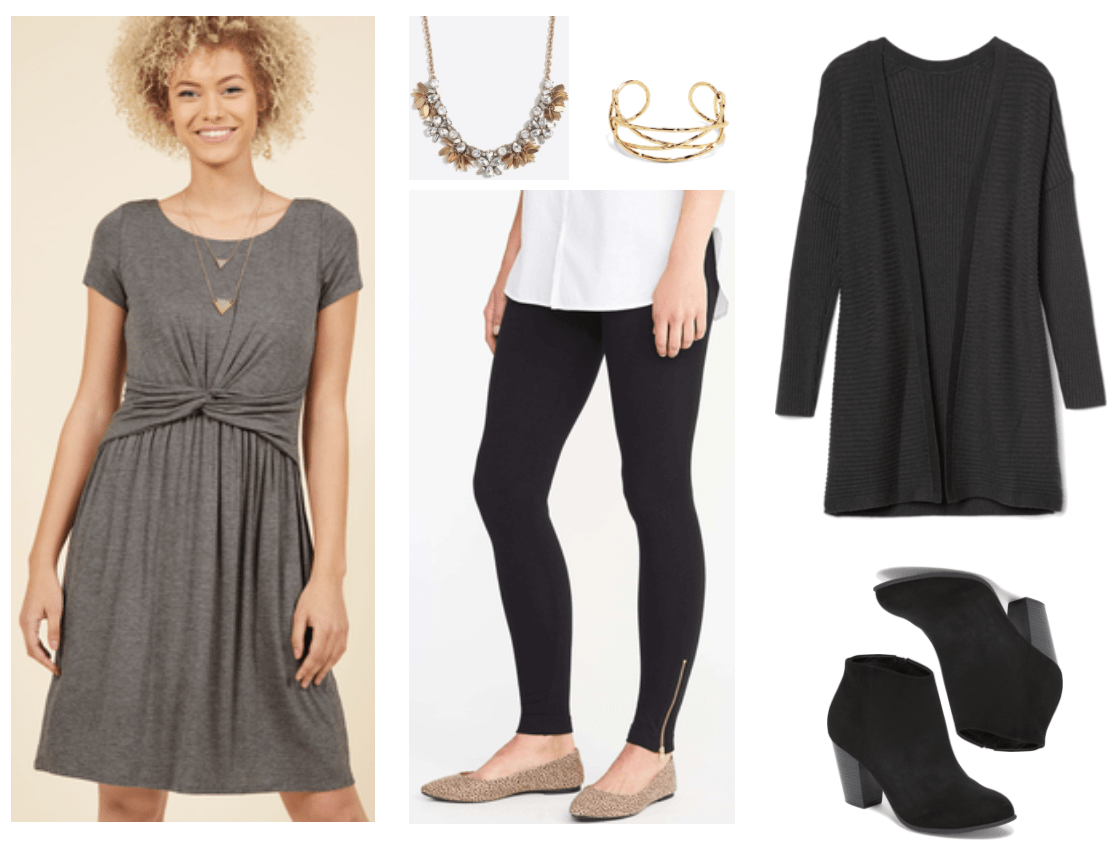 Products: T-Shirt-Dress – Modcloth, Necklace – J.Crew Factory, Cuff Bracelet – BaubleBar, Leggings – Old Navy, Cardigan – Gap, Ankle Boots – Old Navy
If you don't feel like belting/tucking in your clothes all the time, another way to create a waistline when shopping for dresses or tops is to look for pieces that already have some sort of figure-defining detail built in, such as a tie or knot, like this gray t-shirt-dress does.
I've decided to style it with black leggings with ankle zippers to add some edge to the look. To avoid having too many embellishments in one place, put on a pair of relatively simple ankle boots, such as these black block-heel ones.
As for jewelry, a floral statement necklace and criss-cross cuff bracelet are the perfect way to add a bit of formality to this otherwise-casual outfit.
Lastly, throw on a relaxed-fit open-front cardigan (which could totally be worn with a belt at the waist over a different top or dress) to tie the look together.
Now that you know how to create a defined waist on clothes that don't have one, feel free to have fun experimenting with different clothing/accessory combinations to find the ones that work best for you!  Thanks for your question!
Do you have a fashion question? Send it to us!
Is there something in your closet that you want to wear but have no idea how to style? Do you need advice on what to wear to an upcoming event? Do you have a specific fashion conundrum?
If you have a fashion-related question that you would like to see answered in this column, simply email it to askcf @ collegefashion.net, and one day you might see your question answered right here on the site!
What do you think?
Do you like to wear loose-fitting clothes?  If so, how do you define your shape when wearing them?  Do you have any ideas not mentioned here for making waist-less clothes look more structured?
Let me know in the comments!