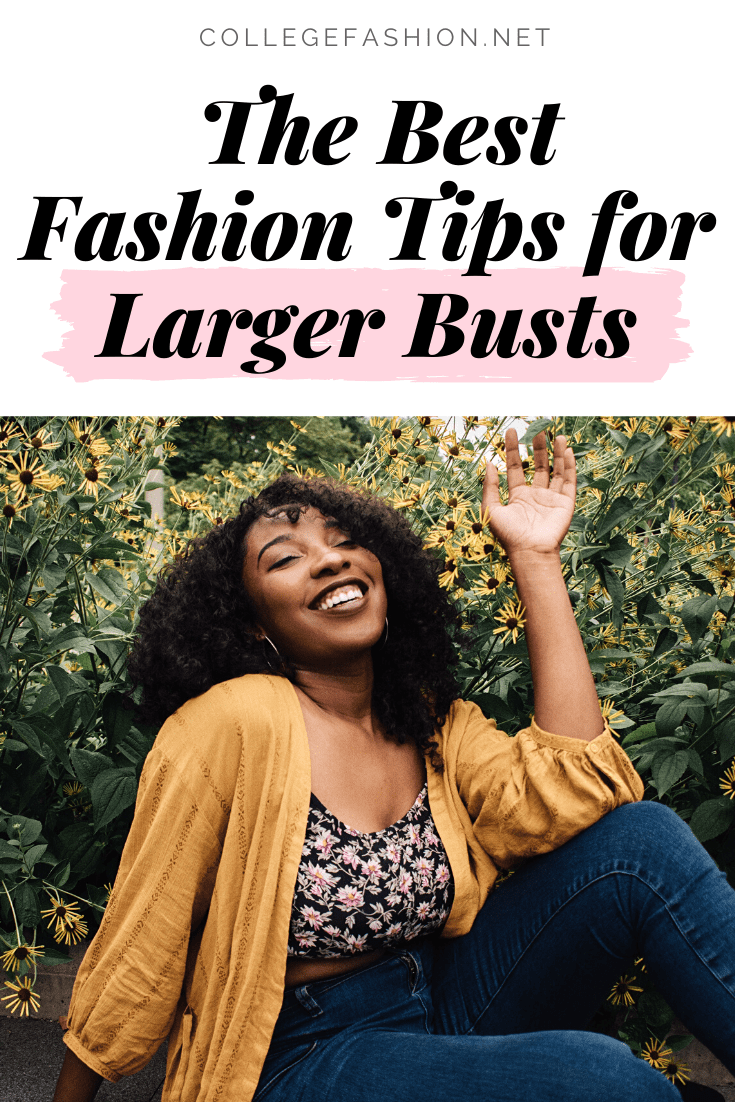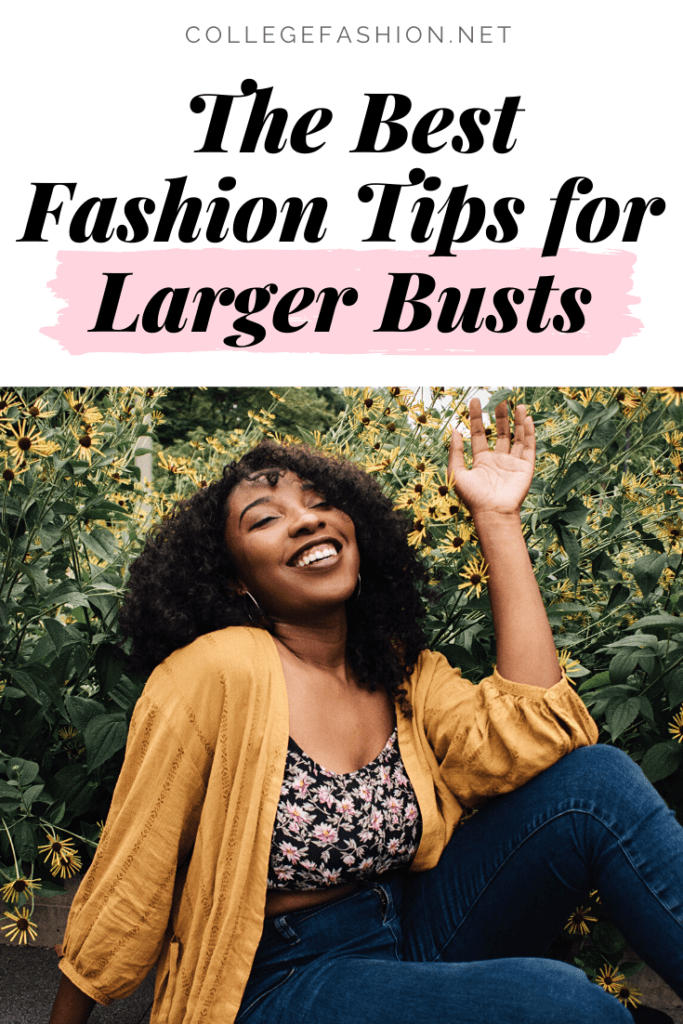 One of the most frustrating things for me when I go to shopping is finding nothing but shirts that pull at the bust or slip dresses that look super cute on the hanger but make me look boxy once I put them on. So today I'm sharing fashion tips for big busts, to help you avoid this unique kind of misery.
Clothing isn't one-size-fits-all for a reason. Everyone is different with different sizes, body shapes, and fashion needs. Given this, it's important to find clothes that will make you stand out for the amazing body you have.
So with all of that said, here are some of the tips I've found helpful for dressing a large bust.
5 Fashion Tips for Big Busts
1. DO get measured for a bra
This one may seem kind of obvious, but getting measured and re-fitted for a sports bra was a lifesaver for me.
Ill-fitting bras can cause so much back and shoulder pain, as well as make you look completely different than when you have a shelf bra that actually fits correctly.
Buying sports bra can be an expensive process, but it's definitely an important one. Invest in a few t-shirt, push-up, and strapless bras so you have something to wear with every outfit.
2. DON'T try to conceal your chest
Your body may frustrate you at times (as mine often does), but in order to look gorgeous, you need to be confident in how you dress. You don't have to wear skintight and revealing clothing all the time, but dressing in baggy layers isn't the answer either.
This is a game-changing fashion tip for large bust — once you stop trying to conceal your frame, it will completely change how you dress.
I like to alternate my clothing – for example, if I do want to wear a larger/flowy shirt, I pair it with form fitting pants, and vice-versa.
Another way that you can make your bigger bust look amazing while staying school-appropriate is to opt for slight v-necks or scoop necks rather than high neck shirts. High neck shirts can make your large bust stand out even more, but a tasteful v-neck accentuates your curves and shows off your body without being revealing.
Not being afraid to wear tighter pieces of clothing can be such a battle, but it's very worth it. Once you find something that fits, the confidence you will get once you stop wearing tons of baggy layers is unbeatable!
3. DO wear tank top, tube tops, and everything in between
One of the biggest struggles as someone with a bigger bust is seeing girls post on Instagram or VSCO wearing cute and dainty summer tank tops. These can be a challenge to find in the right size and to style when you have a large bust.
A lot of backless or strappy shirts that require you to go to braless underneath don't usually work for me, but they can be a viable option if you are comfortable going braless. I'm all for breaking the stigma about shelf bra use being "mandatory," so if you feel more comfy without one then go for it!
The best option for me are basic tank top that are cropped or with a v-neck that have straps over the shoulders that cover the bra strap area while still giving the same summery feel!
I'm loving this workout tank top with a slight v-neck and cropped for the warmer weather. Tops like this are versatile and can be paired with comfy sweatpants, high waisted jeans, or a cute skirt for going out!
Also read: Class to Night Out: Denim Tank Top
4. DON'T settle for shirts that don't fit right
Sometimes when I'm shopping I fall in love with a cute top but one I get it off the hanger it looks terrible. I'm almost tempted to buy it because I don't think I'll find anything that fits any better – but I ALWAYS regret it whenever I do!
DON'T spend your money on something that you don't 100% love when you put it on. Whenever I've bought a "so-so" item, the piece always sinks to the back of my closet because I don't feel confident wearing it.
While this method often results in empty-handed shopping trips, I'd rather save money for when I find clothing that actually fits rather than buying something I won't be happy with.
This may seem like a given, but girls with big busts can often be discouraged when there's no clothing made to fit them. As often as you can, I recommend buying separates in different sizes – like a skirt and shirt instead of a dress – to ensure that everything fits the way it's supposed to.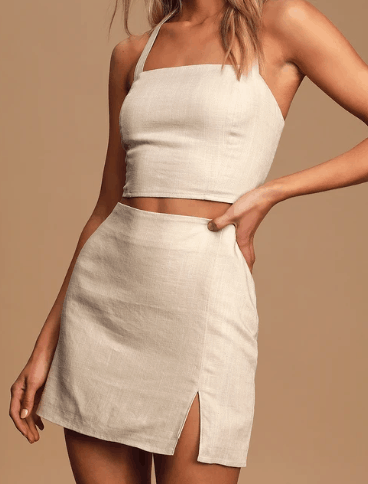 This set is a great summertime option where you can get the top and skirt in different sizes in order to best fit your body.
5. DO feel comfortable going to a tailor
Getting something altered or taken in can seem like a very intimidating process that – let's face it – most of us haven't gone through since our high school prom dresses.
Going to a tailor doesn't have to be a large-scale hundred dollar process like that, though. Becoming familiar with a tailor by getting alterations on smaller items can make a huge difference in how you wear your clothes and the shelf life of each piece.
Plus, by building loyalty with a tailor you can get clothing tips, learn how to make your clothes last, and consult with someone who knows your proportions and how to achieve your best shape.
Additional Fashion Tips for Large Busts
For busty women with a large bust, finding the right tank top can be a challenge. Here are a few additional fashion tips to keep in mind:
Look for built in sports bra support:
Tank tops with wider straps or built in bra can help provide additional support and prevent unwanted bouncing.
Choose the right moisture wicking fabric:
Opt for stretchy, high-quality moisture wicking fabric that fit snugly but comfortably. This will help provide extra support and prevent gaping.
Avoid tops with too much stretch:
While stretchy fabrics are great for support, tank top that are too stretchy can actually make your bust look larger than it is. Look for tops with a little bit of stretch, but not too much.
Consider the neckline:
A scoop or V-neck can help elongate your torso and draw the eye away from your bust, while a square or boat neck can help balance your proportions.
Avoid tops with too much detailing:
Tops with a lot of ruffles, lace, or other embellishments can add extra volume to your large bust and make it look even larger. Stick to simple, sleek styles.
What are your favorite fashion tips for big busts?
What are some ways you dress for your body? How does having a bigger bust make finding clothes more challenging?
Let me know in the comments!
Related posts: