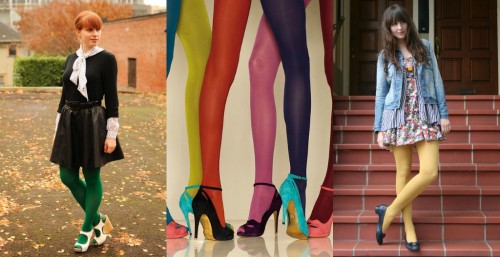 Transitioning from a bleak winter wardrobe to a spunky spring one can be difficult. I have been known for eagerly proclaiming, "A high of 45 degrees today?! I can wear my favorite sundress!" These awkward transitional months pose challenges for all of us college girls: On one hand, we desperately want to wear our favorite flippy skirts and tanks, but on the other, it's not nearly as warm as we'd like it to be.
Here's where the brilliance of the colored tights trend comes in! Colored tights are popping up everywhere from fashion blogs to our own college street style snapshots, and provide two huge benefits: They spice up your dreary winter outfits with a burst of color, and allow you to wear your summer clothes and still stay warm.
How do you wear colorful tights? Well, the same way you would wear your normal black or grey tights. Pairing colored tights with other colors can be fun – but stick to muted hues to avoid the crayon box look. Paired with neutrals, colored tights are a foolproof way to spring-ify your look.
Here's how I'd wear colorful tights…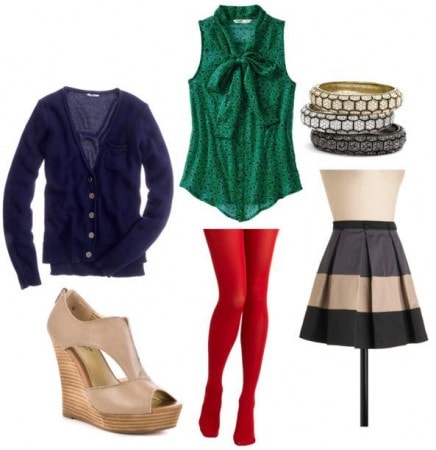 Product Info: Cardigan – Madewell, Blouse – Old Navy, Skirt – Modcloth, Tights – Modcloth, Shoes – Heels, Bangles – Nordstrom
Would you wear colored tights?
Is this look fun and spunky, or just too much for your taste? Would you wear colorful tights with other colors or stick with neutrals? Leave a comment below and let's discuss this trend!