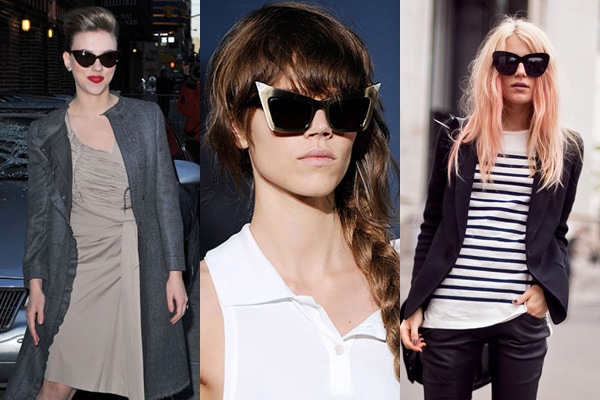 1. Scarlett Johansson, 2. Alexander Wang sunglasses on the runway, 3. Dree Hemingway
Summer 2010 is rapidly approaching, and with the summer sun comes the need for statement-making eyewear. And cat eye sunglasses are the shade style of the moment for models, celebs, and fashionistas everywhere.
The cat-eye sunglasses trend was, of course, sparked on the Spring/Summer 2010 runways back in September, when fashion houses such as Alexander Wang and Prada sent models down the runway rocking the retro frames. And the look has caught on fast – everyone from Lady Gaga to Scarlett Johansson has been spotted wearing a pair of cat-eye shades recently.
Personally, I'm in love with Alexander Wang's sunglasses above (look below for the link to a decent knockoff pair from ASOS) because they're so fresh and different, two qualities I look for in a pair of sunglasses. While I do own classic shades, in general, my mantra is: the more attention-grabbing the sunglasses, the better. Summer is the best time to have fun with your wardrobe – so why not rock one accessory that's a little crazy? It's always better than blending in.
Cat Eye Sunglasses Under $100
Want to get this look for yourself? Here are six pairs of cat eye sunglasses all priced under $100 each.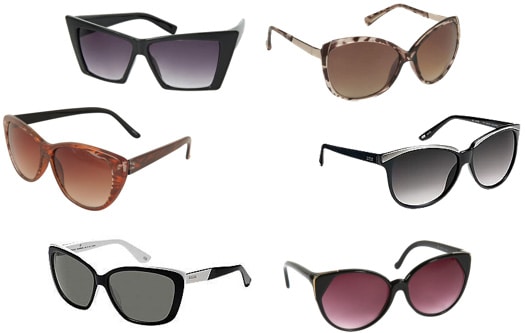 Product Links (Clockwise from top left): ASOS, Wet Seal, Fossil, Topshop, Fossil, Forever 21
So, would you wear this trend?
Are you feeling the vintage fabulousness of cat eye shades? Will you be rocking a pair this summer? Let us know what you think by leaving a comment below. Can't wait to find out your take on this trend!