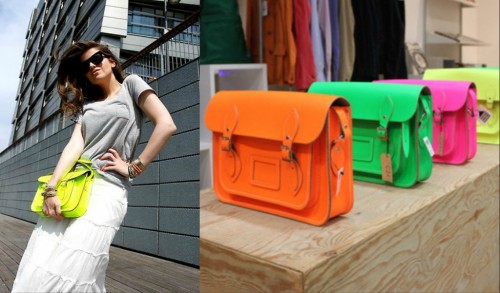 If you're looking for a new bag that transitions flawlessly from a bag for hot summer days to a functional school carry-all, the neon cambridge satchel is your best bet. Super chic and ultra trendy, this bag is ideal for school books and work functions but stylish enough to be featured in fashion magazines.
Made by The Cambridge Satchel Company, these bags have taken the fashion world by storm (and spawned many knockoffs in the process). I first started spotting these bright satchels on fashion blogs and street style websites at the beginning of the year, and now it seems you can't turn around without seeing a fashionista wearing one. They're a definite fashion phenomenon.
Personally, I adore these bags. To me, a cambridge satchel is the perfect blend of androgynous style and functionality. The long strap makes it perfect to wear as a cross-body or long shoulder bag but can also be tucked in, so the bag can be worn as an oversized clutch – how wonderful is THAT?! These unisex satchels are popular in fluorescent colors, so if you're looking to make a statement and rock the neon trend, you may have found your perfect match.
How do you feel about neon cambridge satchels?
Leave a comment and let's talk about it! Are you a sucker for these statement pieces or annoyed by them already? What colors do you like best? Do you have one? If so, are you in love with it? Tell us in a comment.