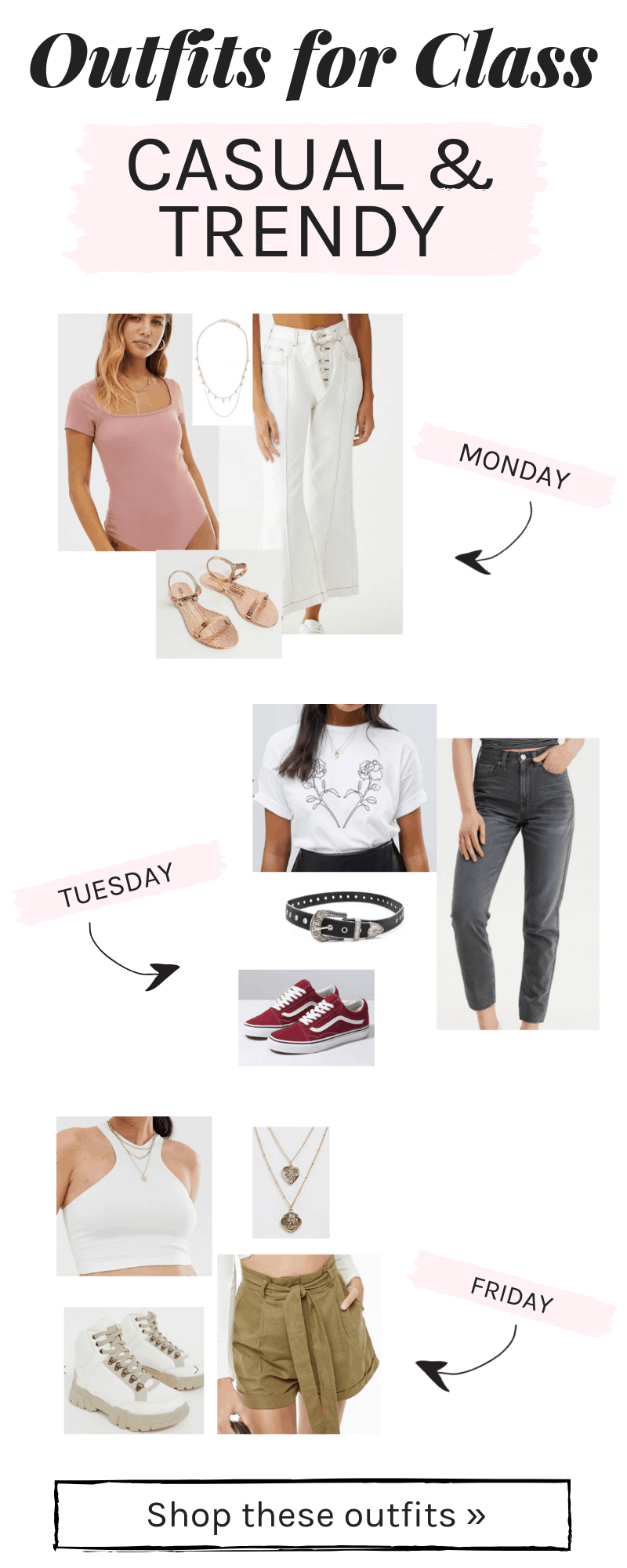 Let's be honest, sometimes it's hard to look cute for class. For me, the struggle lies in my inability to decide on an outfit.
Usually, I wake up too late and don't have enough time to come up with a perfect outfit. So I just grab the same old go-to basics and head out the door.
I find that when I do manage to look cute for class, it's because I've created my outfit the night before or I woke up early enough to have time to try on different outfits.
Because of this, I came up with a cute outfit to wear to class for every day of the week. Now the work is done for you, so looking cute is easy. With these spring outfits for class, you will be knocking your classmates' socks off!
Related reading: 6 Incredibly Cute Spring Outfits to Wear on Repeat
Monday: A Rosy Start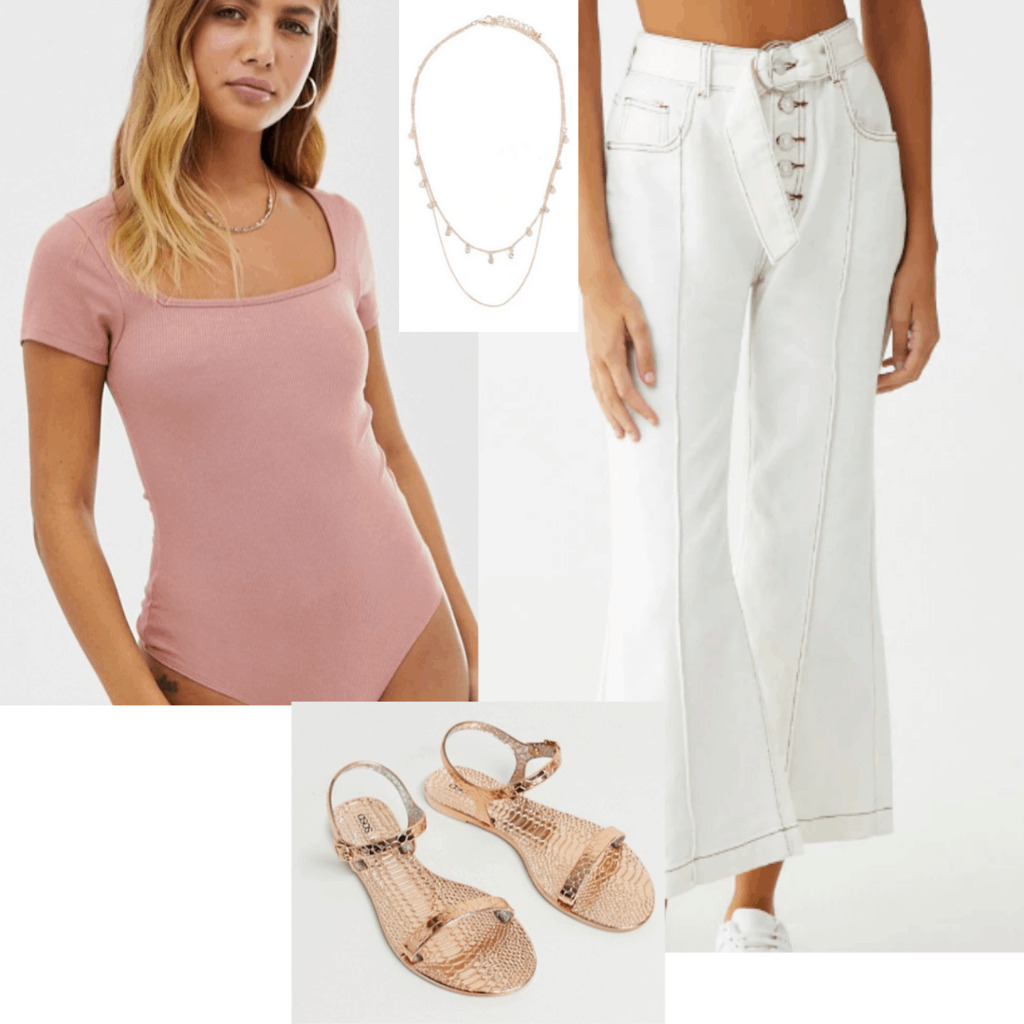 Products: Shirt – ASOS, Pants – Forever 21, Shoes – ASOS, Necklace – Forever 21
First off, Mondays can be tough. It's the start of the week and you know you have a lot of work ahead of you.
I find that the best way for me to feel great on a Monday is by making sure my outfit is cute. In a cute outfit, I feel confident and ready to take on the day.
With this in mind, I found these AWESOME flared pants that ~scream~ spring. Since they're white, they match with almost anything. I decided to pair them with a simple pink bodysuit and some rose gold sandals.
I think these colors go so well together. They're soft, minimalistic, and a great way to kick off the week.
Tuesday: Simply Casual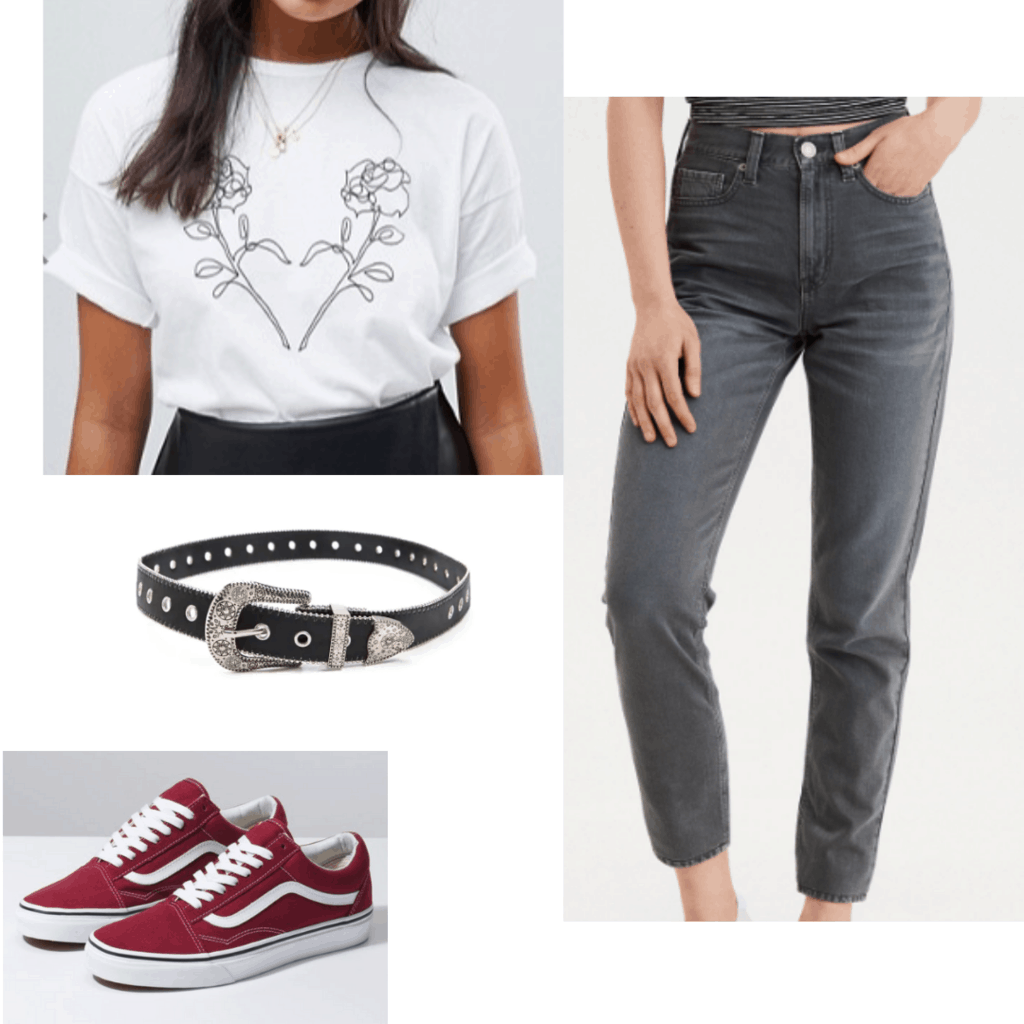 Products: Shirt – ASOS, Pants – American Eagle, Belt – Forever 21, Shoes – Vans
I chose a more casual outfit for Tuesday. It's important to balance out the week, so since we dressed up on Monday, let's go low-key on Tuesday.
Since everyone has a pair of jeans that they love, I decided to make an outfit with a simple pair of jeans. I am a huge fan of the gray-washed jeans we've been seeing this season because they have a retro/vintage feel.
With these jeans, I added a simple graphic white t-shirt. I love the rose drawings on this shirt. They're aesthetically pleasing and can match with anything.
To finish the outfit off, I thought it would be great to add some color. You could wear any colorful shoe with this outfit. But I chose the red Old Skool Vans because there are roses on the shirt.
Wednesday: The Bright Side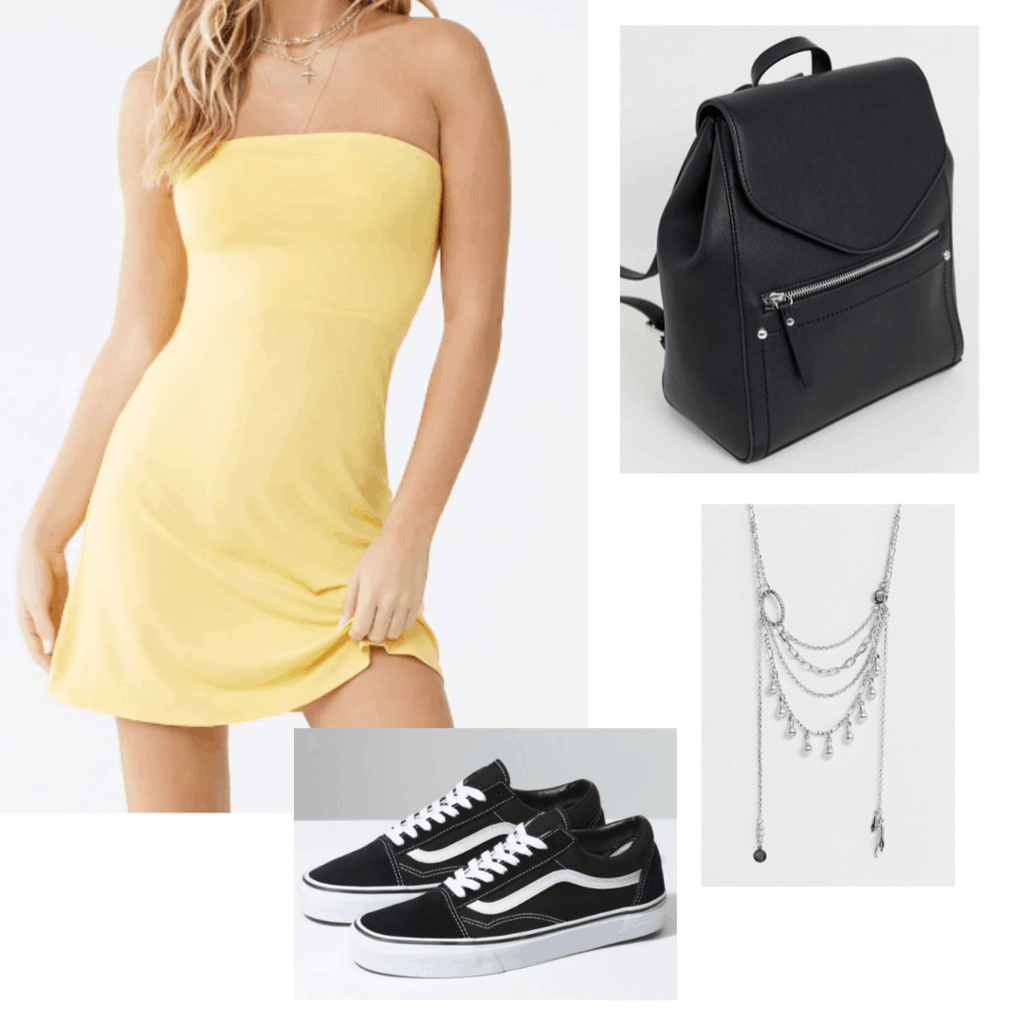 Products: Dress – Forever 21, Shoes – Vans, Backpack – ASOS, Necklace – ASOS
For the middle of the week, I thought it would be a great time to be comfortable and free. For this, I decided to go with a dress.
I love this yellow dress. The color is so spring and the simpleness of the dress makes it perfect to wear to class. The dress also comes in light blue and black, if yellow isn't your favorite.
In order to keep with the simplicity and casual feel of the dress, I also paired it with some Old Skool Vans. Any sneakers could work with this dress, but I think these Vans are super stylish and add a great accent to an outfit.
In order to tie in the black of the sneakers, I added a black backpack and finished the look off with silver jewelry. (I had to match the zipper and the jewelry!)
Thursday: Pop of Color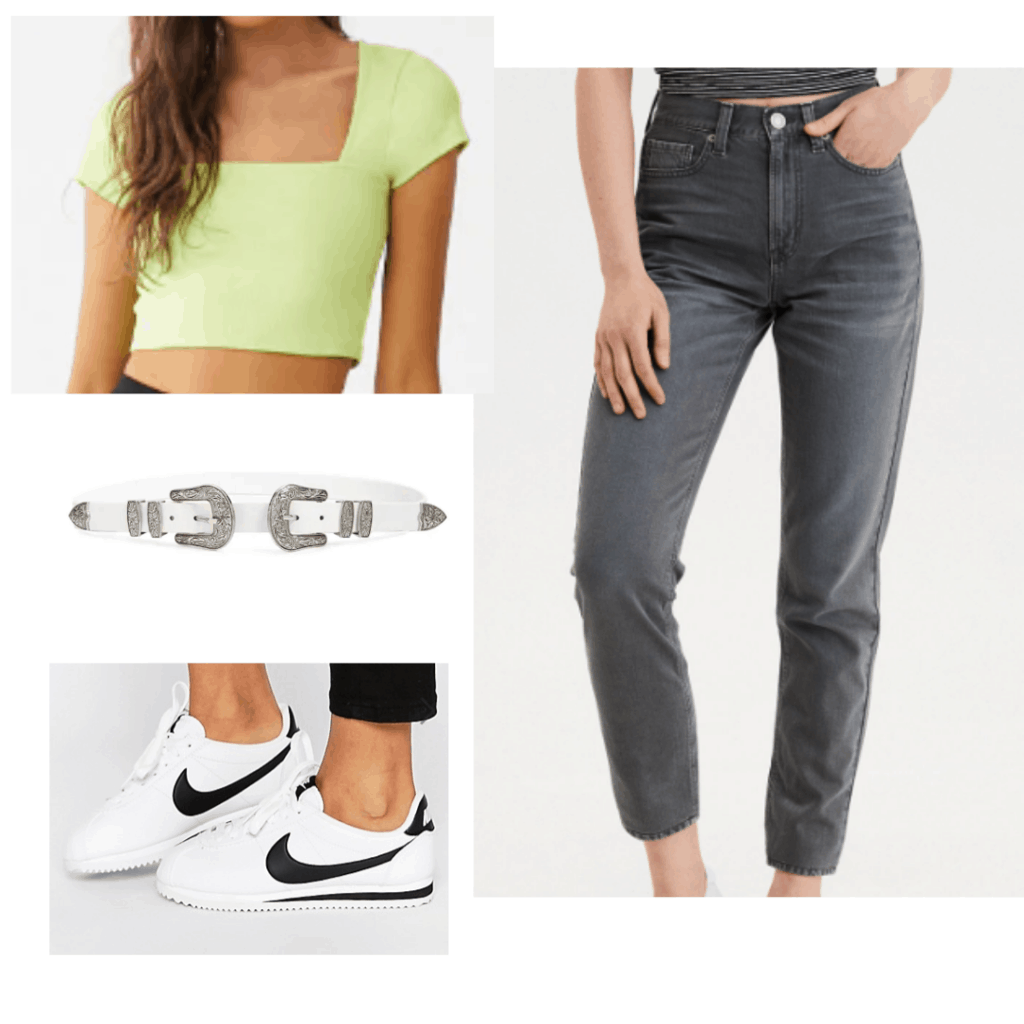 Products: Shirt – Forever 21, Pants – American Eagle, Belt – Forever 21, Shoes – ASOS
If you've read any of my previous posts, you'll see that I've talked a lot about the neon trend for spring. Because of this, I had to add an outfit with something neon.
I stumbled upon this neon green shirt and I loved it. The neckline and sleeves of this top are very feminine. This is a common cut this year.
And like I said before, we all have those one pair of jeans we love. Which means that we wear them more than once in a week. I know I do.
So with this, I decided to use the gray-wash jeans again. I think these jeans and the neon green top complement each other well. To finish off the outfit, I added a white belt so that I could find white sneakers to complete the look.
Friday: Fun Shorts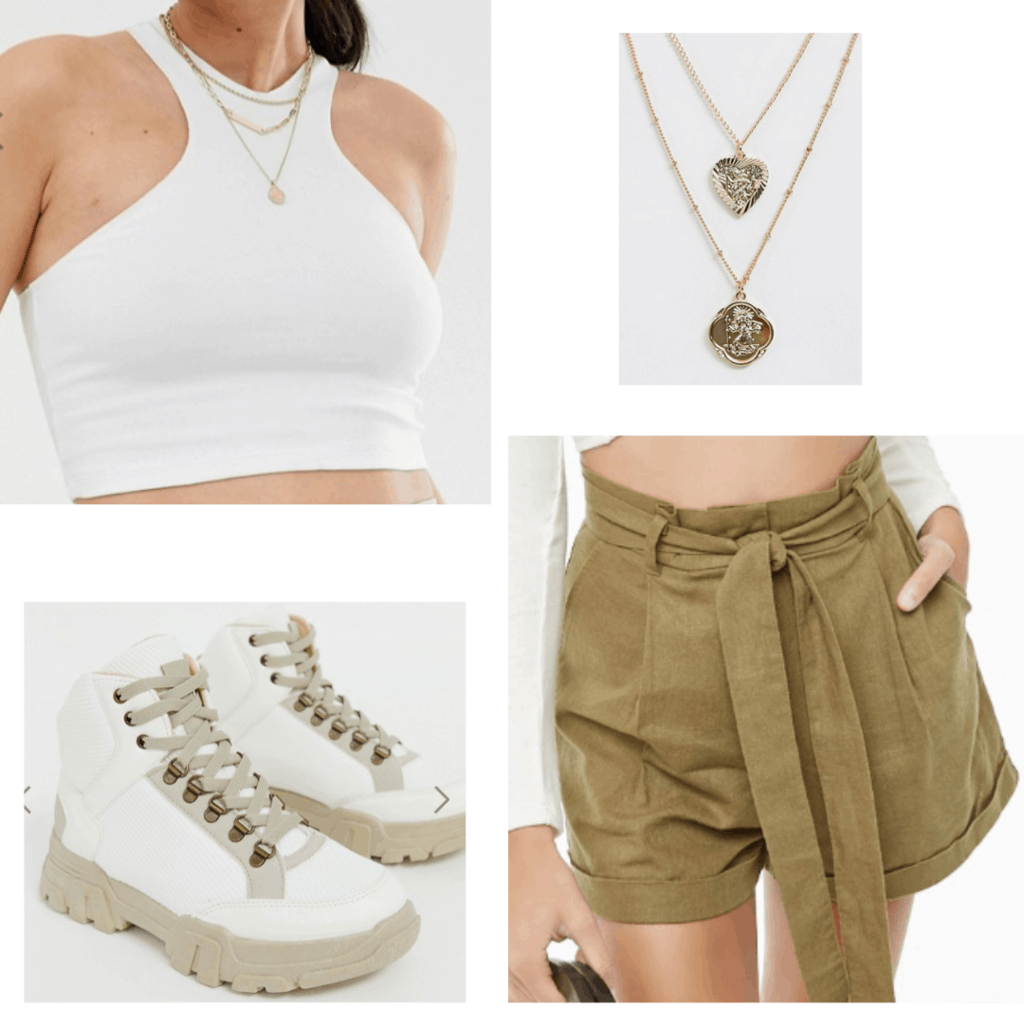 Products: Shirt – ASOS, Shorts – Forever 21, Shoes – ASOS, Necklace – ASOS
For the last day of the week, I think it's always a blast to wear some fun shorts.
There are so many different types of shorts that are in style right now and these caught my eye. I'm a fan of these olive shorts because I love the design. The belt is super cute and really defines the waistline. You can cinch it in as tight as you want.
I paired a white crop top with these shorts because I think a simple top is the best way to go. To finish the look, I added some chunky boots that have a rubber sole that match the shorts so amazingly.
Overall, this outfit makes me want to go on an adventure and study all at the same time.
What do you think of our spring outfits for class?
Overall, I think looking cute for school can be a struggle but is definitely possible. With a few outfit inspirations and a few minutes at night or in the morning to come up with an outfit, you will be ready to rock your classroom and feel put-together all day.