This post may contain affiliate links, which means we may receive a commission if you purchase through our links. Please
read our full disclosure here
.
Neon outfits are officially IN. The neon trend is going to be everywhere this spring and I am LOVING IT.
This trend takes me back to my middle school days. I remember I had a neon pink bandeau from Tilly's that I wore constantly. I used to layer it under all the tops I could and I thought I was so cool.
Well, the neon trend has come back around and I am ready for it. If you are reading this, you are probably thinking about trying the look, so I am here to give you inspiration on how to piece together neon outfits.
While you are here, be sure to also check out Anjelika's article: How to Achieve *THIS* High Fashion Trend on a Budget: Neon. She will guide you through how to shop for neon clothes without completely spilling your pockets.
Now that you have some affordable neon pieces, I'll show you some neon outfits to try. Here are four outfits to show you how to wear the neon trend this spring:
Neon Outfit 1: Green Passion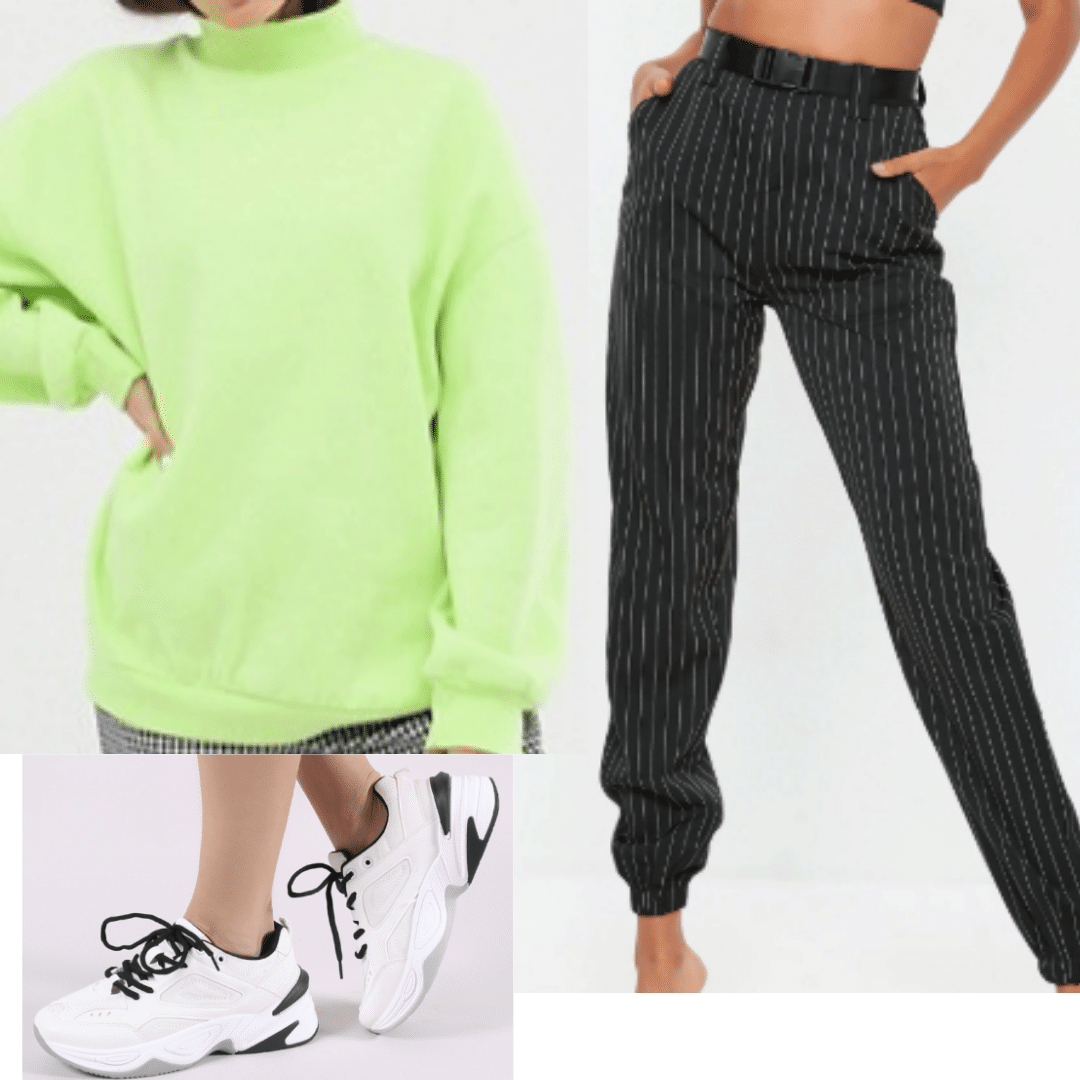 Products: Sweater – ASOS, Joggers – Missguided, Sneakers – Public Desire
To start off, I decided to do a simple, comfortable outfit. Baggy sweaters have been in style for a while, but a neon sweater adds sass in the best way possible.
One of the main neon colors I am seeing all over is this neon lime green. This color pairs well with black, white, darker greens, and blues.
To finish this outfit, I paired the sweater with black pinstripe joggers and some black and white sneakers. Not only is this outfit totally cute, but it is 100% comfortable. The black and white add a perfect neutral contrast to the bright green sweater, making the outfit mesh very well together.
This is an outfit you could wear to class, for a day out with the girls, going shopping, or for a day out in the town.
Neon Outfit 2: Feeling Pink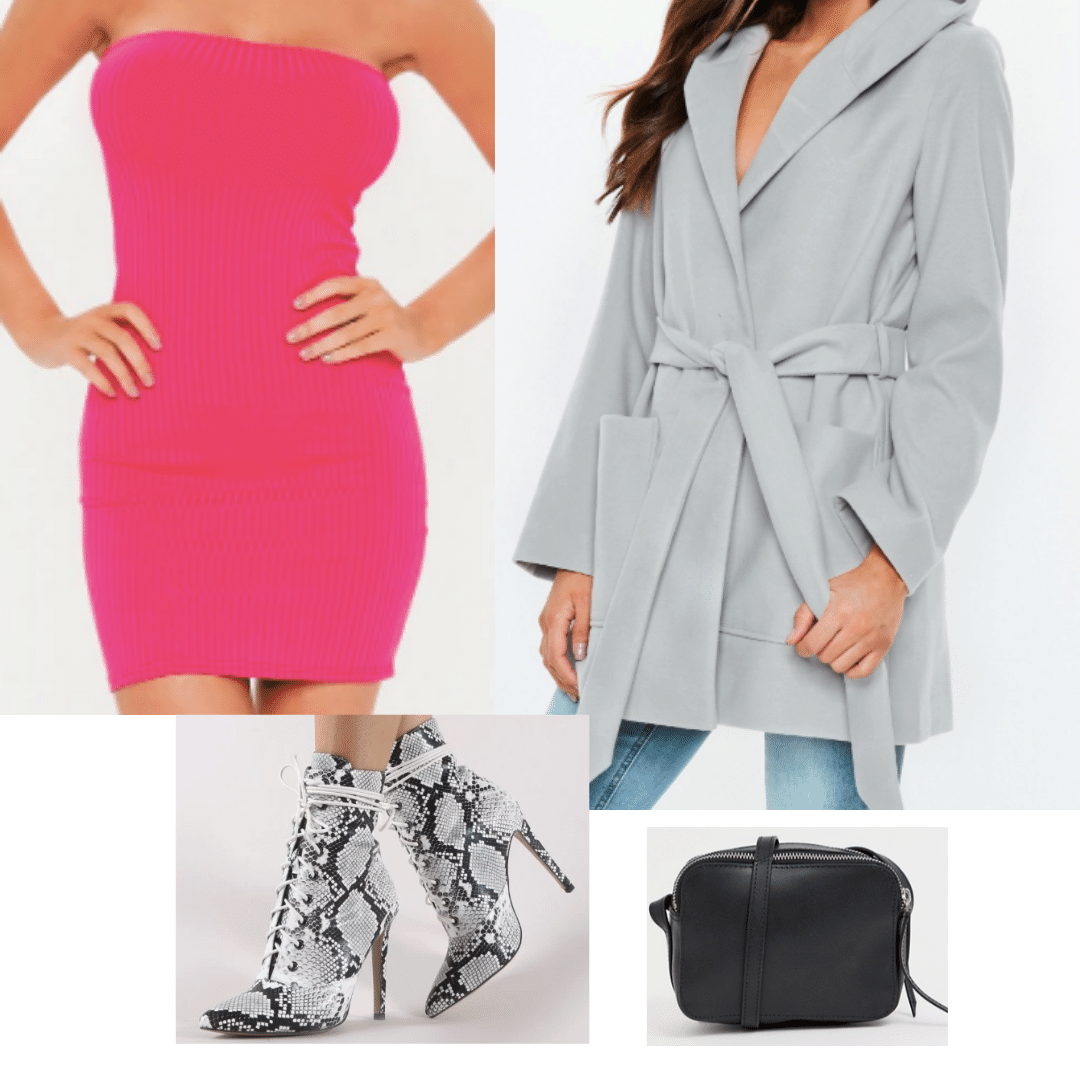 Products: Dress – Missguided, Coat – Missguided, Booties – Public Desire, Purse – ASOS
A neon dress is a super fun outfit to wear when going to a party, to dinner with friends, or even a date this season.
For this outfit I chose a pink neon strapless body-con dress. I love body-con dresses because they accentuate your body shape and are sure to fit. To go with the dress, I chose a grey coat. This adds soft tones to the bright pink dress. To tie in the grey, I chose white and black snakeskin shoes. This allows for a black purse to match perfectly.
I love this dress so much. It is fun, flirty, and girly. I may have to get one for myself!
Neon Outfit 3: Fun in Orange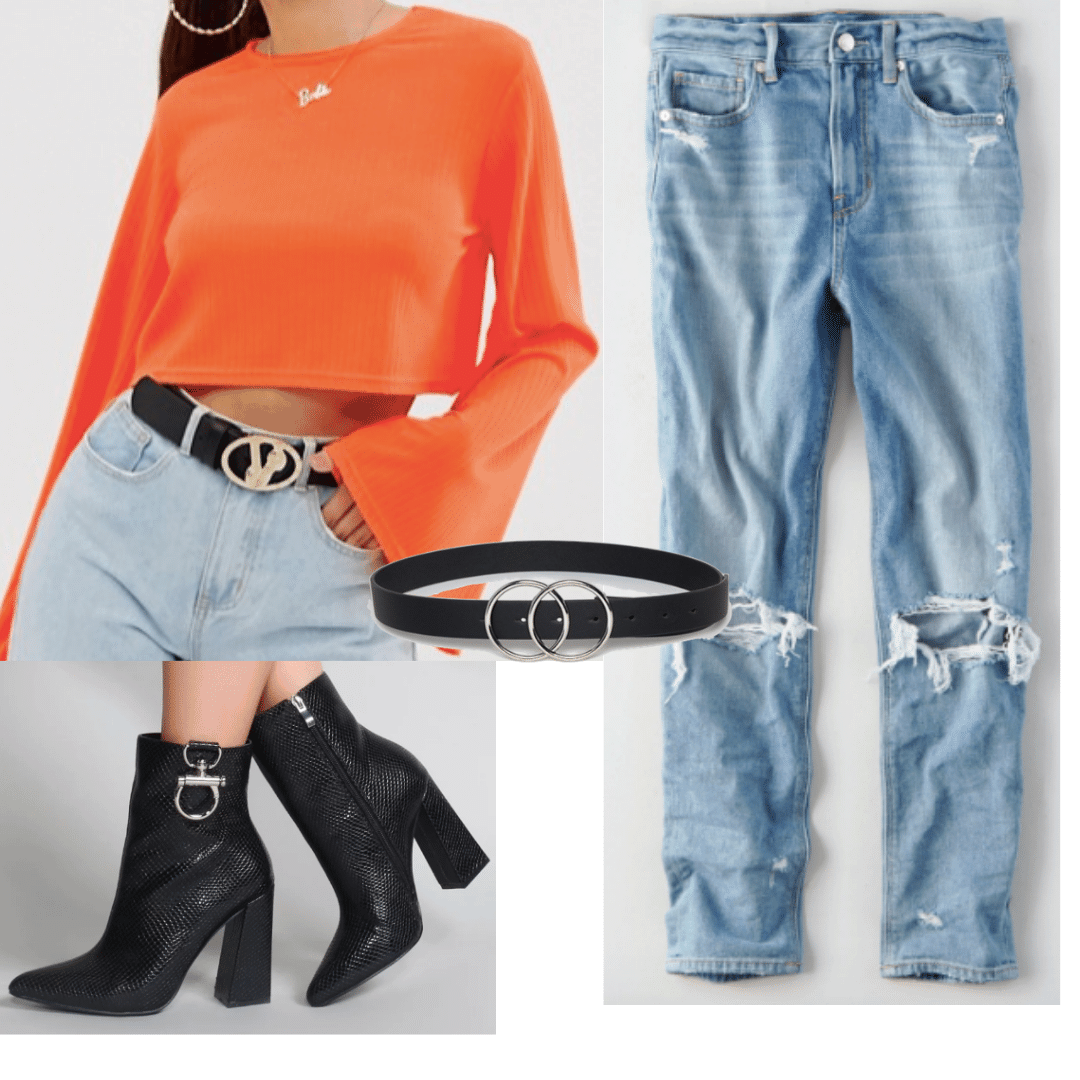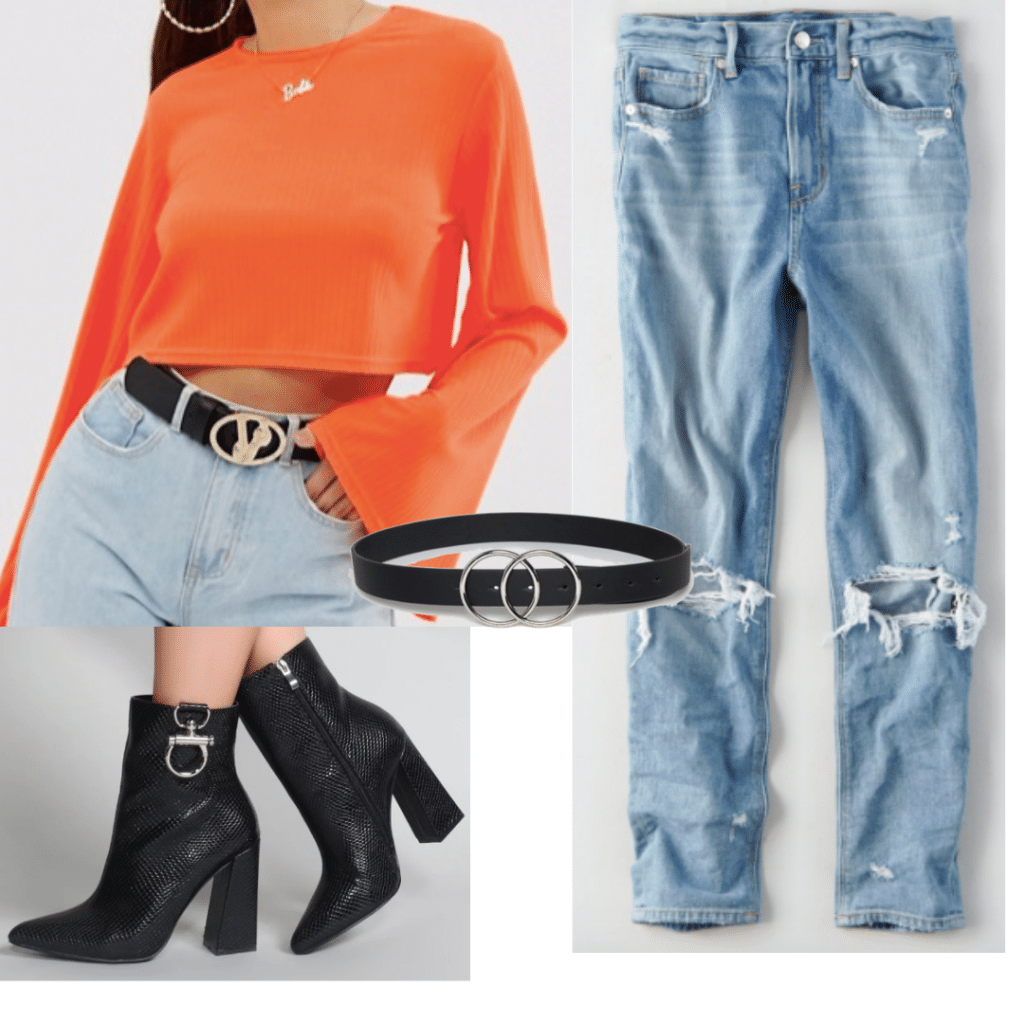 Products: Top – ASOS, Jeans – American Eagle, Booties – Public Desire, Belt – ASOS
Another one of my favorite neon colors is orange. Orange has been making a lot of appearances in outfits lately. So of course, I had to make an outfit with a neon orange piece of clothing.
For this neon outfit, I chose a bell sleeve orange crop-top. The sleeves give the top so much personality! To go along with the top, I picked out light-washed blue high-waisted jeans.
Then I added a black belt just so that the black booties could go along with the outfit. These black booties really dress up the outfit.
Neon Outfit 4: Industrially Chic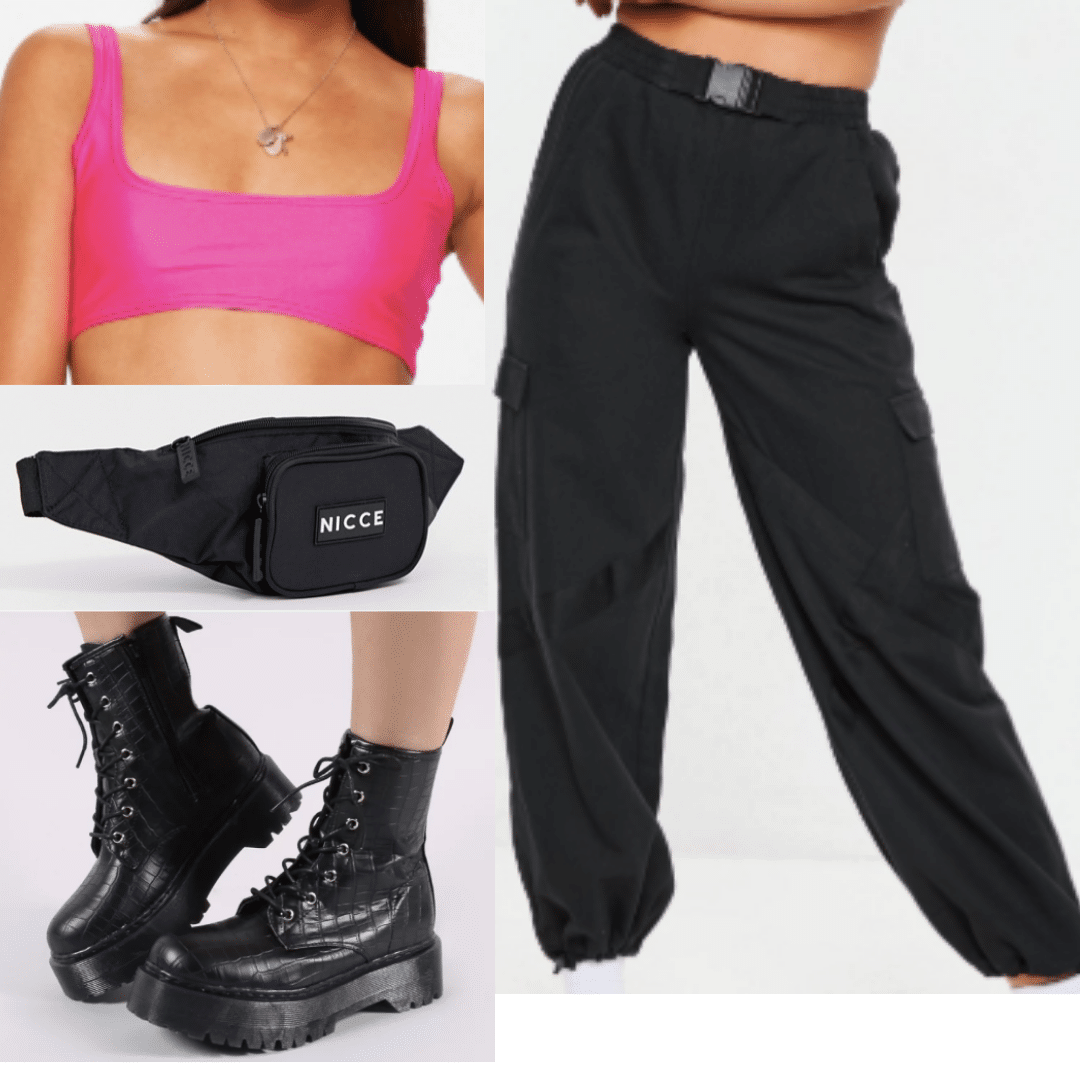 Products: Pink Bandeau – Missguided, Joggers – Missguided, Fanny Pack – ASOS, Boots – Public Desire
My favorite color is pink so naturally I am attracted to pink articles of clothing (see: my bandeau from years ago). As a more modern take on my favorite old piece, I LOVE this pink bandeau bra top. It is so simple, yet it adds color and character to the outfit.
I decided to use industrial styling for inspiration for this look. Since the bandeau is so bright, I paired it with all black pieces. This allows for the top to stand out. I picked out black joggers, a fanny pack, and platform booties.
All of these pieces have been super popular trends lately. Especially the fanny pack! Fanny packs are so convenient and can be worn in two different ways: around the waist or over one shoulder and around the torso.
More Neon Outfits for Inspiration:
The new neon trend is so fun, outgoing and adds so much character to an outfit. I hope that these outfit give you some inspiration on how to rock neon pieces in your next outfit.
For more inspiration, here are some of my favorite outfits from instagram:
Tell me what you think! Would you rock some neon pieces in your next outfit? Leave a comment below!