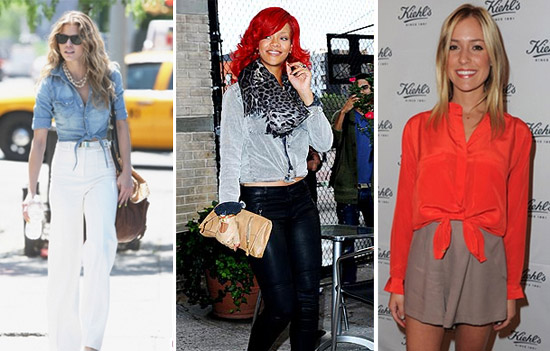 AnnaLynne McCord, Rihanna and Kristen Cavallari in knotted button-up shirts. Photo Credit: 1, 2, 3
The knotted button-up shirt has come back from the 1990s! Who else remembers tying their tee-shirts into itty bitty tops like Britney Spears? This time around, however celebrities are wearing this look in a more classic way, often paired with high-waisted jeans or shorts.
Personally, I think the celebrities that are rocking this trend look fantastic. This style seems very laid back but chic. Wearing a tied button-up instead of a tee shirt creates a put-together and chic summer look that can also be classy. In fact, you hardly see any skin in the looks above!
Despite the celebs looking fantastic, I'm not sure if this trend will catch on with the average college girl – many girls will probably see this look and have bad '90s flashbacks, while others may just be too scared to try it. However, if you're brave enough to test this look out, you'll score some major fashion points this season.
What do you think about knotted button-ups?
Would you wear this trend? Do you like the celebrity style looks above? What would you wear with a knotted button-up shirt? Leave a comment and let's chat about it.