AllSaints is a British label that was founded in 1994, and has become enormously popular all over the world for its cool-girl aesthetic. Celeb fans? Check. Elle wrote an article called "The A-list Wear AllSaints." No kidding.
AllSaints represents quintessentially British style, with its lived-in jeans and tees, neutral tones, and most famously, their leather biker jackets.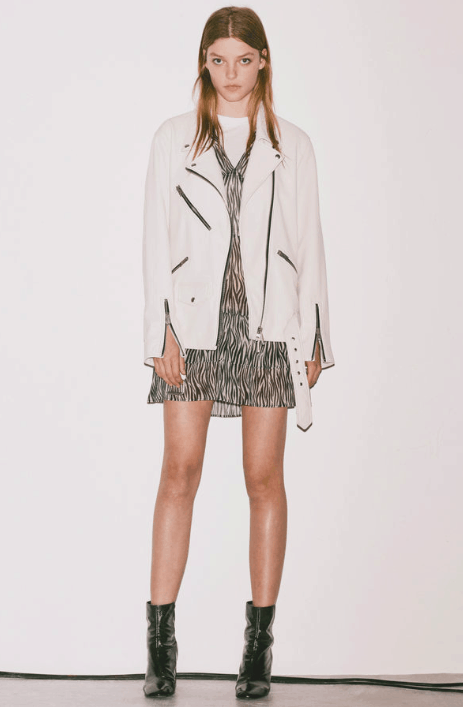 As college women with limited budgets, we're constantly on the lookout for new ways to wear old pieces. Enter AllSaints, your sartorial savior.
The outfits LOOK basic, but they rely on a few key pieces, that, styled right, look effortlessly cool no matter how many times you wear them.
Even though AllSaints' clothing is mostly pricey investment pieces, there's no reason you can't steal the look on a college budget. A word of warning though: with looks like these, where every piece really counts, it can be worth it to spend a bit more on staples like leather jackets and a well-fitting tee.
Now, let's get started!!
Step #1: Working with the Basics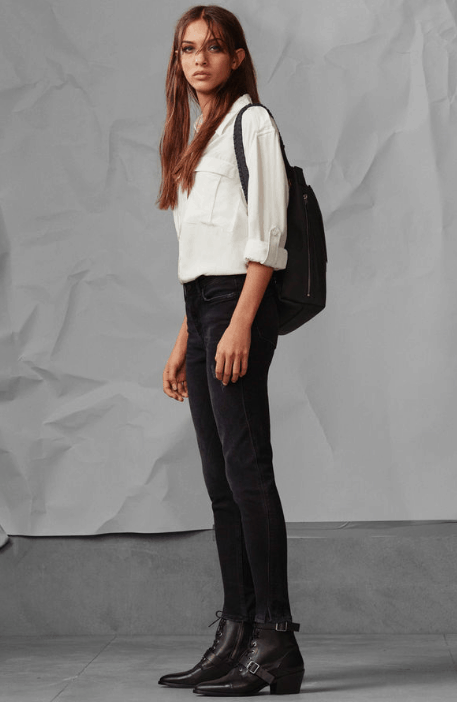 Unfussy, yet undeniably fashionable, jeans and a button-down in neutral tones are an easy way to dress up. The look is both crisp and young, without trying too hard. Or trying at all, really.
No wonder this combo is a favorite of models, designers and that cool girl you see around campus…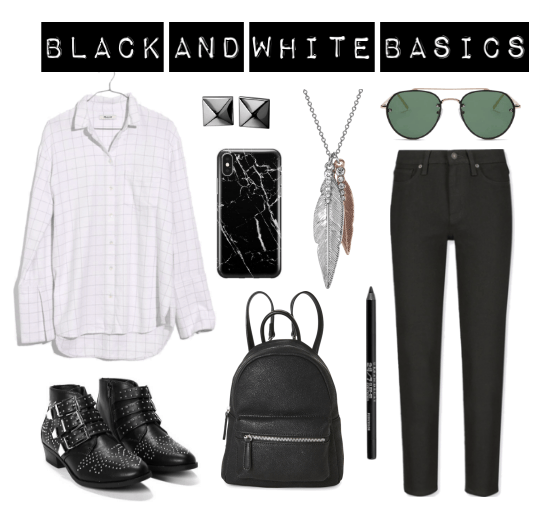 Products: Button-Down – Madewell, Boots – Nasty Gal, Stud Earrings – Waterford, Phone Case – Nordstrom, Leather Backpack – Century21, Pendant Necklace – Buckley London, Black Liner – Urban Decay, Sunglasses – Forever21, Black Jeans –Uniqlo
There's nothing more basic than a white shirt and black jeans. And when it comes to the basics, it's all about the details. How loose is the shirt? Is it tucked in? How tight are your jeans? How high-waisted are they?
A loose-fitting shirt tucked into higher-waisted skinny jeans is a tried-and-true combo.
To keep the look from becoming boring, all the accessories add eye-catching detail to the outfit. Black studded boots, a feather necklace, stud earrings and a marble phone case all add subtle accents to the outfit. A leather backpack and black liner add some edge without being overbearing.
Step #2: The Leather Jacket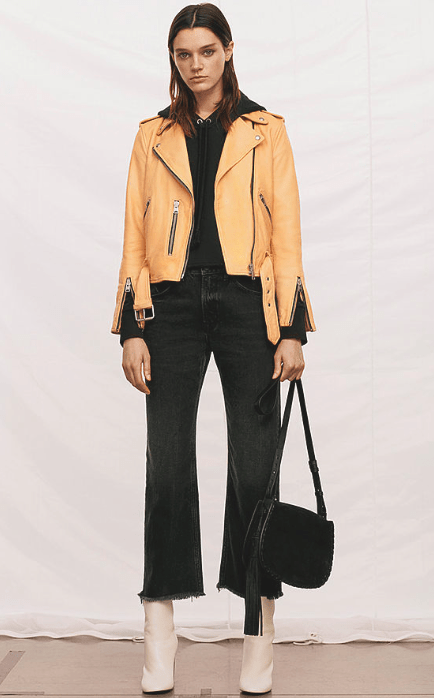 The leather jacket. It's timeless. Edgy. Irreplaceable. I doubt I need to explain why a leather jacket is essential to the it-girl wardrobe.
Not only does this piece pull every outfit together, it can be dressed up or down and adds a certain toughness to feminine pieces like skirts and dresses.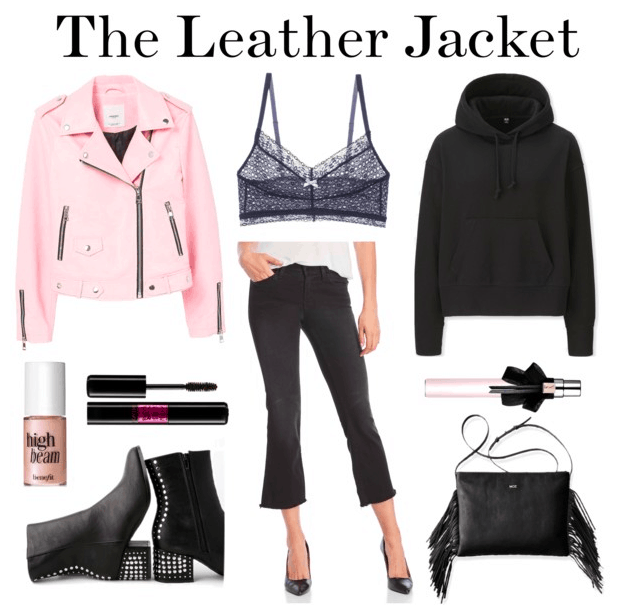 Products: Pink Leather Jacket – Mango, Highlighter – Macy's, Mascara – Lancôme, Studded Boots – Lulu's, Bralette – Orchard Mile, Cropped Jeans – Century 21, Hoodie – Uniqlo, Fragrance – Macy's, Bag – Mark and Graham
Here, AllSaints takes a classic and transforms it. If you're looking for a fashion challenge, try a pastel leather jacket. While it sounds hard to pull off, it's not risky when you're keeping the rest of your look monochrome.
Start with this pink moto jacket, and layer it over a black sweatshirt, with a cute bralette underneath.
These jeans are more of a fashion risk… But because we're keeping everything one color, it's not as scary as you'd think. I replaced the white boots with black ones because those are harder to pull off. AllSaints models stick with the basics when it comes to makeup: think big eyes and accentuated cheeks.
A fringe crossbody and glam fragrance complete the look.
Step #3: Make It Monochrome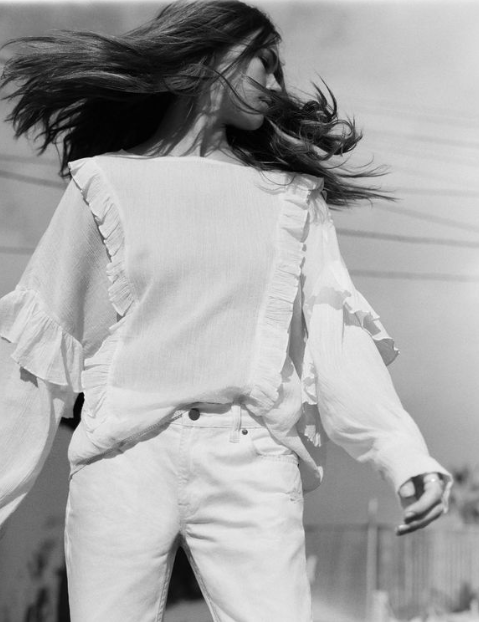 Monochrome is an AllSaints staple. Usually, if an outfit is all in one neutral, they mix fabrics and add distinctive details.
When people think monochrome, they usually think all-black. I'm gonna assume we all know how to pull that off. For a real challenge, try all-white (or in this case, all cream).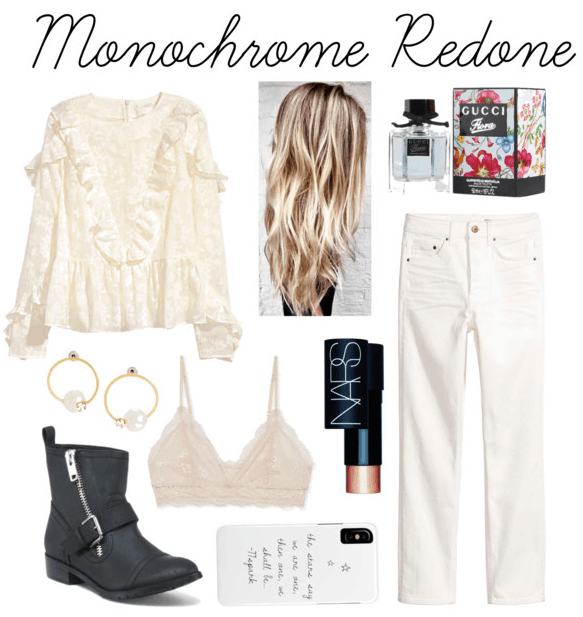 Products: Ruffle Blouse – H&M, Pearl Earrings – White House Black Market, Moto Boots – TJ Maxx, Lace Bralette – Aritzia, Phone Case – 77Spark, Highlighter – Bloomingdale's, Fragrance – Gucci, Jeans – H&M
To me, this look screams youth and freedom. The lace blouse isn't stuffy and the denim isn't too crisp. Again, it's all about the details. The ruffles are nicely contrasted with the tough boots. The bralette and white jeans are fashion-forward, but not bland.
Add meaningful accessories, namely a phone case with an inspiring quote and this modern take on pearl earrings.
For some youthful radiance, keep your hair loose, add a rosy glow and spritz on something floral!
What Do You Think?
Have you heard of AllSaints? Are you a fan? Would you wear any of these outfits?