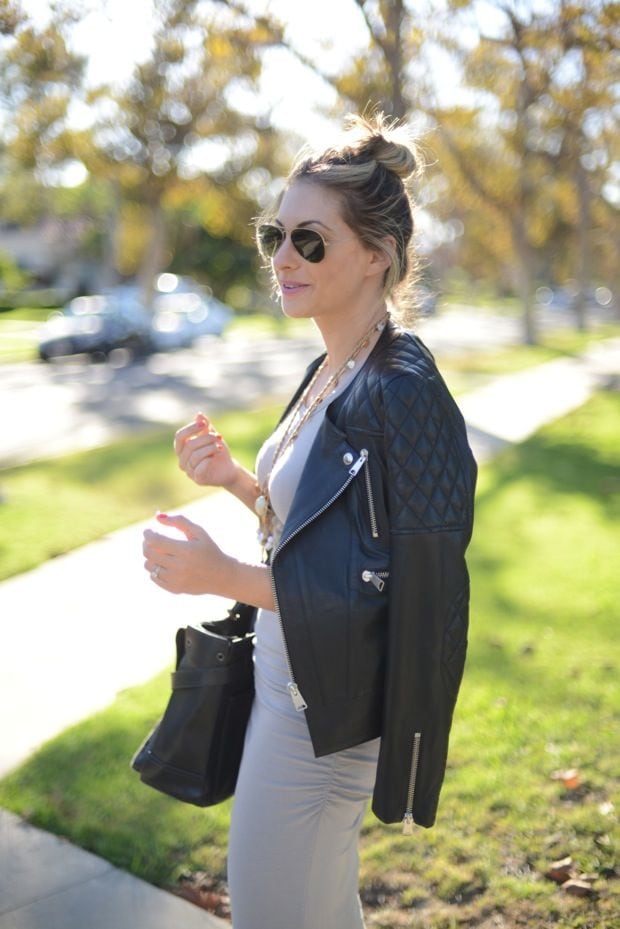 The leather jacket has had a long and diverse history, and has become a timeless piece that every woman should own. If you want to add one to your wardrobe – or learn a little more about this fashion classic, you've come to the right place.
Below, I'll share a quick history of the leather jacket, followed by outfit inspiration and some tips on buying the perfect one.
A Brief History of the Leather Jacket
The leather jacket's first iteration, as discussed by The Line, was a brown bomber style. Military aviators wore it as the sturdy, warm outer layer of their uniform. Soon after, the first motorcycle-style leather jacket was created for Harley Davidson.
The piece soon evolved from its utilitarian military and motorcycle roots to its place as a rebellious style staple. 1950s Hollywood rebels like James Dean and Marlon Brando highlighted its edginess. Clad in their leather jackets, Brando and Dean appealed to 1950s youth and terrified 1950s parents. Then, following the rebels of the past, 1970s and '80s punk rockers adopted the jacket for their own rebellion.
Today leather jackets have the same benefits as they did in the past. They are practical yet punk rock, worn by rockers and models and college women alike. They're the ticket to cool that keeps you warm. Although this fashion classic may intimidate, and may be intimidating to try, the leather jacket's varied history shows that it is more versatile than you may have previously thought.
2 Ways to Wear a Leather Jacket
Below, this classic fashion staple is styled in two different ways. This ASOS jacket is a little more expensive than your everyday piece, but it is still on the lower end for vegan-leather and leather jackets as a whole.
Ease In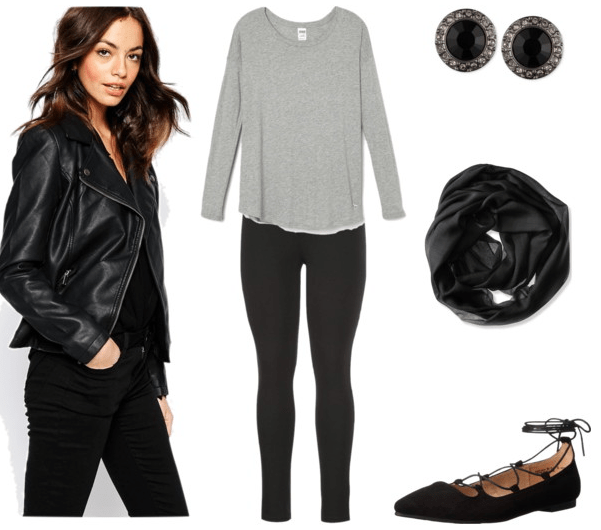 Products: Jacket, Shirt, Jeans, Earrings, Scarf, Shoes
Ease into the leather jacket by using it to elevate your go-to combo of jeans and a long-sleeved tee. Girly accessories balance the rough vibe of the jacket and a mostly black palette keeps the look cohesive.
Go For It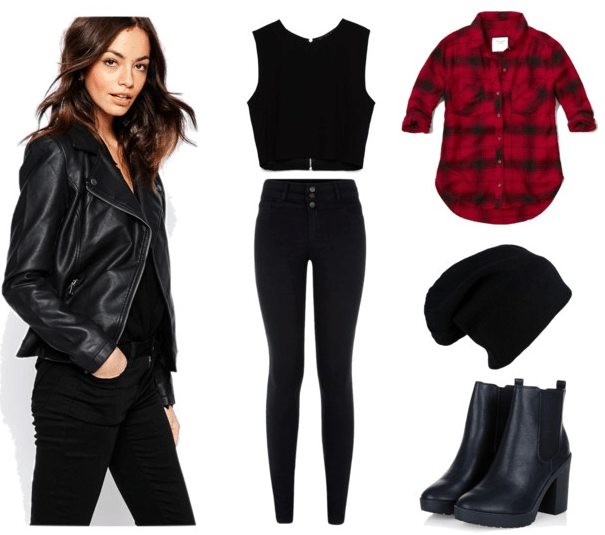 Products: Jacket, Crop Top, Jeans, Flannel, Beanie, Shoes
Go all out and embrace the rebellious spirit of the leather jacket. Add a pop of color to an all-black outfit with a flannel tied around your waist. Top it off with a grunge-y beanie and rocker booties for the ultimate modern rebel look.
3 Tips for Buying a Leather Jacket
Try different types of leather jackets and imagine how each will fit in your wardrobe. Leather jackets come in a ton of styles, colors, lengths, and fits. Some might like a tight-fitting, cropped, black motorcycle style while some may prefer an oversized brown bomber. Try to find a jacket that fits your style, not just the first one you try on that looks good, and you'll be more likely to wear it day-to-day.
Consider going vegan. If you are opposed to leather or are just looking for a cheaper option, consider vegan or faux leather. Be careful about ordering these online though; sometimes the faux material can look cheap and plastic-y.
Think about finding one secondhand. Leather jackets are extremely expensive investment pieces when purchased new. Getting an already worn-in jacket may even look better and will definitely save you money.
Tell us what you think!
How do you feel about leather jackets? Do you have any tips on how to wear them or what to consider when buying? Any classic fashion pieces you'd like to know more about? Leave a comment and let us know!