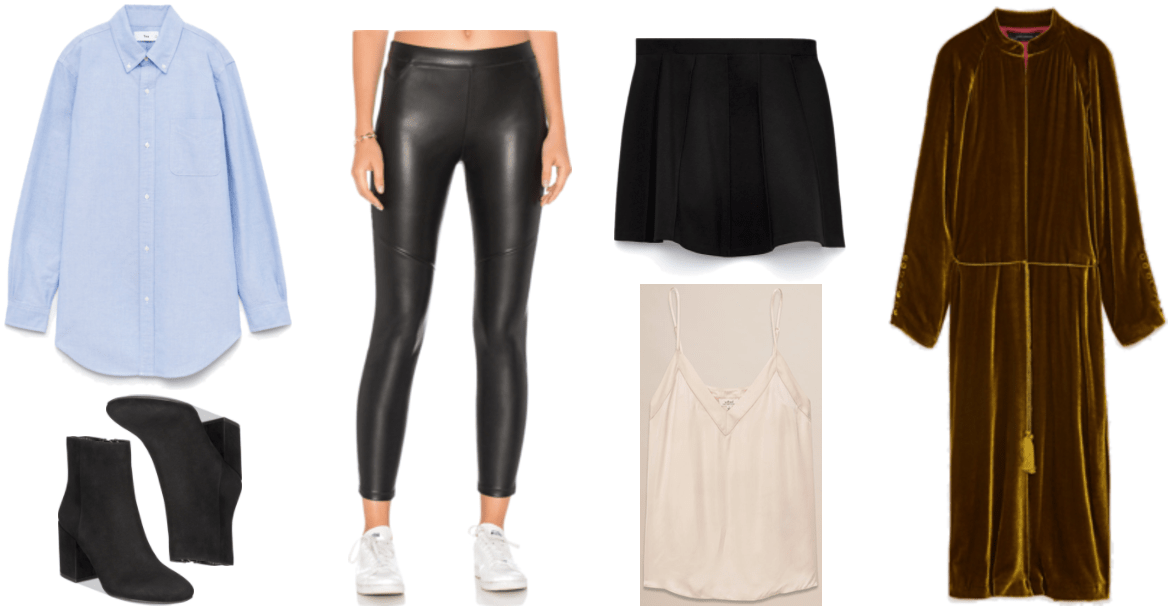 Welcome to the latest edition of Turn One Outfit Into Four! Every month, I'll show you how to create four outfits using the clothing from one original look.
Inspired by this article, this column will help you make the most of the clothes you already own, proving that you don't necessarily have to buy new things to look amazing!
In the fashion world, Fall is the season for fashion, and the fall 2017 season didn't fail to deliver! From lush fabrics such as velvet and (faux) fur, to flattering silhouettes such as midi skirts and cinched waists, designers really stepped it up with luxurious yet wearable pieces.
I was so inspired by all of the beautiful fall trends that I couldn't just choose one for this article; so, I decided to create a mash-up of a couple of my favorite trends — and paired them with some classic pieces that you probably already have in your closet.
(Note: These are only a few looks that you could create using the pieces I've provided; feel free to create your own combinations as well! Also, some of these pieces are a bit more expensive than what we normally feature on CF; however, due to their versatility and ease of wear, I believe that these items are definitely worth the price.)
Keep scrolling to get inspired by some of this season's chicest trends!
Outfit #1: Casual-Cool for Class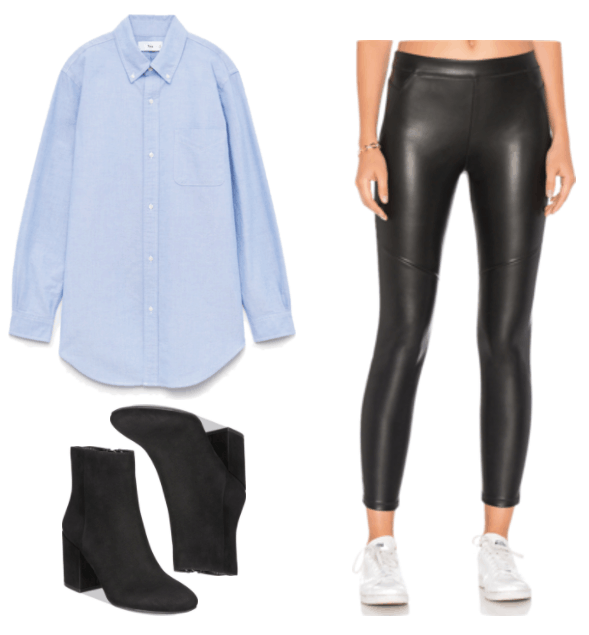 Looking to get out of your t-shirt-and-leggings rut, but don't have time to put in more effort? Try this easy upgrade!
Not only is this look incredibly simple to wear, it also looks like you spent a ton of time putting it together (even if it only took you five minutes!).
The pale blue button-down shirt featured here is the perfect length to wear with leggings, as its proportions are closer to those of a tunic than those of a standard shirt. Therefore, it'll keep you covered enough that you won't have to worry about exposing too much, if that's a concern for you. It is also short enough that it will allow you to show off your legs. It's a great happy medium.
Leather leggings have been around for a while now, but are still going strong for fall; I decided to feature this faux-leather pair because it adds a bit of edge to this otherwise-classic look.
Lastly, I've chosen to finish off the look with a pair of black ankle boots. At this point, ankle boots are a wardrobe staple for college girls, but I like this pair in particular for its block heel — which is especially trendy this season — and its mod-ish round toe.
Outfit #2: Day-to-Night Chic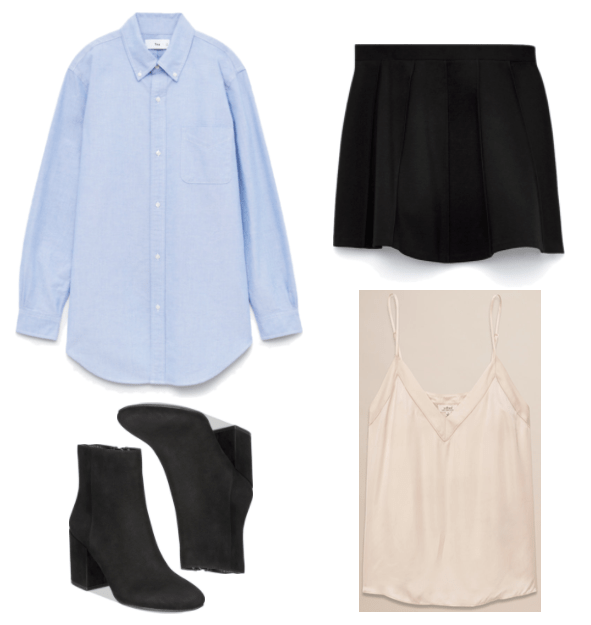 If you're looking for a quick and easy way to transition a black mini skirt and booties from day to night, consider wearing them with the button-down layered over a silky camisole for class, and then removing the button-down when it's time to go out.
For daytime, style this look by tucking in the camisole and shirt and leaving the first couple of shirt buttons open to show off the camisole's beautiful neckline detailing.
For night-time, ditch the shirt and untuck the camisole for a lovely feminine look. (Note: If it's too cold to go bare-legged at night, add the faux-leather leggings to the outfit.)
Outfit #3: Boho With an Edge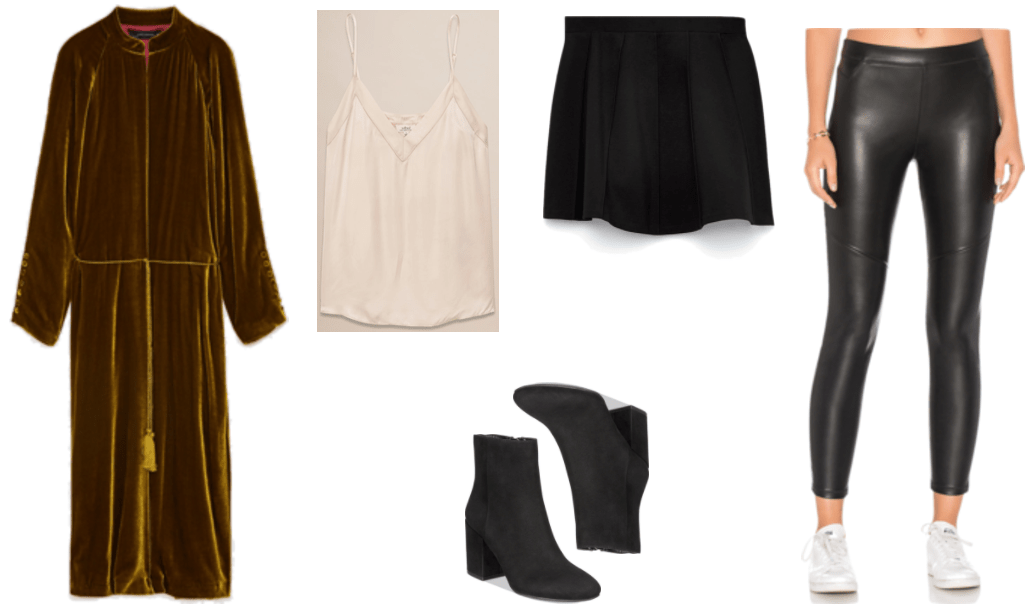 If your style is boho, a long kimono in a fashion-forward silk velvet is the perfect piece to introduce into your wardrobe.
Wear this amazing piece loosely tied over the silky camisole, black a-line mini skirt, and faux-leather leggings for an interesting boy-meets-girl aesthetic; it's also a great way to play with contrasting textures.
Finally, add the ankle boots, whose sleek silhouette and height-boosting heel will help to balance out the heaviness of the kimono.
This look can be worn to class if you're feeling bold, but would be an especially good pick if you have an artsy/creative event coming up, such as a visit to a contemporary art gallery or a live show by one of your favorite bands.
Outfit #4: Wear All The Things!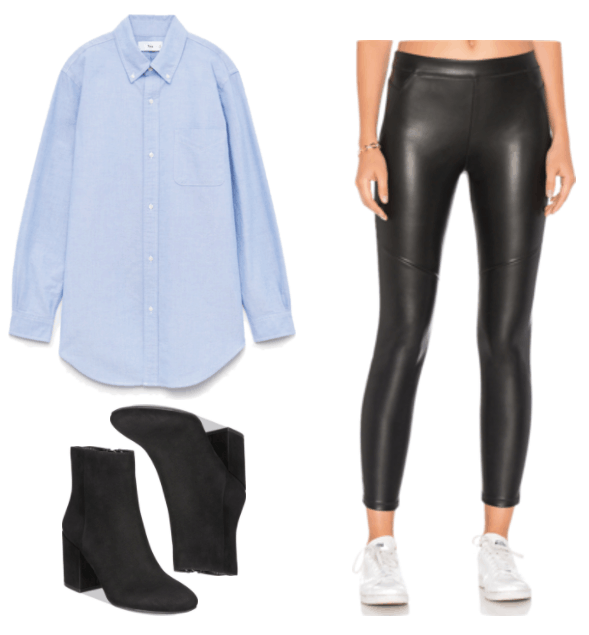 Products: Shirt – Aritzia, Ankle Boots – Macy's, Leggings – Revolve, Skirt – Aritzia, Camisole – Aritzia, Kimono – Zara
I'll be the first to admit that there's a lot going on with this look; from its luxe textures to its varied silhouettes, it definitely takes some confidence to pull off. But, as a fashion-forward CF reader, I'm sure you not only have what it takes to pull this look off, but to totally rock it!
Here's how to style this ensemble:
Begin by putting on the camisole and faux-leather leggings. Next, layer on the button-up shirt. Tuck the shirt and camisole into the black mini skirt like you did for Outfit #2 (Don't forget to leave the top buttons open to show off the camisole!). Top it all off with the kimono, which I would here leave untied to show off everything underneath. Finish off the look with the ankle boots.
You now have a cool, fashion-forward mash-up of trendy fall items that can be worn on a variety of different occasions, from class to a night out — even to a trendy brunch spot with friends on the weekend!
And there you have it; four luxe, stylish looks, all made from one outfit's worth of pieces!
Be sure to stay tuned for next month's installment of Turn One Outfit Into Four!
What do you think?
Do you like to create multiple looks using the same pieces? How would you style the pieces shown here? Which of the pieces used is your favorite?
Let me know in the comments!