This post may contain affiliate links, which means we may receive a commission if you purchase through our links. Please
read our full disclosure here
.
Continuing our series on Spring 2016 fashion trends (we've already covered Spring 2016 Athleisure Trends, Spring 2016 Swimwear, Spring 2016 Jewelry, Spring 2016 Colors, Spring 2016's Trendiest Necklines, and Spring 2016's Hottest Bags), today's topic is Spring 2016's trendiest shoe styles!
I am so excited for today's post because warm weather shoes are my favorite type of footwear to purchase and wear. Since I'm so excited for cute shoe season, I've compiled the five hottest shoe styles that we'll be seeing everywhere this spring/summer. Here they are:
1. Mules
The '70s fashion trend has been extended to shoes. Can you picture high-wasted flare jeans and a fringe bag with these babies? I sure can!
Mules are back this spring in a wide assortment of styles, designs, colors, and materials. I especially like the ones that look sophisticated, mixing the "old" and the "new." I'm planning to scoop up a pair like the ones on the right and wear them with skinny jeans or a sundress.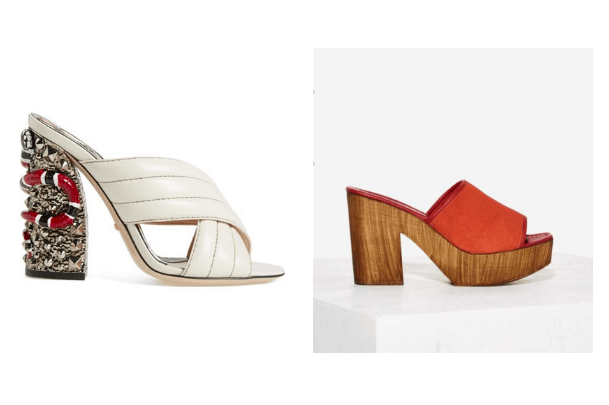 Products: White Mule, Orange Mule
2. Strappy
We've discussed the lace-up trend a lot here on CF lately, and as we mentioned in our latest flats post, it's been extended to footwear. This trend began last summer, lasted through the winter months, and is back and hotter than ever. Lace up shoes are both feminine and edgy, so they work for any personal aesthetic.
Products: Black Sandal, Taupe Sandal
3. Metallic
From innovative hardware to shapes we've never seen before, the message is clear, the future of footwear is now. Designers have added a futuristic twist to many of this season's styles with sleek shapes paired with metallic colors.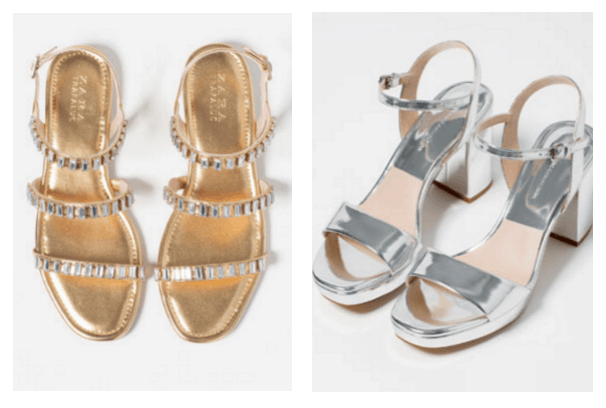 Products: Gold Sandals, Silver Sandals
4. Block Heel
One of the top shoe trends on the runways this season was the block heel. This look encompasses many heel shapes and heights, but square, mid-height heels like those below are slated to be most popular this year. The simple square heel adds the perfect touch to any shoe without sacrificing comfort.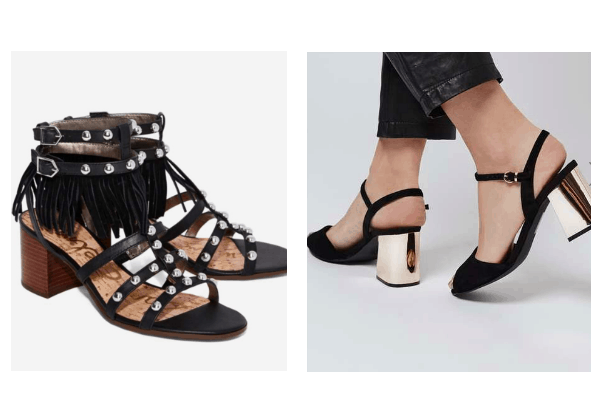 Products: Studded Sandal, Black Sandal
5. The Stylish Sneaker
With the Athleisure trend going strong, sneakers have become fashion staples. These are perfect for the transition from winter to spring. While all-white styles are trending everywhere, feel free to mix it up. I love the look of a colored, embroidered pair like those below. Also, feel free to pair them with all types of ensembles – everything goes with sneakers right now!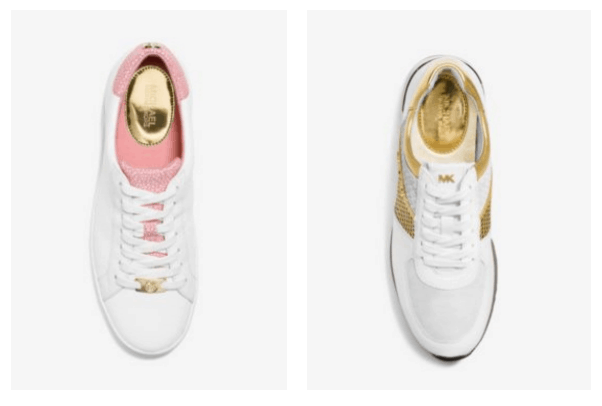 Products: Pink Sneaker, Gold Sneaker
Which Spring 2016 shoe trend is your favorite?
I'd love to hear your opinion about these spring 2016 shoe trends! Are there any that you're especially drawn to? My favorite is the "block heel" trend, as well as the metallic, futuristic look! What are your thoughts? Please leave your comments below! 🙂