This post may contain affiliate links, which means we may receive a commission if you purchase through our links. Please
read our full disclosure here
.
London in the 1960s was a fabulous time for fashion lovers everywhere. Besides newly emerging designer talents (Givenchy, Yves Saint Laurent, Emilio Pucci), a post-WWII consumerist economy, and an ever-changing cultural landscape, the decade brought with it a chic new look: style imported from the mod subculture.
'Mod'est Beginnings
Though we fashionistas tend to place the mod scene from the mid '60s up until the end of the decade, it's always interesting to note that the movement actually started way before that.
Modernists, or mods for short, roamed around the London music and fashion scene of the late 1950s. These working class young men, characterized by a shared love of modern jazz, custom-made suits, and Vespas, were classified as a mix between the intellectual beatniks and dapper Teddy Boys of their time.
By the 1960s, however, the movement had grown and evolved: women were now included in the mix and mod was regarded as a sort of general youth culture rather than a purely English subculture. What we regard as mod today, therefore, is the result of many years' hard work and edgy stylistic choices.
The Swinging Sixties
Undoubtedly, mod culture burned its brightest in the mid '60s. Trendy boutiques popped up everywhere, lending British (and later American) youth an ample source of clothing. Apart from this, inspiration was everywhere, from vibrant pop art paintings to crowded discotheques and live music.
And, of course, anyone who was anyone kept up with the dynamic fashion trends through Twiggy, the poster child (or teen) of the 1960s fashion scene. From her short, boyish hair to her signature doe eyes and waif-like figure, everything about this beauty icon screamed out mod. Exemplifying the popular style of the time, Twiggy wore boxy shift dresses and wowed the world with her heavy eyelashes.
For a better look at 1960s fashion, watch the video down below! All of the mod essentials elaborated upon later in the article are, naturally, present in Mary Quant's famous '67 fashion show.
More About Mod
If you want to learn more about the mod fashion movement, check out this article from the Victoria and Albert Museum. Marie Claire also has a great list of style icons and designers from the decade. Or, if you're primarily interested in Twiggy, here's an interview with her from V Magazine. Finally, we did a post on getting the mod hair and makeup look a few years back.
Before you click on these links, though, keep reading for directions on how to personally master the mod look in just five simple steps!
1. Invest in a geometric shift dress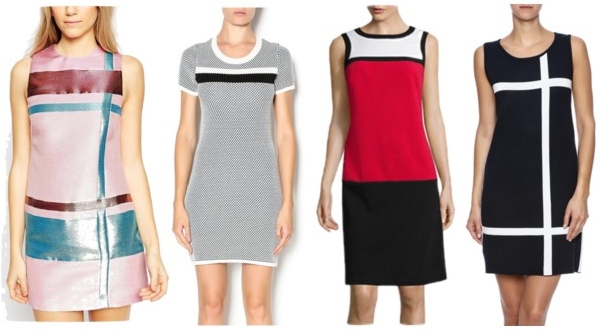 Products: One, Two, Three, Four
Because fashion innovators of the '60s were trying to do the exact opposite of whatever the '50s had done, London bore witness to an extreme shift in wardrobe: trends evolved from muted, soft tones and hourglass figures to geometric shapes and boxy silhouettes.
Today, you can bring the trend back by wearing a geometric shift dress to work or school! Use bold colors and far-out designs to effectively stand out from the crowd.
2. Bring out the Peter Pan collar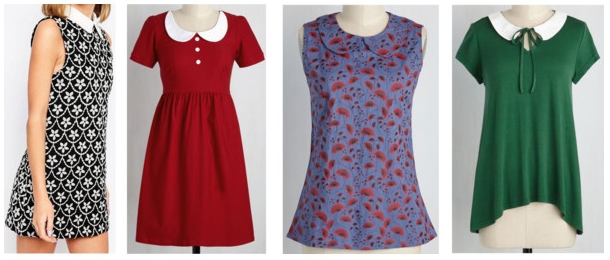 Products: One, Two, Three, Four
To combat the more androgynous looks of the sixties (think bobs and un-cinched waists), the Peter Pan collar allowed London chicks the chance to showcase their femininity and schoolgirl status.
The great thing about this collar type is how versatile it is: you can wear it with literally any top you want! You're only limited by the power of your imagination and your DIY skills.
3. Slip on an A-line mini skirt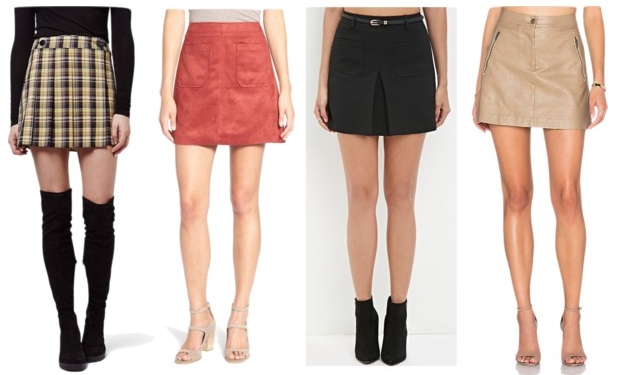 Products: One, Two, Three, Four
You can't talk about '60s fashion and not utter the name Mary Quant. After all, this London fashion designer absolutely revolutionized the industry with her popularization of—yup, you guessed it—the mini skirt.
While mini skirts aren't as shocking as they were back when they were first introduced in the '60s, wear them now with a plain T-shirt or crop top for a fun, flirty look.
4. Bust out the knee-high footwear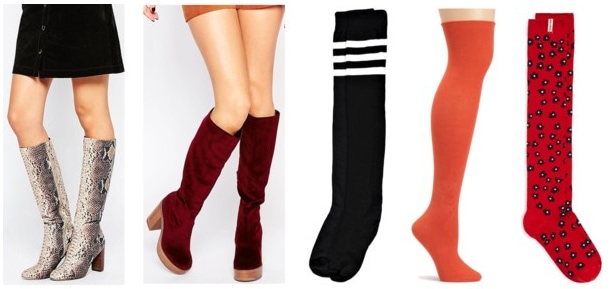 Products: One, Two, Three, Four, Five
With the arrival of the tightly-fitting mini skirt came the accompanying footwear: knee-high boots or socks. Distinctly mod, the pairing created a look that was pure rock star status.
Nowadays, you can wear long and tall footwear with nearly everything! I suggest pairing knee-high boots with skinny jeans for those cold winter months to get the best usage out of them, though.
5. Pile on some swingin' accessories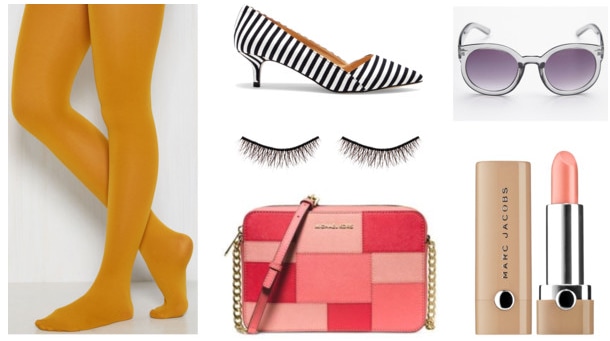 Products: Tights, Shoes, False Eyelashes, Purse, Sunglasses, Gel Lipstick
Every London girl in the sixties wanted Twiggy's spectacular lashes and they sure got them—with falsies, of course. Other trends relating to the mod look were vivid colors, neutral makeup, round sunglasses, and kitten heels.
Embrace your natural face by going minimal with the makeup and highlighting your eyes with bold lashes. Finish up your mod ensemble with cute sunglasses and bright accessories.
Well, are you mad for mod yet?
What's your favorite mod piece and why? Are you a fan of Twiggy, supreme '60s style icon? Don't be shy: let us know in the comments section!