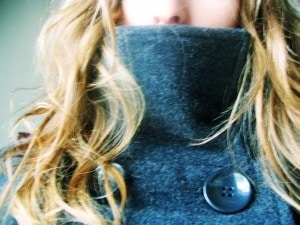 Photo by lay_d_lay
Coats and jackets aren't just for keeping warm – in fashion, they're one of the easiest ways to show off your style in the colder months.
This fall, there are many trends when it comes to jackets, coats, and outerwear. I've broken them down into the top ten most popular and most stylish.
If you're currently looking for the perfect coat, or just want to know what the current outerwear trends are, keep reading to find out what to look for in a jacket or coat this winter.
1. Plaid Jackets
Plaid is the number one trend in outerwear for the second year in a row, not to mention a hot trend for fall in general.
There are so many styles of plaid jackets to choose from, so if you love the preppy print, it's easy to find a shape that works for you. Different colors and styles of plaids also make things more interesting – from purple to classic red and everything in between! When you're shopping, make sure to find a shade that goes with most of you wardrobe.
Here are some cute plaid jackets, all under one hundred dollars: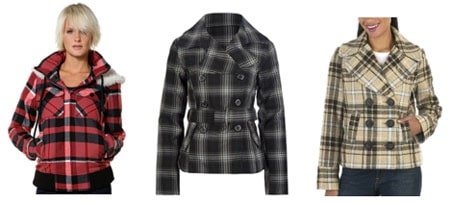 From Left:Merona Peacoat – Sand Plaid ($49.99), Hurley Bradford Jacket ($88), ASHLEY Plaid Womens Trench ($39.99)
2. High Collar Coats
Keep your neck warm and your style sizzling with a jacket that has an ultra-high collar.
Coats with high collars are not only chic, they're also practical. If you live in an area where it's really cold and there's lots of wind, a high collar will be a lifesaver. You don't even need to wear a scarf with these coats.
Here are some of my favorite high-collar coats from around the web: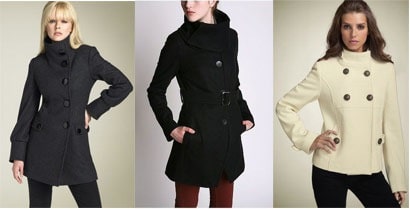 From Left:Guess by Marciano Drop Waist Coat ($128), Steve Madden Swing Coat ($148), BDG Cambridge Coat ($158)
3. Faux Leather Jackets
In my animal-loving opinion, real leather jackets aren't nearly as amazing as faux, and what's even better: faux leather is WAY easier on your wallet. Plus, faux leather moto jackets are one of the popular jacket trends for fall 2008. What's not to love?
If you must have the real thing, there are tons of real leather jackets around. But I encourage you – save some money and some animals by going faux! Every little bit counts.
Channel your inner badass rocker chick with one of these cute and affordable faux leather jackets: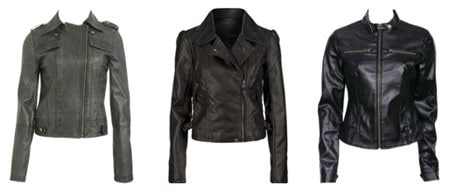 From Left:Faux Leather Moto Jacket ($39.50), Full Tilt Moss Moto Women's Jacket ($34.99), Motorcycle Jacket ($34.99)
4. Classic Trench Coats
This is one coat that will always be in style. That makes it a fabulous "investment piece", an item in your wardrobe that you can wear over and over without worrying whether it's in.
Trench coats are just as great in rural areas as they are for the city. They really do work with almost everything, everywhere. Go classic with a trench in a neutral tone or black, or take a chance and pick one up in a bright red. The choice is yours!
Some cute trench coats I thought were fabulous: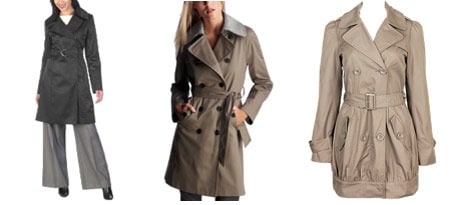 From Left:Mossimo Black Satin Trench – Ebony ($39.99), GAP Classic Trench ($119.99), Guinevere Trench Coat ($32.99)
5. Sailor-Inspired Navy Jackets
The sailor-inspired trend is a really cute idea. If navy is one of your best colors, it's definitely a jacket you need to try!
To go with the nautical theme, look for jackets in navy blue, preferably in a pea coat shape, with lots of gold, silver, or brass buttons.
Some cute & affordable examples: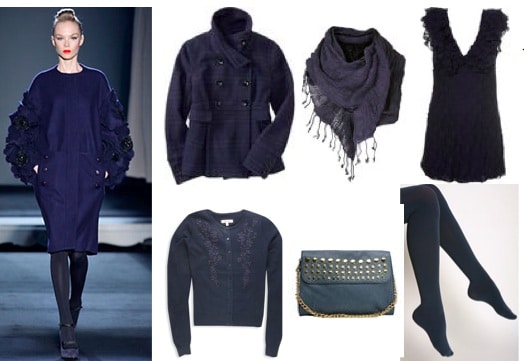 From Left:Seona Blazer ($78.00), BDG Sgt. Pepper Jacket ($49.99), Devin Cuffed Peacoat ($69.50)
6. Coats with Ruffles, Bows & Girly Details
Another big trend this season is ultra-feminine details. From lines of ruffles to strategically-placed bows, your basic wool jacket got a serious upgrade this season.
If you want to find a great coat with feminine details, be warned that you might need to spend a little more money. While lots of designers are making coats like this, it hasn't caught on as a trend in regular cheap stores. Here's hoping they'll make some knockoffs soon 😉
Some girly jackets for under $200: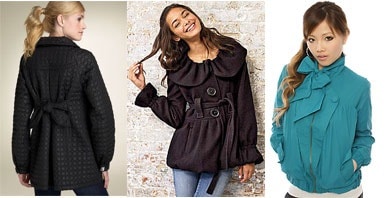 From Left:Betsey Johnson Quilt A-Line Coat ($198), Belted Bubble Coat ($63.60), The Outsiders Jacket ($102.95)
7. Classic Pea Coats
This one is another example of an "investment piece" – it'll always be in style, and goes with most everything.
If you don't have a pea coat in your wardrobe, you should consider picking one up. They really are one of the most classically chic pieces you can have. A pea coat will go from your 9 AM math class to your 9 PM date without missing a beat – and it'll keep you nice and warm in the process.
Here are some pea coats I would definitely rock: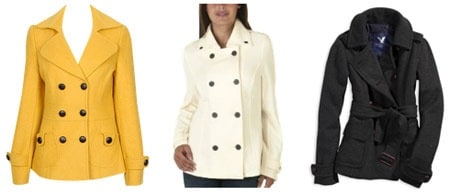 From Left:Forever 21 Classic Pea Coat ($49.80), Merona Peacoat – Cream ($27.99), AE Belted Peacoat ($119.50)
8. Swing Jackets
A trendy style that's fun, unique, and very chic. Swing jackets are a cross between a normal jacket and a capelet, with extra volume and an often cropped shape.
I recommend wearing a swing coat if you want to look more sophisticated than usual, or if you have thin legs and love to wear skinny or straight-leg jeans. These coats look best on those who carry their weight on their top halfs, because the coat "swings" away from the body.
Here are some fabulous swing jackets for under $100: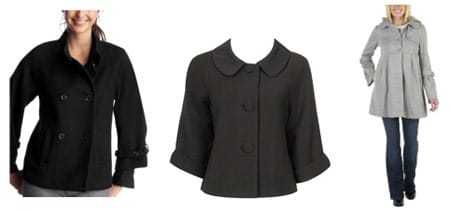 From Left:GAP Swing Coat – Charcoal ($57.99), Classic Elegance Jacket ($32.80), Xhilaration French Terry Bubble Jacket – Grey ($39.99)
9. Military Inspired Coats
The fall '08 runways were covered in military-inspired clothing. For example, Gucci's entire fall line was inspired in part by the Russian army! That's a pretty big deal.
One of the best ways to wear the military trend is with a tough yet sophisticated army-style jacket. This doesn't mean army-green or camo print, by the way! I love these jackets in black and grey.
Here are some cute military-style jackets for under $100: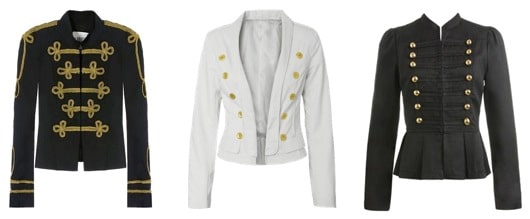 From Left:Military Outer Coat ($42.80), Mini Military Trench Coat ($39.50), AE Military Jacket ($59.95)
10. Cocoon Coats
Cinched waists may be in for your everyday wear, but forget about 'em on your outerwear if you go with this trend. Basically, cocoon coats are big, voluminous, cozy, and a hot trend for fall 2008.
When you wear a cocoon coat, be careful to wear tight-fitting clothes on your bottom half. With so much volume up top, you risk making yourself look bigger if you wear something baggy on the bottom too.
Also, cocoon coats are easier to find at high price points than low – I haven't seen many of these as designer knockoffs. You might need to pay a little more to get in on this trend.
The cocoon coats below are the cheapest options I could find:
From Left:Free People Hooded Zip Anorak ($71), Banana Republic Cocoon Coat ($250), The Remix Hooded Jacket ($112.00)
Your Thoughts?
What do you think of the top 10 jackets for fall? Do you agree with my list, or are you obsessed with a different type of jacket? Would you wear any of the coats I featured?
Let me know your thoughts and discuss in the comments!