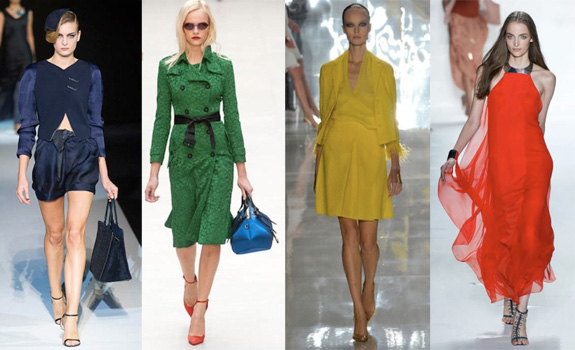 Spring 2013 is finally in full swing and this spring, fashion is all about bright and vibrant colors. Dressing up in spring's exciting hues is a perfect way to ring in the season after the ho-hum and drab of a long and cold winter. But with all of these great color choices available, picking just one favorite is not enough.
Instead, use our personality quiz to match your mood to a Spring 2013 color to get a daily dose of fashion inspiration for your morning dressing routine.
Not sure which hue is right for you today? Just take this quiz below to find out which Spring 2013 color you should try today! Once you get your answer, find your letter and corresponding result below for a sample outfit based on your personality type.
Quiz: Which Spring 2013 Color Should You Try Today?
Quiz Results – No peeking!
Below are the results of the quiz. Don't look if you haven't taken it yet! I've created one outfit for each result to help give you some ideas for what to wear. Enjoy!
Mostly A's: Deep Blue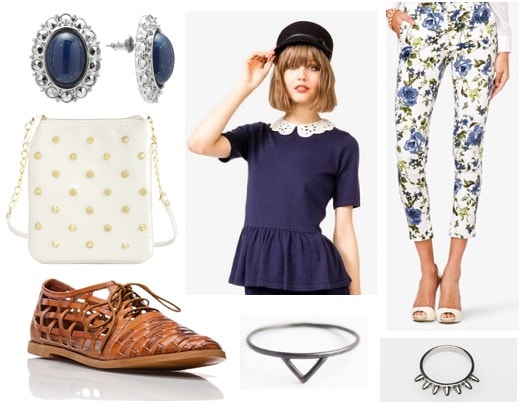 Product Information: Earrings, Top, Pants, Spike Ring, Triangle Ring, Shoes, Bag
This deep blue color is a little bit moody, but still classic and sophisticated. To play off of these traits, I created a prim and proper look by combining a lace-collared peplum top with floral trousers. Next, I added some simple jewelry like these silver rings and vintage-inspired post earrings. To tie the look together, I finished it with some cut-out brogues that add a slight masculine touch to this otherwise-feminine ensemble.
Mostly B's: Emerald Green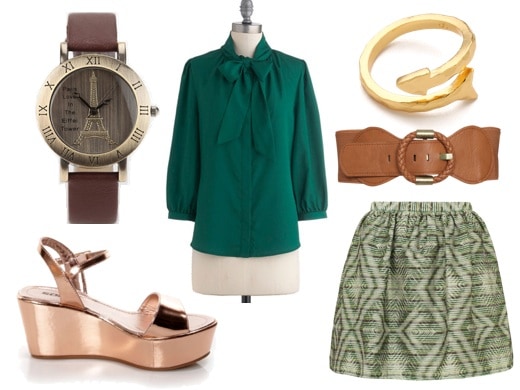 Product Information: Watch, Top, Ring, Belt, Skirt, Shoes
Emerald is a jewel tone that conjures feelings of sophistication and strength, yet as a cool tone, it also evokes tranquility and stability. To channel these feelings into an outfit, try an emerald top tucked into a printed skirt that combines varying shades of green. Cinch your waist with a wide belt to anchor the look. Add on a simple gold ring, a Parisian-themed watch, and metallic sandals to create a one-of-a-kind ensemble.
Mostly C's: Lemon Yellow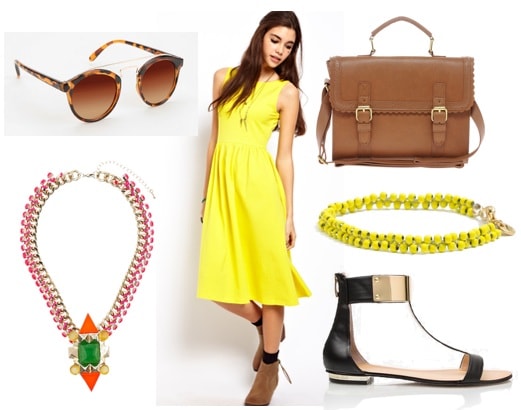 Product Information: Sunglasses, Dress, Bag, Bracelet, Shoes, Necklace
Lemon yellow is vibrant and fun, which is just how you're feeling today. Since you'll want your outfit to go along with your energetic spirit, slip into this brightly-hued midi dress. Next, add on a jeweled statement necklace that is just as fun and vibrant as the frock. Black and gold sandals are both comfy and stylish for your busy day, while classic tortoiseshell sunnies in a trendy shape complete the look.
Mostly D's: Poppy Red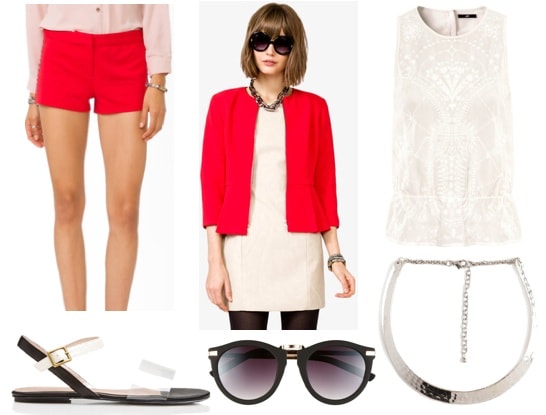 Product Information: Shorts, Jacket, Top, Necklace, Sunglasses, Sandals
Poppy red is the perfect bold color to complement a confident and empowered mood. In this look, I wanted the statement color – a beautiful poppy red – to be the focus, so I created a head-to-toe red look using a short suit. (These are actually separates, so if you can't find an actual suit, find shorts and a jacket in the same color and fabric like I did here.) Next, choose a simple white top to wear underneath the jacket so that it doesn't detract from the bold red. For the finishing touches, layer on a silver collar necklace, grab a pair of black sunnies, and slip into some understated black sandals.
What do you think?
Which Spring 2013 color is your favorite? Does your result match you mood for the day? Do you have a favorite outfit? Which one is it? Please let us know what you think by leaving a comment below!