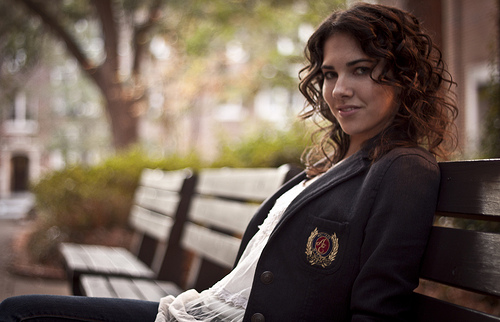 It's almost August, which means many of us will be heading back to school before we know it. Even though the thought of a new semester with new professors and midterms galore may sound frightening, there's one thing that every college fashionista can get excited about: back-to school-shopping!
After a summer of working and saving up, my money is burning a hole in my pocket, and I'm ready to buy some fall fashion! If you need some ideas for staying trendy while back-to-school shopping, take the quiz below to find out which Fall 2014 runway style you should rock on campus:
Quiz Results!
Below are the results to the quiz. If you haven't taken it yet, then don't peek! I've created an outfit inspired by each Fall 2014 trend. Scroll down to check them out:
Bright Mixed Colors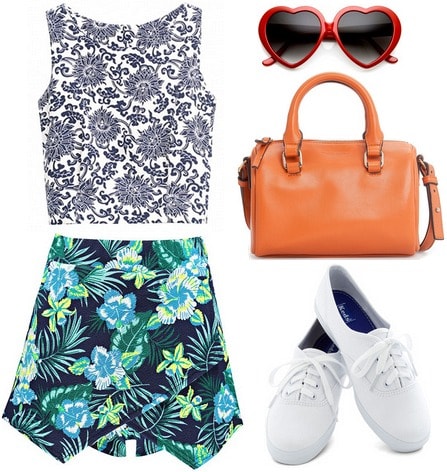 Product Information: Skort, Tank, Sunglasses, Purse, Shoes
This outfit is a perfect summer-to-fall transitional look. The bright colors are super young and fun, plus the orange handbag is stylish pick that can be carried throughout fall.
When mixing bright colors together, feel free tone it up or down as much as you'd like. Here, we mixed prints for an extra bold look, but you could also pair the skort with a solid-colored top or vice versa. After all, fashion is about making each trend your own!
Normcore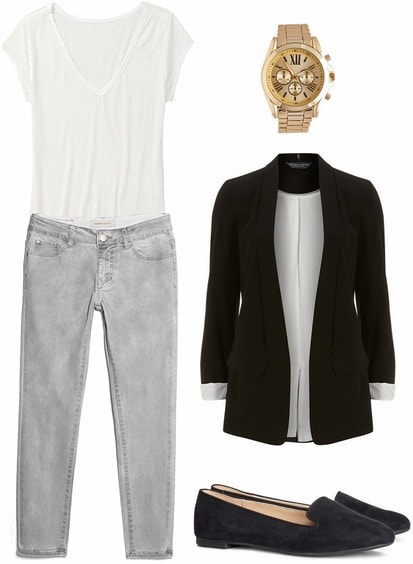 Product Information: Crop Pants, Blazer, Loafers, Watch, V-Neck
If normcore sounds like a made-up word, that's because kind of is! A combination of "normal" and "hardcore", the premise behind this trend is to blend in so much that you stand out. It's essentially really intense casual wear.
Personally, this outfit is my favorite because it's super versatile. Whether you're meeting with your study group or are headed to class, polished jeans and a structured blazer are appropriate for almost anything and can be dressed up or down depending on the occasion.
Cardigan Craze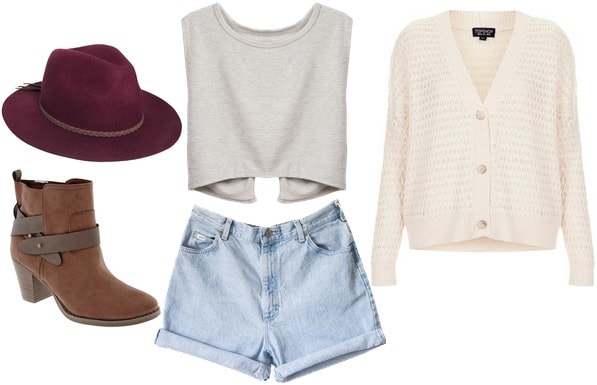 Product Information: Shorts, Crop Top, Sweater, Boots, Hat
Cozy knits were all over the fall runways. Oversized, head-to-toe, colored and neutral – it was all there! This is another incredibly wearable trend since almost everyone has a trusty cardigan (or five) somewhere in their closet.
This look is ideal for a cold classroom or a late night library study session. Another way to up the high fashion factor? Pair it with sweater tights once the weather gets cooler to really emphasize the knit aspects of the outfit.
Sheer Brilliance
Product Information: Shorts, Top, Cuff, Bag, Shoes, Bralette
Sheer pieces have been spotted in stores for a while now, but really blew up on runway this season. When worn tastefully and in toned-down colors, you can create a look that is sophisticated and collected.
If you're looking for sheer clothes in stores, make sure everything that needs coverage gets coverage; if the bralette above is a bit risqué for your taste, a cami would look equally as cute underneath the lace top! Also, don't over-do it with too many accessories. In this case, a sleek tote and gold cuff are all you need for a romantic and stylish ensemble.
What do you think?
What's on your back-to-school shopping list? Would you wear any of these outfits? Which is your favorite? Let us know what you think in the comments below!