This post may contain affiliate links, which means we may receive a commission if you purchase through our links. Please
read our full disclosure here
.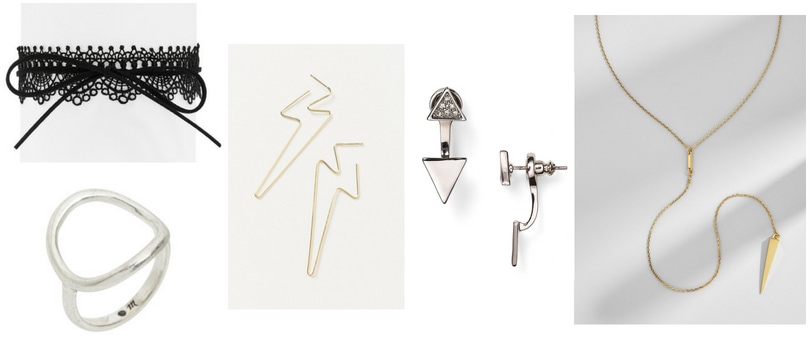 We all know that accessories can make (or break) an outfit and this fall, the most popular jewelry trend packs a distinct punch. Edgy jewelry is going to be huge this season and these gritty-yet-glam pieces are sure to toughen up any outfit.
If you aren't sure how to rock this trend or want to check out some examples of edgy jewelry, we've got you covered on both counts. Read on to check out our tips and tricks on rocking edgy jewelry as well as a round-up of the best edgy and budget-friendly necklaces, bracelets, rings and earrings in stores right now. Simply scroll on down to check 'em out:
4 Tips & Tricks for Rocking this Trend:
Edgy jewelry is all about the three S's — studs, spikes and skulls. Pick a piece with one or more of those elements and you'll be good to go!
When wearing this trend, it's best to stick to wearing one edgy piece at a time — anything else could look a bit costume-y. Of course you can pair edgy jewelry with more delicate pieces, as long as they don't compete with one another. For example, we love the way a spiked statement necklace looks when paired with simple stud earrings.
Speaking of competing, make sure your outfit doesn't overpower the jewelry, either. Edgy jewelry makes a statement and should be the focal point of your look, so when it comes to clothing, stick with simple silhouettes and avoid lots of embellishments.
Whether you pair it with an LBD or jeans and a tee, edgy jewelry works well with a variety of styles. However, we love the idea of creating contrast with the rocker-chic accessories by paring them with softer, more feminine pieces. Pairing a skull necklace with a pretty floral dress? Per. fection.
35+ of Our Fave Under $50 Picks for Fall
Necklaces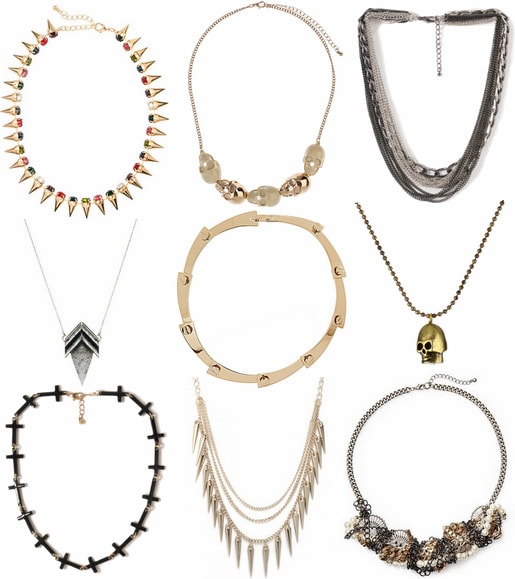 Product Info: Signature Spike Necklace- ASOS, Multi Skull Necklace- Topshop, Chunky Chain Link Necklace- Forever 21, Just Acces Flakon Necklace- ASOS, Metal Linked Bolt Necklace- Topshop, Skull Pendant Necklace- Endless, Cross Charm Necklace- Forever 21, Matte Gold Spike Strand- BaubleBar, Knotted Chain Necklace- Piperlime
Rings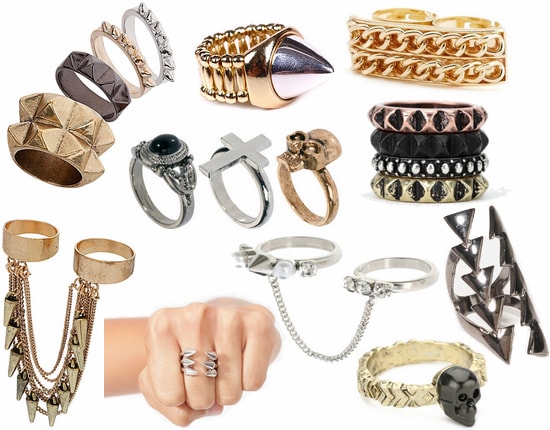 Product Info: Variety Spike Ring Set- Topshop, Bullet Ring- Edge of Urge, Double-Finger Gold Chain Ring- Charlotte Russe, Mixed Metal Ring Set- ASOS, Macau Studded Rings- Urban Outfitters, Spiked Chain Double Ring- Topshop, Triple Spike Rings- Nasty Gal, Linked Finger Ring- ASOS, Engraved Skull Ring- House of Harlow 1960, Triangle Knuckle Ring- Forever 21
Earrings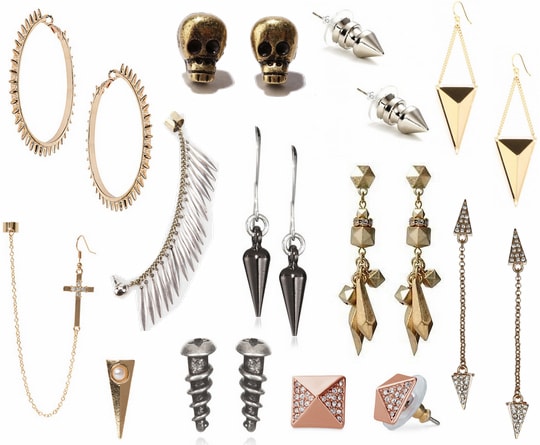 Product Info: Spiky Hoop Earrings- Topshop, Day of the Dead Skull Posts- Urban Outfitters, Silver Bullet Studs- BaubleBar, Gold Spike Drops- BaubleBar, Crosby Cuff Earring- Urban Outfitters, Gunmetal Drop Earrings- Endless, Pyramid, Cube and Spike Earrings- Piperlime, Cross Ear Cuff & Pearl Spike Earrings- ASOS, Silver Screw Studs- Charm & Chain, Rose Gold Pyramid Studs- Stella & Dot, Rhinestone Arrow Drop Earrings- Topshop
Bracelets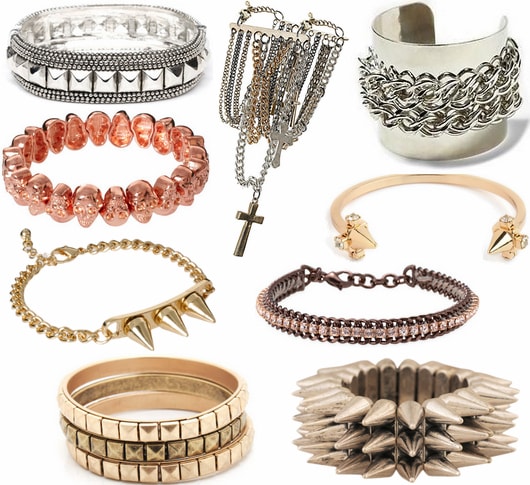 Product Info: Silver Stud Bangle- BaubleBar, Multi Chain Cross Bracelet- Topshop, Chain Statement Cuff- Piperlime, Skull Stretch Bracelet- ASOS, Double Cone Cuff- BaubleBar, Triple Spike Bracelet- ASOS, Cupchain Bracelet- Stella & Dot, Pyramid Studded Bangle Trio- Go Jane, Spiked Stretchy Bracelet- Forever 21
What do you think?
Would you wear edgy jewelry or is this a trend you'll be skipping? What's your favorite kind of jewelry? Would you buy any of these pieces? Which one is your favorite? As always, remember to leave a comment below and let us know what you think!