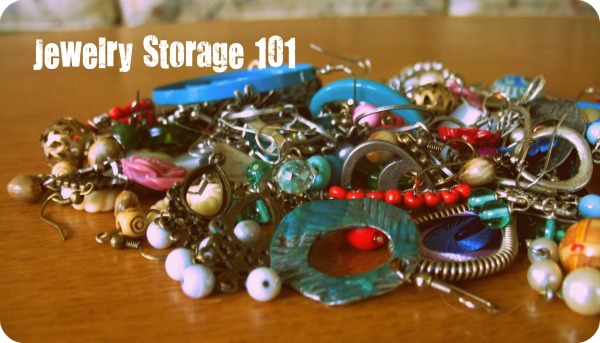 As the start of another school year approaches, I've been thinking about how to store all the stuff I need to take to school, especially my large jewelry collection. One pair of earrings may be small, but it's amazing how much space you need for all your earrings, and necklaces, and bracelets, and…the list goes on!
I like to be able to see everything at one time so I can grab what I need and go on busy mornings, so easy viewing has always been a priority for me. Jewelry boxes are great, but when's the last time you took the time to dig through yours when you're almost late for class?
True to my DIY spirit, I've never splurged on any formal jewelry holders, but I've crafted and re-purposed some of my own quite effectively, mostly from thrifted items. I have also spent the last six years selling handmade jewelry at craft fairs, so I've really put these ideas to the test on the road! Below, I'll show you 4 creative methods to both store and display your jewelry collection at college.
1. Basket Earring Displays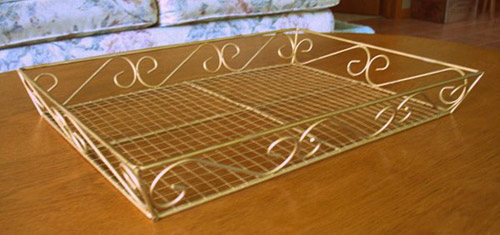 Thrift stores are notoriously great for finding baskets, so when I saw this shallow metal one at my favorite thrift shop, I couldn't pass it up. All it took to make it into my favorite earring holder was looking at it in a new way! (Details below.)
When you're shopping for baskets to use as earring holders, look for regular holes and sturdy construction. You don't want it to buckle under the weight of your earrings!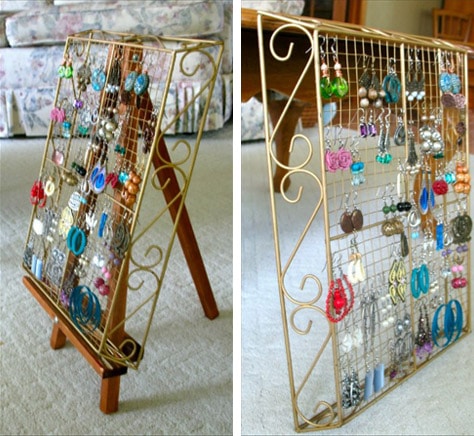 I use this thrifted easel to hold up my earring basket, but you could also put two nails in the wall and hang the basket from them. You can also just prop it against a wall on the top of a bookcase or dresser. The important thing to keep in mind is having enough space for the backs of the earrings to hang without being pressed up against something.
2. Mug Stand Bracelet Holder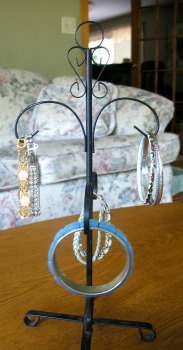 I don't think I've ever seen a mug stand at a regular retail store, but the thrift stores in my town are full of them! They are perfect for holding bracelets, but they are also great for holding large statement earrings or pendants. Even better, they don't take up much room on your desk or dresser. They also come in lots of different heights and colors, so yours can become part of your decor!
3. Teacup Ring Holders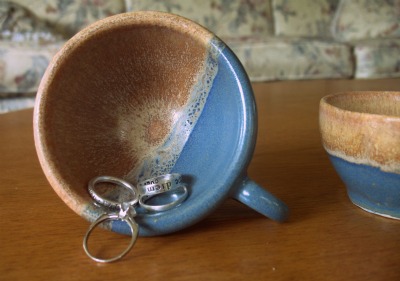 I always find adorable single teacups at the thrift store, but I never had much to do with them until I started using them to hold my rings. I wear the same rings every day so I always want to be sure I can find them when I need them. I keep one teacup by the bathroom sink and one by my bed so I never have to worry about my rings getting lost.
4. The Easiest Necklace Display Imaginable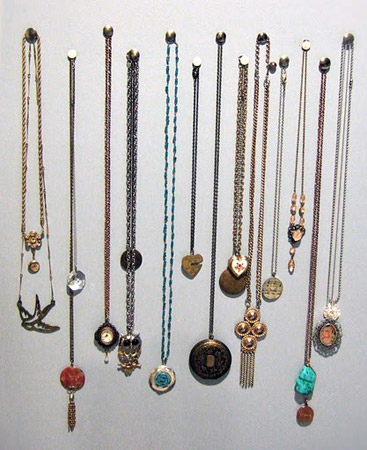 Call me a cheater, but who says clever storage ideas have to be complicated? It doesn't get any easier than this. Wall + thumbtacks = instant necklace storage AND wall art! Statement necklaces aren't just for your neck anymore! If your living situation allows it, nails work best for glass or metal necklaces, but I have found that good quality thumbtacks do the job pretty well for normal-weight necklaces.
Sound off!
Those are my ideas, but now I want to hear yours! How do you store your jewelry? Do you wish you had some other method? Is storage an issue for your with your college living space? Will you be trying any of these ideas? I want to hear about it in the comments!