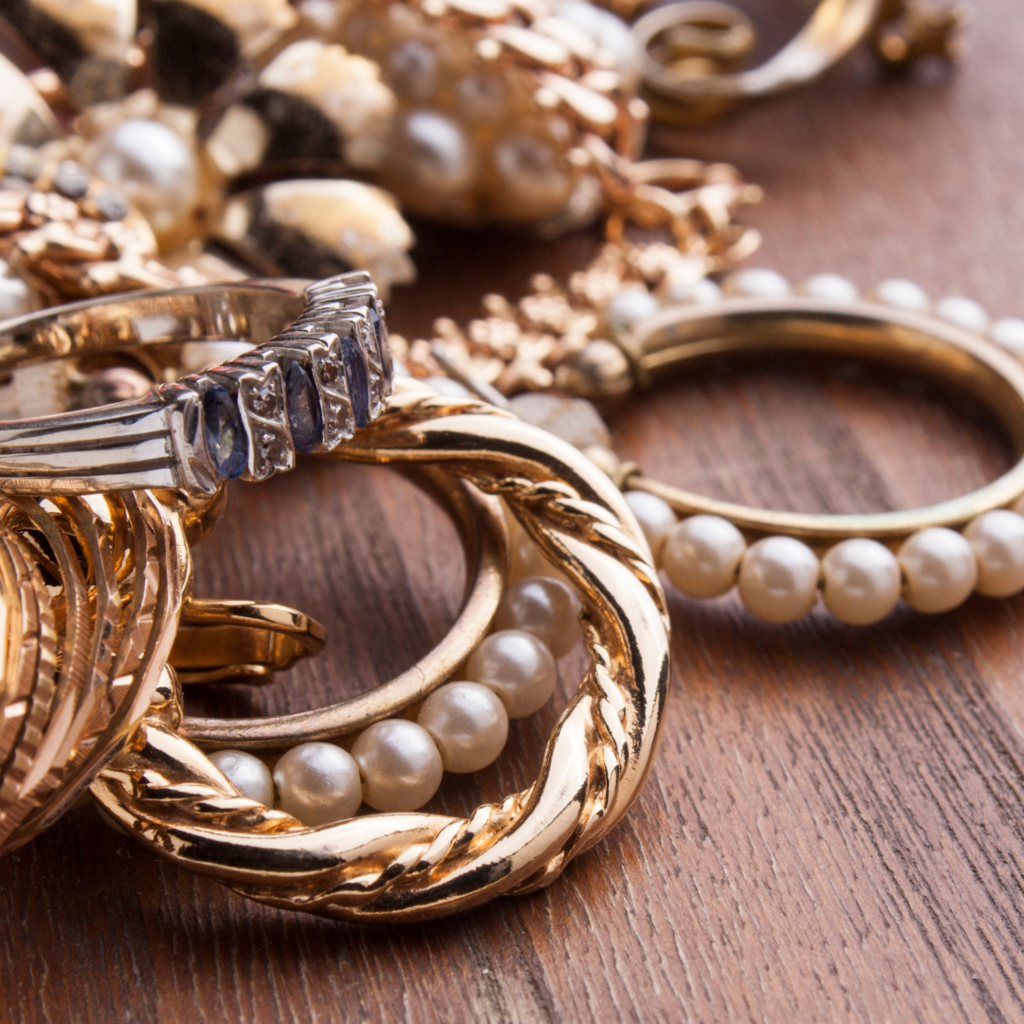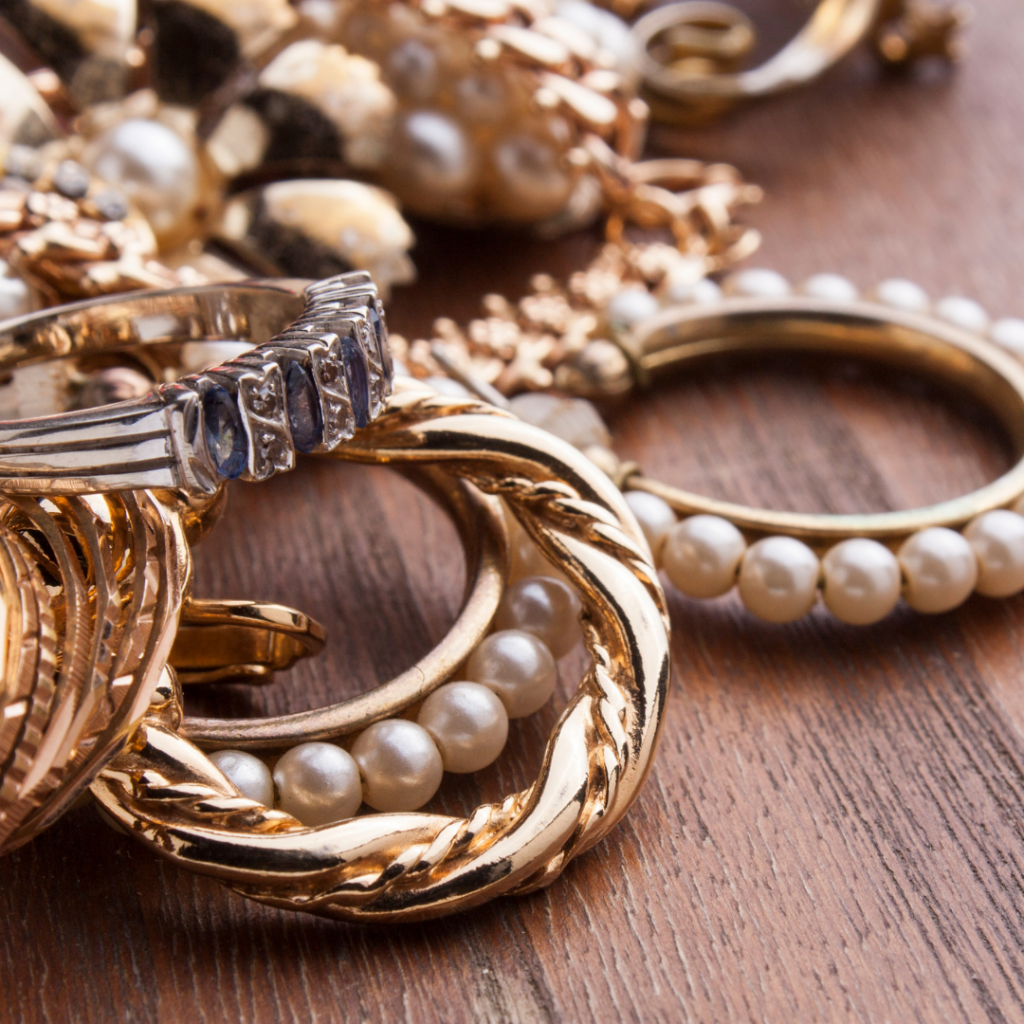 I'll admit it: I'm a jewelry addict.
Every day, I can be seen wearing multiple pieces of costume jewelry. The vast majority of the fashion compliments I receive have to do with them, and one of my friends has even identified my jewelry collection as what anchors my style.
Many girls shy away from wearing lots of jewelry, and even more stick to the basics and don't mix up their look with fun fashion jewelry (meaning bold costume pieces as opposed to delicate, high-end jewelry). Of course, everyone has their own style, and I know my maximalist tendencies aren't for everyone.
Still, I think that if you want to up your style and have fun with fashion, try dipping your toes into the waters of bolder accessorizing. Here are 15 ways to start upping your jewelry game:
1. Play with a basic outfit.
Dig through your dresser and find those accessories you never wear, or drop by your favorite discount store and pick up a few cheap pieces of jewelry that stand out to you. Then, experiment! Throw on a simple outfit (try a tee and a printed maxi), then add a jeweled bracelet, a long necklace, or both.
Look in the mirror, and my bet is you'll see a favorite look taken to a new level. This is exactly how my style evolution started and I've never looked back.
2. Change your earrings.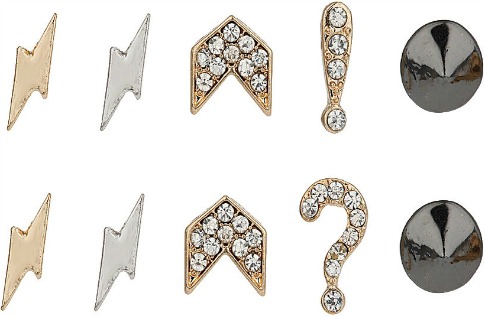 Earring Set: Topshop
The vast majority of my girlfriends wear the same earrings every single day. It's very tempting when you find that elusive, quality, go-with-everything pair, but if stud earrings are where your accessorizing begins and ends, the natural baby step into jewelry-master territory is to have fun by switching them out every once in a while.
3. Don't think embracing bold jewelry means abandoning your personal pieces.
Almost everyone has an accessory they wear every day, and usually it's something with special meaning. For me, it's my aunt's watch, a friendship bracelet, and a single stud earring I got in Spain. These pieces make our looks special and unique, but can sometimes make us feel limited with the other jewelry we wear.
This doesn't have to be the case. Layered jewelry is an awesome and trendy look! If you have an everyday short necklace, layer it with others of different lengths. If your special piece is a bracelet or ring, mix it up with others and create an eclectic stack, or just wear other pieces on a different hand.
Chances are, your special piece is simple or delicate, so don't worry about how it matches with whatever else you're wearing. Trust me, mismatched jewelry looks effortlessly cool.
4. Add a pop of color.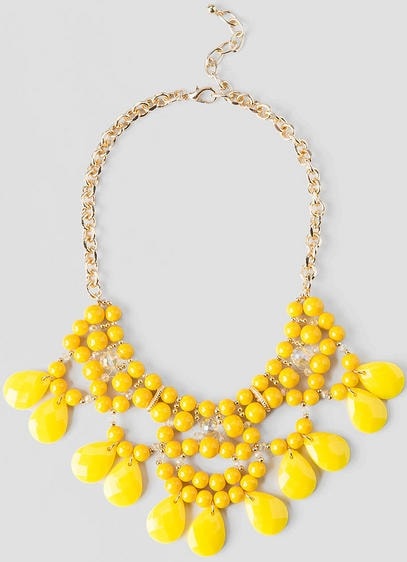 Necklace: Francesca's Collections
I have seen many women with relatively classic styles have a go-to statement piece, most often a necklace, to liven up their look. If you like to go light on accessories, scour your favorite stores until you find one statement necklace that is exactly your style. Then, wear it with everything!
Wear it with prints with similar colors, and add to pop against monochromatic looks. I'm not just talking neutrals: a jewel-tone necklace looks just as good against a palette of pastels as it does with basic black.
5. Throw a party (a ring, arm, or ear party that is).
You may have seen the terms "ring party" or "arm party" in your favorite fashion mags to describe an eclectic stack of jewelry. Covering your hands or arms with one type of jewelry in a mix of colors and textures makes any look way more eye-catching and shows off your fashion flair.
You can even throw a party on your ear (by mixing up earrings if you have multiple piercings and/or rocking some ear cuffs) or around your neck (by layering necklaces). Your party can have as many or as few guests as you like, but keep it coordinated by inviting pieces that, while contrasting, relate to each other in some way, like similar colors or vibe.
6. Make prints pop with jewelry in coordinating colors.
When wearing a bold print, especially head-to-toe, it can be tempting to just throw on neutral shoes and call it an outfit. However, I've found that in the best outfits starring prints, bright accessories play a crucial supporting role.
If you're wearing a colorful print, pick a bold piece of jewelry, like a thick bangle or big earrings, in a color that matches one in the print. If your print is a neutral, like animal print or navy stripes, a shot of rich color or even a pop of neon looks incredibly cool.
7. Find pieces that nod to your personality.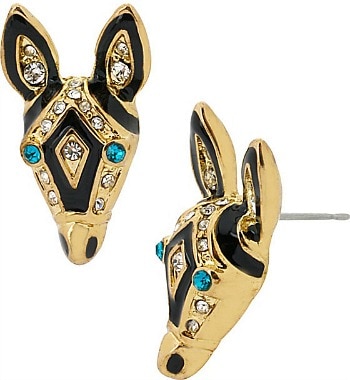 Zebra Earrings: Betsey Johnson
One of my favorite things about wearing bold jewelry is that it makes me smile throughout the day. This is especially true when I'm wearing something that reflects my interests and things I love besides fashion.
For example, I have jewelry that states my horoscope sign, is shaped like my favorite animals (you can't go wrong with Betsey Johnson), or even sports lightning-bolt motifs, referencing my Harry Potter obsession.
It doesn't even matter if anyone else notices it or gets the reference – rocking these little gems make YOU feel great in what you're wearing, and make your style truly YOURS.
8. Make a charm bracelet or necklace.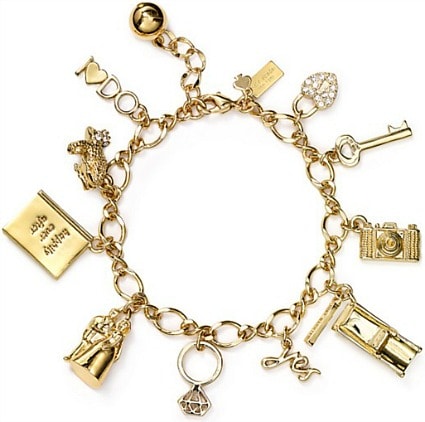 Charm bracelet: Kate Spade
On the personalization note, if you want something 100% unique, why not assemble it yourself? Many craft stores and even your favorite fashion brands, like Juicy Couture, sell charms that can be strung onto necklaces or hooked on to bracelets. Collect them from various places or find matching charms that spell out a meaningful word or your initials!
9. Find some great pendant necklaces.
To me, a long necklace is one of the cornerstones of a fashionable casual wardrobe, up there with ballet flats and a white tee. Why? I think they streamline a look, drawing the eye vertically along all of your awesome outfit.
They also look effortless, like "I just threw this on" (which you did, because you don't need to worry about pesky clasps!). I love them as a finishing touch to every classic outfit – from sundresses to a blazer and jeans.
Look for ones with a cute pendant charm in a fun color or in a versatile metal, like gold or silver. Forever 21 has a great selection.
10. Try a fun watch.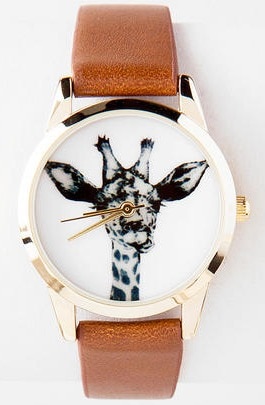 Watch: Francesca's Collections
If you're a practical or sporty type who's worried that big bracelets and rings will get in your way, use fun-but-functional watches as your arm candy.
Watches, as silly as it sounds for such a practical piece, are becoming a trend. That means that you can find colorful and bold ones for low prices basically anywhere you'd go to buy other kinds of fashion jewelry. Get a few and match them to your outfit like you would any other bracelet!
11. Don't be afraid of sparkle.
You know those gorgeous, super-sparkly necklaces, rhinestone rings and statement earrings you love? They aren't just for formal occasions. They look amazing contrasted with plaid flannel or ripped denim.
When it comes to jewelry, as well as clothes, I hate labeling things as only appropriate for formal or casual events. We live in an age where sequins, mini dresses, and stilettos are seen during the day as often as at night. IMHO, the same should go for jewelry. I wear major jewelry all the time – whatever goes with my outfit, no matter how glitzy. It's so much fun, so I say go for it!
12. Find quality pieces.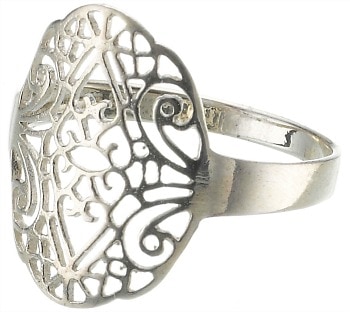 Sterling Silver Ring: Accessorize
I completely understand the argument that since most fashion and costume jewelry is made very cheaply, it's better to stick to a few more expensive, polished pieces. However, bold gems, bright colors and other fun elements of costume jewelry aren't generally available in really long-lasting materials… unless you want to spend an arm and a leg.
I don't mind buying a cheap, trendy statement necklace because I'll probably only wear it a few times. Of course, when shopping, I look for things that look like they will last and are made out of sturdy materials (see #15 for some of my favorite jewelry shopping spots).
I also want to point out that at discount jewelry destinations, like Claire's, Express, and Accessorize, you can find simple necklaces and earrings made with real sterling silver or even gold, if you look carefully. These pieces are generally small and dainty and often feature cubic zirconia (a faux diamond), and are a quality-but-cheap way to get some sparkle. They look way more expensive than they are!
Here are a few mid-price brands to check out that make good quality yet bold costume jewelry:
13. Get a cute keyring.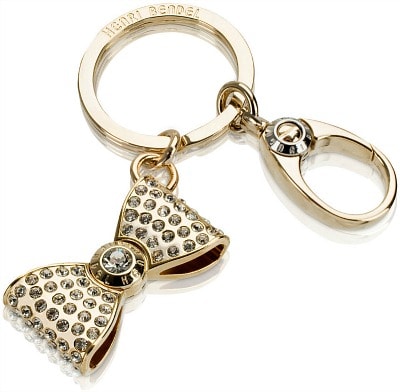 Keyring: Henri Bendel
If you're tempted by the bold, quirky earrings and necklaces from brands like Betsey Johnson and Juicy, but feel like you can't see yourself wearing them very often, try a keyring! Basically no one will see it but you, so there's no reason to be afraid of color and sparkle. It'll bring a smile to your face every time you open up your door.
14. Mix up the earrings in your additional piercings.
Do you have more than one piercing in each ear? Then you have even more opportunities to play with jewelry – hurrah!
While I do usually keep my extra stud constant, every once in a while I switch it out for one that matches a particular outfit. Especially for girls like me who usually opt for big earrings, this is the chance to rock all kinds of cute, delicate studs. You could even try a dangly drop earring in there if you're feeling extra bold.
15. Finally, check out these shopping destinations!
I've already mentioned many of my favorite places to find fashion jewelry, but here are a few more great ones. Check out one of these spots, and I highly doubt you'll be able to resist snatching up a fun, bold piece.
The Macy's jewelry department is heaven. They have on-trend brands like Lucky, BCBGeneration, and RACHEL Rachel Roy.
Francesca's Collections has an ah-may-zing selection of cute jewelry both in stores and online.
J. Crew has fab, polished pieces that are slightly pricey, but very versatile.
Lastly, check out local boutiques! Some of my favorite jewelry comes from little stores I love. Check out the ones in your hometown for finds that are really unique.
What about you?
What kind of jewelry do you wear? How do you incorporate jewelry into your look? Where are your favorite shopping spots? Did these tips inspire you to be a little bolder with your jewelry look? Do you have any other cool ideas for rocking costume jewelry? Let me know in the comments!