This post will show you how to enhance your look with the right jewelry and match jewelry with your outfits.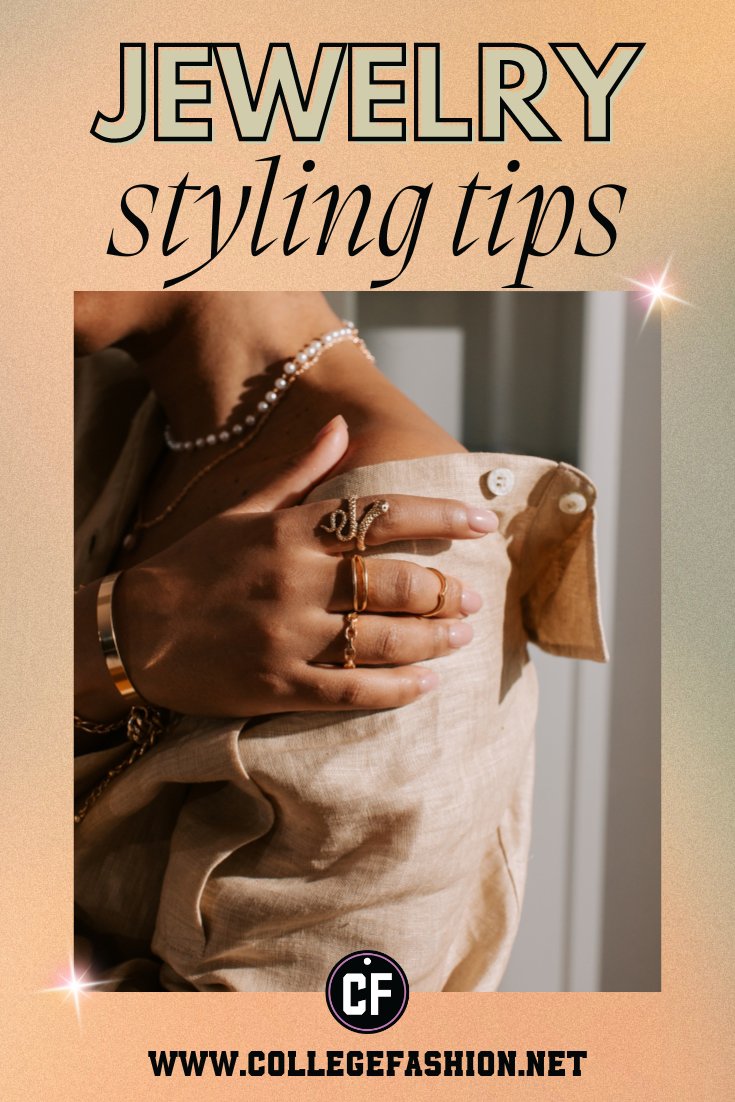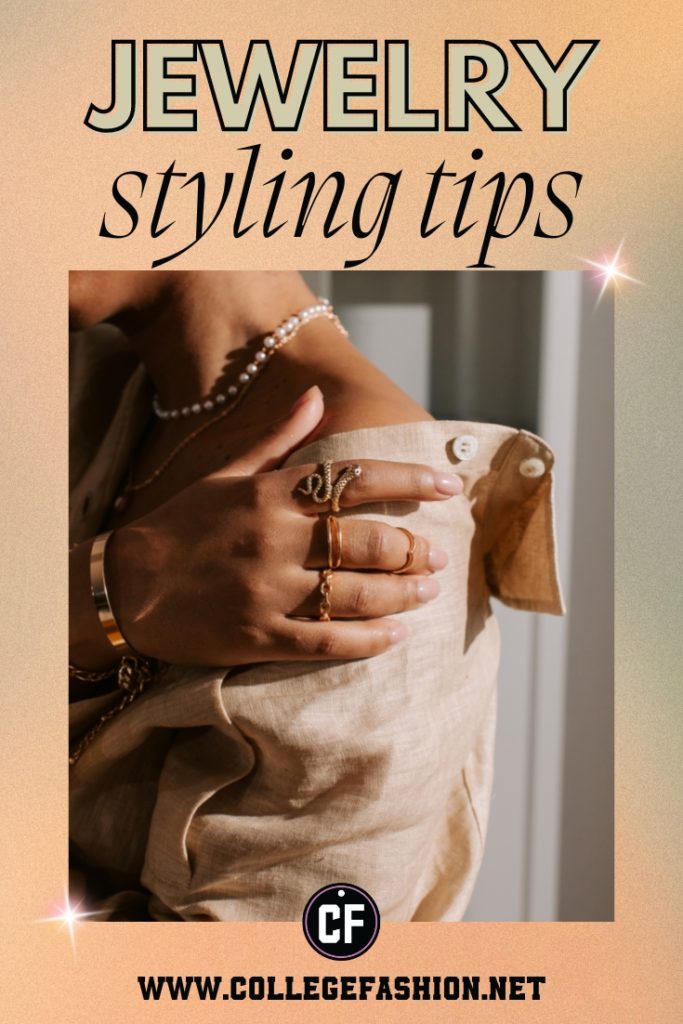 IDK about you, but if I leave the house without jewelry on, I'll feel like something is missing for the rest of the day!
Jewelry is not only one of the best ways to accessorize your outfits but also a means to express your individuality. Whether you're into the trendiest statement jewelry or heirlooms that are symbolic to you (or both!), there's no doubt that jewelry makes a major impact on your look.
In this post, we're giving you tips on how to incorporate and match jewelry with your outfits, from everyday looks to special nights out, along with exploring the top jewelry trends and their history. Get ready to
Tips for Incorporating Jewelry Into Your Look
You may have seen the terms "ring party" or "arm party" in your favorite fashion mags to describe an eclectic stack of jewelry. Covering your hands or arms with one type of jewelry in a mix of colors and textures makes any look way more eye-catching and shows off your fashion flair. You can even throw a party on your ear (by mixing up earrings if you have multiple piercings and/or rocking some ear cuffs) or around your neck (by layering necklaces). Your party can have as many or as few guests as you like, but keep it coordinated by inviting pieces that, while contrasting, relate to each other in some way, like similar colors or vibes.
Collect pieces that nod to your personality — that reflect your interests, characteristics, or life in general. This could be a nameplate or initial pendant, your zodiac sign or birthstone, or charms that represent people, animals, or life events. Gemstones also hold different meanings and beneficial properties, so consider gemstone jewelry that resonates with you.
Layer, layer, layer! If you have an everyday short necklace, layer it with others of different lengths. If your special piece is a bracelet or ring, mix it up with others and create an eclectic stack, or just wear other pieces on a different hand. TBH, mismatched jewelry looks effortlessly cool, especially when it's a mix of personal pieces and trendier fashion pieces together.
History of Statement Jewelry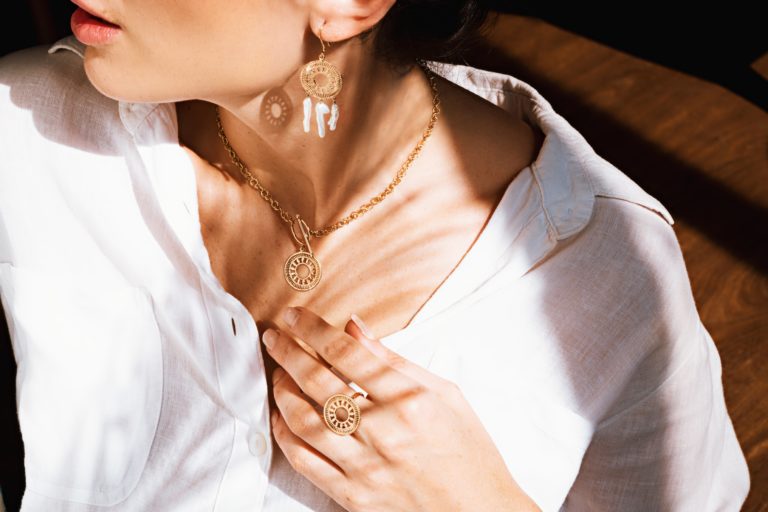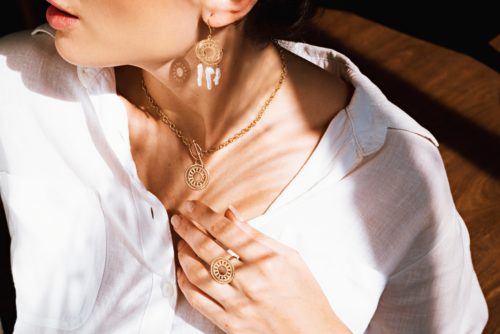 Photo by Saeed Anahid on Unsplash
Wondering how statement jewelry got its start? Let's take a glance at the history of statement jewelry and the impact it has made on fashion throughout the years.
Some of the earliest statement jewelry was found in Egypt. Collar necklaces, dangling earrings, and thick, cylindrical rings were all prevalent in Egyptian jewelry boxes. Author Mila Contini notes that "many modern jewels are imitations of antique trinkets that belonged to distinguished princesses." So, every time we treat ourselves to a knockout piece of jewelry, we're channeling royalty. I'll take it!
The Romans loved their jewels too, but they preferred rings. These rings were made with heavy stones for winter and lighter, more delicate materials for the summer. Regardless of composition, the important characteristic of Roman jewelry was history, not value. As is the case today, in ancient Rome, a bauble could be priced higher if it had an illustrious history behind it.
Coco Chanel began creating her own elaborate jewelry in the 1920s, using crystal or colored glass in varying sizes as the Egyptians had. Coco is often credited with popularizing the concept of "costume jewelry," creating seasonal items that mixed real and imitation stones and pearls.
Vivienne Becker, an antique jewelry veteran, talks about "The Cocktail Style" in her book Fabulous Costume Jewelry: History of Fantasy and Fashion in Jewels. Popular during the '30s and '40s, this jewelry era was all about big, jeweled rings, multi-strand pearl necklaces, and extensive use of gilt metal and rose gold. She describes "cocktail jewelry" as "bubbly and extravagant, like the alcoholic concoctions from which it took its name. It was assertive, bossy, jewelry to show off in."
While making a statement in the '50s meant throwing on a charm bracelet, jewelry in the '60s had a bit more punch. Designer Paco Rabanne fully embraced statement jewelry, experimenting with cheap materials like plastic and PVC and using bright colors. He said, "I made jewelry for the alternative side of women's personality, for their madness."
Modern-day statement jewelry is big, bold, and full of many elements from previous decades. Today, we love pieces that incorporate oversized pendants that were popular in the 2000s or items that have the glitz and glam of the '30s and '40s. Most of all, though, we love statement jewelry's eternal ability to make heads turn.
Great Jewelry Combinations for Every Outfit
Now that we've covered the history of statement jewelry (pretty crazy to think about how long it's been around!), let's check out some great jewelry combinations that you can wear for different occasions.
Whether you're looking for everyday pieces or something to make a statement for a night out, we've got you covered.
Everyday Jewelry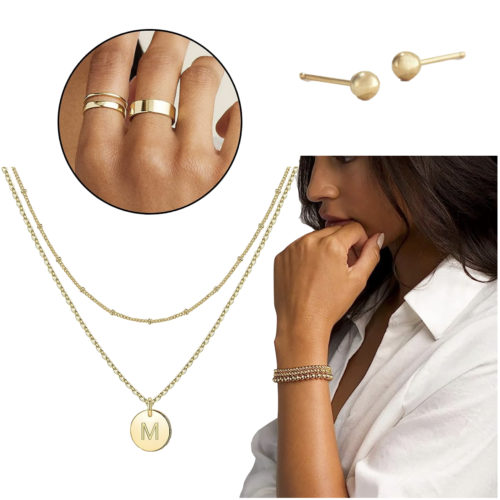 Products: Ring Set, Necklace, Earrings, Bracelet Set
Having a go-to, everyday jewelry assortment that you can turn to each day (or just rarely ever take off) is one of the best ways to match jewelry with your outfits, including those for school. The key is opting for minimalist, delicate jewelry pieces that can be worn with many different outfits and styles, so you don't have to worry about anything clashing.
First, you should decide whether you're a gold, silver, or rose gold person. While you could always mix metals, personally, I am a fan of sticking to one main metal color, especially for an everyday look. To pick which shade is right for you, you can decide based on your preference alone or go by your skin's undertone. Generally, it is said that those with cool tones look best with silver jewelry, and those with warm tones should wear gold jewelry.
Once you've decided on a main metal, look for simple jewelry in that color rather than anything too distracting or over-the-top. You want pieces that can work with everything from jeans and a cute top or sweater to leggings or sweatpants. (BTW, jewelry is an amazing way to elevate athleisure outfits — a sweat set can be transformed by some layered necklaces and hoops).
My top picks are a delicate layered necklace, simple stud earrings, a trio of matching bracelets (these are stretchy, so they're easy and quick to slip on or off), and some minimalistic stacking rings. While simple chain necklaces work, options that have a special meaning, like an initial, a locket, or a faith pendant, are also perfect for everyday wear.
Jewelry for Work
When it comes to jewelry for work or any professional setting, you'll want to opt for pieces that have a classic, understated look but with a modern flair.
A perfect example is sculptural jewelry, which has become ultra-fashionable, especially since Bottega Veneta started the trend with their sought-after teardrop earrings.
You don't need to break the bank to achieve the look yourself, though; try the above teardrop half-hoop earrings for a similar polished look. Their smooth, rounded design and small size make them workplace-appropriate and a fashion-forward choice. Of course, you can always go for some classic pearl earrings, small studs, or hoops, too.
A watch is a timeless accessory that is ideal for work since it actually serves a purpose (besides looking chic). Rather than grab your phone, you'll be able to check the time while also looking sophisticated. I adore this mixed metal watch that can be worn with both silver and gold jewelry, which helps to justify its investment.
On weekends I love wearing tons of rings, but for the office, I'd suggest narrowing it down to just a few. This slim twisted rope ring is a cute option, and it's water-resistant, meaning you don't have to take it off when washing your hands.
Opt for a minimalistic necklace — this mini teardrop pendant necklace is simple yet makes a statement and perfectly matches the earrings. A pearl necklace is another classic option, as are the "everyday" necklace ideas.
Jewelry for a Date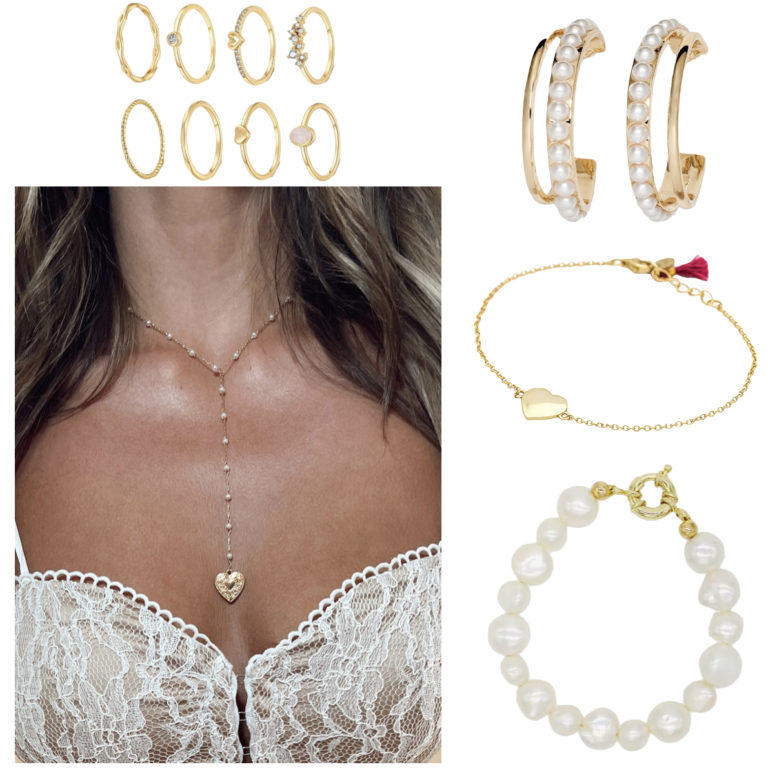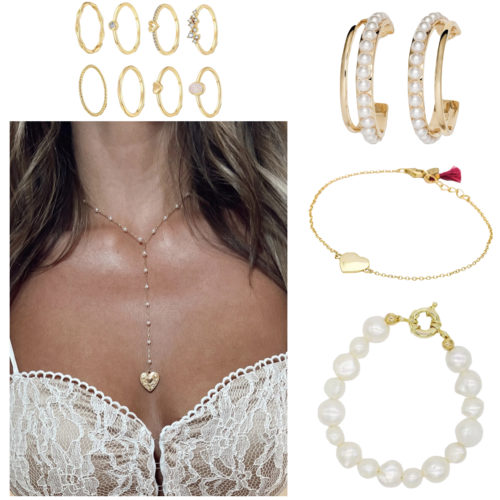 Products: Necklace, Ring Set, Earrings, Heart Bracelet, Pearl Bracelet
If you're heading on a date, you'll want to up your jewelry game and use your jewelry to enhance your outfit. Plus, there's something about jewelry that can make you feel more put-together and confident, and that's certainly a plus when going on a date!
If you're feeling romantic, lean into that with some soft, girly jewelry like a heart pendant necklace and delicate charm bracelet. This necklace has a lariat design which compliments sweetheart and deep V necklines.
Pearls are another cute detail with a nostalgic, romantic aesthetic — I adore the more natural shape of the freshwater pearls on this bracelet. And while regular hoop earrings are always a solid choice, these faux pearl-embellished double illusion hoops feel even more special for a date night.
Jewelry for a Night Out
Heading out on the town? That calls for the most statement-making jewelry you've got! Going out is the perfect opportunity to pull out all the stops and rock your boldest, trendiest pieces.
This season, 3-D florals (especially rosettes) are a major fashion trend, so why not try the trend yourself by wearing a 3-D flower choker necklace? It's super eye-catching and will set you apart from the crowd as a true fashionista. Other great options this season are corded pendant necklaces with a Y2K aesthetic and chunky chain necklaces, both of which are statement-making, as well.
If you're going to wear a big, bold necklace, you'll want to balance it out with more low-key earrings, like a pair of small or medium chunky gold hoop earrings, which are always a solid choice. (Alternately, if you want to wear statement earrings, opt for a more low-key necklace).
Feel free to stack on plenty of rings; this pack of 12 gives you plenty of options that you can mix and match. Chunky bangles are fabulous for going-out looks, as they draw the eyes and make a bigger impact than more delicate, everyday bracelets. This mixed metal etched bangle set is super versatile since it can be worn with both gold and silver jewelry.
Body Jewelry Trend
Jewelry isn't just limited to earrings, necklaces, bracelets, and rings. One of the coolest, most unexpected ways to adorn yourself is with body jewelry. Check out some of our favorite options below.
Body and Belly Chains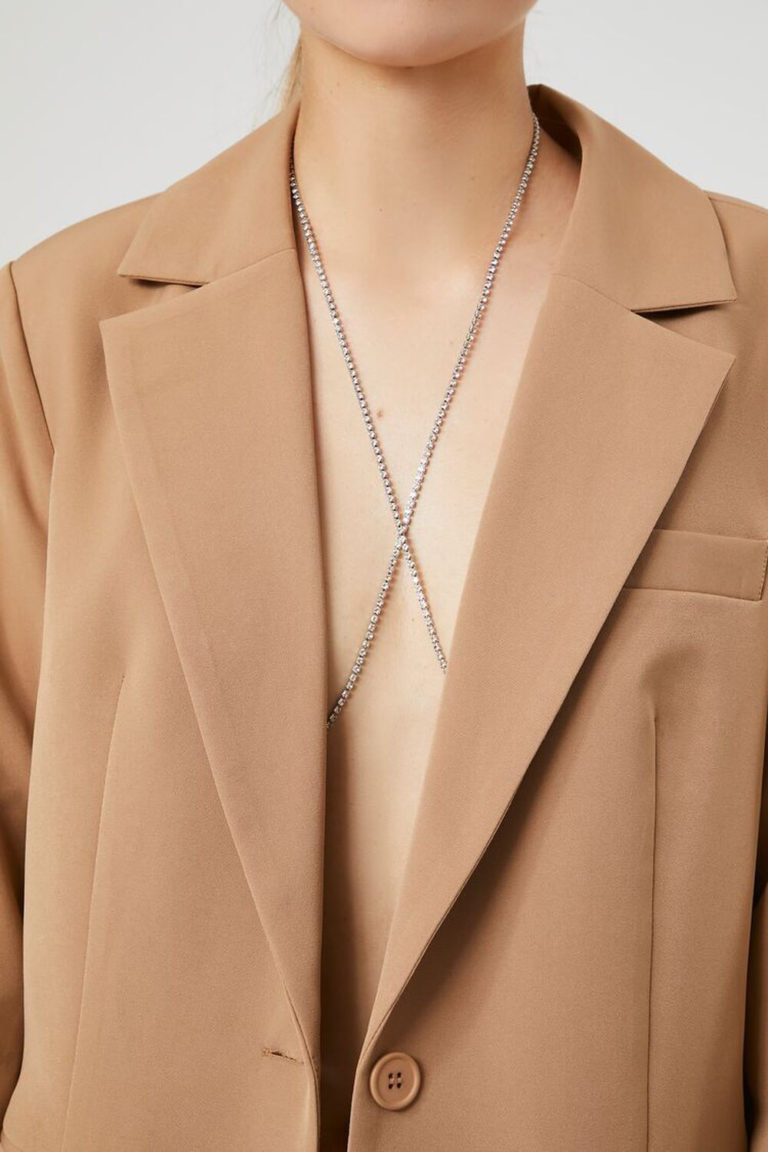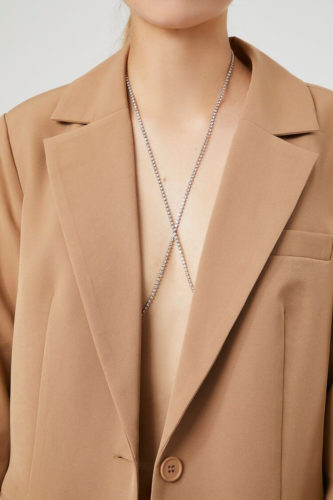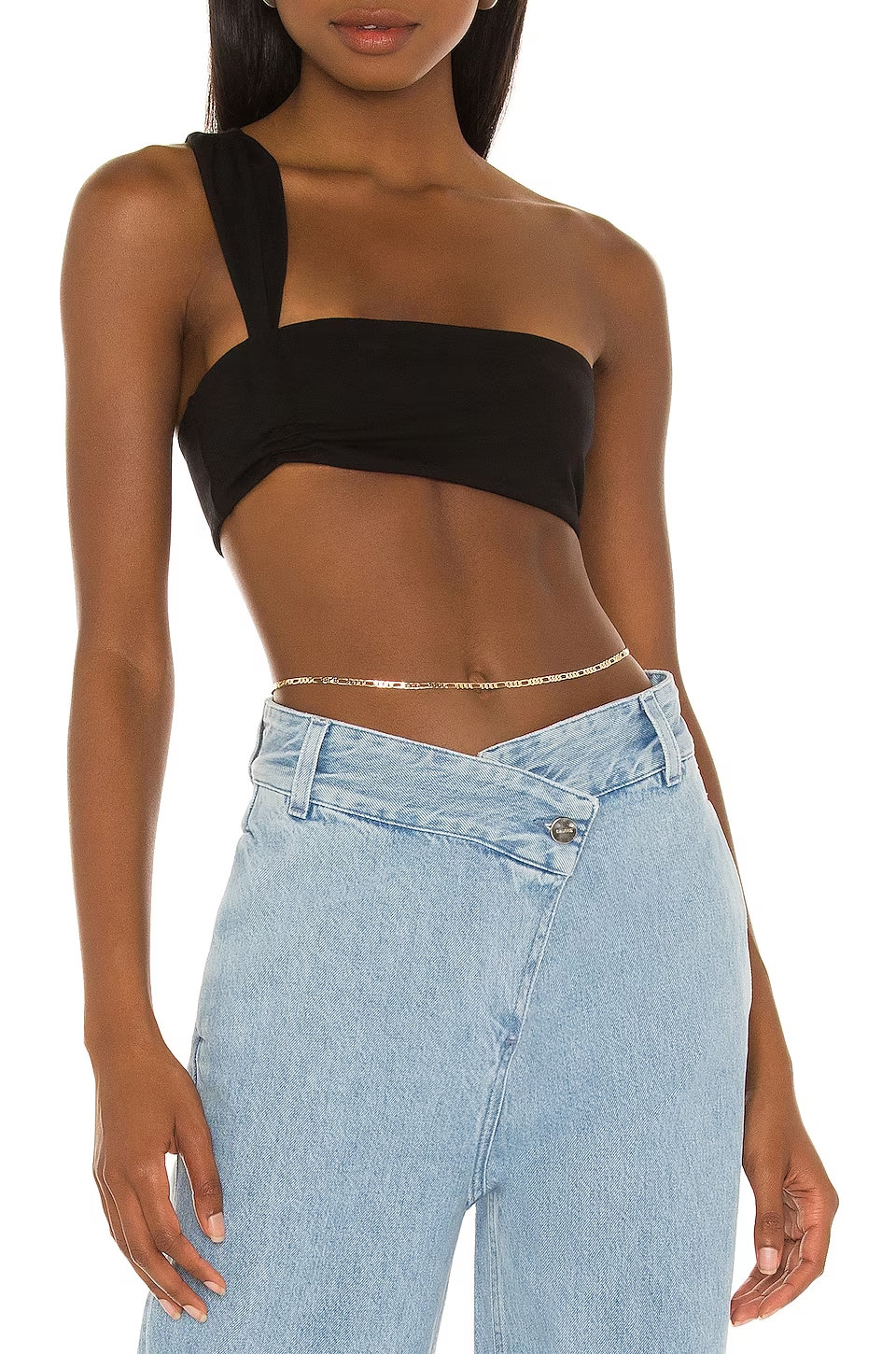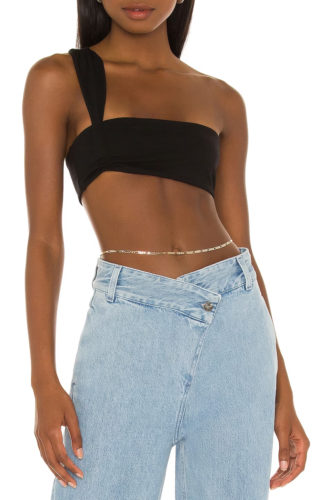 Body chains are undoubtedly one of the most eye-catching kinds of jewelry you can wear. Whether you opt for one that wraps around your upper body or lower body (a belly chain), they will make you shine like no other.
Think of belly chains as a necklace for your midsection; these are especially perfect for pairing with crop tops and even your swimwear while on vacation or during the summertime.
As for body chains, you can either wear these under a cute going-out top or over your tops or form-fitting dresses for maximum impact.
Hand Chains and Arm Cuff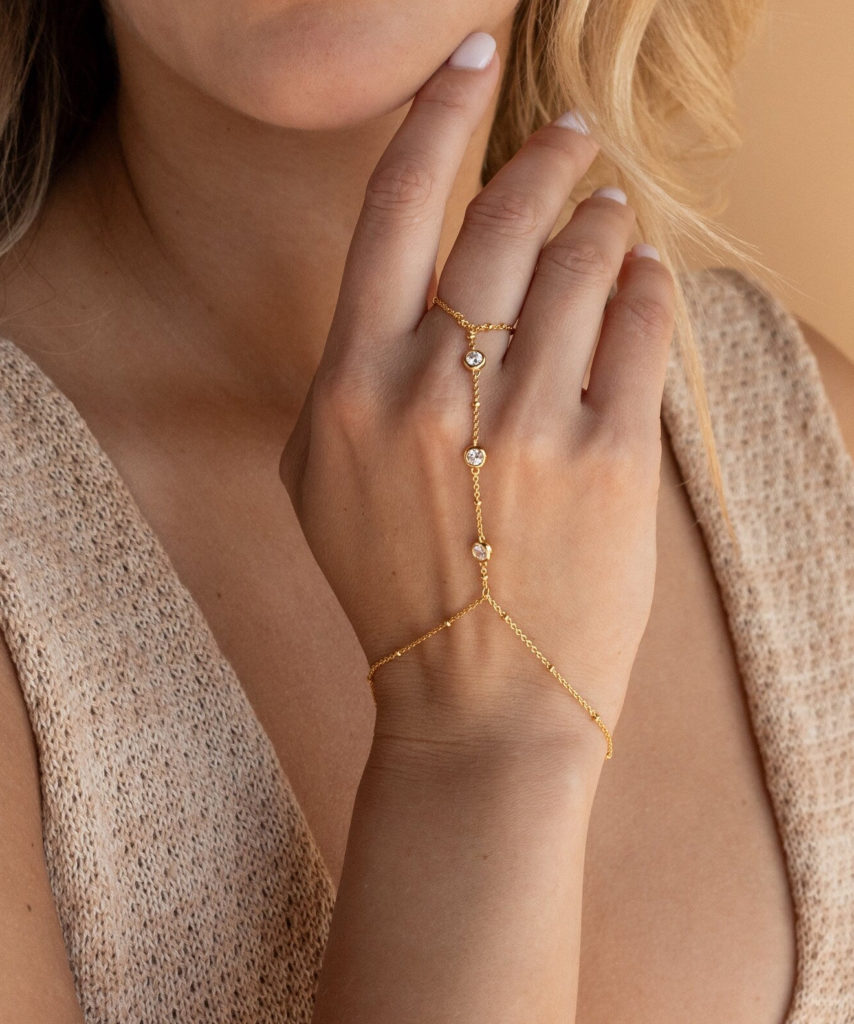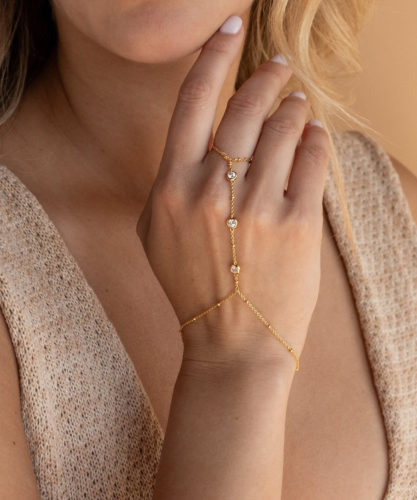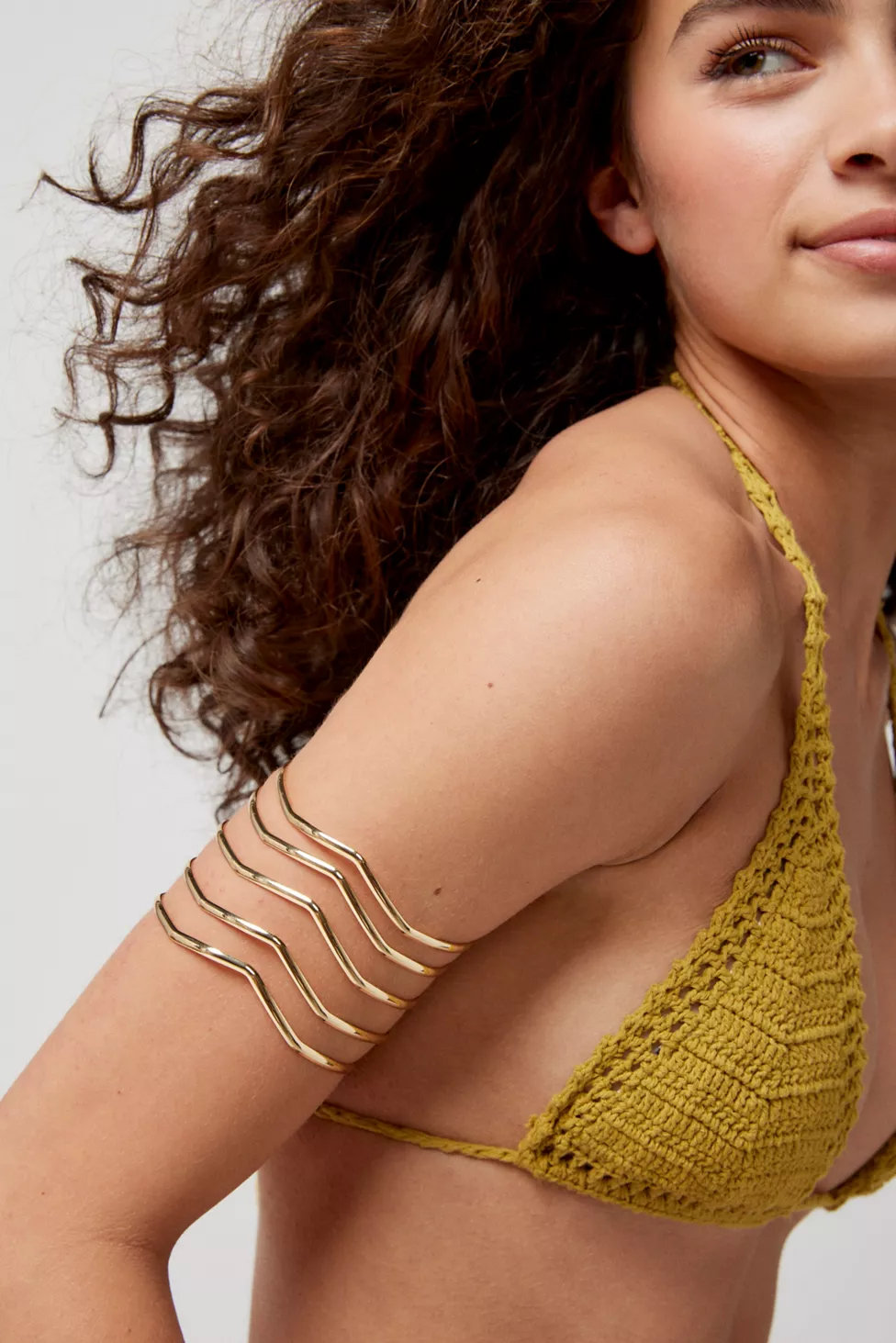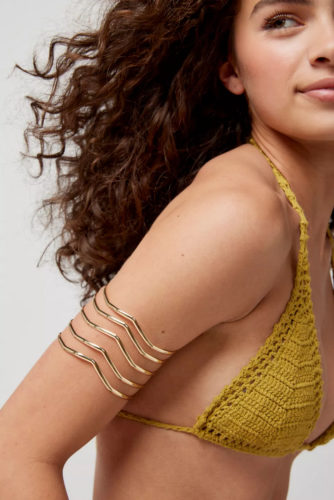 Bracelets are great, but why not step it up with an arm cuff or a hand chain? A hand chain is a bracelet that connects to your finger(s) for an intricate look, and arm cuffs are worn on your upper arm for a boho effect.
Anklets and Foot Chains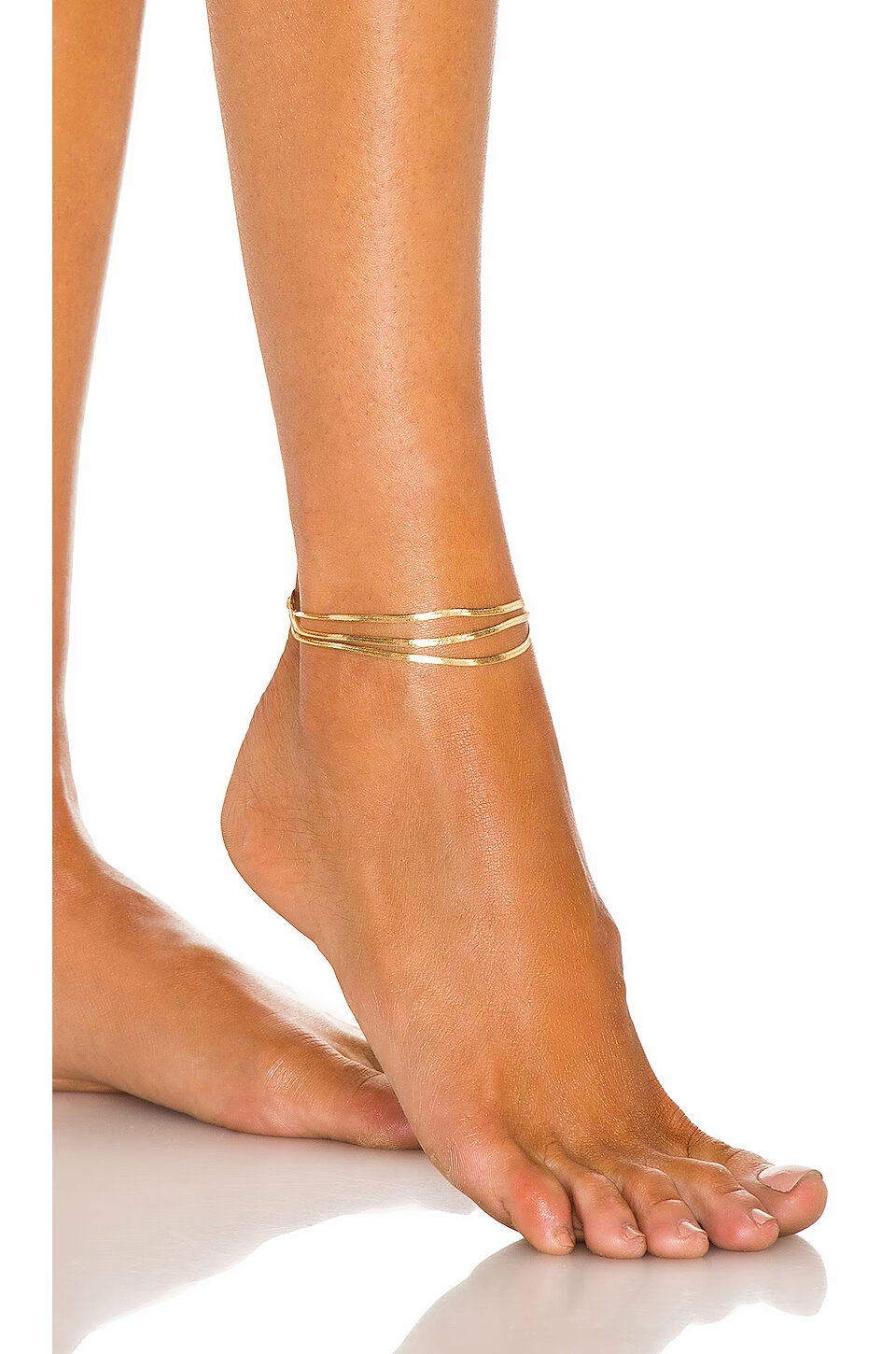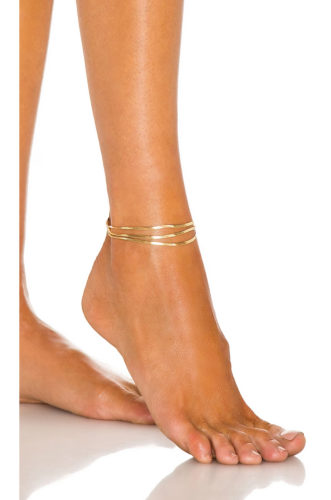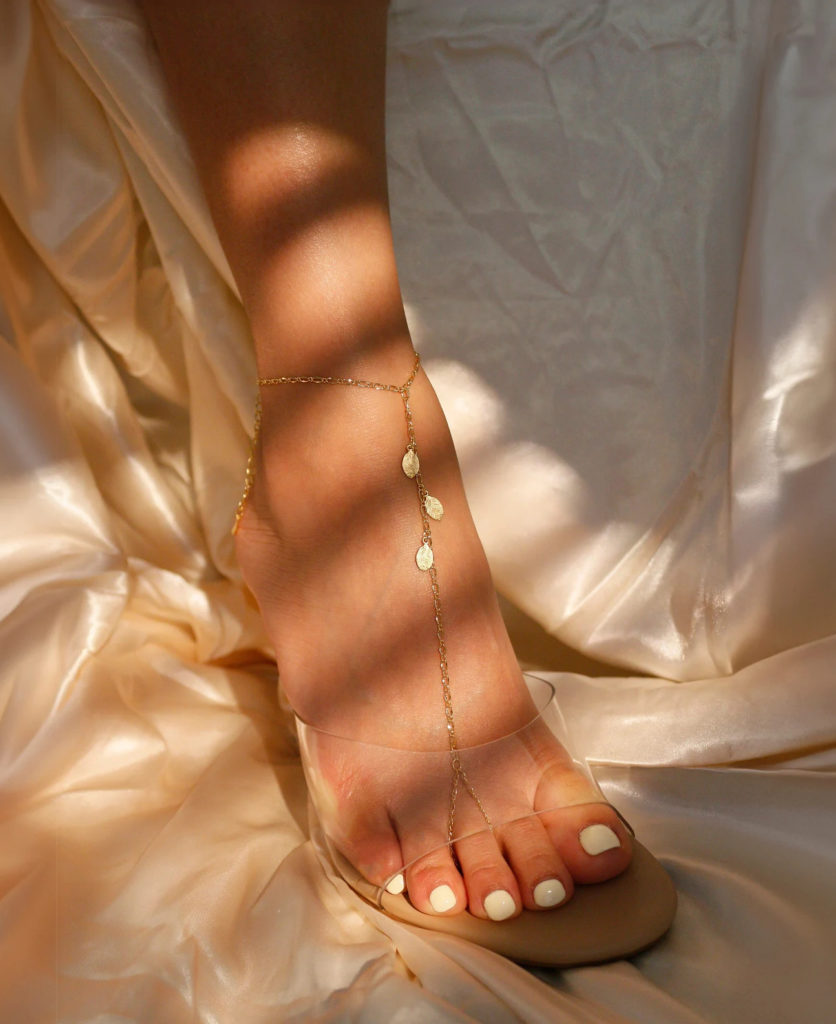 Yup, even your feet can be accessorized! While these items are ideal for the summertime since they work best with sandals, you could still wear an anklet with high heels and low-top shoes like sneakers or loafers. Foot chains, on the other hand, are a bit more decorative (and uncomfortable to wear under shoes), so these are best for minimal sandals or times when barefoot (like at the beach).
Minimalist Jewelry Trends
While statement-making jewelry can be fun, some days or most days, a gal just wants to rock something a little more understated. These are some of our favorite minimalist jewelry trends right now that you'll be able to wear daily but have added flair.
Interlocking Pendant Jewelry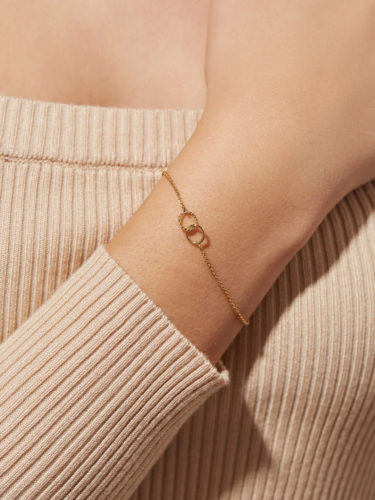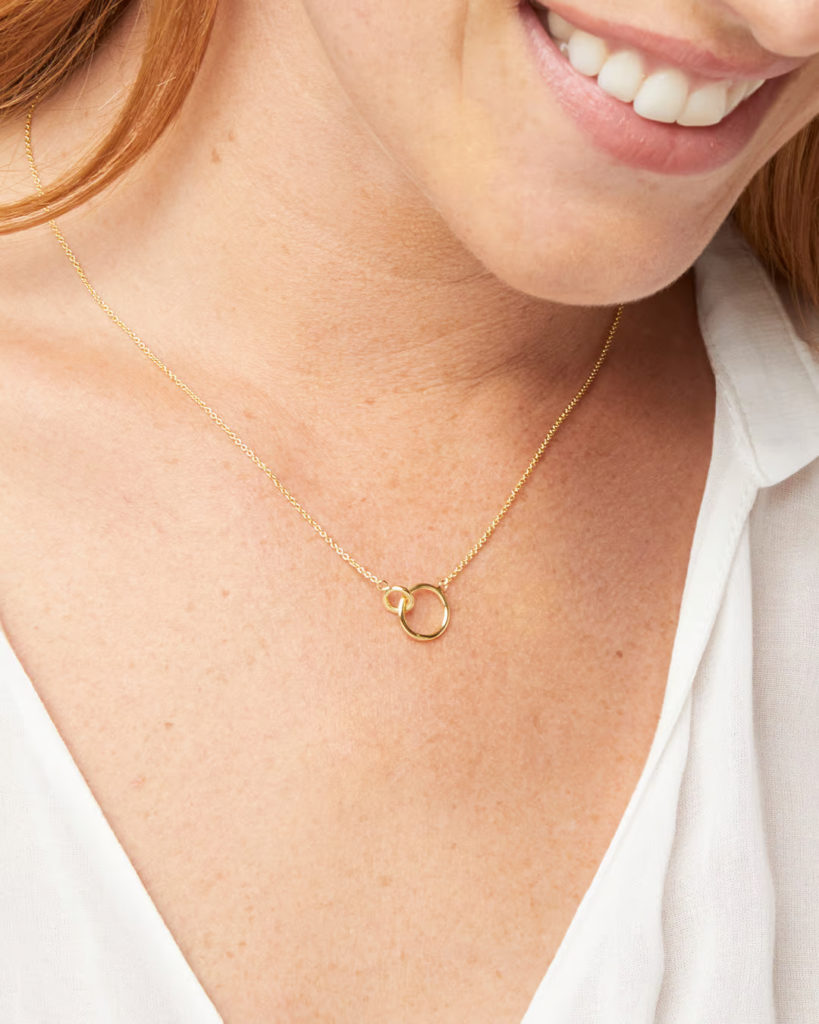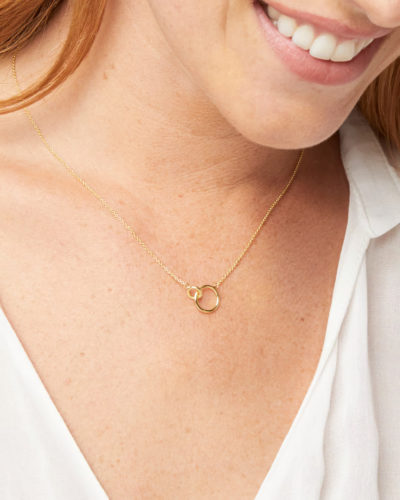 Recently, dainty interlocking pendants have become popular, and for good reason. These pieces offer just the right amount of interest with their unique interlocking pendant design, drawing the eyes but still being understated enough to pair with almost any aesthetic.
Flat Chains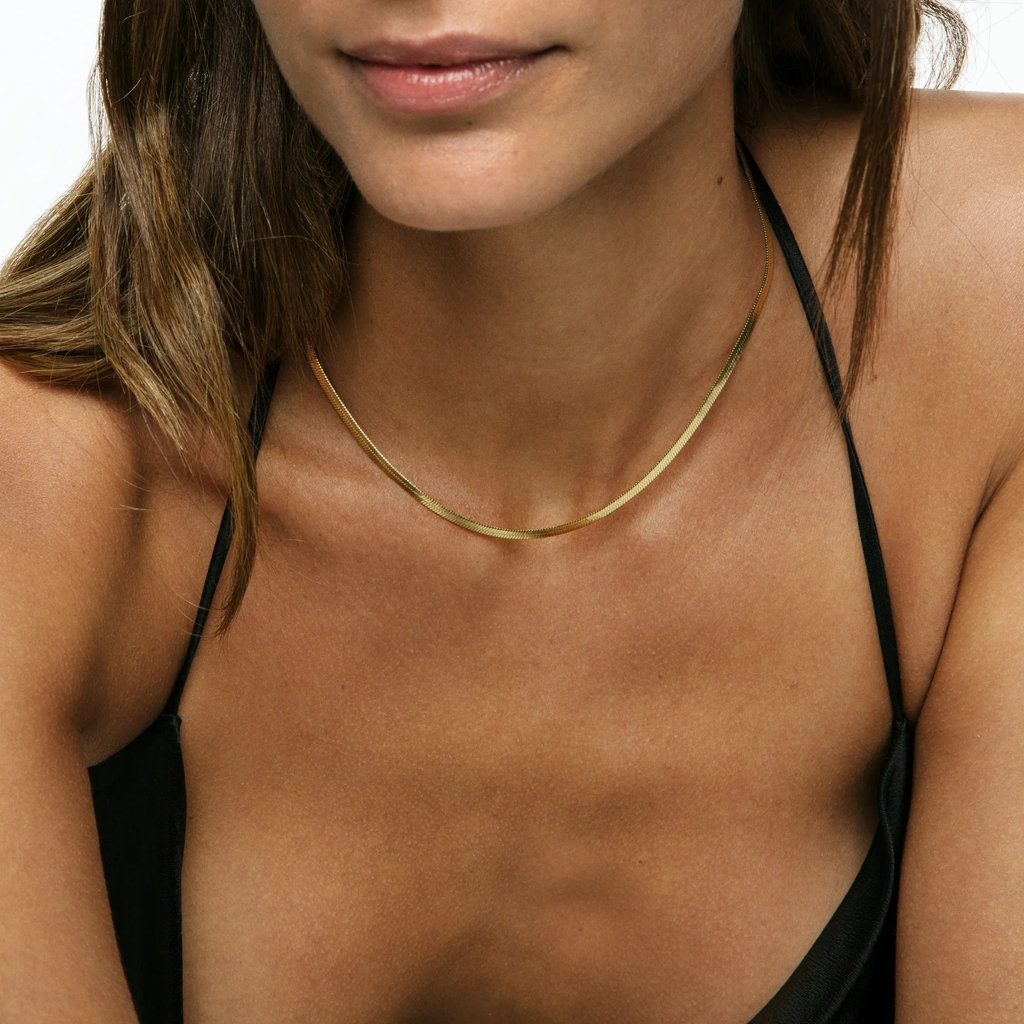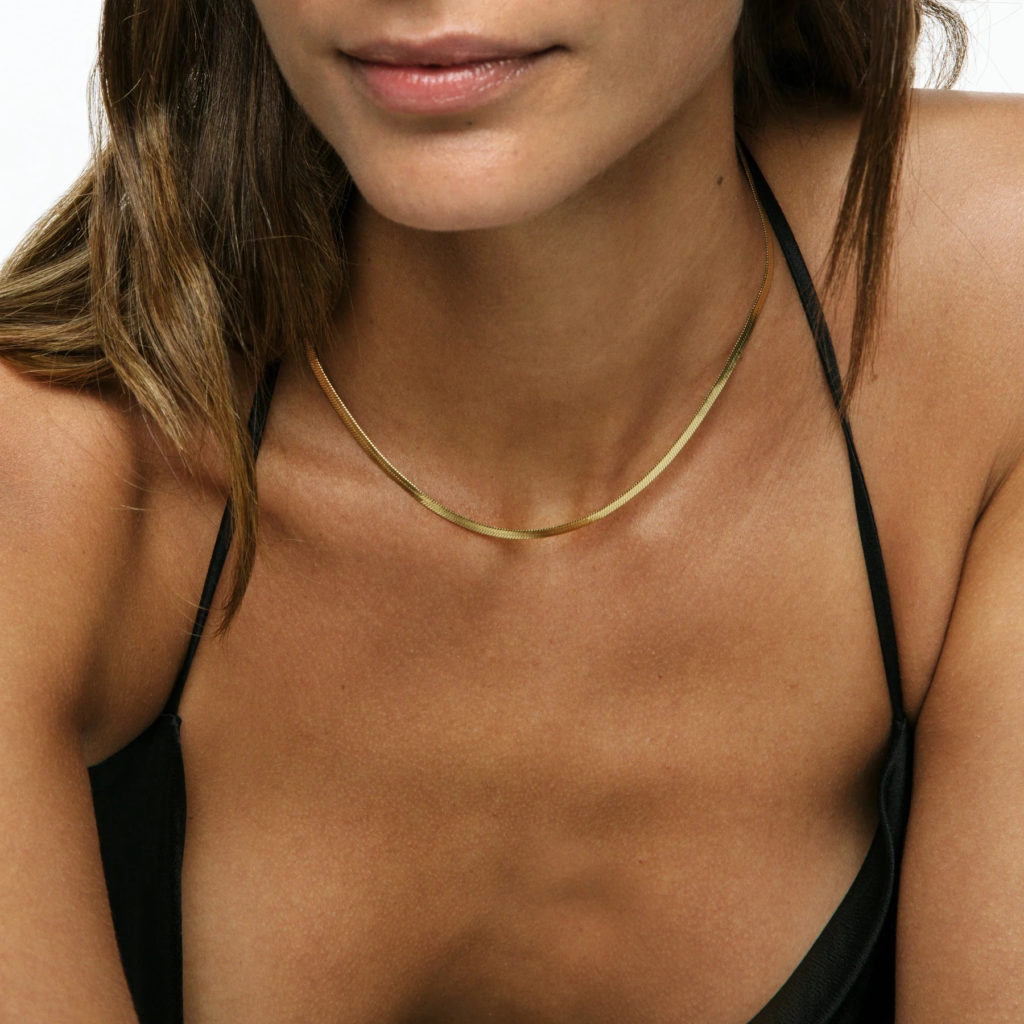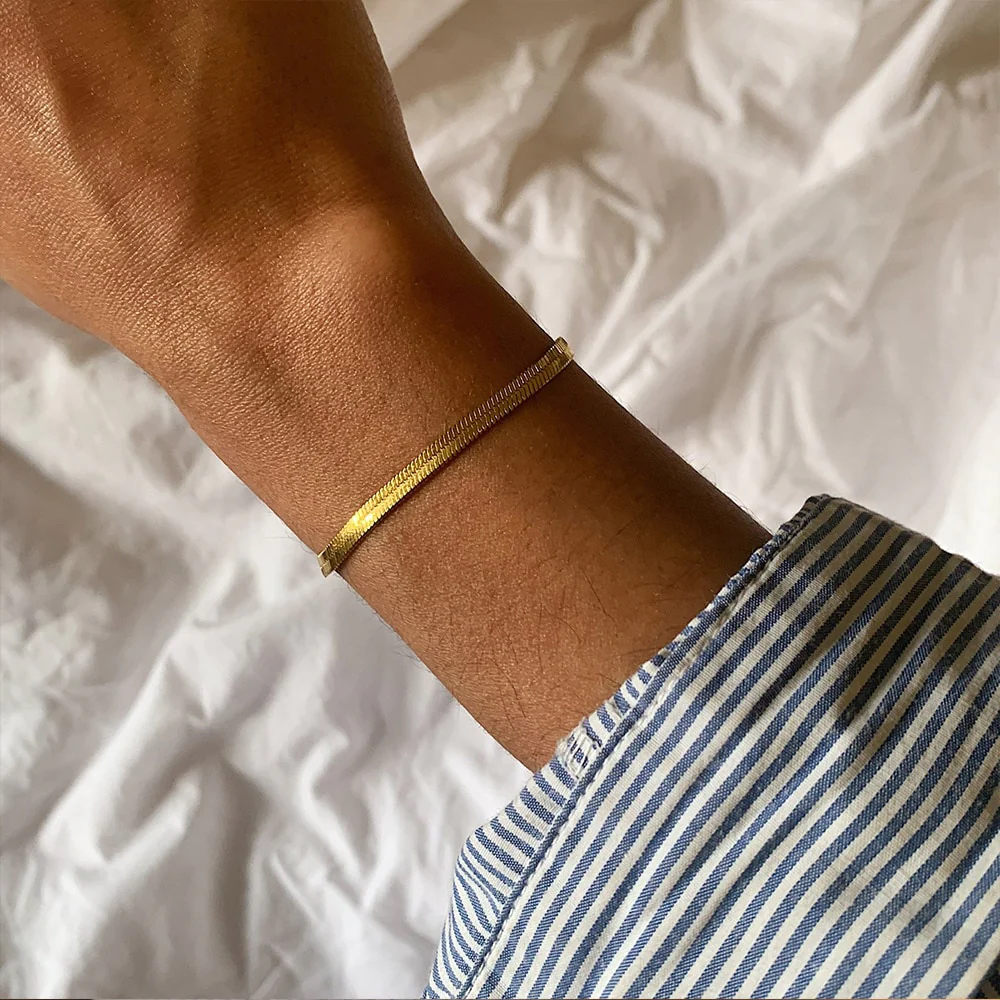 Chain jewelry is always a vibe, but for a more minimalistic aesthetic, try flat chains. This includes herringbone chains and snake chains, which lay flat on the skin for a more refined look. They can be worn alone or easily layered with other jewelry (though more layers = less minimalistic!).
Tennis Necklaces and Bracelets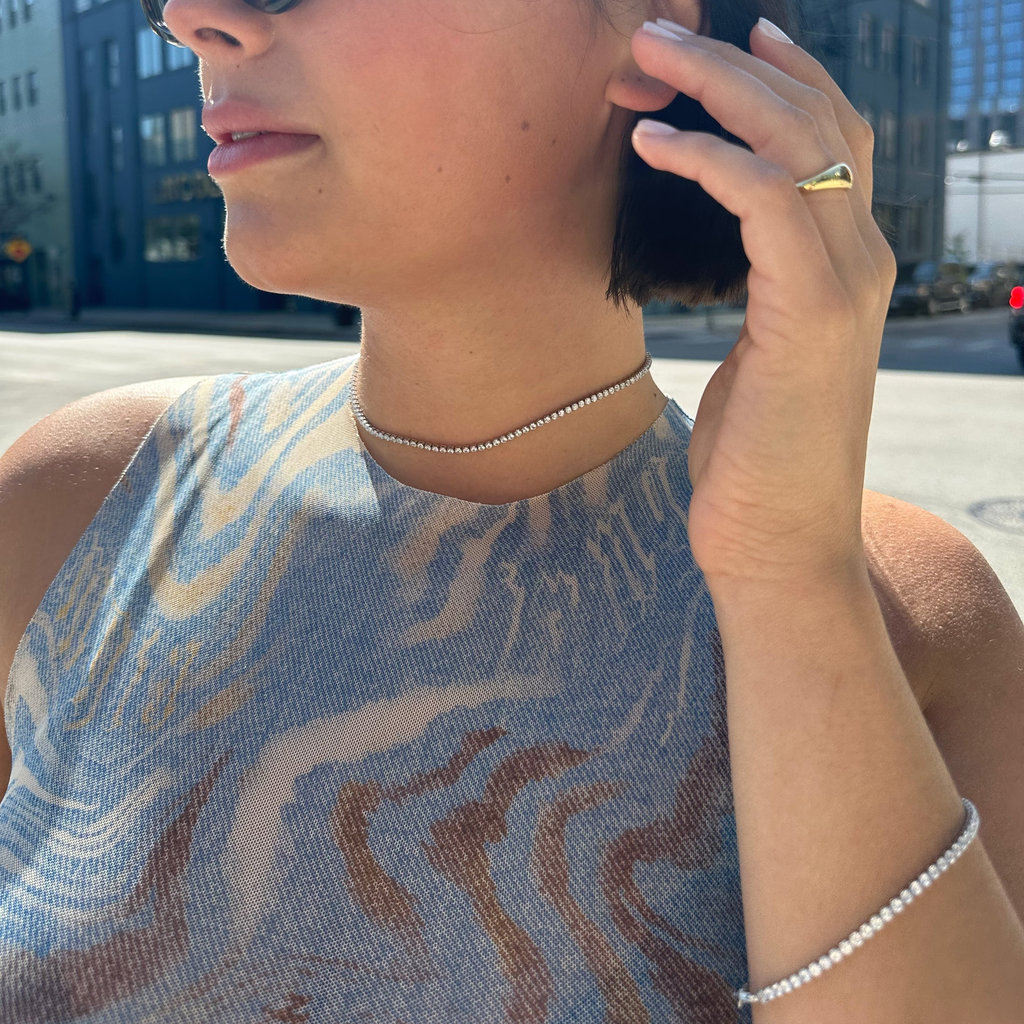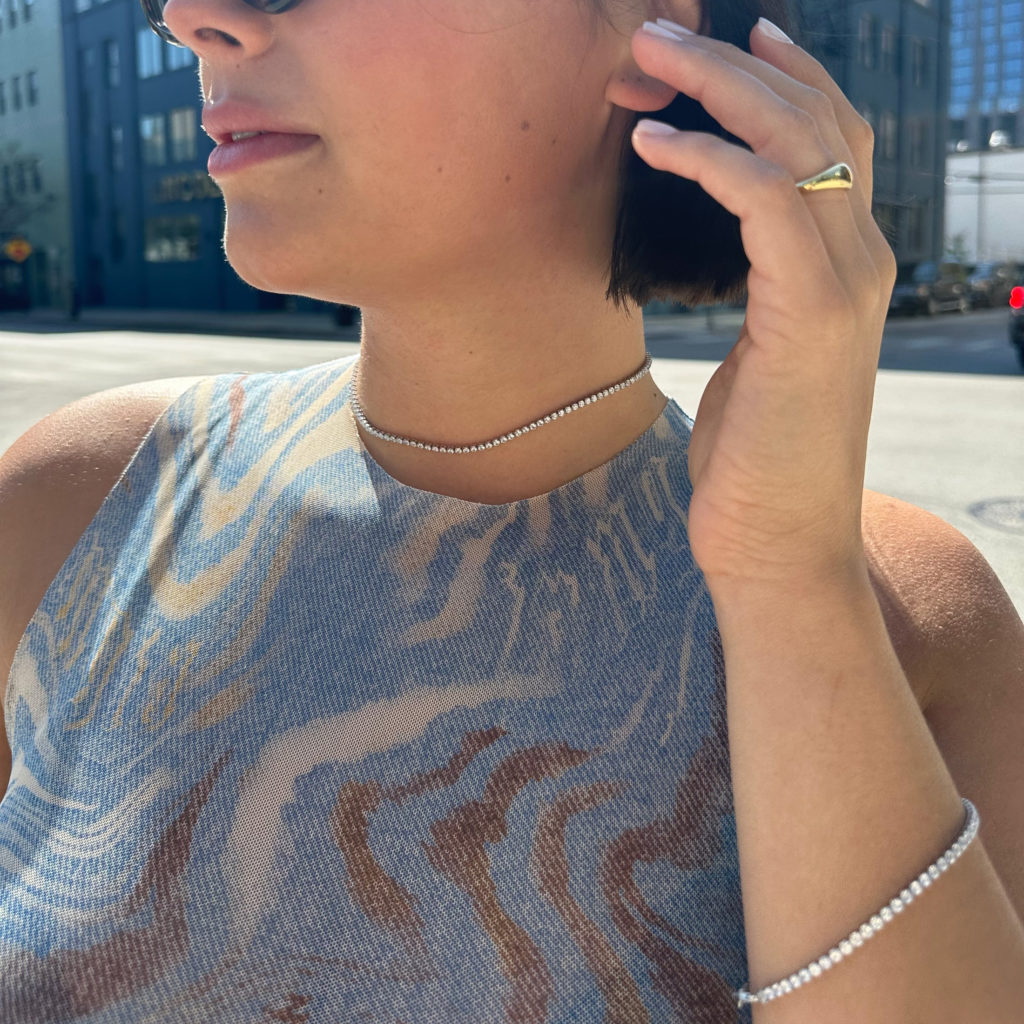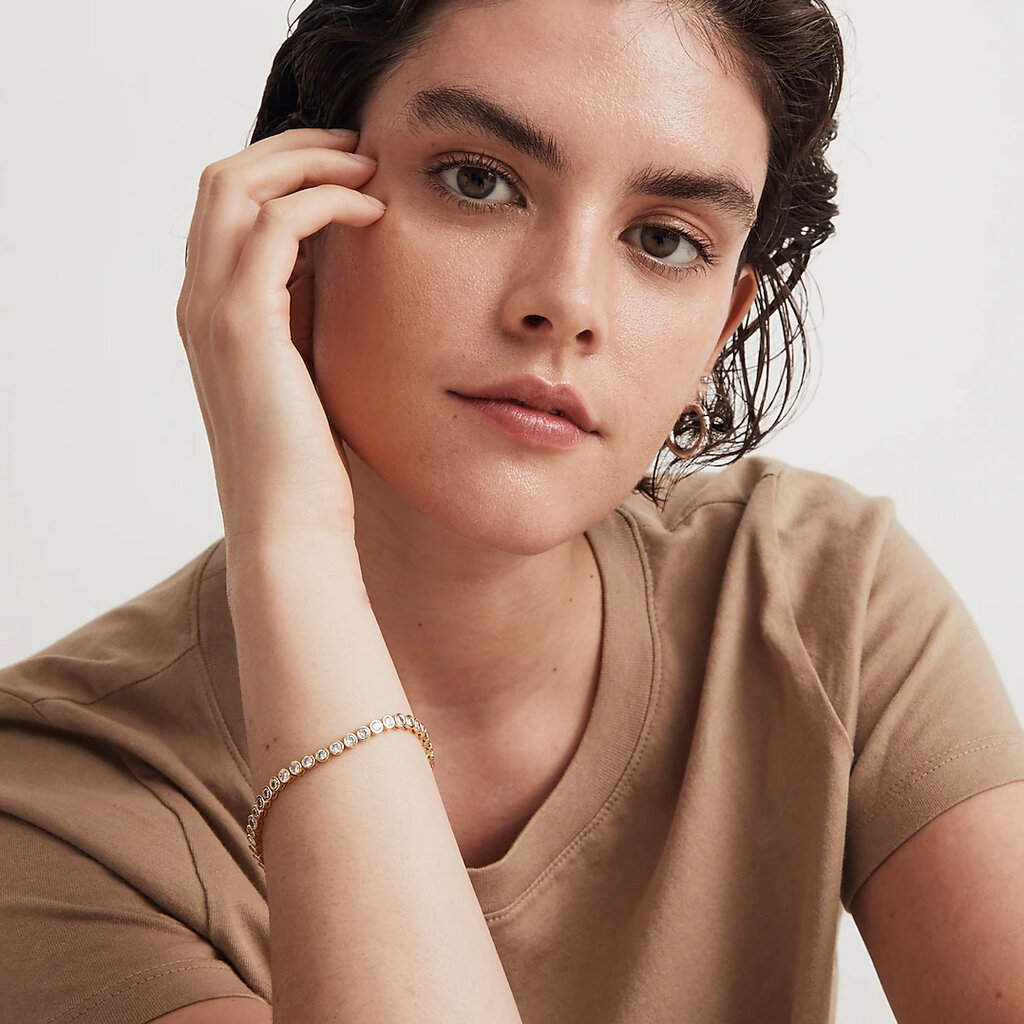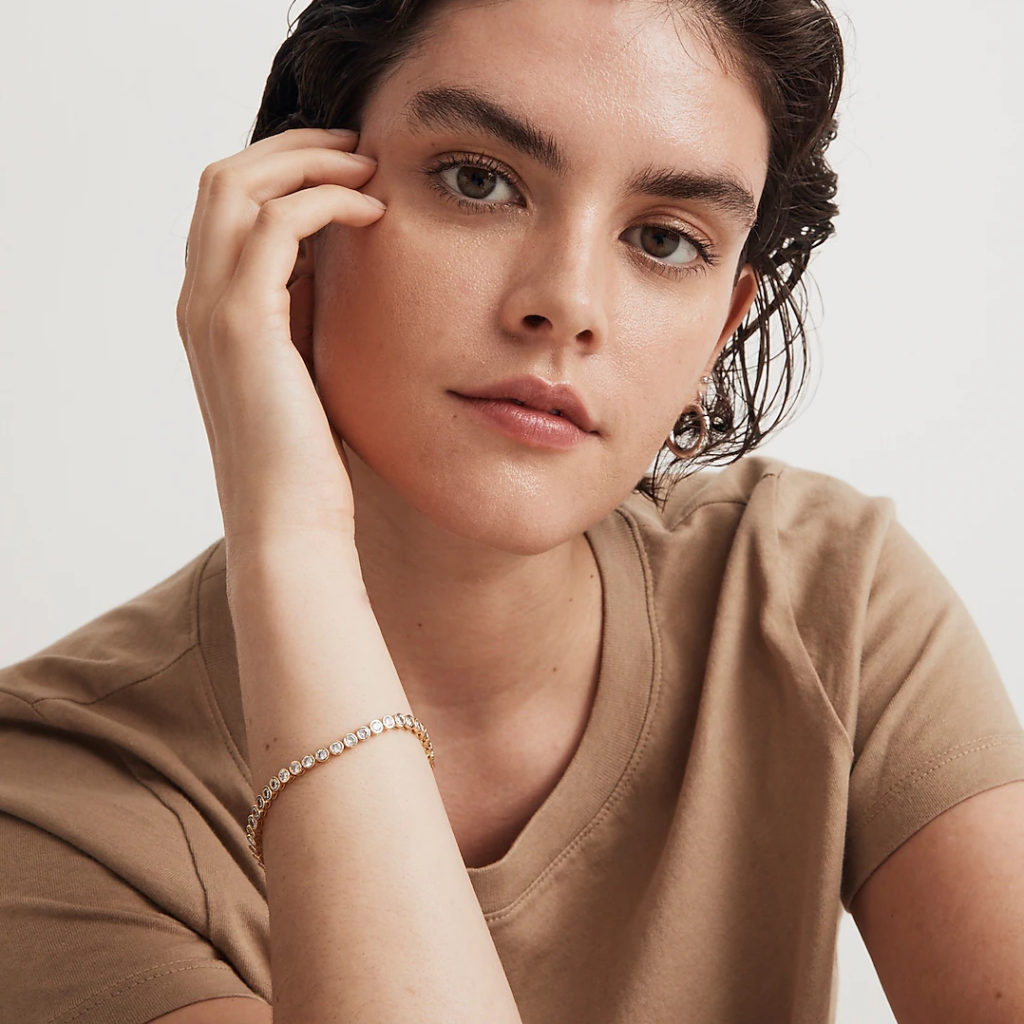 If you're looking for a bit more sparkle but still want to keep it simple, go for a tennis necklace or tennis bracelet. The classic "tennis" design features a single row of continuous diamonds (or diamond-looking stones like Cubic Zirconia), creating a simple yet luxe look that will upgrade your daily ensembles.
Our Final Thoughts
Above all, jewelry is an incredible way to express your style and enhance your outfits. Experimenting with new jewelry trends can help you achieve a whole different vibe and modernize even the most basic ensemble. Jewelry can also be deeply personal, being passed down for generations or holding a special significance to the wearer. By curating a jewelry collection that feels personal to you, you'll be able to match your jewelry with your outfits and develop your personal sense of style.
What do you think of our guide to how to match jewelry with your outfits?
Did you find these tips helpful? What kind of jewelry is your favorite? Leave a comment and let us know!